So, so glad you you enjoyed my 7 links post! If you're new to my blog, I hope that the post inspired you to explore the archives a little, and delve into new territory. I'm also happy that a lot of you discovered the posts that matter most to me. I'm excited to see what my tagged ladies have to say!
As I'm sure you've noticed, I've been on a cracker roll since my summer term began. There's a good reason for this: I'm usually eating lunch at school or on the go, I snack frequently because my days are long, and I'm a big fan of dips and spreads, which means I need a handy vehicle to serve them with.
Raw crackers have been my catchall solution for on-the-go eating lately. They keep forever, they allow me to use up my juice pulp from juicing, and they're easy to pack. They're also versatile, tasty, and—at least when I make them—vegan and raw. I've had so many variations lately, including my lemon thyme crackers: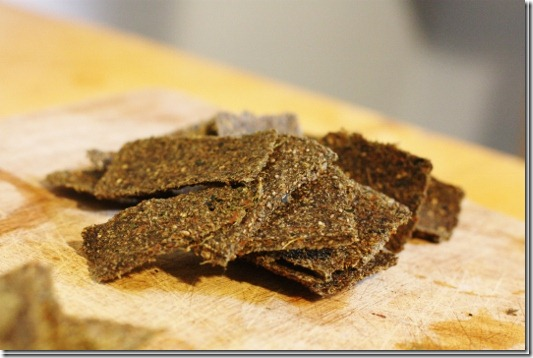 And my gingery carrot sunflower crackers:
These are all savory crackers, and they're traditionally flavored (well, as traditional as raw food can ever be!). Last week, since I had some leftover apple pulp on my hands, I decided to put a sweet spin on my typical juice pulp cracker recipe. I loved the results, and I'm here to share them, but for all of you without juicers, I'm going to offer a non-pulp option, too! The nice thing about these crackers is that they're remarkably light (I didn't go too heavy on the flax meal) so they offer sweetness without too much density.
Sweet & Light Crackers (raw, vegan, gluten free)
Yields about 40 crackers
1.5 cups carrot pulp and 1.5 cups apple pulp (OR, use 1.5 cups grated carrot and 1.5 cups chopped apple)
5 tbsp flax meal
1/2 cup pitted dates (about 7 large ones), soaked for a few hours or overnight
Salt to taste (I used about 1/4 tsp)
Water
1) Place all ingredients except for water in a food processor and process to break down, till mixture is crumbly. Stop and scrape sides if needed.
2) Begin processing with the motor running and add water in a thin stream to help keep the "dough" moving. Keep stopping to scrape the sides of the processor as you go along.
3) Continue to add water till you have a mixture that's thick and a little sticky, but easy to spread. This may take a while, but be patient!
4) Spread onto Teflex sheets and score into square crackers (or flatbread shapes). Dehydrate at 115 degrees for about six hours; flip, and dehydrate for another four. Serve.
See the little specks of date in these crackers? SO delicious!!
If you add ample salt here, you'll find that the crackers are a perfect marriage of savory and sweet. In fact, I served them the other evening with savory ginger lime edamame hummus (which is already a big hit!) and some kale salad:
And it's really hard to beat 4 ingredients.
Speaking of 4-ingredient recipes, I'm in the middle of a busy school week (3 quizzes, 7 assignments, 4 labs, and an exam on Tuesday) so this will be a week of hurry up recipes. See you back here tomorrow!
xo