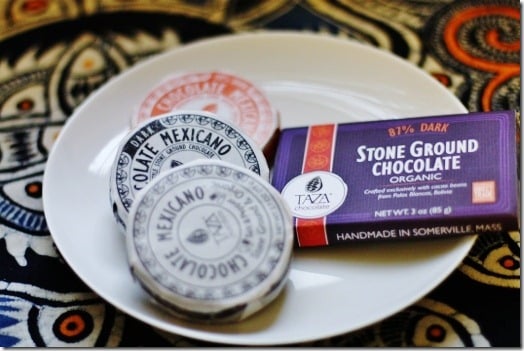 Happy Friday!!! So glad the weekend has arrived, especially since it's a relatively open one in terms of schoolwork. The gentle homework schedule won't last, so I'm savoring it while I can.
A few months ago, I gave a glowing review to Lulu's Raw Chocolate: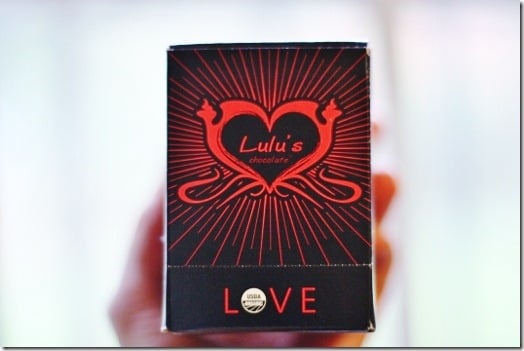 Today, I'm here to review Taza Chocolate, which comes to us from Somerville, MA. Many of you have already told me that you're great Taza fans, which I love to hear, because I am, too! I first found Taza chocolate years ago (my friend Liz mentioned them to me), and it was love at first bite. Since then, the company has grown considerably, and I've also found out that one of the principle chocolate makers at the company and I have a good friend in common. It's a small world.
Taza chocolate is stone ground in a traditional Mexican style (one of the founders of the companies first tasted stone ground chocolate in Oaxaca, and it inspired him start the company). This means it goes through a mill and stone refiner that look something like this:
The chocolate that results does not have the texture of conventional chocolate: instead, it has a granular mouthfeel. This sounds weird, I know, but it's really delicious; if you've ever had a disk of Mexican drinking chocolate, it's the same exact idea, except Taza chocolate isn't as sugary-sweet. It strikes me as sweeter than regular dark chocolate, but it's subtle nonetheless, and it features such cool flavors as salted almond, ginger, and salt & pepper.
When the folks at Taza sent me some samples to review, then, I was pretty excited!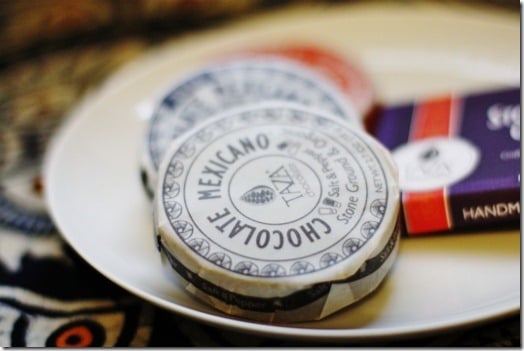 I received three of the classic "disks," (salt & pepper, vanilla, coffee, and pure), and a bar of the 87% dark. The disks were, as expected, totally divine; the salt and pepper was by far my favorite of the bunch, but the vanilla was second place. I had never tasted one of the bars before, and I'm very glad I did. A friend and reader, Elizabeth, recently mentioned that the texture of Taza is a little too "different" for her (or so I gathered); the bar itself, though certainly more grainy than regular chocolate, was far more reminiscent of a classic, good quality dark chocolate bar. If you've tried Taza chocolates and found them to be a bit foreign, I'd recommend the bar for sure!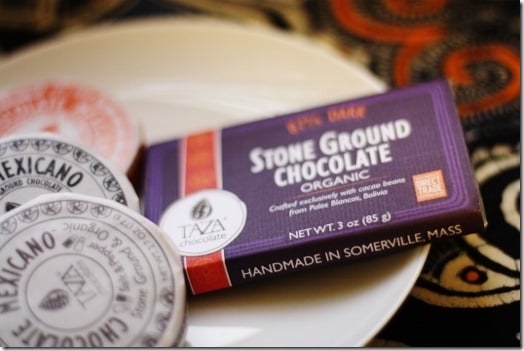 Taza's earth, animal, and human-friendly ethos includes commitment to recycling, direct trade, carbon neutral shipping, energy conservation at on site where the chocolate is produced, and cycle delivery to local shoppers in Massachusetts. I love it! And of course, the chocolate is 100% vegan, as well as gluten and soy free (or rather, every nutrition label I've seen has been gluten free and has not mentioned soy lecithin; if you have food allergies, do your homework before you take me at my word).
Best of all, Taza is proud of its unusual production, and has a totally transparent manufacturing process. Please check out their awesome factory tour, and note that you can enter the batch # for your chocolate to learn how it was produced.
Chocolate is one of my greatest pleasures as a foodie; I adore it, and I enjoy finding new raw and vegan brands. Taza has certainly tickled my tastebuds, but more than that, the company has always impressed me with their unusual production process, their fidelity to the brand's original identity, and their consciousness of the people they trade with, and the planet they trade upon. If you're a fellow chocolate lover like me, I really recommend giving these disks a shot. After an initial moment of surprise at the texture, you'll be able to savor the subtle and distinctive flavor, and with any luck, you'll be as infatuated as I am.
On that sweet note, happy early weekends to you all.
xo