Note to CR readers: from 9 p.m. to 1 a.m. EST on April 9th-10th, Choosing Raw will be getting a new look courtesy of Zestycook. Please bear with me during the transition, and check in tomorrow morning to see the results!!!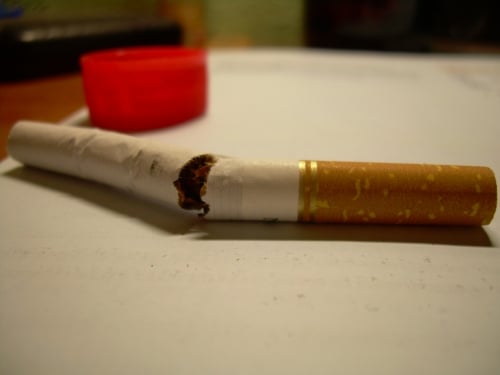 Hey all!
Last year at around this time I wrote a long, confessional post about my battle to quit smoking. I wrote the post in honor of what was then my one year quitiversary, on April 19th. I'm proud to say that quitiversary numero deux is about to roll around–another year smoke free! It feels incredible to have moved so far past my pack-a-day habit.
Smoking cessation is near and dear to my heart. We all like to give back to people who are coping with the same things we've struggled with, and nothing would make me more pleased than to give some encouragement to anyone who's trying to quit. Believe me when I say that my interest in helping other people quit is entirely without condescension, judgment, or smugness: I loved cigarettes. Loved them. I know what it means to harbor tremendous affection for a habit you know is totally reckless and idiotic. I know how depressing it seems to contemplate life without your smoker's rituals. I know how sad the most mundane of daily activities–morning coffee, walks around the block, the moments after a good meal–suddenly seem without a cigarette in your hand. Believe me–I know.
So try to believe me, too, when I say that it is entirely possible to move beyond the nostalgia and sadness and challenges of quitting. If I can do it, anyone can. I promise. There is life after Camel Lights. It's not always easy, but it's basically a much better life. It's a life full of long runs in the park without wheezing, clothes that don't reek when you peel them off, a clean-scented apartment, and a heavier wallet. It may be marked with pockets of reminiscence, but believe it or not, it's also full of forgetting. I miss smoking, but I've forgotten how it was that I ever needed cigarettes as much as I did.
I'll be in Chicago on April 19th this year, so I figured I would mark my two year quitiversary tonight, a little early. So here goes: Happy quitiversary, self. Here's to a lifetime of forgetting.
This year, I'd like to invite any of my readers, lurkers, or fellow bloggers who struggle with a smoking habit–occasional or full time–to use this moment as your invitation to try quitting (or try it again, if you've tried it before). I really don't have any awesome advice that will make the process any easier, but I can say this: it'll never be easy. So at a certain point, you've simply got to decide to tackle it. Why not now?
If you're a smoker who's toying with the idea of quitting, please let my story be one tiny drop in the bucket of inspiration. I did it, and lived to happily tell the tale. You can, too. It will be hard, but the payoff will be great. And I'll be here to support you the whole time. Anyone who's interested in challenging him or herself to quit smoking is welcome to share a story, declare an intention, ask me a question, or simply vent a little in the comments section of this post. I'll respond over the course of the next few days. I'm not going to call this a "challenge," because I know that quitting is terrifying enough without loaded language. So let's just consider this an invitation: an invitation to consider doing what's tough, but necessary. Bloggers, share this with friends who are trying to quit if you'd like, or link to it. Readers, internalize it a little, and if you'd like to apply it to a habit other than smoking, that's cool, too.
I won't pretend it doesn't still strike me as miraculous that I haven't smoked since April of 2008. Or that I don't still sometimes have dreams about smoking, or that I don't think about cigarettes daily, because I do. But the road away from them has been a good one. And if you're ready, I welcome you to join me on it.
Happy (almost) weekend, friends.
xo