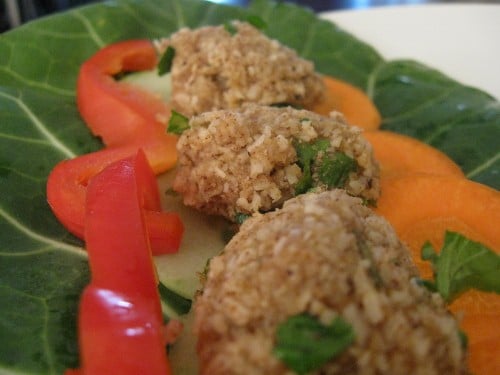 Hey guys!
Happy Monday. It's a beautiful, balmy evening here in NYC; looks like spring is finally here!
Tonight is the first night in a long time that I've been able to prepare a photogenic dinner, and it may be the last for some time. So I'm glad to report that the dinner I chose was a great one — thanks to my friend Philip.
Have all you rawcurious readers checked out Philip's blog? For those of you who haven't, I'll give you the 411: Philip McCluskey is a chef, author, and motivational speaker who transformed his own life with a raw food diet. After trying every diet plan known to man, Philip decided to explore raw foods. The results? Well, see for yourself. Before: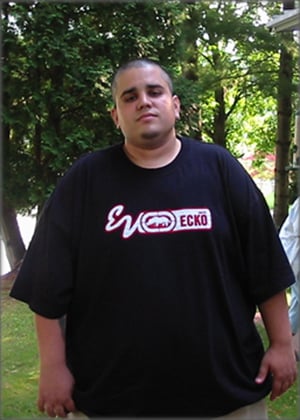 …and after:
What a transformation!
I've known Philip for some time through various friends in the raw community. He is, simply put, a wonderful guy: kind, generous, wise, funny. He also happens to be an incredible chef, who, like me, values simple, unfussy food. I am always thrilled when I prepare Philip's dishes (or have a chance to taste them!), and now I've got ample material: Philip's magnificent new cookbook, Raw Food, Fast Food.
In case the title didn't give it away, the idea is this: an un-cookbook that makes raw cuisine every bit as easy and accessible as running downstairs for some Chinese. You can read plenty about the book here, but let me assure you from firsthand experience that Philip makes good on his promise: all of the dishes in RFFF take about 10-20 minutes to prepare. In about the same amount of time you'd need to pick up some mediocre takeout, or to spend $13.00 at the Whole Foods salad bar, Philip will teach you how to prepare a sumptuous, nourishing, and energizing raw meal from scratch!
If you order a copy of RFFF, which you should, you'll notice my name on the copyright page: that's because I was fortunate enough to work as Philip's freelance editor! So I know for a fact that Philip's food is stellar, his passion for healthy living genuine, and his language truthful. My only complaint during the editing process was that I was too busy editing the book to serve as a recipe tester! Now that the book's on the shelves, as it were, I can correct that.
Tonight, I made the RFFF entree I've most been wanting to try: Philip's street corner falafel. You all know I love falafel (raw and baked), and I'm always excited to try a new variety. Unlike my carrot falafel, which is absolutely scrumptious but a bit time consuming (it necessitates juice pulp and dehydration), this falafel recipe is ready in a second. Philip ingeniously calls for a base of dried, shredded coconut and almond butter. The upshot is that this falafel can be mixed by hand and is "dry" enough to cohere without dehydration. Score! Philip has graciously allowed me to share my modified version of the recipe.
Loving Raw Falafel (serves 2-4, depending on the course and the appetite)
Ingredients
4 tbsp almond butter
1 cup dried, shredded, and unsweetened coconut
1/4 cup cilantro leaves, chopped very finely
1 tbsp fresh lemon juice
1 tbsp olive oil
1 tbsp maca powder (optional — I usually hate the taste of maca but couldn't detect it too much here!)
1/4 tsp black pepper
1/2 tsp sea salt
1 tsp cumin
1 tsp coriander
Dash cayenne pepper
Procedure:
Mix all ingredients and form into falafel balls.
That's it!
Chef's note: If you'd like to add garlic and onion, please go ahead: Philip's original recipe calls for 1 small minced onion and 4 cloves garlic. I'd say that unless your tolerance for raw garlic, which is very strong, is immense, you should stick to half of a finely minced clove!
Also: I needed a few more drops of olive oil to get my mix to stick together perfectly. So don't shy away from it (or some extra almond butter) if you need it.
And what's that topping in the photo, you ask? Well, I thought I would give Philip's recipe a little Choosing Raw twist. I'm a huge fan of cilantro — a taste I acquired later in life — and recently saw a recipe for creamy cilantro lime dressing that used buttermilk. It sounded awesome, aside from the buttermilk. Tonight, I figured I'd give it a little raw spin, and pair it with my delicious falafel. Here's how:
Creamy Cilantro Dressing (yields about 1 cup)
1/2 cup sesame seeds
3 tbsps lime juice
1/2 tsp sea salt
1/4 cup water
1/4 cup cilantro, packed
1/4 tsp coriander
1 tbsp agave, or 1 large medjool date
Blend all ingredients on high in a blender or Vitamix. If the mix is too thick, add water to thin.
These falafel would be delicious on top of salads or simply on their own, but tonight I decided to recreate that perennially popular street sammie, falafel on pita, with a collard leaf. I layered it with cucumber, carrot, and peppers, cut out the tough inner spine, and filled it with three of my falafel balls and their cilantro dressing. Next to my dinnertime staple, kale salad, it was very pretty:
Major kudos to Philip! These falafel are packed with flavor — the heavy spice mix is key — but not at all heavy. Philip's very conscious of not packing each of his recipes with too many tree nuts, and the result is that his raw cuisine is always refreshingly light.
I urge you all to check out Philip's recipes for yourself, and to sweeten the deal, Philip's offering all Choosing Raw readers 10% off at checkout on his website. All you have to do is enter CHOOSINGRAW in the coupon code field at checkout. So what are you waiting for? Dive into speedy raw cuisine with Philip's expert help.
Me, I'm happily digesting my falafel dinner and looking forward to leftovers. Have a sweet night.
xo