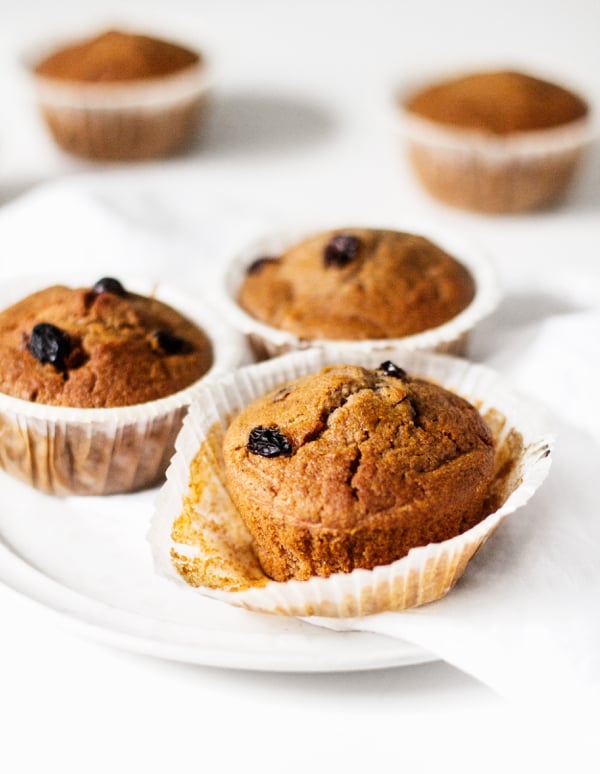 Hey all! Hope you've had beautiful weekends so far. New York is balmy and mild today, and I'm enjoying the mellow breeze through my apartment windows right now.
Last week, when I wrote about my spelt cornbread, I mentioned that I'm not a born baker. A true statement, but the last week or two would seem to contradict it. I've been making vegan muffins, you see, and while I'm hardly a pro, I think I've done a pretty good job! Many readers have written me in the last year and a half, asking for recipes for vegan baked goods, and I'm happy to share my very first: vegan carrot raisin bran muffins.
I was not born a vegan baker. No one is – like any other kind of specialized cooking, vegan baking takes a bit of practice. It's good to have a mentor, which is why I'm grateful that Isa Chandra Moskowitz exists; it was her cookbooks that first taught me how to make flax eggs, substitute for animal fats, and generally whip up the most amazing vegan baked stuff EVER. Her muffin and scone recipes are illegally good, and if you're looking for a primer in vegan baking, or just some inspiration, I'd definitely recommend checking out Vegan with a Vengeance.
The recipe below—carrot raisin bran muffins—were inspired by the bran muffins and carrot muffins, both from that book; I simply made a few tweaks and combined the recipes into one. The result? Major morning deliciousness, cruelty free.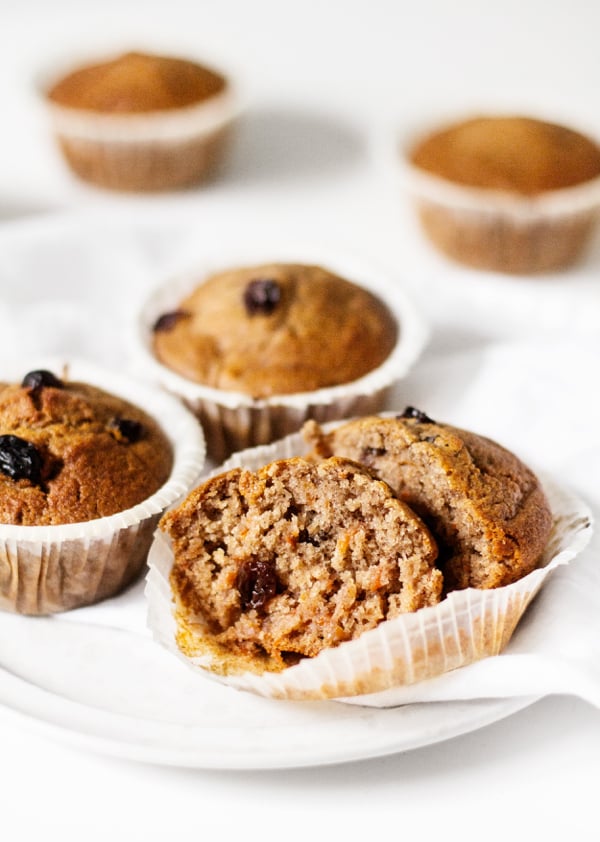 Vegan Carrot Raisin Bran Muffins
Recipe Type
:
breakfast, snack
Cuisine:
vegan, soy free option, tree nut free option
Author:
Prep time:
Cook time:
Total time:
1 1/2 cups light spelt or whole wheat pastry flour
1 1/2 teaspoons baking powder
1/2 teaspoon baking soda
1/2 teaspoon salt
1 1/2 teaspoons cinnamon
2 teaspoons powdered ginger
3/4 cup oat bran
1 cup non-dairy milk
1 teaspoon apple cider vinegar
1/3 cup neutral vegetable oil, such as safflower or grapeseed
1 teaspoon vanilla extract
1/2 cup maple syrup
1 1/2 cups grated carrot
1/2 cup raisins
Preheat oven to 375F and line or lightly oil a muffin baking pan.
In a large mixing bowl, combine the flour, baking powder, baking soda, salt, cinnamon, ginger, and oat bran.
In another bowl, stir together the non dairy milk and vinegar. Allow this mixture to sit for a few minutes. Whisk in the oil, vanilla, and maple syrup.
Add the wet ingredients to the dry. Mix till just evenly combined. Fold in the carrots and raisins. Divide the muffins into 8-10 cups. Bake for 18-22 minutes. Turn the muffins onto a cooling rack, and allow them to cool for at least 30 minutes before enjoying.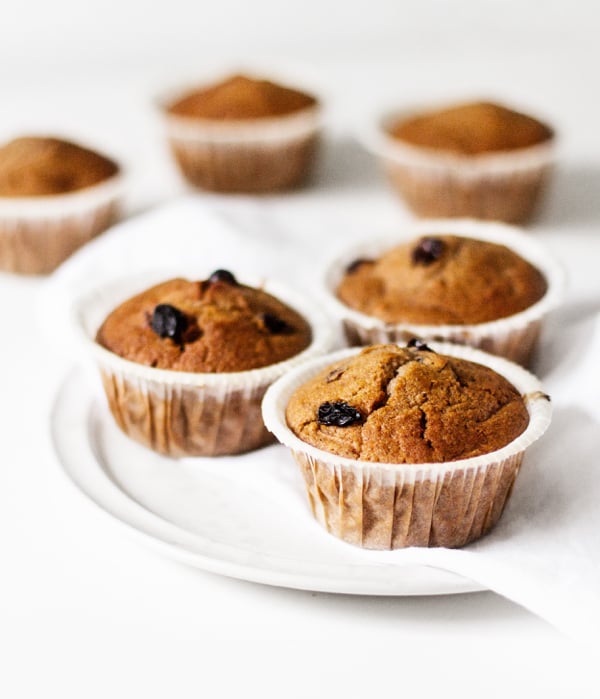 These are among my favorite muffins ever. They're sweet, soft, and although they feel definitively treat-like, they also taste and look pretty darn healthy. See?
They'd be a good way to impose orange veggies on kids who don't like them, too! I like to serve them with a freshly cut apple and some nut butter.
I enjoyed making these muffins not only because they were tasty, or because it was fun, or because a certain someone enjoyed them as much as I did, but also because it reminded me that I have plenty of room to grow in the kitchen. I may think of myself as being more cook than baker, but that doesn't mean I shy away from mastering any part of vegan food preparation. Who knows what new skills I'll have up my sleeve in a year or two?
Do you think of yourself as a baker, or a cook, or both? What's your favorite kind of cooking, and why do you prefer it? And when's the last time you went out of your kitchen comfort zone?
See you tomorrow, all. Have a restful Sunday.
xo