Greetings, all! I hope this post finds you still stuffed and in the haze of a spectacular Thanksgiving meal. As I mentioned in my last post (and thanks to all of you who got so excited about the sweet & salty avocado dressing – it's pretty awesome, if I do say so myself), I was lucky enough to spend Thanksgiving eve in the company of intelligent, thoughtful, and gracious vegan hosts. M and I dined with some fellow vegans, and they greeted us with a cornucopia of good food. To anyone who's ever asked me, "what do vegans eat on Thanksgiving?" let me assure you: we do not go hungry. Check this out.
Vegan Skillet Cornbread
Roasted Brussels Sprouts
Celebration Roast and Tofurkey Roast
Homemade Gravy:
Front to back: salad (with the best candied pecans EVER), mashed potatoes, roast yams, vegan stuffing with tempeh sausage:
More yams: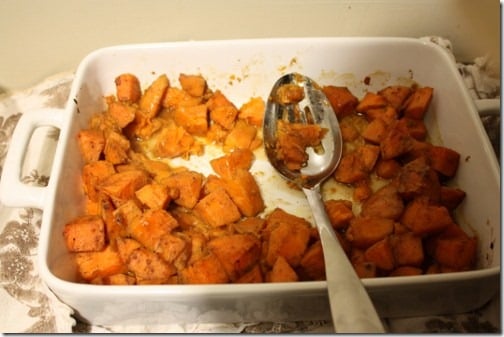 And more potatoes:
Stuffing galore:
And my plate. I had tons of salad, brussels sprouts, yams, mashed potatoes, stuffing, and a slice of cornbread. I loved everything, but I think that the candied pecans in the salad (no joke, I loved), the sprouts, and both potatoes were the stars: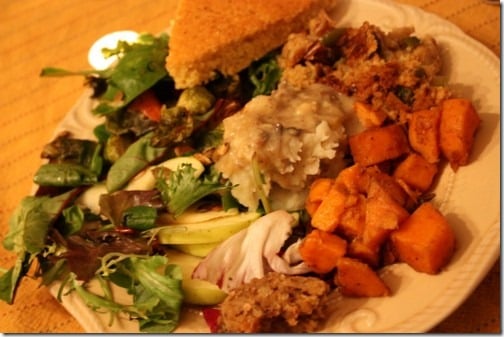 If this wasn't enough bounty, our hosts had also prepared a kaleidescope of desserts: homemade cookies, pumpkin cheesecake, pumpkin pie, and pecan pie from Vegan Treats, and chocolate covered strawberries:
I had a couple of the (incredible) strawberries and a cup of this:
My hosts have superior taste in java. And all things culinary.
This was my first Thanksgiving in vegan company: every other year of my life, I've been the sole vegan chef and diner. While that can be a great experience in its own right—because one has the chance to set a vegan example—it was also very special to spend a day of gratitude in the company of people who share my beliefs about animal rights.
My favorite part of the evening was listening to my host describe his vegan "turning point"—that moment when veganism ceased to be a concept he flirted with, but rather an imperative. All vegans, I think, can remember such a moment—it's the moment we realized that none of the difficulties associated with veganism could outweigh its importance. It's also the moment when we had an aerial vision of how veganism fit into our lives, and our lives fit into veganism. Looking back on my own "turning point," it's so clear that veganism was the obvious manifestation of my compassion for living beings, my psychological predispositions, my passion for health, my reverence for nature, and my personal tastes. I'm always eager to hear other peoples' vegan narratives—their own recounting of the roads that led them to a vegan life—and there was no shortage of interesting storytelling on this night.
Good company, good food, and a great companion? Lots to give thanks for.
Hope you all had equally nice days. I would love to hear what you were up to for Thanksgiving this year. And stay tuned for an awesome new smoothie recipe tomorrow!
xo