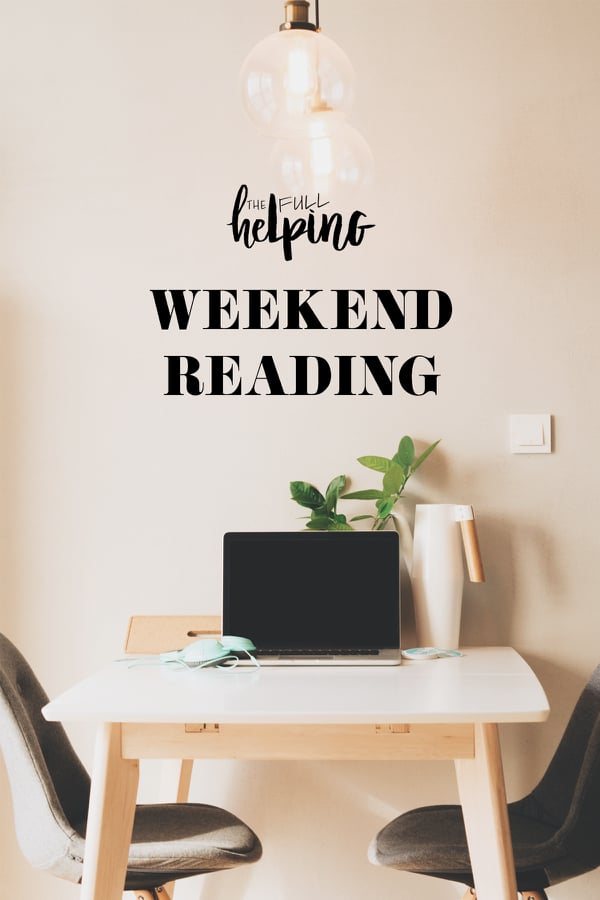 Happy Sunday, all. We made it through our first week of 2017!
One of the links I'm sharing this Sunday is Stella Blackmon's reflection on making friends as an adult. It's refreshing, an honest look at how hard it can be to explore new situations, to put oneself out there, to accept that intimacy takes time.
A few weeks ago, I had dinner with a friend. It had been too long–at least six months, if not more. As he and I got to talking, it became clear that we'd both had challenging years. I told him about my depression and other experiences that have changed the way I look at things. He told me about his own struggles, which sprung from a different source than mine and yet manifested in strikingly similar ways.
A day or two later, I emailed him to thank him for the conversation. As we wrote, it became clear that we both felt some remorse that it had taken us so long to open up to each other; after all, we live in the same city. Here we were, miles away from each other, wrestling with similar problems and yet totally unaware of what the other was experiencing. We even exchanged a few sunny and casual text messages along the way. Had we confided sooner, we might have supported each other through tough times.
What matters, of course, is that we did find a way to communicate. But our exchange prompted some important realizations. For my part, I became aware of my tendency to isolate when I'm struggling. I don't usually communicate hardship until after I've processed it, which makes me feel protected but also tends to enhance the loneliness of the experience. By the time I do share, the urgency of what I'm feeling has often passed by.
My friend noted that our conversation had made him aware of the extent to which social media and virtual communication give him a false sense of connectedness; he has the sensation of knowing what's going on in his friends' lives because of what he reads and sees in the form of updates and shares. But what we put on social media is selective, and sometimes it belies what's really going on.
To some extent, I can relate. When I open up about something in writing–through blogging, or over email–I feel a sense of disclosure. But to put things in writing (a process that's easier for me than spoken communication) is not the same as connecting with a friend face-to-face, spontaneously. It doesn't replace eye contact, the touch of a hand, a shoulder to lean on or be offered for leaning.
This isn't to say that I don't value deeply my written communications, or that I don't clasp my virtual friendships tightly to my heart. I do, and I can't imagine what my life would be like without them. I also value the importance of privacy, of turning inward in order to reflect and process. But for someone like me, face-to-face or voice-to-voice communication–sitting down for coffee, picking up the phone–is both uniquely challenging and also especially meaningful once I've had the guts to do it. I'm grateful to my friend for reminding me of this.
It's not easy to make oneself vulnerable, to embrace new situations, to stride bravely into a room of strangers. It can be difficult to accept that adult friendships might mature more gradually than the intense friendships of childhood and adolescence. But to flex the muscle of connection is still, I think, a meaningful experience, one that gives us a chance to discover and delight in our differences as well as to take comfort in what we share. Props to Stella for writing about it with humor and honesty.
I hope you'll enjoy the other reads this week, and that you'll be inspired by these vibrant recipes.
Recipes
Maybe 2017 will be the year in which I learn to do a lot more with buckwheat groats than put them into granola clusters. Thomas' vibrant cashew buckwheat curry with kale is good inspiration, a reminder that buckwheat can a great addition to any soup or stew.
Speaking of kale, I'm really loving the simplicity of Harriet Emily's cavolo nero in tomato sauce. It reminds me of a dish my grandmother used to make all the time, which was green beans simmered in a rich, thick tomato sauce. It was a childhood favorite of mine, and I imagine it would be wonderful with dark leafy greens, too.
I love a good taco, and right now I'm eyeing Samantha's recipe for Mexican style street tacos with cauliflower and chickpeas. So much texture here, and a tasty spice mixture of turmeric, paprika, and cumin.
Speaking of tacos, I bet Ashley's winter slaw with jalapeno tahini dressing would be a perfect accompaniment (as well as a flavorful side dish for any other meal). I love the simplicity of this recipe: the dressing is just four ingredients!
It's been a while since I made a good, wintery casserole, but I'm feeling mighty inspired by Anthea's lentil and purple sweet potato shepherd's pie. The purple potatoes make for a stunningly colorful and pretty dish.
Reads
1. As many of you may have seen, Tilikum, the orca who was featured in 2013's Blackfish, died of a bacterial infection on Friday morning, still in captivity at Sea World. Live Science shares some important reflections on how Tilikum's story may have changed our conversation about keeping animals in captivity for human entertainment.
2. On a related note, I was inspired by the Humane Society's roundup of victories for animal rights in 2016. (This includes Sea World's commitment to stop the breeding of orcas, and to stop capturing orcas in activity.) As Wayne Pacelle notes, "[i]t hardly means that we've been on a glide path to reform. And it doesn't mean that we haven't had setbacks or that we don't have immense challenges ahead."
But any reform that both improves the lives of animals and indicates public concern for animal welfare is, I think, worthy of celebration. And it's reason to look forward to, and keep fighting for, progress.
3. I really enjoyed these insights, from a first year PhD student in structural biology, on the ambiguities and contradictions of science and scientific research. It's a compliment to Hope Jahren's Lab Girl, which I'm also reading. That, too, considers the mysteries and contradictions of science, as well as its consolations.
When one is just being inducted into scientific study or research, there's a tendency to regard the field as being bracketed by absolute knowledge. It's something I felt even as a pre-med student, though I had little research experience to speak of. What I learned over time–what I think a lot of science students learn–is that the process of scientific discovery, like so much else in life, is imbued with uncertainty. As Sara Whitlock writes,
Active research is ambiguous. It's piles of data sets with contradicting results. It's mistaken hypotheses and failed experiments. It's doing three experiments that show the protein I'm studying does one thing, a fourth that shows the exact opposite, and then having to figure out what's going on, tweak the experiments, and do them all over again.
Whitlock is growing into maturity as a scientist, and that maturity is shaped by her capacity to embrace uncertainty. It's no small task, since the quest for answers, for explanations, is what drives many people to study the sciences in the first place. But she's determined, all the same:
So while certainty is a nice philosophical construct, in my world I'll trade in the currency of uncertainty to get my degree. Within the contradictions and troubleshoots of my experiments, I'll need to string together enough evidence supporting the questions I've asked to publish at least a couple of papers. I'll have to both demonstrate understanding of my field and add new knowledge to move the field forward…
My task in the next four to six years (hopefully not seven) is to embrace this ambiguity. I have to be uncomfortable. I have to be able to throw out what I know and let new ideas take root.
Throwing out old ideas, giving new ones room to grow–it sounds to me like a universal challenge, one that's part of everyday life just as much as scientific research.
4. I read The Body Keeps the Score earlier this year, and in spite of its length and complexity I was struck by how humane and sensitively written it was. Bessel van der Kolk is a psychiatrist and PTSD researcher who's particularly interested in the mind/body connection when it comes to healing trauma. His work might have special meaning and relevance for anyone who has experienced the reverberations of trauma physically, in the form of anxiety, digestive disturbances, immunological problems, or even cardiovascular disease. In spite of the difficult subject matter–stories from the front lines of van der Kolk's work with trauma victims–the book is a surprisingly hopeful testament to human resilience.
I really appreciate Maria Popova's reflections on the book, which take the form of a summary but include plenty of novel insights, too. It's interesting to consider the book following a conversation about friendship and connection, because empathy and reciprocity–what you might call being "mirrored" by another person–is, according to van der Kolk, a key experience in healing. So, too, is learning to inhabit the body again, to fully experience and acknowledge what it feels. Popova describes these insights beautifully.
5. Finally, Stella Blackmon on making new friends. In addition to being funny and real, the post also includes some good tips. I like her advice to give things time, to invite others to join you in rituals, and especially her encouragement to "enjoy the world around you."
Lately, I've been making an effort to strike up more human connection in day-to-day life. My goal isn't really to build friendships (though if that happens naturally, great). It's an effort to experience and be receptive to the connections that are all around us, all the time, simply because we're surrounded by each other.
This effort might take the form of making eye contact when I thank someone for something, or chatting with a stranger when I'm in line, rather than burrowing into my phone or my Kindle. It has yielded some poignant, memorable exchanges, and I agree with Blackmon that, while these fleeting connections don't lead to lifelong friendship, they allow us to recognize the community we already have.
Today, I'm appreciating this community. Thanks for reading, and I'll be around this week with a cozy winter recipe.
xo