 Good morning, everyone, and happy Saturday. I hope that those of you who celebrated yesterday had a lovely holiday. I woke up this morning and realized with a smile that in spite of the fact that I'm 33, I've retained my childhood tendency to wake up melancholy on December 26th. There's something so wistful about watching the holiday season pass by, even if the holidays tend to bring up a lot of complex emotions for many of us. I try to see the melancholy as a part of the whole holiday experience, which it is, but it's always a strange sensation.
For better or for worse, I have a lot of work to dive back into today, including a big freelance writing project that needs to be finished before my new semester begins, so there won't be too much time to indulge my post-holiday blues today! And before I get started on any of that, there are plenty of great reads and beautiful recipes to distract me.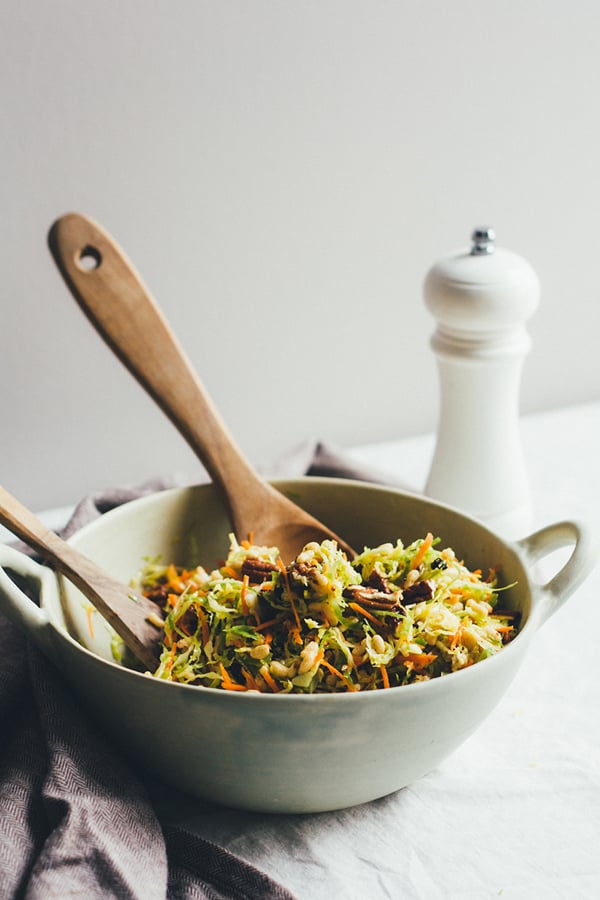 A lot of raw brussels sprout salad and slaw recipes circulate at this time of year, but this festive slaw from Sofia of From the Land We Live On definitely stood out to me. I love the addition of currants and pecans, in addition to a crunchy base of brussels sprouts and grated carrot, and the zesty vinaigrette makes it all so flavorful.
This shaved carrot salad with superseed cilantro pesto and toasted hazelnuts is beautiful, seasonal, and so simple and elegant. A perfect winter pesto dish from Ashley of Blissful Basil.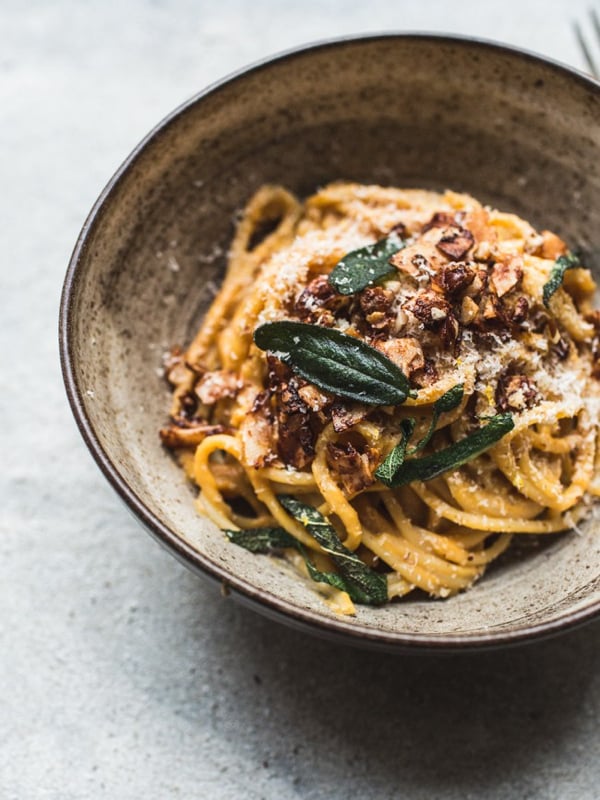 I can't imagine a more decadent or satisfying winter dish than this vegan butternut squash carbonara with coconut bacon and crispy sage leaves from the very talented Izy Hossack. So rich and creamy and perfect for cold weather (though it seems as if cold weather may not be hitting my home town for quite some time yet!).
For a bold, flavorful, nutritious plant-based supper, look no further than this new recipe for vegan mulligatawny from Lisa of Healthy Nibbles & Bits. This is my kind of meal: hearty, makes wonderful leftovers, and plenty of nutritious and flavorful ingredients.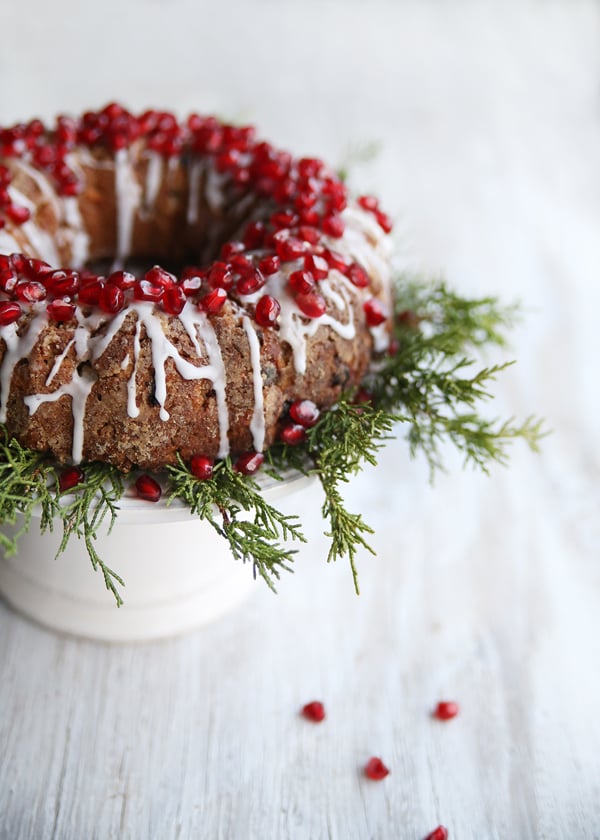 I'm not nearly ready to say goodbye to festive holiday baking and dessert inspiration, so let's extend things a little longer by looking at Ella's lovely gluten free, vegan apple cranberry bundt cake. What a beauty!
Reads
1. This list of 52 tips for smarter holiday baking was published before the holidays, but I didn't actually manage to read through it until yesterday. I was really impressed with the amount of indispensible baking advice that the Food52 team packed into the article, and as someone who's trying, experiment-by-experiment, to improve my baking, I found it to be a really valuable read. (Not to mention the final kick in the pants I needed to purchase an oven thermometer.) Whether you are an aspiring or an experienced home baker, I highly recommend it!
2. I really enjoyed this quick profile of author Simran Sethi, whose book, Bread, Wine, Chocolate: The Slow Loss of the Foods we Love paints a portrait of "endangered tastes"–foods and flavors that are being lost due to environmental change, monocropping, and an overall loss of biodiversity. What struck me as very special about her analysis is that it's not a one-dimensional cry for a particular agricultural approach; instead, Sethi seems to have a nuanced and empathetic relationship with people at all levels of food production. She writes,
"I learned that it's about understanding people's predicaments. Not advocating for no measures, but we must recognize that in our desire to do as good as we can, there are consequences to that as well, and they are probably unintended…
…I started to understand the complexity of growing food and began to realize that it's important to express those complexities and not demonize others. Their hopes and dreams are bound up in ours."
The book is definitely getting added to my wish list!
3. A slightly more hopeful look at extinction: this article in Quartz describes a phenomenon that is apparently more common than we think, which is the rediscovery of a species that had been thought to be permanently extinct. It begins by describing the discovery of a pair of Australian sea snakes, who had been classified as extinct after they disappeared from homes on the Timor Sea's tropical reefs more than a decade ago. While these sorts of reappearances are less common than the many disappearances associated with our "sixth extinction," they are at least reason for some hope.
4. Congress has yet to reauthorize the Child Nutrition Act, which sets the national school food policy and funds key child nutrition programs, including the School Breakfast Program, which provides low-cost or free breakfasts to children in public and non-profit schools as well as child care institutions, and the The Fresh Fruit and Vegetable Snack Program, which was designed to increase fruit and vegetable consumption within schools. There are a lot of potential risks and problems associated with rolling back school nutrition (this infographic sums them up nicely), and in this passionate article in US News & World Report, Chef Ann Cooper makes a case for CNR reauthorization that also pays tribute to the advocates who have rallied around the issue.
5. Many of us know Carol J. Adams as the author of The Sexual Politics of Meat, a seminal work of animal rights theory that drew important connections between the objectification of women (culturally, literally) and the objectification and dehumanization of animals that accompanies and underlies carnism. Recently, Adams showed a different side of her authorial life and perspective with this touching op-ed, a reflection on how reading Jane Austen's novel Emma as she was caring for her ailing mother gave her solace and strength. Adams reflects on a side of Emma's character that is sometimes overlooked, which is her role as care-taker to an aging father. It's a sweet, thoughtful piece, and worth reading if you or anyone you love has ever navigated the difficult waters of caring for an elderly parent or family member.
OK, friends. I'm wishing you all a lovely, restful weekend and lots of good cheer. This week, I'll be jumping back into the swing of things. This means not only a return of menu plan Monday posts, but also the return of organized meal planning to my life, after a couple of weeks of holiday and final exam craziness! I love to use January as an opportunity to dive back into simple, nourishing, hearty winter food, and that's the theme I'll be following all month long on the blog. Can't wait to share with you. Have a great Saturday.
xo