Happy weekend, everyone. I hope you're enjoying a little springtime weather and some rest!
Lots of interesting reads in this week's roundup of recipes and articles, as well as some great springtime meal ideas.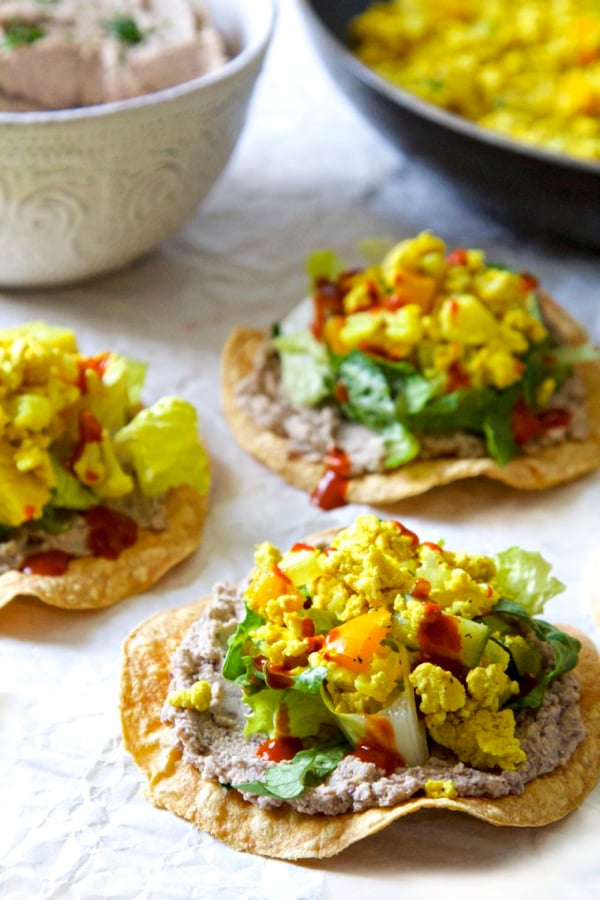 On Thursday I mentioned how much I appreciate super speedy meals these days. Margaret's awesome tofu scramble tostadas fit the bill. Her tofu scramble recipe is a snap to make, and you could easily use canned refried vegan black beans in place of the hummus if you're short on time.
I'm loving the looks of Andrea's spring broccoli rabe and mushroom pasta with ginger miso sauce–or maybe I just want an excuse to make the ginger miso sauce 🙂 Either way, this is a lovely, healthy pasta dish!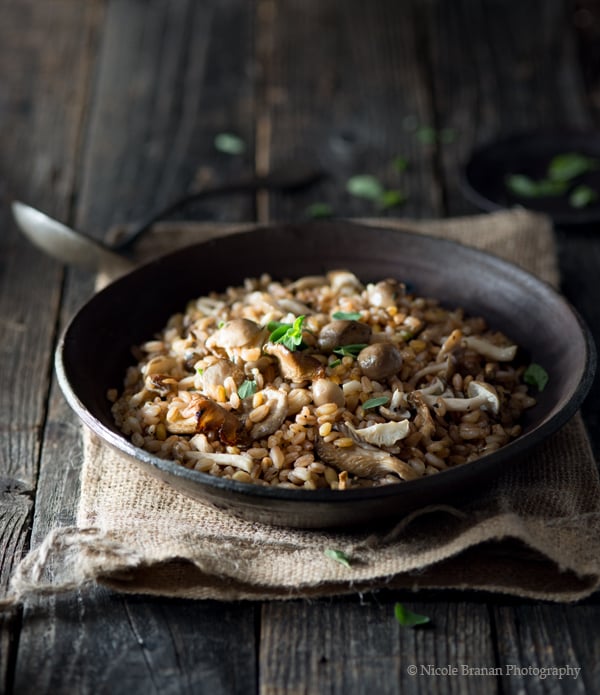 Nicole's farro with mushrooms and marjoram features a super simple ingredient list, but the resulting dish is elegant enough to serve to company. A great way to use marjoram (an herb I don't use often enough), too.
Ashley's verdant sorghum and asparagus salad is springtime on a plate. I love the colors and textures on display here, and chewy sorghum is a good counterpoint to tender zucchini noodles and arugula.
Finally, I'm loving the looks of Sophie's chewy chocolate granola bars! These will be perfect study snack to fuel me through my final exams, and I can't wait to try them.
Reads
1. First up, Julia Belluz has some really smart things to say about the challenges of health and science reporting with integrity. Belluz's point is that evidence-based journalism–journalism that takes context and weight of evidence into account, rather than seizing on and sensationalizing single studies or abstracts–often delivers headlines that people would rather not hear. At the least, it creates articles that are less catchy and outwardly provocative than the many headlines we all see each day touting a cure-all or hyping up a newly published study.
This is an important topic, and I'm glad that media outlets like Vox are striving to create science journalism that is delivered with as much context as possible.
2. Along similar lines, this interview with British statistician David Spiegelhalter demonstrates how misleading many of the statistics we come across in the media are. Spiegelhalter cites a number of notable examples and offers some clues on how to be a more empowered consumer of research findings.
3. Joe Fassler recently wrote a hard-hitting personal account of sexism in emergency medical care, based on his wife's experience with ovarian torsion. The Atlantic got an overwhelming response to the article, and now it's running a whole series on the medical mismanagement of female pain, which until recent years has been an underexposed problem. The stories are maddening, but I hope that reading them will prepare more women to become strong advocates of their rights as patients.
4. Also from The Atlantic, a powerful argument for the impact that global meat reduction could have on the world economy. While economics aren't the driving force of my veganism, I always appreciate hearing a new perspective on the benefits of a plant-based diet, and this is a line of reasoning I hadn't given much consideration to.
5. When I took my nutrition and human development course last semester, we spent a considerable amount of time discussing the well-documented consequences of restrictive childhood feeding patterns. It probably won't surprise you to hear that restrictive feeding practices are associated with kids' becoming prone to overeating or eating in the absence of hunger, and some studies have linked it to higher childhood BMIs.
Until now, studies of parental feeding practices haven't usually taken the parents' own food and weight struggles into account. A new study from the University of Illinois reports binge eating among parents was correlated with restrictive feeding practices. One of the study authors, Jaclyn Saltzman, says,
"We also know that parental binge eating is related to restrictive feeding, but it's a counterintuitive relationship. Why is caloric excess in one individual related to caloric restriction in the family? We wanted to explore why that was happening…
…Parents are people, too, and we knew that parents who binge are going to experience a lot of distress because of those behaviors, so we tried to take a sympathetic approach. We hypothesized that this emotional overload was going to bleed out into the parent-child relationship, and that's exactly what we found. Binge eating did affect restrictive feeding practices through parents' distress about their children's negative emotions."
This is just one study, but it's a possible clue into the ways in which food issues can impact the family unit as well as the individual. Hopefully, more research like this can encourage caregivers to seek out the emotional resources and support they need to help manage disordered eating patterns, and it can also create more awareness about disordered eating as consequential to whole families.
On that note, I'm off. This is a hectic week, so I'll be skipping my regular menu plan Monday post tomorrow. On Tuesday, though, I'll be tuning in with a delicious new recipe for a springtime breakfast bowl. Stay tuned!
xo