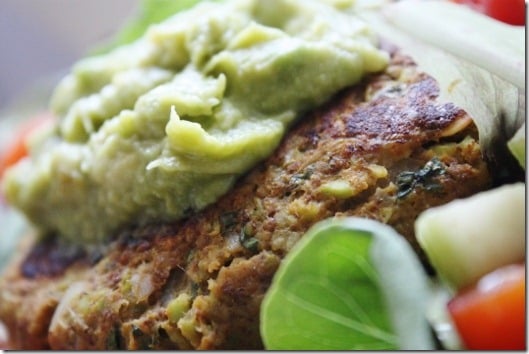 I made it!
Thank you all for the tweets, comments, emails, and good wishes as I made my way from NYC to DC. We arrived safely and soundly, and, a few minor hitches aside, things went according to plans. The last two days have been spent in a flurry of unpacking, cleaning, cooking, and also trying to squeeze in a little R&R: it may be moving weekend, but it's also a holiday weekend, and since I have a week before classes begin at Georgetown, I'm taking my sweet time.
I'm excited to take photos of the new place and tell you all about it, but in truth, it's a mess, and you don't want to see it. Not yet, anyway. Instead, I'm giving you some Memorial Day food porn to gaze upon. I came up with these burgers last week, in the thick of packing, and my first reaction was delight at how easy and nutritious they were. Of course "easy" is a relative term: they're a little more time intensive than my raw spinach burgers, for example. But most of my cooked food is more time consuming than my raw food, so I'm used to that. As far as cooked recipes go, this is a simple one, and it's sure to be a hit at any summer barbeque!
Ginger Lime Edamame Sweet Potato Burgers (Vegan, Gluten Free)
Makes 4-6 Burgers
3/4 cup shelled, frozen edamame beans
1/2 small onion
1 inch ginger, chopped
1 tsp coconut oil
Flesh of 1 large sweet potato, baked or steamed (about 1 cup)
1/3 cup quinoa flakes
2 heaping tbsp flax meal
2-3 tbsp lime juice (to taste)
2 tbsp tamari, nama shoyu, or coconut aminos (reduce amount if sensitive to salt)
1 small handful (1/4 cup) cilantro, chopped
Dash red pepper flakes (optional)
Water as needed
1) Thaw or lightly steam 3/4 cup shelled edamame and set aside.
2) Saute onion and ginger in 1 tsp coconut oil (or coconut oil spray) till soft and fragrant (about 5 minutes). Add edamame and swirl.
3) Place the edamame, onion, and ginger in a food processor and add the sweet potato, quinoa flakes, flax seed, lime juice, cilantro, tamari or coconut aminos, and dash of red pepper flakes, if using.
Pulse to combine, then run the motor and add some water until consistency is very thick but easy to mold.
4) Bake at 350 degrees for about 35 minutes, or pan fry till crispy on the outside but still chewy.
These burgers are wonderful: a little sweet, a little spicy, and tangy from the cilantro and lime. They scream "summer," and since it's 94 degrees in the District today, that feels pretty apt to me. I highly recommend topping them off with some guac:
A lot of you have emailed to ask me—and I don't blame you—how it feels to be in a new place. Honestly? Not that weird. Yet. I'm familiar with DC, I've got tons of support here, and I've been mentally preparing myself for this move for months. That doesn't mean that I didn't burst into tears as our car leapt out of the Lincoln Tunnel and swerved into Jersey (because I definitely did). It just means that I'm happy and excited to be here, and actually quite relieved that the transition itself has passed. One day at a time, right?
Readers, tell me: when was the last time you moved? And how did you feel in the days that followed? If it's relevant, what did you manage to eat as you were unpacking? I'm eating like a Queen here at M's, but not everyone has the luxury of an operational kitchen post-move.
Hope you try the burgers soon. Happy long weekend!
xo