Thanks for the considered comments on my recap of the RD's presentation at the Dole Summit! As usual, you all shared some wonderful perspectives, and I was especially pleased to hear my RD friends chime in.
When I left off, we'd just finished breakfast. Fortunately for us band of foodies, we had a whole day of eating ahead of us. First, though, we had some informational sessions, including a panel and Q&A with some of the senior folks at the Dole Nutrition Institute, which the Dole corporation founded in 2003 to educate the public about healthy eating—especially the benefits of eating lower on the food chain. I admire Dole for putting resources and time into such a massive undertaking as this! Of course, the more fruits and veggies sell, the better off Dole is, but I sense that the sheer amount of energy they pour into nutrition research goes well beyond self-promotion. They feel a general responsibility to keep consumers healthy. As I mentioned in my first recap post, Marty Ordman, Dole's Senior VP of Marketing, whom I sat next to at dinner on night one, seems particularly passionate about spreading healthy eating awareness. Appropriately, he gave a quick intro speech: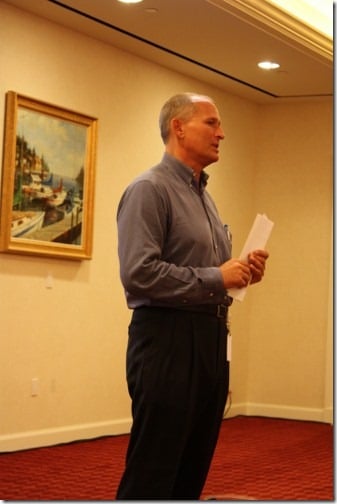 On the panel were Paulette Lambert, who had led the morning's breakfast presentation and nutrition talk. Another was Jennifer Grossman, Senior Vice President of the Dole Nutrition Institute, and Paul Gross, who's the Senior Manager of Nutrition Research and Labeling for the Institute. (Photo courtesy of Anne.)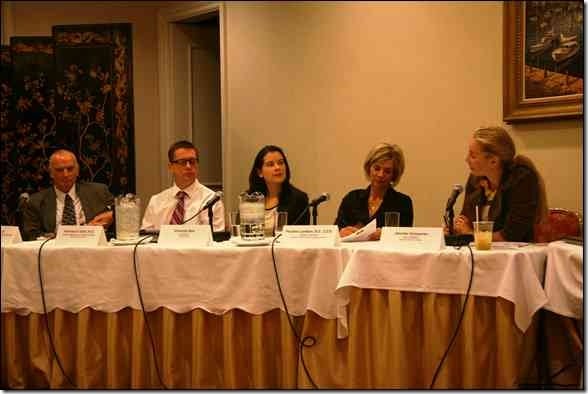 They spent some time discussing the latest in nutrition research, including new discoveries about antioxidants and various sorts of fiber. Of course, they also opened up the floor to questions, which ranged from such basics as "why are bananas such a good source of potassium?" (well, they just are) to "how does Dole plan to help more impoverished people gain access to food?"
That latter question was the one I might have asked, had someone not beat me to the punch. Food deserts, in case you haven't come across the concept, are areas (rural or urban) where there is limited or no access to fresh foods, and they're a growing problem in the United States. The Dole reps didn't mention them in so many words, but I don't doubt that they were on their minds and ours in the audience. The panelists answered that their main tactic at this point is to deliver more food to school lunchrooms, with such efforts as salad bar donations and nutrition books for kids. Of course, this is only one way to address the issue of uneven and lacking food distribution throughout our country, but we have to start somewhere, and I think that beginning with schools is as good a place as any.
Other questions included two from Ms. Anne, which were so good I wanted to include them, and Dole's answers:
The first – "Any plans to go organic?" Their response:
Dole does offer organic bananas and pineapple, and our organic bananas are the leading organic bananas. We tried piloting organic berries, but unfortunately consumers weren't interested and sales were not successful, so we stopped, because we of course have a responsibility to make our business successful. We are continually looking into it, however, and following research on the relative health benefits of organic vs. conventional products. However, our conventional bananas and pineapples are virtually pesticide free because we are trying to be innovative in terms of pest management. We are the pioneers of deep plowing for bananas, which is a way to destroy pests, and also use vacuuming as a way to get rid of pests.
Her next question – "How is Dole incorporating environmental sustainability into production and transport of products?" Their answer:
We are working to make our packaging more sustainable and have succeeded in making the packages we use to ship bananas reusable. We also have water management and pest management programs in action in order to protect the soil we are farming. For more information, check out www.DoleCSR.com.
Go Anne! I thought these were timely and relevant questions. I was sorry I didn't tweet out to ask you guys what you'd have liked me to pose as a question to the panel – before I realized that other bloggers were doing this, the presentation was just about done! Before we left, we did hear about Dole's policy to its employees, which is pretty stellar. They have a healthy cafeteria (more on that in a moment), free fruit & veggie snacks, free fitness classes 4x weekly, and nutrition newsletters. Pretty sweet—I wish I got free fruit and veggie snacks at work!
After the presentation, we were invited down to the Dole Test Kitchen for a sneek peak at some of Dole's latest products!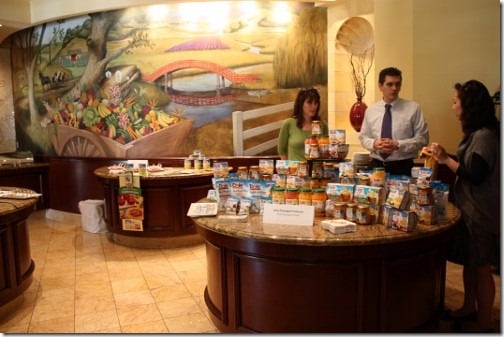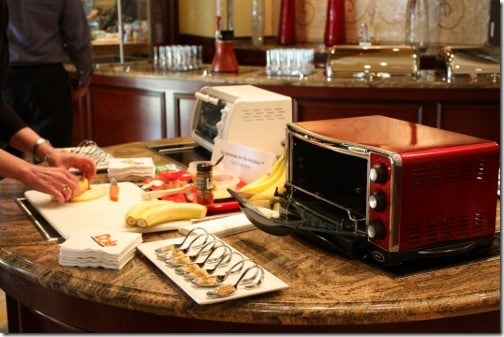 Some of these products, such as a jello-like concoction and Dole's "real fruit bites" (which are dried fruit covered in a yogurt and oat topping, and contain sweetener, thus seem very much like simple bites of fruit to me) weren't vegan, so I steered clear. But others, such as the apple cinnamon fruit crisp (packaged fruit with an oat topping) were, and I gave them a taste:
With packaged foods, I always read the label first a) to confirm it's vegan, and b) to see what's in it.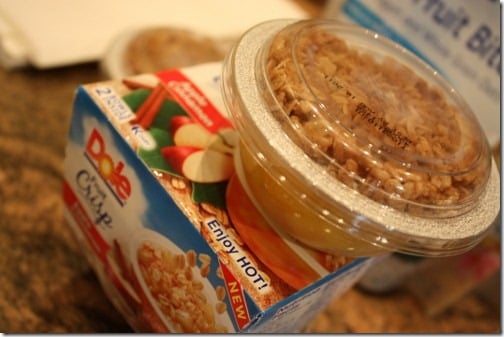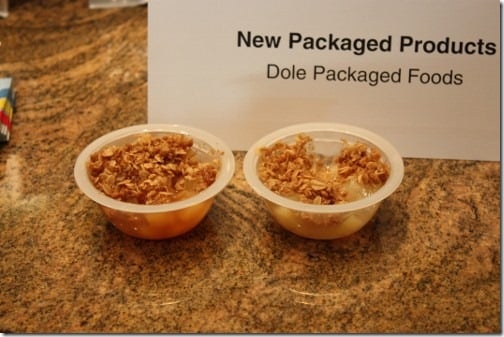 In the next room were a bunch of my kind of packaged foods: salad mixes! This is when things got really fun.
I got to try three of Dole's packaged salad mixes with various dressings – and all were vegan! I was obsessed with an arugula, avocado, macadamia nut and orange vinaigrette mix, and had three servings. Can't wait to try this recipe at home: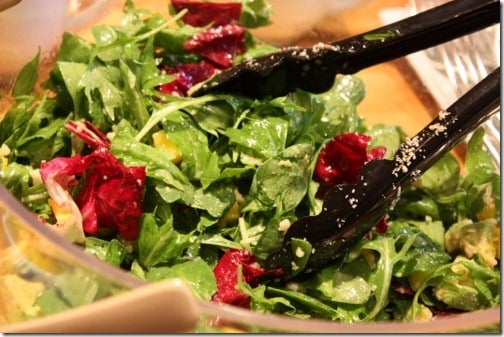 There was also an Asian inspired slaw: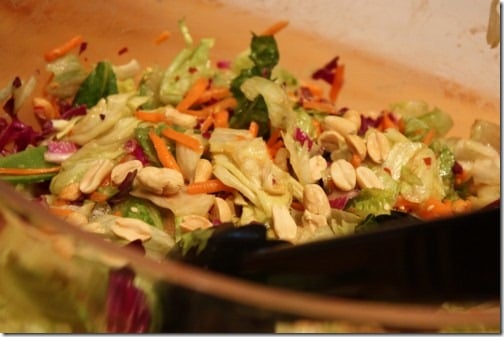 And another arugula mix with a peanutty dressing: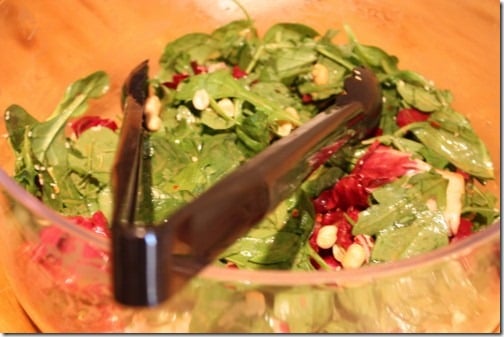 All were good, but the grilled romaine over at the table was the real winner. My goodness! I've never grilled romaine before, and now I must. So sweet and delicious. It was served with feta, but they made me a vegan portion with a creamy balsamic vinaigrette that I loved!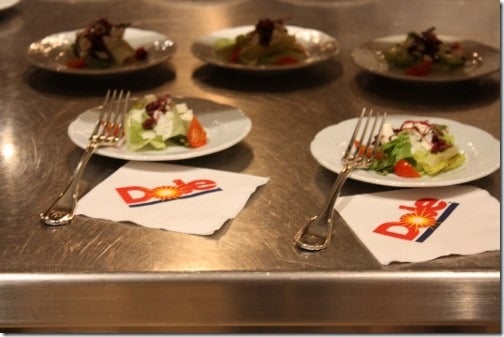 Yum!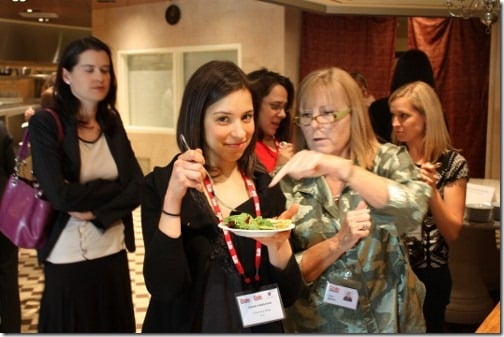 I tweeted out "I feel like I'm in Candyland. Except it's SaladLand." Naturally, I have been hoping to find such a place for many years 🙂
There were also grilled bananas on display that looked incredible, but were made with honey, alas. I got some pics, though: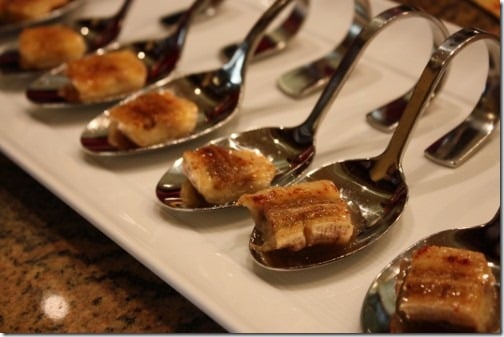 Before leaving, Anne and I, both stuffed with salad, had a moment of blogger lurve: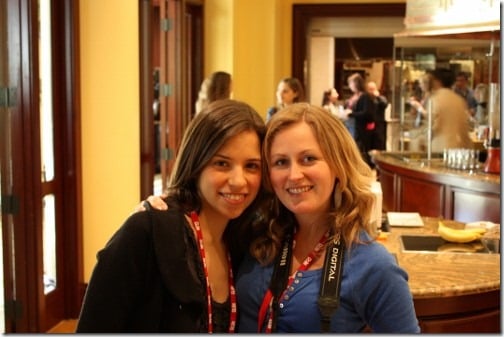 Next, we were given a private tour of the California Health and Longevity Institute, the lovely health and wellness center that's attached to the Four Seasons Westlake Village. The Institute offers not only normal allopathic medical consultation, but also acupuncture, hynotherapy, and other, more holistic treatments. For all IBS sufferers who are interested, I did a half-year of hypnotherapy for my IBS when I was still in the process of healing it, and found that it was very helpful. It helped me learn a few key relaxation tricks and coping mechanisms for stress, which was always the biggest aggravator of my IBS. Mind/body medicine isn't always foolproof, but it can make a big difference.
Soon enough, salad had been digested, and we were all ready for lunch. We were walked over to Dole HQ, which was impressive: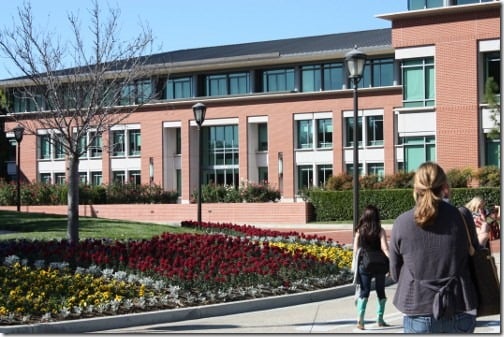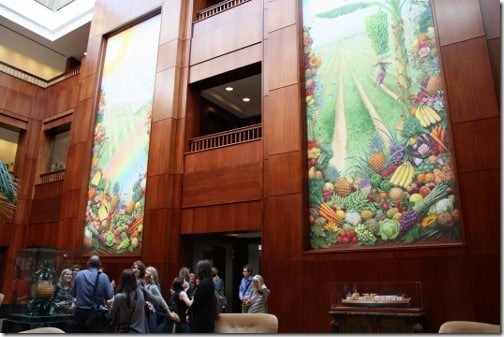 I wouldn't mind having a kitchen like this at my office—or, for that matter, at home. It was palatial!
Attention soon shifted, though, to the incredible Dole cafeteria salad bar.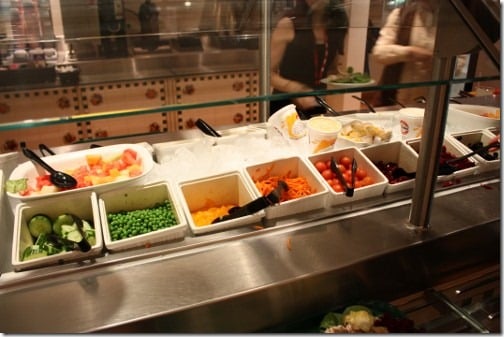 There were vegan hot options, too, but my heart is always at the salad bar. I went in for an attack: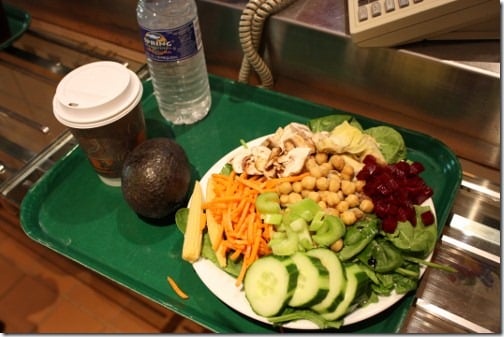 Oh yes. Notice the avocado? Fresh produce is on sale at low prices on certain days of the week in the Dole cafeteria, which is apparently so well liked that 80% of employees choose to eat in it.
And if you could eat on this outdoor patio, wouldn't you?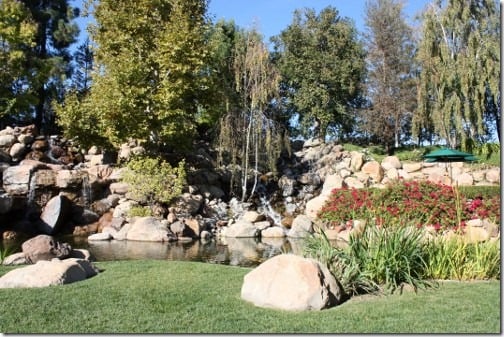 It was gorgeous! Anne and I were blown away—and couldn't resist the siren's call of photo ops: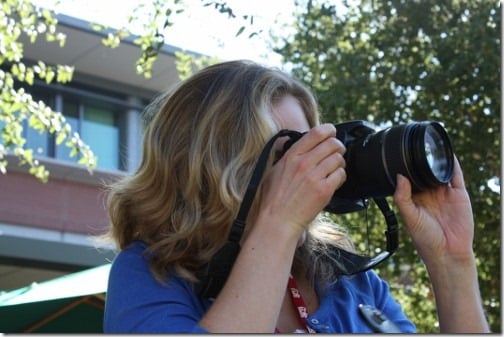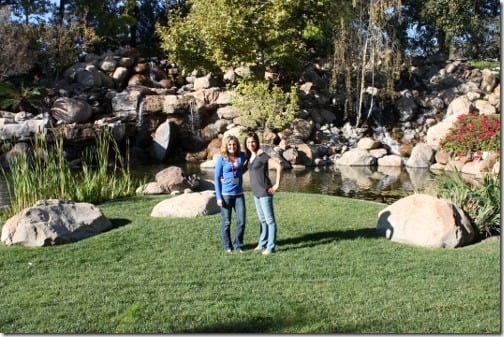 Meanwhile, Kathy and I got a kick out of our giant salads (roomstar, I missed having operation salad domination with you!!)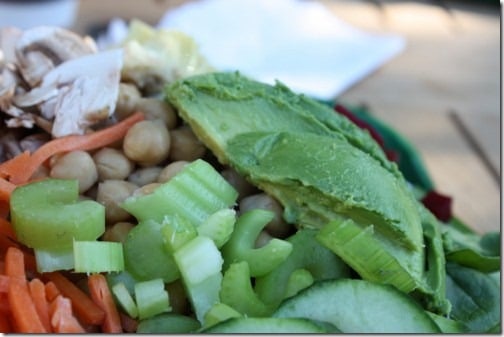 Me, con avocado: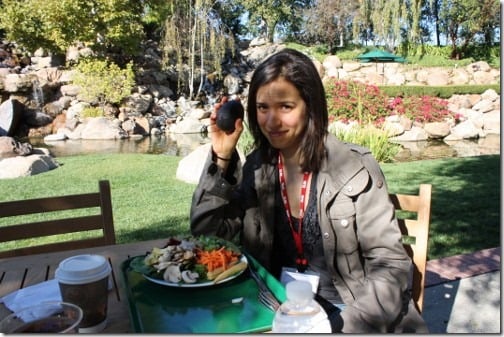 There was plenty of talk through the weekend about volumetrics. I assure you that no one knows about volume eating more than this vegan. I like my salads large and in charge, and that smile on my face says how much: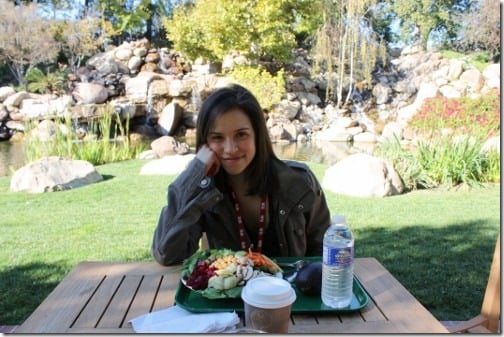 During lunch, Paul Gross came and asked Anne and I a few questions about our career paths, our interest in health, and even probed us for some opinions. For instance, if some of the phytochemical and/or antioxidant properties in fruit were put in a pill or supplement, would we be interested? We said we wouldn't be—we and our readers are sticklers for whole foods, mostly—but we were intrigued by his mention of research into using such kinds of supplements in third world countries. Mostly, I was impressed that someone of his stature in the company would take the time to come and chat with us, and to ask us for feedback.
After this, Anne and I took a quick walk and bemoaned the fact that there wasn't enough time for us to go hiking during this trip—boo! Our disappointment was mitigated by the fact that we were both en route to getting two complimentary spa treatments at the incredible Four Seasons Westlake Village Spa! It's a state of the art facility, featuring twenty-eight treatment rooms. I was booked for a massage and for an acupuncture session. The massage was awesome. Acupuncture was, as it always is, relaxing. I've tried acupuncture for various health issues over the course of my life, IBS included. I've found it to be totally ineffectual as far as medical treatment goes, but it does leave me feeling pleasantly sleepy and very zen, which in and of itself is nice. Interesting that hypnotherapy did help me IBS, whereas acupuncture had no effect—I think perhaps the active psychological work of hypnotherapy might have contributed to its success with me, but it's always fun to ponder why certain healing modalities are effective on different people, and others aren't.
The final part of our day was to be an Iron Chef-style cooking challenge in the CHLI kitchen, as well as another nutrition lecture (very different from the first) and a stellar dinner. I can't wait to tell you all, but you'll have to check in tomorrow for the last of my Dole Nutrition and Wellness Blogger Summit updates. See you then! In the meantime, have a great Saturday night!!
xo