Thanks, everyone, for such positive and interesting responses to my trip to the Dole Wellness and Nutrition Bloggers' Summit! If you missed any recaps, catch up:
Day one: Travel and Cocktail Reception
Day two: A controversial breakfast
Day two: Wellness and Pampering
Days two and three: Iron Chef Challenge and Farewell Breakfast
Thanksgiving Talk
As promised in yesterday's post, I'm back with some of my favorite Thanksgiving recipes!
Thanksgiving can be a rough day for vegans: we're shuffled to and from family events and potlucks that have nary a vegan dish, and if that's not enough stress, we're also forced to watch the turkey carved with heavy hearts.
Some of us–especially the newly vegan among us–might also experience some new social discomforts. Perhaps we spend the drive to Grandmother's house nervously hoping that questions won't be asked about why we're not eating the turkey. Or perhaps we spend days fretting about what dish to contribute to the dinner party we're attending–or whether it will be rude to bring a dish at all.
As a veteran of all of these scenarios, let me offer a calming word to my newly vegan friends: relax. Thanksgiving is, first and foremost, a day to celebrate good company and good spirits, and there's no reason to panic simply because your food politics are evolving. Instead, see this year as an opportunity to share your passion for compassionate eating with the people you love. When asked why you're not partaking of the turkey, simply smile and say, "I'm actually exploring a vegan/vegetarian/plant-based diet right now, and really enjoying how I feel." When invited to a get-together, politely and unassumingly call the host and ask if you might contribute a veg*n-friendly dish. If he or she is open, you might even ask what sort of foods would be welcome: would he/she like a soup? A grain dish? Maybe even an introduction to tempeh?
These same good manners go for raw eaters and health freaks who are attending vegan potlucks with limited healthy options. If you're quivering in your pleather boots because you fear that you'll have nothing to eat but Tofurkey, green bean smothered in fried onions, (yes, fried onions are usually vegan), and sweet potatoes slathered in Earth Balance and Sweet and Sara marshmallows (which are heaven, by the way), remember a) that you're lucky to be eating vegan at all b) that Thanksgiving is a day of celebration, not a day to play health food police, and c) it's also fine to offer to bring a more raw-friendly dish to the table. Just call your host and ask if he or she would be up for your bringing some kind of raw contribution. And you can bet that, wherever you go, there will be at least a few scrumptious salads and veggie dishes to savor.
When I was growing up, it wasn't in a family of passionate cooks. There were cooks, sure–outspoken ones–but cooking was often greeted with some degree of annoyance. Vegetarian cooking was unheard of–my mother's family recipe for stuffing was beef based! (If there is anything more frightening to a vegetarian kid than cow stuffed in bird, I'd like to know what it is, please.)
Now that I'm a little older, I get the the joy and satisfaction of helping to create the culinary celebrations that were never quite a part of my childhood, and I get to veganize them. What could be more fun? I know that many vegans have iffy feelings about Thanksgiving, and of course I understand that–it's hard for a vegan to identify with a holiday that's so directly tied to the consumption of animal food. But I've come to appreciate Thanksgiving in my own way, because it gives me a chance to cook and share the kinds of food I feel passionate about. I won't actually be cooking this year, but I do still have plenty of recipe ideas for those of you who are hoping to celebrate your first–or your fiftieth–plant based holiday. Without further ado, here are some of my picks:
The Night Before
There's a good chance you'll spend this evening cooking, and you'll be tempted to simply start your Thanksgiving feast ahead of time. Instead of finishing the vegan stuffing before it's stuffed, why not just make a really simple vegan dinner? Throw together a nutrient dense salad
…or give my kabocha and avocado sandwich a try.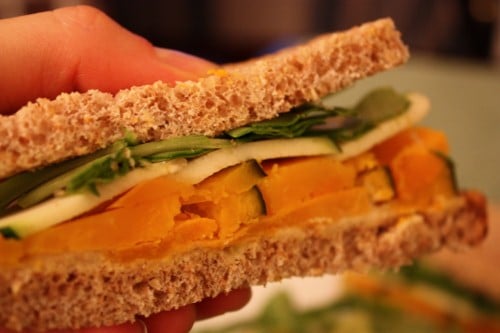 Or, if all you want to do is run your blender, simply whip up a blended salad.
Thanksgiving Day
Starters & Snacks

Cashew Cheese with Meyer Lemon and Dried Cherries + Flax Chips
Cheesy Red Pepper and Hemp Dip
Appetizers: Soups and Salads
Arugula, Radicchio, Fennel, and Orange Salad
Butternut Squash and Apple Soup
Tomato, Corn, and Butter Lettuce Salad with "Buttermilk" Dressing
Cauliflower Salad with Orange Vinaigrette
Side Dishes
Roast Veggies (any variation!)
Entrees
Acorn Squash with Cinnamon Scented Quinoa
Sweet Potato and Chickpea Burgers (crowd pleaser alert!)
Beet Ravioli with Sweet Root Veggie Filling
Easier-Than-Pie Desserts
If that's not enough inspiration for you, check out some of my other favorite Thanksgiving ideas from fellow vegan or vegan-friendly bloggers.
The Savory:
Karina's Corn Bread Stuffing and Maple Roasted Acorn Squash
Susan V's Green Bean Casserole
Isa's Fluffy Mashed Potatoes and Savory Mushroom Gravy
Lauren's Wild Rice and Sweet Potato Croquettes
Heidi's Maple Grilled Tempeh and Roasted Pumpkin Salad
The Sweet:
Kathy's Five Ingredient Pumpkin Pie
Ange's Pumpkin Spice Whoopie Pies
Hannah's Semifreddo (also check out her Thanksgiving quiche!)
Celine's Apple Pie in Pecan Crust
OK friends. If you're not excited to cook by now, you don't have a heartbeat.
I'm wishing you all happy, healthy, and hearty Thanksgiving dinners. Of course, I'll see you back here before Thursday, and I'll be narrating my Thanksgiving travels step by step.
xo