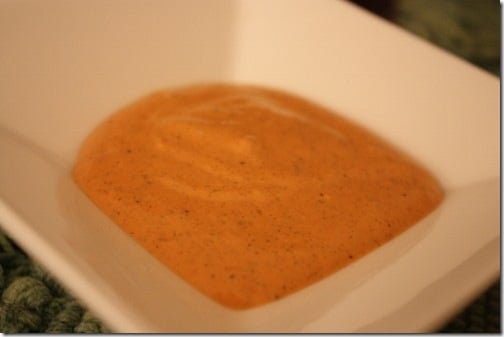 I suppose it's unavoidable that, when you're been writing a food blog for a certain amount of time, you begin to forget about past recipes. Finding them is like stumbling upon a garment you bought years ago, and left to flounder in the back of your closet. You think, "Oh right! This shirt."
That's precisely what happened this week when I was attempting to organize my recipe tab (don't hold your breath, friends: I didn't get far). I saw a recipe for red pepper and hemp soup, and I though, "oh right. This soup!" At first, I wanted to make it again, right away: I love all of the flavors, and I almost always have all of the ingredients on hand from July-November (side note: organic bell peppers are a fortune, and while I'm generally chillaxed about shopping organic—which is to say that I don't always do it—bell peppers are proud members of the dirty dozen, and so I typically say organic or nothin.' This means I eat them like crazy in late summer and through the fall, and eat them less often in winter and spring).
But I wasn't really feeling a soup, to be honest. Instead, I wanted a dressing/dip. Dressings and dips are vital parts of my weekly un-cooking roster: I use them on my salads, I use them as dips for veggies when I want a crunchy snack, I use them to dip wraps in, as spreads on raw or cooked sammies, or as sauce for a 'zeke tortilla pizza. In short, dips get a lot of Choosing Raw love, and I'm always looking for more recipes.
With red peppers and hemp seeds on my mind, I decided to turn my long lost soup into a newfound dip, and the results were awesome. This dip is very cheesy (thanks to the nooch), very sweet (thanks to the pepper), and very nourishing (thanks to the healthy fat, the omega fatty acids, and the exceptional protein count). What's not to like?
Cheesy Red Pepper Dip (yields about 2 cups)
1 extra large red bell pepper (or 2 regular sized)
1 heaping cup hemp seeds
1/4 cup nutritional yeast
1/4 cup lemon juice
1 tbsp nama shoyu or tamari
1/2 tsp mild curry powder
1/4 cup water
Pile ingredients in a high speed blender, and begin mixing (you'll want to use the plunger!). You'll note that my recipe only calls for 1/4 cup water: that's because liquid in the dressing will vary based on the pepper you use! If you find that your dip is super thick, simply add water as you go along. If you like really thick dips, just leave it as is.
When the dip is super smooth and creamy, taste it, and add lemon and nama shoyu as needed. Next up, serve!
I've been loving this dip in all sorts of ways. I enjoy it as a dip (pictured with a button mushroom for a certain special client of mine who's always looking for button mushroom dipping ideas!)
Salad in background 🙂
And tonight, with dreams of my dinner at Cafe Gratitude in mind, I served it as a dip for collard wraps. My wraps certainly weren't as good as CG's, but the dip was perfect: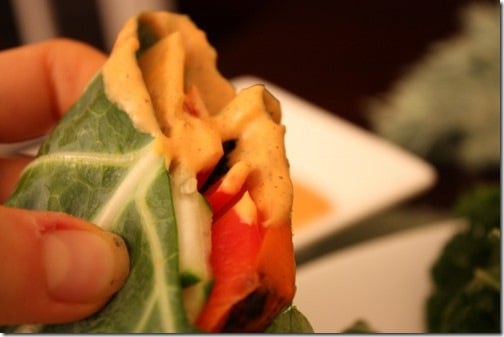 Served up with kale salad and sweet 'taters: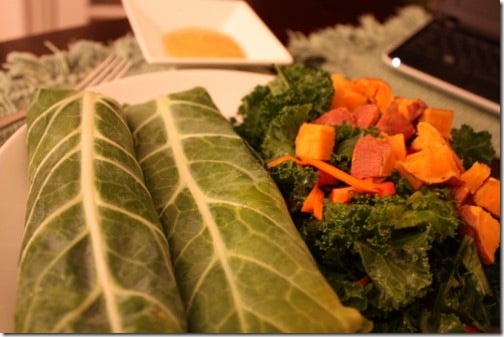 Hands down, an awesome dinner. This sauce will remind anyone who's tried cheesy kale chips (a raw food staple) of the cheese sauce one uses to coat the kale pre-dehydration. So it's basically like eating icing without cupcakes.
Not a bad thing, at least in my mind.
And for those of you who have protein on your mind (especially in light of Monday's convo), you'll be happy to know that a 2 tbsp serving of this dip has 7 grams of protein, while a 3 tbsp serving has 11 grams. Not bad for a condiment! Pair this with other high protein plant foods, and you'll have quite a protein-rich meal. It's also a nice way to squeeze a little protein action into otherwise lower-protein wraps, snack plates, etc. Win win!
Speaking of hemp, did you notice that Evan recently made my hemp milk? And liked it? Thanks, Evan!
What's your favorite use for hempseeds? Would love to know.
xo