Hey all! Thanks for the nice responses to yesterday's recap, including the full bodied cheer for my nap! I've spent plenty of time this week fretting about the work I wasn't doing, so the enthusiasm for sloth was welcome.
Yesterday's events began bright and early, at 6 a.m., with some coffee. Complimentary coffee, courtesy of the Four Seasons Westlake Village, which had me swooning in my hotel room:
I managed to get a nice, hour-long workout in at the amazing gym. It's rare that I can workout without the pressure of an imminent work day upon me, so it was awesome to just enjoy the sweat:
Next up was our breakfast presentation, led by Paulette Lambert, R.D. and C.D.E., who develops recipes for Dole and is director of nutrition for the California Health and Longevity Institute. This remarkable institute is a part of the Four Seasons Westlake, and I'll have a lot more to say about it in my next post, when I recap our tour!
Ms. Lambert's presentation was titled "Breakfast for Performance," and it focused on healthy and wholesome eating strategies. Along the way, she gave us her opinions on various nutrition topics. Since I didn't personally agree with everything in the presentation, I should disclaim now that, while Dole did cover the expenses of this trip, they also encouraged me to share my honest reactions to the summit with you on the blog. And of course, I would give you nothing less than honest reactions here at CR. Now that the summit has drawn to a close, I can say with assurance that my overall experience was resoundingly positive, and I feel so lucky to have been a part of this event. I didn't, though, expect all of it to resonate with me, and this breakfast was probably what resonated the least. Some of this was due to my personal habits and politics as a vegan, and the rest was an objective resistance to what I thought were some very doctrinaire attitudes.
For all of the day's emphasis on fresh fruits and vegetables, it seemed to me that Ms. Lambert preferenced processed low-fat foods over higher fat, whole foods – an attitude that's not in keeping with my own thinking. This became clear when she used margarine rather than butter in all of the morning's recipes (Smart Balance is her brand of choice). She also suggested egg beaters in place of egg whites, and "fat free half n' half" (quotes denote the slightly oxymoronic title) in place of cream.
Let's put aside for the moment the I personally find milk, eggs, and butter offensive. If you're going to eat an omnivorous, all-encompassing diet, I believe that whole animal foods are better options than heavily processed, de-fatted margarines and faux-milks. Naturally, animal fats are bursting in saturated fat, which was Ms. Lambert's reason for not advocating their use. I agree, but to that I'd simply say that anyone who wants to use these fats should use them moderately. A drizzle of cream or a little pat of butter seems to me at least marginally superior to foods that are both animal foods (like egg beaters), but also laden with coloring, soy fillers, and sodium.
What about Earth Balance, you ask? I've used it before, and I do buy it on occasion. But I prefer to use coconut butter when I need the sort of rich taste that butter (or imitation butter) gives. In fact, my use of coconut butter or oil is comparable to the way I'd suggest using regular butter: it's a food that's high in saturated fat, so I'd advocate using it sparingly (though it's worth noting that there's suggestive evidence that lauric acid doesn't contribute to heart disease and inflammation the way saturated animal fats do). However, I still prefer it in very small amounts to Earth Balance, which is far more processed. I use Earth Balance when I really need a buttery flavor—in mashed potatoes, for instance, or in vegan baking—and coconut oil or butter in other dishes where a really rich fat is necessary. The rest of the time, I use more heart healthy, monounsaturated oils like olive and safflower. Analogously, I'd tell an omnivorous client to use butter and milk in very moderate amounts when the richness is necessary, just the way I use coconut oil and coconut butter, and to explore using unsaturated oils the rest of the time.
Ultimately, I believe that some amount of saturated fat has a healthy place in human diets (of course, I'd prefer that saturated fat to be found in coconuts rather than animal fats), and I don't think that eschewing it wholesale is necessary—especially not when processed food is the alternative. Many women in the audience agreed with me on this point, and Anne also raised her hand to inquire about the margarine being used in breakfast. And what I found particularly irksome was that Ms. Lambert kept referring to Smart Balance as a plant-based margarine, and saying how superior it was to using animal fat: well, Smart Balance may not have saturated animal fats, but it is not an exclusively plant-based food! It contains whey, a milk derivative. If you're going to try to support a plant-based brand with your dollar, why not simply buy Earth Balance? The extra gram of saturated fat in Earth Balance is hardly hazardous enough (especially since it's all plant-derived) to outweigh the benefit of supporting a product that's almost identical, but also 100% animal-cruelty free.
Ms. Lambert had a bunch of tasty recipes on the morning roster: stovetop oats, a smoothie, an almond butter and banana sandwich, and a parfait. She mentioned that she's a great fan of using soymilk in oats, and in smoothies. It pleased me to hear that she's supportive of a vegan dairy alternative, but when she immediately added that, in case we were wondering about whether or not soy is safe, we should put our minds to rest, I raised an eyebrow. I think you all have a sense of how I feel about soy: I think moderate amounts of relatively unprocessed, organic, non-GMO soy 2-3 times a week are a healthy part of a balanced vegan diet. But I believe we should eat soy in moderation, and avoid its more processed forms. Will I eat soymilk if it's the only available alternative to regular milk? Of course! But I'd caution new vegans against eating it at breakfast, lunch, and dinner.
When Ms. Lambert said that the latest study soy and breast cancer risk shows conclusively that soy is actually breast cancer preventative, I was pretty shocked. If working in nutrition has taught me anything, it's that the things we don't understand far outweigh the things we do, and few things are ever conclusive. At the least, one study can't outweigh decades of controversy, which is what surrounds the use of soy. There's great evidence to show that phytoestrogens in soy can bind to estrogen receptors on cells, shutting out more powerful estrogens in the body and lowering breast cancer risk. Others suggest that phytoestrogens actually promote the growth of estrogen receptive cancer cells. There's no definitive answer. I think that most of what we know suggests that unprocessed soy isoflavones are actually cancer preventative. But as the child of a breast cancer survivor, I prefer not to take any risks with excess. And for an R.D. to dismiss a question as complex as this one with one single wave of the hand was off-putting, at least to me.
Breakfast prep began in earnest now. Ms. Lambert was aided in the kitchen by Matt, her incredible sous-chef, who stuck around of the rest of the day's festivities:
As she prepped a single serving of oats, Ms. Lambert finished them off in the microwave. Anne jumped in to ask, "isn't it true that microwaving depletes more vitamins and minerals than other forms of cooking?" Ms. Lambert quickly said no, there's no evidence to show that microwaves cause any less vitamin loss than other cooking methods (even gentle steaming). Again, I respectfully disagree. There is evidence on both sides of this debate: some to show that B-vitamins are destroyed more readily by microwaves than by other methods, and some to show that the shorter cooking time in microwaves is a boon to vitamin retention. We don't know for a fact—or at the least, we don't have a wealth of information that falls exclusively on one side of the debate or another. I'm not a microwave fan myself.
I flipped through my packet of materials, and read through the breakfast recipes. I was thrilled to see so many plant foods—fruit, almond butter, and whole grains—but also realized that nearly every recipe was about one ingredient away from being vegan. The almond butter and banana sandwich used honey, rather than agave, and ditto for the granola; the smoothie contained both soymilk AND yogurt. After hearing all about how terrific soymilk was, I couldn't understand why we'd be instructed to add cow dairy to a soy-based smoothie (or, for that matter, why soymilk wasn't an option with the morning coffee). It seemed as though we were being instructed to use soy in a supplementary way, but also encouraged to rely on cow's dairy. It's a pet peeve of mine when I see recipes that are almost vegan, but for the addition of a touch of yogurt or milk or butter—like the smoothie, or the roasted strawberries Ms. Lambert made with Smart Balance. I wish I could persuade people that any recipe that's already close to vegan will be so easy to veganize, and that our small efforts to do so will give us the peace of mind that no animals were harmed for the food on our plate.
These, then, were my reactions. I loved that we were in a kitchen full of mostly vegan friendly foods, but I didn't like the certainty with which Ms. Lambert did away with some really complex nutrition questions, and I really didn't like that so many recipes that might have been veganized weren't steered in that direction.
I also thought that Ms. Lambert's attitude toward measuring and counting was a little doctrinaire: we were reminded that 1/4 cup is the correct serving size for granola, that women must eat no more than 10 grams of saturated fat daily, that there are four grams of sugar in one teaspoon, and—my favorite—we ought to be careful with brown rice, because there are 300 calories in a cup. With all due respect, this advice may be useful to people who are likely to eat a carton of granola, or 9 cups of brown rice, but a room full of health-savvy food writers is not an audience that's at risk for such excess. Instead, the numbers talk came came across as a bit admonitory and joyless, and it seemed painfully in keeping with the stereotype of the finger-wagging American RD who is obsessed with calorie counting, food exchanges, and strictly monitored portion sizes. As an ED survivor, I find that kind of talk triggering, and as a nutritionist, I find it unnecessary: there are ways to encourage healthy eating that involve more relaxed forms of portion control and less stringent attention to numbers.
With all of that aside, I cannot deny that Ms. Lambert's finished breakfast was an absolute joy to behold! Look at this spread! Fresh granola:
Almond butter and banana sandwiches:
…and there were also smoothies, scrambled eggs, a cottage cheese and granola parfait, and baked breakfast cake for the omnivores. I was so deeply grateful to Ms. Lambert and to Matt for accommodating me when I explained to them that I was a vegan. Matt instantly whipped up a honey-free almond butter and banana sandwich for me, while Ms. Lambert assured me that the oats were dairy free. The fruit salad being served was coated in a yogurt sauce (weird, I thought) but Matt rushed to make me a bowl of fresh, plump, and delicious Dole berries. So at the end of all this, I had a little vegan feast of my own, served outside on the sunny patio:
Almond butter and banana on whole wheat toast, fresh berries, oatmeal with vegan blueberry compote, and a splash of decaf. Perfect way to start the day, and to refuel after my time in the gym. The berries were so, so good: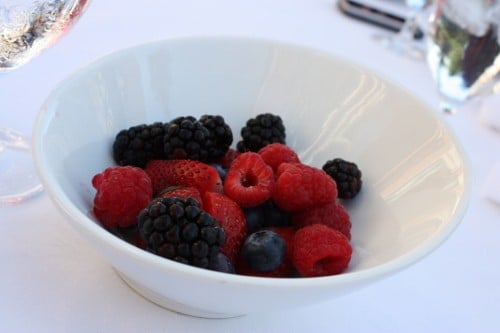 And the oats were super creamy and not too sweet:
I'll have to steal that compote idea!
So that you all could see the non-vegan offerings, I caught a photo of Anne's plate. It was EPIC: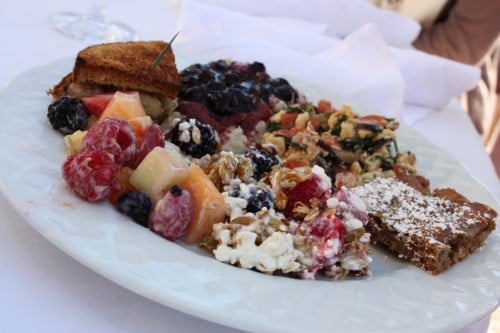 As a side note, Anne and I realized that no one understood why we kept saying "EPIC!" and "FAIL!" for these two days. Healthy Living Community, we missed you guys.
After this feast, there was a little time for frolicking in the sun. That's me with Ms. Kathy:
Vegans unite!
And with my sunshine:
It actually occurred to me, as I was thinking about the presentation, that Anne and Kath and Elizabeth will be a new generation of RDs: a generation suited to the green foodie generation. Instead of numbers and measuring cups, they'll emphasize sensible attitudes and intuition; instead of processed foods designed to mitigate the things we need less of (like saturated fat), they'll advocate whole foods in moderation. Of course they all realize the importance of calorie counting and portion control for certain people in certain phases of weight loss, and so do I, but I believe their emphasis is destined to be on a back-to-nature approach. I'm proud of them already.
How do you feel about the numbers game? Supportive, skeptical? I think calorie monitoring is useful for people who are either over or underweight and struggling to reach healthy ranges, and I think it's also useful for athletes who are in serious training. Certainly I think it can be eye-opening for people who are eating very poorly, and have no clue what's in the foods they abuse. But for generally health-conscious people, I think that calorie counting and strict adherence to USDA values becomes a form of slavery, and actually emphasizes the wrong kinds of nutritional priorities.
With that, I thank you guys for letting me sound off about some of my reactions to the presentation. Of course, I admire the work of anyone who's helping to spread fruit and veggie awareness, which is why I tip my hat to Ms. Lambert for everything she does. I also thank her for being patient with a feisty vegan blogger and her breakfast requests. I was lucky to hear her perspective.
I can't wait to return with a recap of the Dole nutrition panel, our tour of the Dole factory and lunch at their cafeteria, and our faux Iron Chef challenge for dinner last night! But for that, friends, you'll need to wait a few hours. Have a great Friday evening, and I'll see you tomorrow.
xo