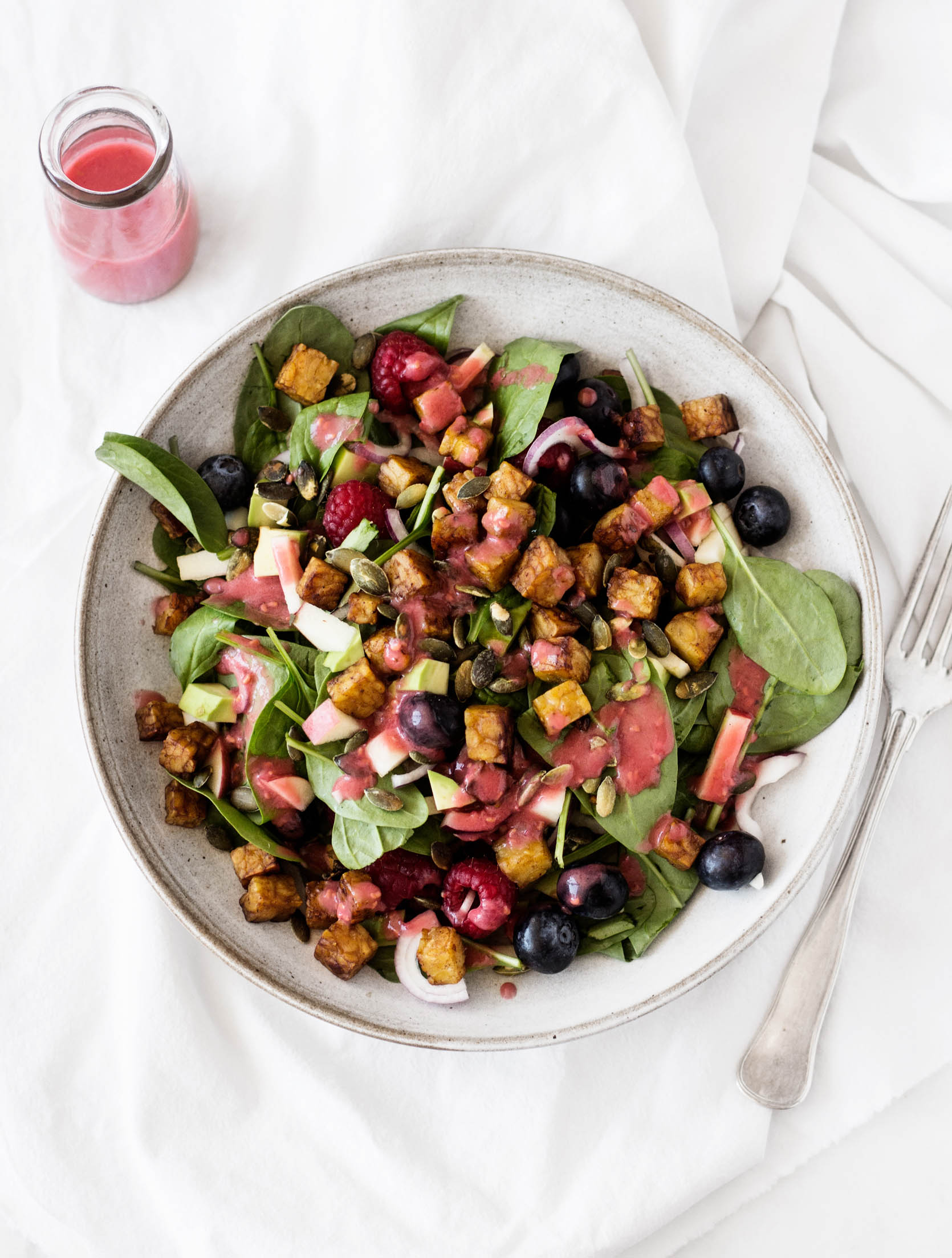 As you'll see, this recipe for berry, spinach, and seared tempeh salad with raspberry vinaigrette features ingredients that may help to fight off seasonal allergies. But first, here's the back story:
When I moved to D.C., my seasonal allergies, which had always been occasional and mild, suddenly became frequent and aggressive. In addition to the usual runny nose and puffy eyes, I would get crushing sinus headaches, fatigue, and an odd kind of lightheadedness. No fun at all, especially not during long organic chemistry study sessions.
Claritin really helps, but I've also done my best to explore complimentary remedies through food and herbs. I did some polling online, and this is a sampling of suggestions I got from readers on Facebook:
High dose Vitamin C
Nettle tea
Neti Pot
Swimming in saltwater (head submerged; same concept as neti pot)
Pineapple
Quercitin supplements
Apple cider vinegar and water as a drink
Natural D Hist
Lavendar essential oil
I admit, I've tried many of these, and while nettles seem to show promise so far, a lot of them (including, I'm afraid), the neti pot, don't seem to be helping.
Still, I'll keep trying, and in the meantime I'm also trying to emphasize foods that are rich in Vitamin C and quercetin. Quercetin is a compound found in red onions, in berries, and in tea (among other sources) which may reduce allergic inflammation and symptoms. Quercetin supplements exist, but since onions, berries, and tea are quite commonplace within a plant-based diet, it's easy to combine them in recipes–and this sweet salad is a great example.
The salad combines a lot of ingredients that I wouldn't normally think to pair, including fresh berries and tempeh. But I loved the results. The berries and vinaigrette add lightness and summery flavor to the salad, while the tempeh adds earthiness, umami, and tons of plant based protein. It's a really interesting mix of flavors, if you can forgive the oddness, and I hope you'll like it as much as I did.
I love how this salad pulses with color! And it's full of texture, too.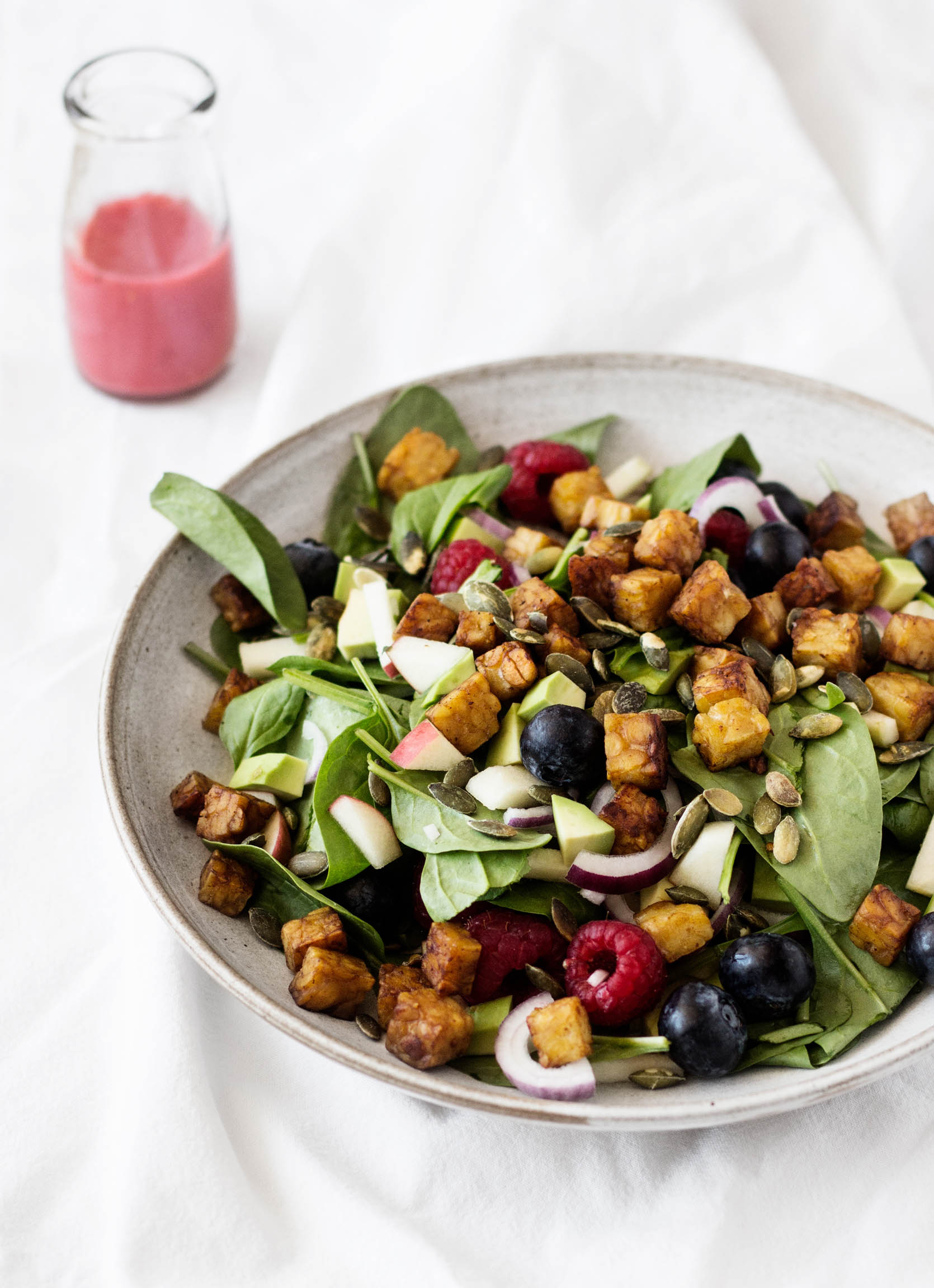 Berry, Spinach, & Seared Tempeh Salad with Raspberry Vinaigrette
Cuisine:
vegan, gluten free, soy free, nut free
Author:
Prep time:
Cook time:
Total time:
For the salad:
1 tablespoon olive oil
Tamari or Bragg's Liquid Aminos
8 ounces tempeh, cut into small cubes
4 heaping cups baby spinach
1/3 cup thinly sliced red onion (or pickled red onions)
1/2 cup blueberries
1/2 cup raspberries
1 small apple, chopped
1 avocado, pitted and chopped
4 tablespoons toasted sunflower seeds or pepitas
For the dressing (will make about 1 1/2 cups; reserve extra for more salads):
1 cup mixed raspberries and strawberries
1/4 cup orange juice
2 tablespoons apple cider vinegar
1 pitted Medjool date
1/2 teaspoon sea salt
1/8 teaspoon black pepper
2 tablespoons olive oil
Blend all dressing ingredients in a blender till smooth. Set aside.
Heat the olive oil in a small saucepan over medium heat. Once it's shimmering, add the tempeh cubes. Cook for 2 minutes on each side, or until the cubes are evenly browned, adding a few splashes or sprays of tamari or Bragg's as you go. The tempeh will take about 7-8 minutes in total.
Mix the berries, spinach, onion, apple, and avocado together in a large mixing bowl. Add the cooked tempeh cubes and toasted seeds. Dress with as much vinaigrette as you like, and enjoy!
Serve the salad with a couple slices toast, a grain pilaf, or a hearty legume soup to make it a complete meal.
Hope this post is helpful to all of my readers who are sniffly, sneezy, or sinusy right now!
xo