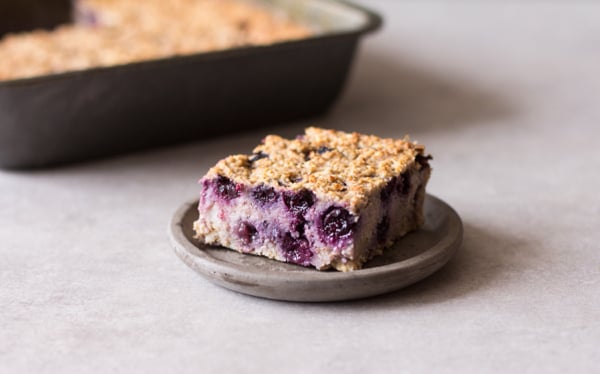 When I was a post-bacc student, I ate nearly the same thing every day for breakfast: an overnight oat/chia combination with dried fruit and hemp protein. It was nutritious, fast, and filling. One downside, though, was that it was cold, which wasn't always welcome in the winter months. At this time of the year, I'm always on the hunt for breakfast options that are as portable as chia pudding or as quick as a smoothie, but which offer warmth and heartiness. This blueberry, banana, and walnut oat bake is a perfect solution.
In fact, baked oatmeal may become my thing this winter. Sure, there's some advance prep involved, but once the oats are baked, you've got at least four easy breakfasts ahead of you. The baked oats will turn firm enough to resemble a bread (see above), but if you microwave them or heat them on the stovetop, you can serve the baked oats in a bowl, and top them with maple syrup. It's a perfect compromise between a breakfast quickbread and a hot porridge.
No matter how you enjoy these oats, they are truly delightful. They're healthful, too, sweetened primarily with fruit and studded with walnuts, which provide plenty of awesome Omega-3 fatty acids. No blueberries in winter? No problem. I developed the recipe with frozen 'bloobs, and they worked perfectly.
Print Recipe
Blueberry, Banana, and Walnut Oat Bake
Ingredients
Dry ingredients:
2 1/2

cups

rolled oats

1/2

teaspoon

salt

1

teaspoon

cinnamon

1/2

teaspoon

ginger

2

tablespoons

flax meal

1

banana

chopped

8

ounces

blueberries

frozen

1/4

cup

chopped walnuts
Wet ingredients:
2 3/4

cup

almond milk

1

banana

1

tablespoon

agave or maple syrup

optional
Instructions
Oil an 8 x 8 baking dish and preheat the oven to 350F.

Mix the oats, salt, cinnamon, ginger, and flax together in a large mixing bowl. Fold in the frozen berries. banana, and walnuts.

Blend together the almond milk, remaining banana, and sweetener. Pour the liquid over the dry ingredients and mix well. Transfer the whole mixture to the baking pan.

Bake the oats for 40-45 minutes, or until the top is browning and firm. Allow the oats to set for at least thirty minutes before cutting into servings and enjoying.
Notes
Leftover baked oats will keep in an airtight container in the fridge for up to 5 days.
If you're allergic to gluten, be sure to use rolled oats that are certified gluten free.
To give the bake even more character, serve it with a schmear of fruit preserves, apple or pumpkin butter, or almond butter. Perhaps you'll enjoy this warming breakfast on Christmas morning or New Year's day this year–or perhaps you'll tuck the recipe in your back pocket to enjoy for the remainder of winter. I'll be enjoying it along with you.
I'll be having a quiet Christmas with Steven, my mom, and friends. But on Friday morning, Steven and I will be on our way to Vieques, where my college BFF is getting married this coming weekend. I can't wait to celebrate with her! The blog will likely be quiet until Sunday, but I'll be checking in while Steven and I enjoy some vacation time in paradise next week. As always, it'll be fun to share my travel adventures with you all.
xo