It feels a little odd to be posting about a blueberry carob smoothie at this time of year, when berries are no longer seasonal. I aspire to eat seasonally, I really do, but it's hard for me to curtail my love of certain foods, even for a few months at a time. I eat berries in winter, and pumpkin in summer, always feeling a little guilty about my carbon footprint, but without sufficient remorse to stop! Thankfully (for me), frozen berries are delicious year round; perhaps this summer I'll make a conscious effort to freeze my own.
The smoothie in this post was made much more delightful by the addition of some superfood goodies from Oriya Organics. I'll be doing a full review of two of their products soon, but for now, this recipe works well with any green powder and any protein of your choosing. It's a simple smoothie, but the flavor combination is unusual and quite delectable. Just see for yourselves!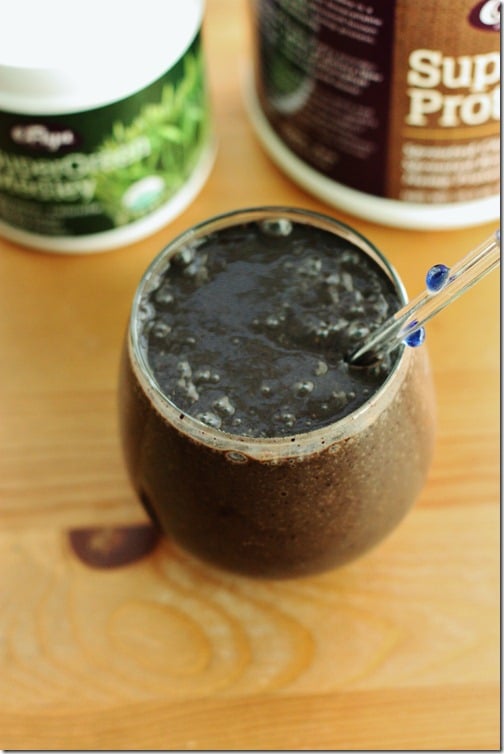 Raw Blueberry Carob Smoothie (raw, vegan, gluten free, soy free)
Serves 1
1 1/2 cups blueberries (or mixed berries)
4 tbsp vegan protein powder of choosing (my favorite is hemp, or combinations that include hemp)
3 tbsp carob powder
1 tsp green powder (Amazing Grass, Navitas Naturals wheatgrass powder, spirulina, chlorella, or Vitamineral Green are all good examples)
1 heaping handful spinach
1 cup almond milk (extra as needed)
Blend all ingredients in a high speed blender till smooth. Add more almond milk as needed, till you reach the consistency you like!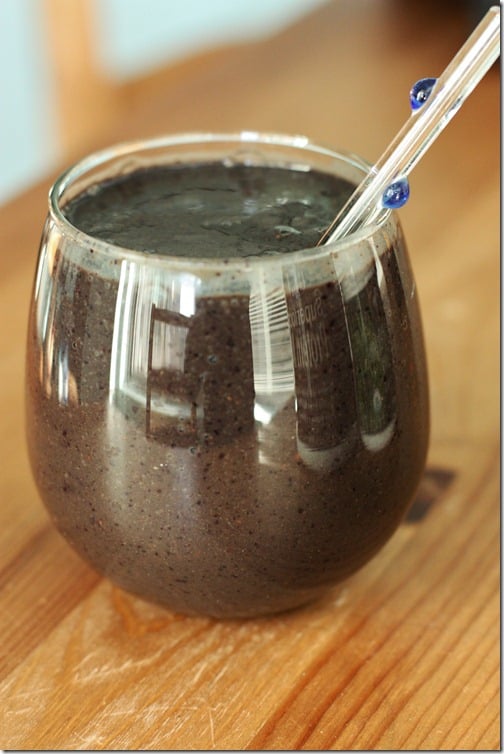 Delicious! I am a huge fan of carob, not only for its taste but also because it is rich in fiber and provides sweetness without tasting too sugary. I typically blend it with banana, spinach, and almond butter, but it worked really nicely in this smoothie, too.

I actually served this smoothie today as an afternoon snack, after I'd just finished a particularly long and tiresome lab. I found it energizing and delicious. If you want to drink the smoothie as a meal, go ahead and add a tablespoon of nut butter, hemp seeds, or some avocado for a little extra healthy fat!
And on that note, I'm off to decompress a little before hitting the books again for the night. See you back here tomorrow, friends.
xo