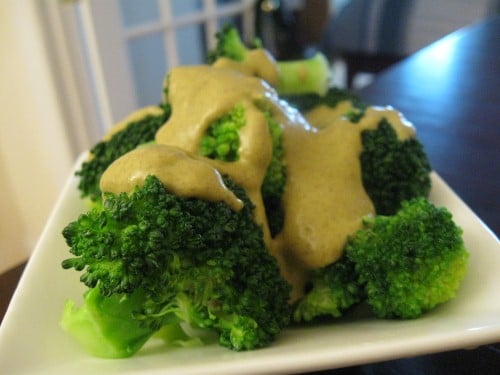 Hi guys!
Hope you're all having lovely holiday weekends. Mine has included (so far) two lovely blog-world meetups. On Friday night, I had dinner at Candle 79 with Kris Carr and the incredible editorial staff at Crazy Sexy Life:
That's me next to Lauren of Ginger is the New Pink!
And yesterday, I got to share lunch with my friend Kath, who's in town for a wedding. Our destination? One Lucky Duck (or, Pure Juice and Takeaway, as it's more accurately called). Kath, Matt and I all split salads. It was great to see them — I hadn't seem Kath since the Summit in August.
Today, I got back to my own kitchen to whip up a fun lunch recipe. A few days ago, a friend of mine was waxing poetic about her love of broccoli and cheese sauce. This sounded immediately like a fun recipe to veganize and rawify. So this morning, I played around with a raw cheesy sauce to throw over steamed or dehydrated broccoli. There are plenty of recipe for raw cheese sauces — nacho cheese, alfredo sauce, etc. — but my goal with this one was to avoid using the heavy nut or seed bases that most of these sauces rely on. How cool, I thought, would it be to make a faux cheese sauce that was also light, plant-based, and neutral for food combining purposes? I didn't succeed entirely here: the sauce uses ground chia seeds for thickening, so it combines, technically, with nuts. But the amount of chia seeds I used (1.5 tbsp) is relatively small, and so I think that most of you will find that this sauce can combine neutrally. The base, meanwhile, is zucchini and red pepper, so it's light, fresh, and nut free. It's delicious served over broccoli, naturally, but I think it would also work nicely over any steamed, grilled, or raw veggies, and it would definitely give a pleasant kick to raw spiralized pasta dishes! Yum.
Raw Zucchini "Cheese" Sauce (yields 1 1/2-2 cups)

1 heaping cup sliced zucchini
1/2 red bell pepper
1 1/2 tbsp ground chia seeds
1/3 cup nutritional yeast
2 1/2 tbsp Bragg's Liquid Aminos (nama shoyu or tamari is also fine — if you use one of these, reduce amount to no more than 2 tbsp)
2 tbsp lemon juice
1 tsp organic Dijon mustard
1/2 tsp turmeric
Blend all ingredients in a blender till very smooth (if you're using a conventional blender, you may need to add a touch of water to get it all going). Check the mix for seasonings, adjust, and blend again.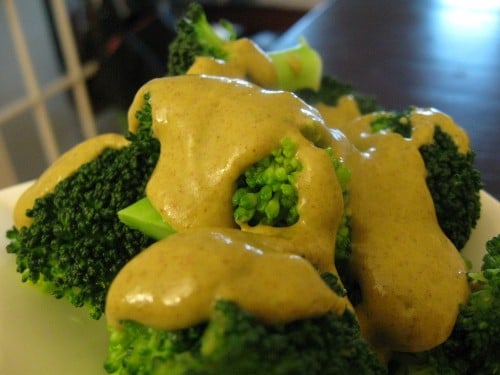 I served my sauce over steamed broccoli, but of course you can serve it over raw broccoli, too — or you can dehydrate broccoli that you've tossed in a bit of olive oil and lemon juice for an hour or two before you plate this dish.
If you do steam the broccoli, remember not to over-steam it! This is a frequent kitchen mistake — turning steamed or blanched veggies into mush. Steam for exactly two minutes, then plunge the broccoli into cold water to preserve its color and bite.
The result? Rich, cheesy(ish) broccoli goodness that's shockingly light and healthy!
In store for the long weekend: editing, of course. A few chapters of Wolf Hall. But today, I've got a strained shoulder muscle, so I'm helping myself to a rare indulgence: a massage! After that, it's the premiere of 24 with my Mom. Have a terrific holiday, everyone!
xo