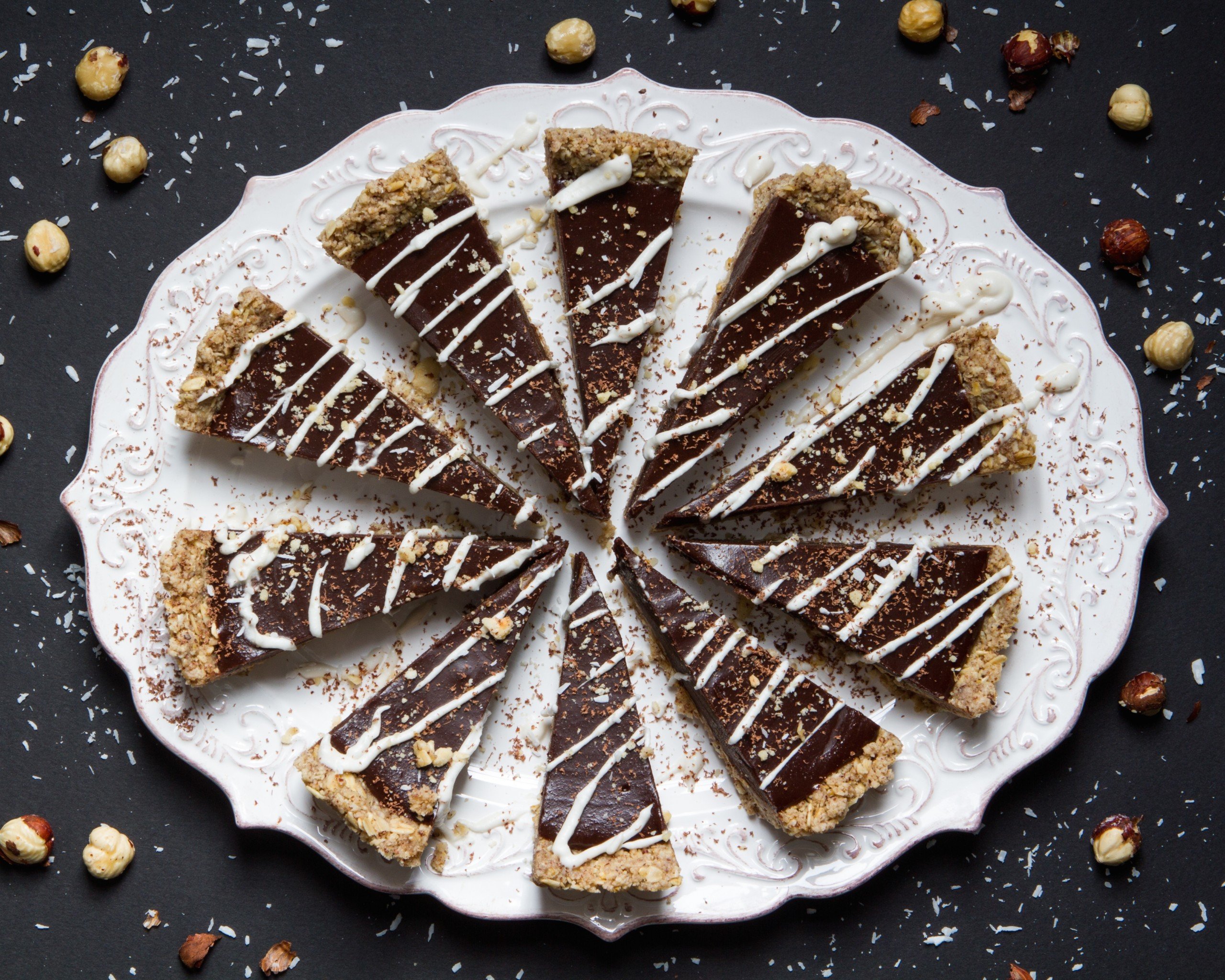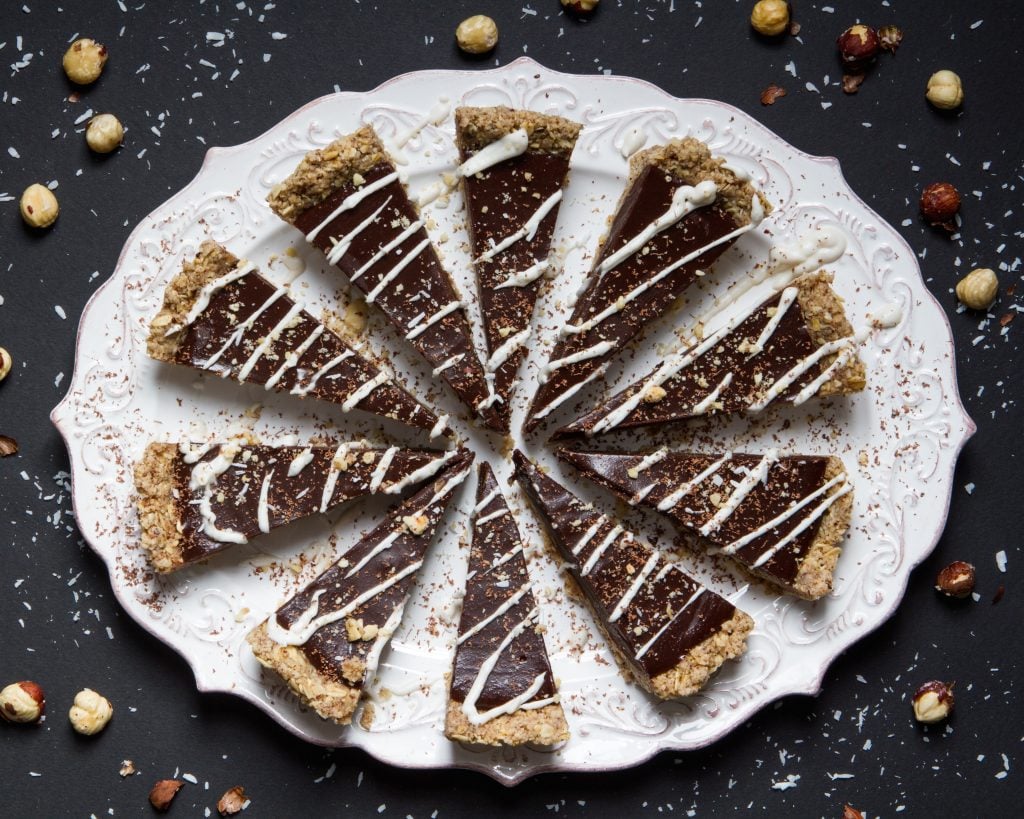 I'm reasonably certain that Angela Liddon's name is familiar to most of my readers. Angela is the  wildly talented creator of the website Oh She Glows, a treasure trove of vegan recipes, exquisite photos, and honest, relatable posts about body image and life. Ange's work is a source of constant astonishment, inspiration, and–let's be honest–envy; I have no idea how she produces such consistently high quality and beautiful food. And if all of her talents as a blogger aren't enough, Angela also happens to be a wonderful person. We connected early in our blogging days, and have been friends since. We see each other rarely, but whenever there is a reunion (at VVC last year, for instance) it's occasion to celebrate.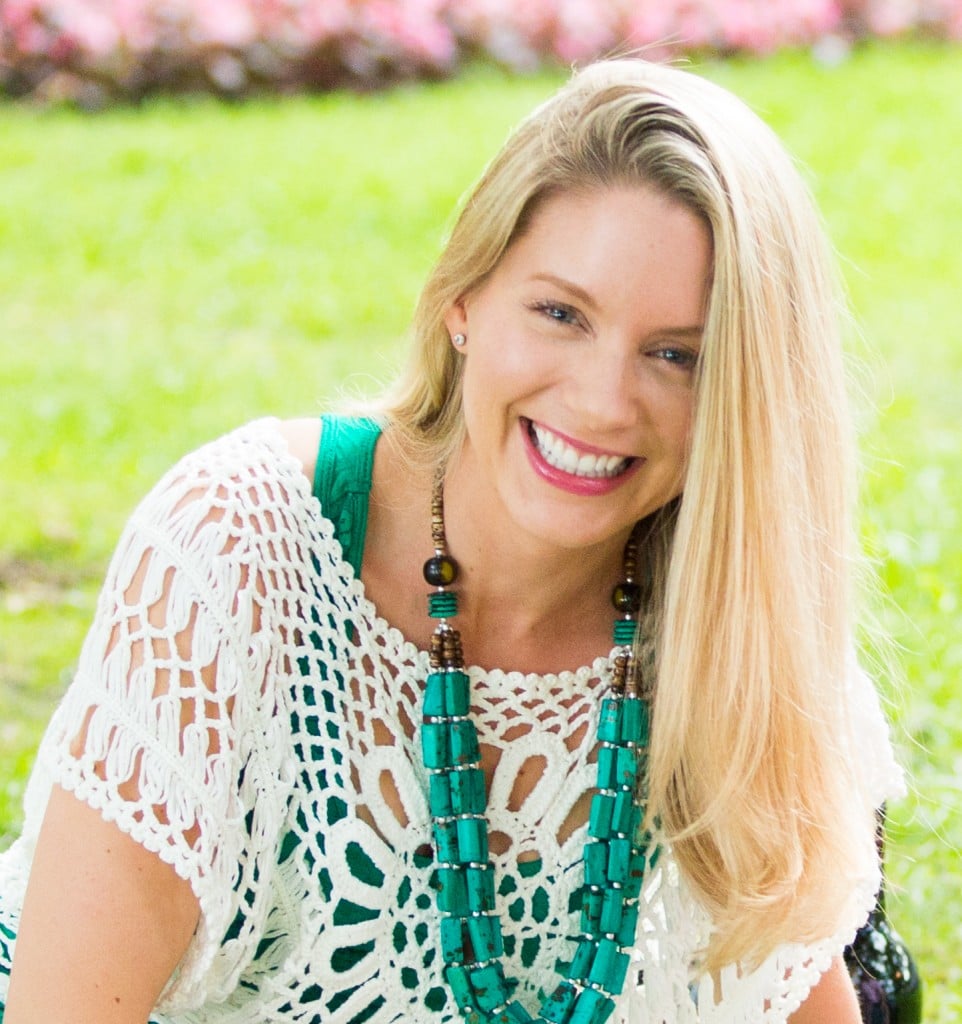 Angela's new cookbook, The Oh She Glows Cookbook, is probably the most anticipated vegan cookbook of this year, for good reason. The book features over 100 recipes, all vegan, many gluten and soy free (or easily adaptable), all featuring whole foods ingredients. Angela developed all of the recipes and took all of the photographs, a feat which boggles my mind, especially since each and every image is beyond immaculate. As she shares her characteristically crowd-pleasing fare, Angela also shares details of her personal story, tips and tricks for the budding chef, and lots of enthusiasm.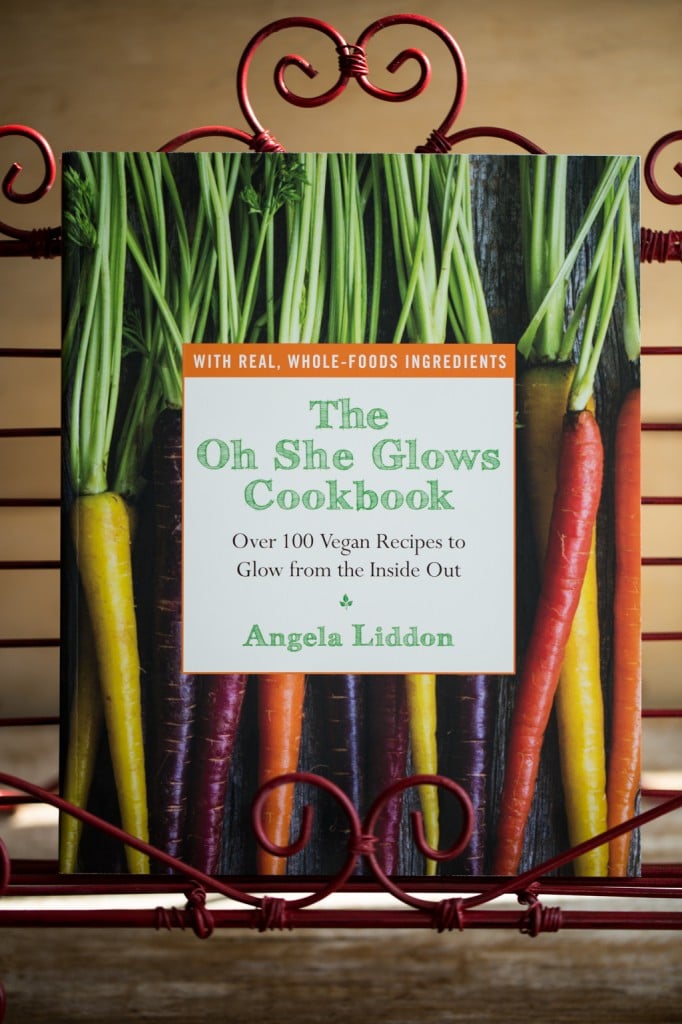 I received my copy of the OSG book a few weeks ago, and proceeded to marvel at it. Though traveling has kept me from making too many of the recipes yet, I know that this is one of those cookbooks I'll use and return to again, and again, and again; it's just that good. Recipes on my "must-try" list so far include:
Walnut, Avocado & Pear Salad with Marinated Portobello Caps & Red Onion (p.103)

Quick & Easy Chana Masala (p.163)

Empowered Noodle Bowl, Two Ways: Thai Peanut & Orange-Maple Miso (p.153)

Chilled Chocolate-Espresso Torte with Toasted Hazelnut Crust  (p.241)
To celebrate the book's publication, I asked Ange if shed be willing to answer a few questions about vegan cooking, ED recovery, and the book for CR readers. Lucky for us, she said yes. Here's what she had to share.
1. What was your main intention writing the OSG cookbook? What are you trying to show the world about the vegan lifestyle?
I had 4 main goals when writing this cookbook. One goal (and a goal I always have) is to create recipes that please meat eaters and vegans alike. Most of my recipe testers are not vegan/vegetarian so I'm confident anyone can enjoy the recipes in this cookbook. They are husband and kid approved. I always try to make vegan food approachable and show others just how normal it really is.
Another goal is to use real, whole food ingredients – foods that make me feel energized and balanced. I feel my best when I eat this way so I want my recipes to reflect the foods I actually eat at home.
I also want to show others that great taste and healthy food are not exclusive – you can have both. Often vegan recipes tend to be classified as either "junk food" vegan recipes or the "health food" vegan recipes, but I truly believe that you can have both healthful and mouth-watering dishes that won't make you feel like you are missing out in either regard.
Lastly, I tried to include a wide range of quick and easy recipes, as well as more intensive ones (but nothing a new cook can't handle!).
2. What three culinary tips or tricks would you give someone who's brand new to vegan cooking?
Get friendly with a good-quality chef's knife. When I first started cooking, I barely knew how to chop an onion. For real. It didn't help that I was using a dull knife not suited for the job. I invested in a good-quality chef's knife and a paring knife and I taught myself how to use them properly. It's made food prep so much quicker and it's also safer to use a sharp knife than a dull one because there is less chance of it slipping. I also make a point to sharpen my knives weekly.
Spice Up Your Life. I'm a firm believer that variety is the spice of life, so why not make sure your spice rack is brimming with options too? Before I went vegan, I rarely used spices (and I'm afraid to think about how many years they had been sitting in my cupboard untouched!). But things have changed. I now love to use a generous portion of fresh herbs and spices in my recipes for maximum flavor. The more fresh herbs, the better! It really does make all the difference and it can turn a boring meal into something extravagant. Just try my budget-friendly Quick and Easy Chana Masala in my cookbook. It's comfort food to the max.
Stock your pantry. I have an entire chapter devoted to my most-common pantry ingredients in the cookbook so be sure to check it out. I talk about each ingredient, how to use it, and why I love it. Stocking your pantry helps you throw last-minute meals together with ease.
3. I know that you (like so many choosing raw readers) come from a history of disordered eating. Could you say a few words about how veganism has helped in your own "green recovery" journey?
Veganism was beneficial for my recovery in so many ways. For starters, it helped me connect with a greater purpose in my life. My eating disorder was so internally focused. Veganism helped me look outside the confines of my disordered mindset and tap into my life-long connection with animals, my interests in health, and appreciation for the environment. Compassion for animal welfare gave me permission to be compassionate with myself too. How could I care so strongly about something, but then not take my own welfare into consideration? This change happened slowly over time, but once I made the connection it was really life-changing. Instead of focusing on calories or diet foods, I shifted my focus to a positive one – nourishing my body with whole foods and being good to myself.
4. In that vein, a lot of people consider veganism to be inherently limiting or restrictive as a lifestyle. What would your response be to the idea that veganism isn't inclusive or fulfilling enough?
*raises hand* I used to be one of those people who thought that a vegan diet was super restrictive so I completely understand, but I've since completely changed my opinion on this. My diet has much more variety than it used to have when I was an omnivore. And I mean much more! A vegan diet forced me to get creative, experiment with new-to-me foods, and get busy in the kitchen. I now eat hundreds of new foods that I never did before.
5. It's probably impossible to choose, but what are your two or three favorite recipes from the book? What makes you love them so much?
It changes by the day, but here are today's favourites…
Sweet Potato & Black Bean Enchiladas with Avocado-Cilantro Cream Sauce (one of my fav. entrees)
Life-Affirming Warm Nacho Dip (you'll be chased down at parties for this recipe!)
Chilled Chocolate Espresso Torte (my ultimate chocolate indulgence)
So much good stuff here; I love Angela's kitchen tips, and I particularly love what she has to say about creating recipes that embody both good taste and health. I so agree that vegan food is often stuck into either the "junk food vegan" or "health freak" category, and really, these classifications aren't necessary. It's possible for whole food, plant based, healthy recipes to taste incredible, and be fulfilling. As proof of that, Angela is letting me share her recipe for Chilled Chocolate-Espresso Torte with Toasted Hazelnut Crust. This recipe proves that it's possible to make whole, plant ingredients into something utterly indulgent and delicious. I'm so excited to try it.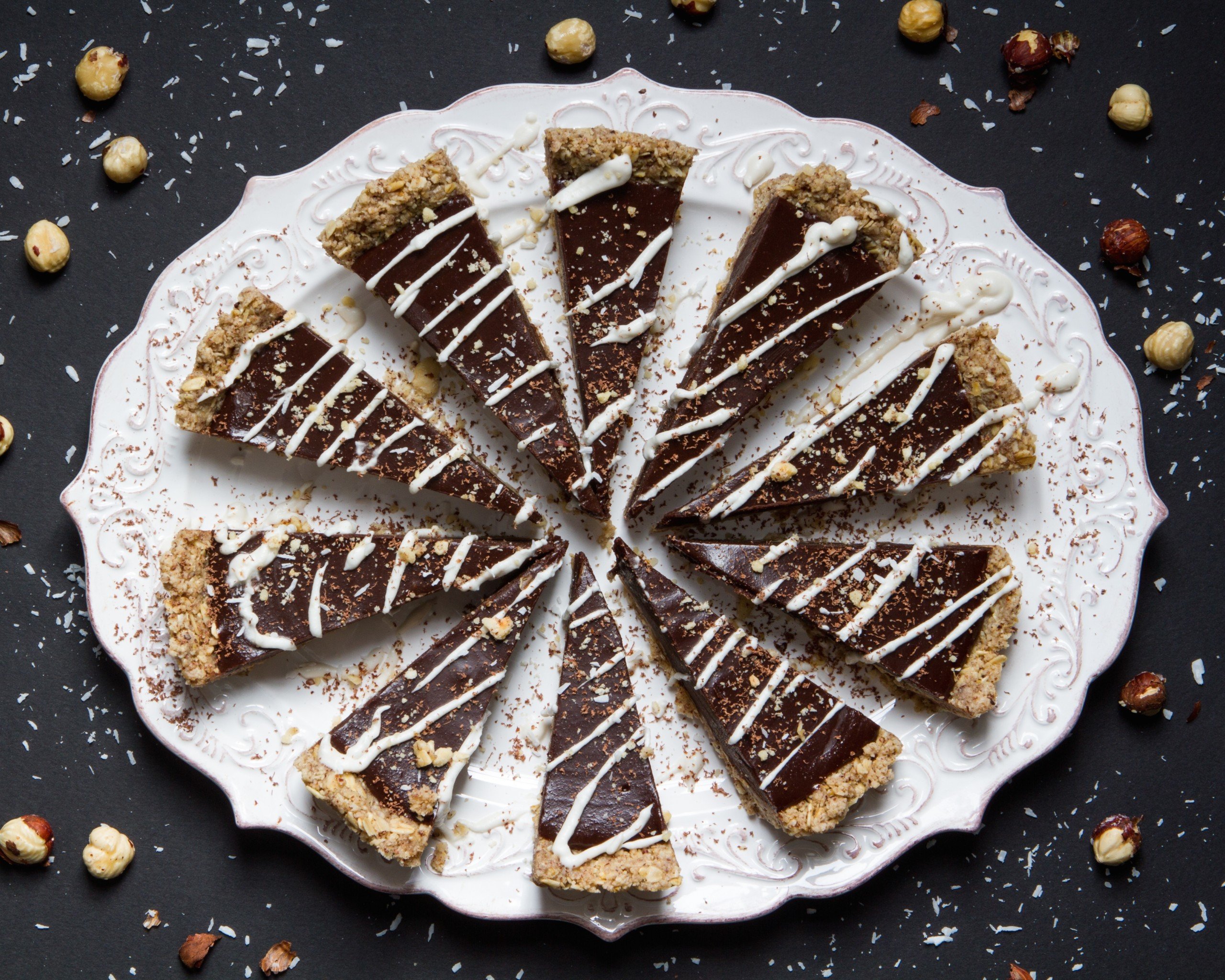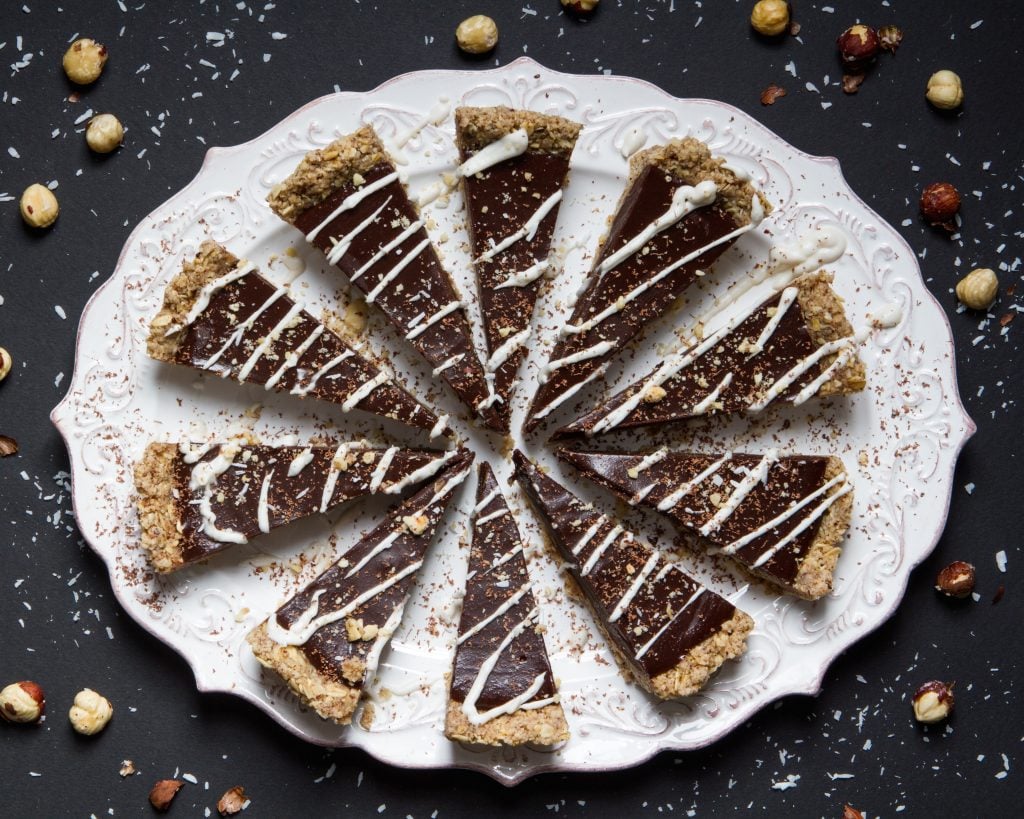 Angela Liddon's Chilled Chocolate-Espresso Torte with Toasted Hazelnut Crust, from THE OH SHE GLOWS COOKBOOK
Author -
¾

cup

/ 100g hazelnuts

¼

cup

/ 60ml coconut oil

3

Tbsp.

maple syrup

¼

tsp.

fine-grain sea salt

1 ½

cups

/ 150g rolled oats

divided, gluten-free if necessary

1 ½

cups

/ 200g cashews

soaked for at least 4 hours

¾

cup

/ 175 ml pure maple syrup

½

cup

/ 125 ml coconut oil

1/3

cup

/ 30g cocoa powder

I used raw cacao powder

1/3

cup

/ 75 ml dark chocolate chips

melted (I used chopped dark chocolate)

2

tsp.

pure vanilla extract

I used seeds of ½ vanilla bean

½

tsp.

fine-grain sea salt

½

tsp.

espresso powder

optional

shaved dark chocolate

for garnish (optional)

coconut flakes

for garnish (optional)
1. Make the Crust: Preheat the oven to 350°F (180°C). Lightly grease a 9-inch (23 cm) pie dish with coconut oil.

2. In a food processor, blend ½ cup of the rolled oats on high until you have a rough flour, place a small bowl and set aside. Without cleaning the machine, process the hazelnuts into a fine crumb with the texture of sand. Add the coconut oil, maple syrup, salt, and oat flour and process again until the dough comes together. Finally, add the remaining 1 cup of rolled oats and pulse until the oats are chopped, but still have some texture to them. The dough should stick together slightly when pressed between your fingers. If it doesn't, try adding a bit more maple syrup or processing a bit longer.

3. With your fingers, crumble the dough evenly over the base of the pie dish. Starting from the middle, press the mixture firmly and evenly into the dish, moving outward and upward along the side of the pie dish. The harder you press the crumbs into the dish, the better the crust will hold together. Poke a few fork holes into the bottom to let steam escape.

4. Bake the crust, uncovered, for 10 to 13 minutes, until lightly golden. Remove from the oven and set aside to cool on a rack for 15 to 20 minutes.

5. Make the filling: Drain and rinse the cashews. In a high-speed blender, combine the soaked cashews, maple syrup, oil, cocoa powder, melted chocolate, vanilla, salt, and espresso powder (if using) and blend on high until the filling is completely smooth. It can take a few minutes of blending to get it smooth, depending on your blender. If the blender needs more liquid to get it going, add a tablespoon (15 mL) of almond milk (or a bit more) to help it along.

6. Pour the filling into the prepared crust, smoothing out the top evenly. Garnish with shaved chocolate and/or coconut flakes, if desired.

7. Place the pie dish on an even surface in the freezer, uncovered. Freeze for a couple of hours, and then cover the dish with foil and freeze overnight, or for a minimum of 4 to 6 hours, until the pie sets.

8. Remove the pie from the freezer and let it sit on the counter for 10 minutes before slicing. This pie is meant to be served frozen. Serve with homemade Whipped Coconut Cream (page 280 of the book) and finely chopped hazelnuts, if desired, but it's fantastic all on its own, too. Wrap leftover slices individually in foil and store them in an airtight container in the freezer for 1 to 1½ weeks.

Tip: Not in the mood to make a crust? Turn this dessert into freezer fudge by preparing only the chocolate filling. Pour the filling into an 8-inch (20-cm) square pan lined with plastic wrap; top with ½ cup / 65g toasted hazelnuts or walnuts, and freeze until solid (about 2 hours). Slice into squares and enjoy straight from the freezer.

Recipe reprinted from THE OH SHE GLOWS COOKBOOK, published by Penguin, 2014
I hope you'll take some time to check out Angela's incredible, lovingly written cookbook, and to savor all of the images and recipes therein. And thank you, Angela, for sharing this insane dessert with all of us!
Till tomorrow,
xo