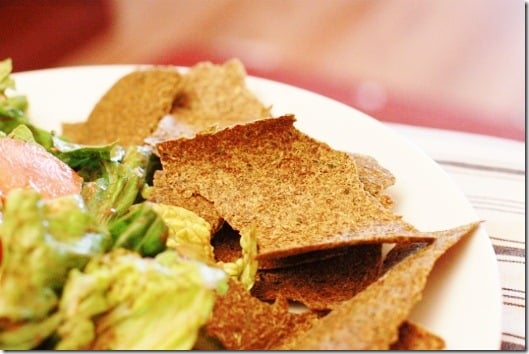 Glad you found yesterday's tips on staying healthy when time is short helpful!
One of the foods I mentioned were my juice pulp crackers. When I have the time and energy to juice daily—and it's rare that I do, but I always do try—I end up with a ton of green juice pulp (carrots, cucumber pulp, celery, parsley, kale, spinach, etc.) on my hands. I love using my pulp up in creative ways. It makes me feel better about the fact that, no matter how wonderful juicing feels for my health, it's a lot of money spent on produce that gets thrown into a machine. If I can put my pulp into burgers, crackers, raw falafel, and green guac, I feel at peace with my budget and my cravings for tall, cold glasses of green lemonade.
I've shared my recipe for juice pulp crackers here before, but in the spirit of sharing with new CR readers, I thought I would share the recipe and the process again.
Let's start with the process: I use a Breville Juice Fountain Plus, a reasonably priced and excellent machine that's suitable for someone like me, who likes juice frequently, but isn't conducting big juice fasts or juicing several times a day. If you have a juicer like mine—or even a more expensive Green Star or Hurom model—there is most likely a part of the machine that "spits out" the pulp that results from juicing. If you've already given this some thought, you probably put a plastic bag in this part of the machine to collect the juice pulp; if nothing else, it makes for an efficient and easy disposal of what can be a messy hunk of juice pulp.
What I do when I juice is to use two bags. Into the first will go all parts of my juice that I don't ultimately want in my juice pulp crackers, burgers, or dips. So, I don't personally like the taste of fruit in these things. I place a plastic bag around my juice pulp bin and juice all fruit, lemon, and ginger (or lime) first: those are essential parts of my green lemonade, but I don't want them in the pulp I'll use. After I juice them, I toss out their bag of pulp. I put a new bag in (it doesn't matter if the machine is sort of messy as you're doing this) and then I juice the remainder of my ingredients: celery, cucumber, parsley, spinach, kale, carrot, etc.
This is the pulp that later gets used in food. I find that it must be kept very cold and used very quickly, or else it spoils, so I use it at once or save it in a cold fridge for a day at the very most. As I said above, there are all sorts of recipes I use my pulp in, but the following crackers are most oft repeated.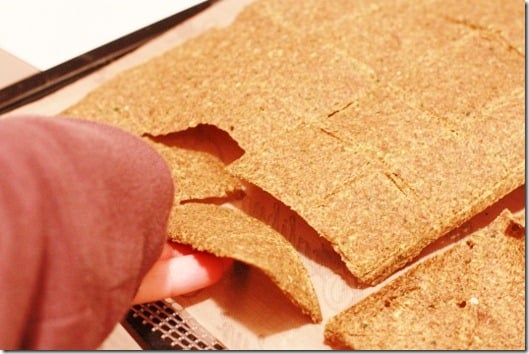 Choosing Raw's Juice Pulp Crackers (raw, vegan, GF and soy free if you use coconut aminos)
Makes about 24-30 crackers
2 heaping cups juice pulp (any veggies you like)
1/2 cup flax meal
3 tbsp nama shoyu or tamari or coconut aminos (if you're gluten and/or soy free)
1 tsp coriander
1/2 tsp curry powder
Black pepper to taste (I'm generous with it)
1/4-1/2 cup water
1) Blend all ingredients save the water in a food processor. Add water in a thin stream till the mix is easy to spread, but not watery (the amount of water you'll need will vary based on how watery the pulp is).
2) Turn the "dough" out onto a teflex dehydrator sheet and spread it evenly. Score into cracker or flatbread shapes–I tend to do half and half of each!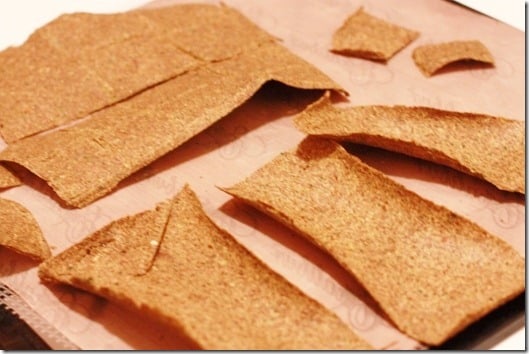 3) Dehydrate the crackers at 115 degrees for about 4 hours. Flip the sheet by putting another teflex sheet over it, flipping it over, and then peeling off your original sheet.
4) Dehydrate for another 4-5 hours, or until crackers are nice and crunchy (again, this time may vary based on how watery your pulp was).
5) Serve with salads, hummus, or as you please!
Oven option: bake crackers at 325 degrees for about 30 minutes, checking on them often to be sure they're not burning. Use your kitchen intuition!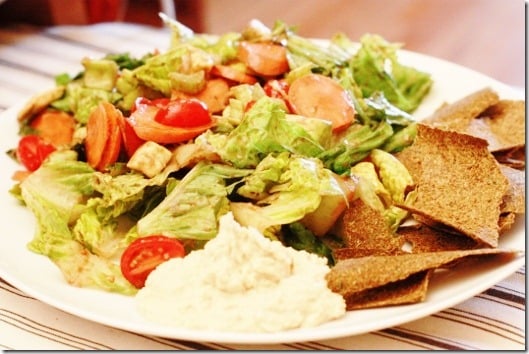 They are light, crispy, and totally addictive. A staple in the CR kitchen.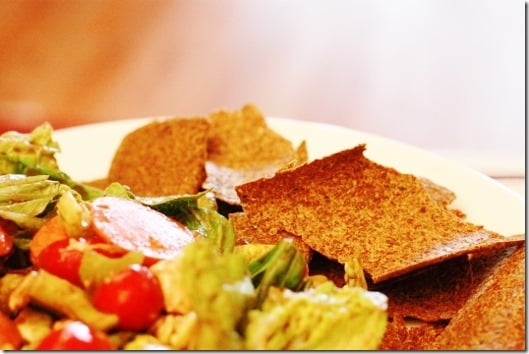 Don't be wasteful! If you own a juicer, give this guys a try soon. And if they're not inspiration enough, I'll have a new juice pulp based burger waiting for you in a day or two. For now, happy Fridays—see you tomorrow!
xo