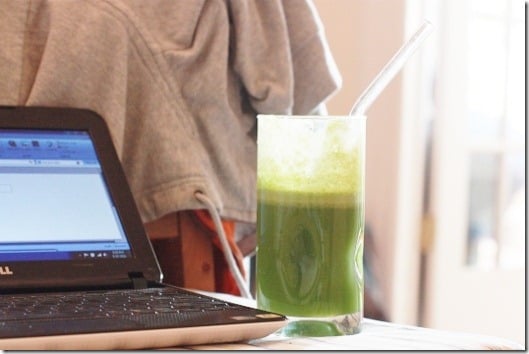 Wow. Thank you all for your sweet, encouraging, and supportive comments on the big move. I'm so grateful to everyone who commented. And to DC readers who de-lurked to say hi: I hope I can meet you all soon! Thanks for your welcoming words.
A while back, in response to a tweet in which I announced that I was about to squeeze a pre-packed dinner into an evening lecture class, one of my smartest readers (and friends) asked if I'd write a post on how I maintain healthy eating habits during busy, stressful times. This question might mean different things to different people, but this particular reader was asking me how I manage to avoid skipping meals, or eating too little; she noted that she has a tendency to undereat, and sometimes lose weight, when she's very stressed or busy.
I can relate, since my own tendency when I'm very stressed has always been the same. Whether this is because I'm actually too busy to eat, or because food deprivation will always be a habit that tempts me when I'm unhappy, I'm not sure. I know that a lot of people genuinely do forget to eat when they're harried, and I suppose it has happened to me (I can think of a few times this semester) but more often than not, I'm not the sort of person who "forgets" to eat food. I just like the stuff too much. The likelihood when I undereat is that there is a tiny, yet tenacious little part of my psyche that feels calm and in control when food intake has been scant. I've spent my adult life subduing and making peace with that little beast, but I'm human, and when I'm particularly stressed or unhappy, I hear her voice.
My reader's situation, though, is different: she does forget about, or doesn't have an appetite for, meals when she's very stressed. And that's a different story, but well worth addressing, since I have many busy readers! And of course, I have at least some experience with struggling to make time for food when I'm very busy: haven't we all?
In the last semester, I struggled to balance a post-bacc curriculum that felt impossibly challenging to me, a new relationship, a counseling practice, and a blog. Between that, maintaining my friendships, and trying to squeeze in my passions—operas, concerts, museums, and cooking, of course—I had moments where I felt stretched to the limits. Of course, I'm no different from most people in this regard: most of us, no matter what our particular responsibilities, are busy! But I take some pride in the fact that, even when I'm slammed, I eat consistently and well.
Eating well (and, to a lesser extent, exercising) are fundamental components of my happiness: I'm not happy when either habit is out of whack. This is particularly true of my relationship with food: I don't feel my best when I don't eat enough or eat poorly, and moreover, undereating invariably evokes memories of unsavory habits past. If I'm on the road or stuck in meetings and I can't eat, c'est la vie. Part of recovery is accepting that life isn't all about food, and we can survive when other priorities take over! But if the problem is simply that I'm busy juggling commitments, I do everything and anything I can to prioritize a plentiful diet in spite of my time constraints.
How? By being a dedicated planner. Healthy meals do not materialize for us simply because we'd like them to: you have to have a fridge stocked with produce, a few dishes prepped in advance, in order to be prepared for long days at work or in school. This is all just a matter of planning: getting to the grocery store when you're under a deadline, using a study break to make a batch of hummus, pesto, and a big stew, and so on. My tactics when I'm busy are as follows:
1) This is not the time to experiment. Busy periods invite us to eat the foods we know and love best. You don't have time to whip out a cookbook and try that raw lasagna you've been meaning to make for a year now, so don't pretend you do. Focus on making food that's second nature to you, and food that you know for a fact will turn out well.
2) Use shortcuts. I'm happy to make breaks, crackers, soups, and snack bars from scratch when I can, but final exams, for example, are not the time or the place. That's when I like the Pacific and Imagine Organic boxed soups (I usually add some beans for protein), Silk almond milk, Lydia's raw crackers and breads (my fave!), Brad's raw kale chips, canned beans (BPA free, natch), and fresh guac from the Mexican restaurant downstairs. It's a little less cooking and a little more cash than I'd like, but it's just a busy week or two: I'll survive. Don't be a stickler for homemade everything when you're busy and freaking out: let some quality brands do some of the work for you.
3) Use any and every free moment to make dishes that are easy and essential. During my finals, I used every spare thirty minute break to make a batch of hummus, an easy soup, a salad dressing or two, a raw pesto, or a nut pate. I even managed to squeeze in some nut milks, some chia puddings (which keep nicely for 2-3 days; a great way to make breakfasts in advance!) and some chocomole. Having these things on hand made it so, so easy to whip up salads, snacks, wraps, and so on when I was in more of a rush later on. And remember: kale salad is the only salad that tastes better after a night of marinating. So, make it when you can, and enjoy it later.
4) Pack your food. It's easy to let yourself fall behind schedule, run to class in a hurry, and forget to pack dinner: I know! I did it myself this semester. So start leaving at least ten minutes of time before you leave the house, and use those minutes to pack any meals you need for the day. If the very best you can do is a raw snack bar, a piece of fruit, kale chips, and baby carrots, well then, that's just fine.
5) You've got to shop for groceries. Really. I don't care how busy you are: many grocery stores are open all night, if that's necessary. Take twenty minutes to get there, shop, and get home. I've been known to cab it to a health store only 8 blocks away for a really fast grocery run. Sounds insanely wasteful, but the cost of eating in restaurants all week, buying overpriced raw foods, or being hungry, are all far greater.
Enough talk. Sometimes descriptions and photos work even better at proving my point! So here are some examples of how I treated myself well in the days leading up to finals:
Twice as much green juice. The one nice thing about reading week was being home more, and using my juicer daily. My mind and body craved it, and every sip was heaven! I typically drank a juice before breakfast, as a late afternoon snack, or both.
Lots of salad beasts. Yes, I ate that one on my bed. Sometimes a girl likes to study in bed.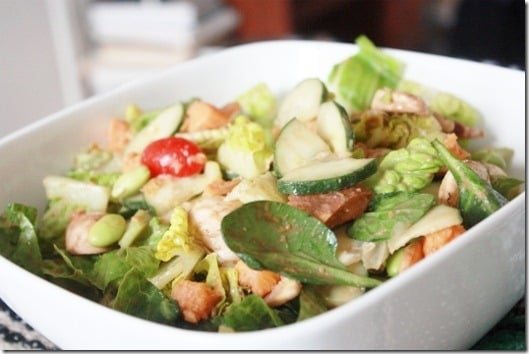 Lots of green juice means lots of juice pulp crackers, which I'll blog more about in a day. Here they are with hummus, salad, and avocado: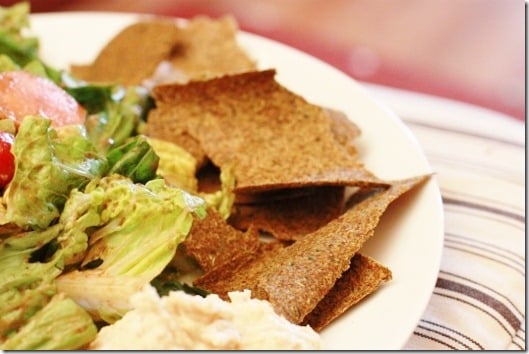 A sweet treat here and there. I made these for mom, but kept a bunch to enjoy myself. They were little bursts of sunshine in otherwise cloudy and stressful days, and I was happy to have them around.
Joe Coffee. I spent a week treating myself to $2.00 of it every morning. It's the best coffee in the world, and it saved me brewing time, and it was 100% worth it.
On the morning of my big tests (9-12 and 7-10:30 pm, respectively), I made a chia pudding the night before. I woke up at 5 am, squeezed in a quick workout (with flash cards in front of me!), and then had breakfast waiting for me in the fridge:
Chia pudding with almond milk, vega, bananas, blueberries, and cacao nibs: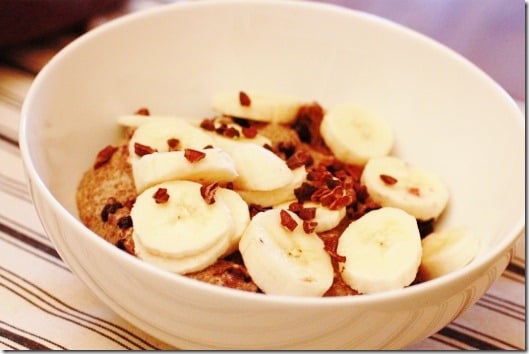 Perfect.
I also had a proper lunch in between exams at home, rather than staying on campus to freak the heck out for five hours. I ate, studied calmly, and had an easy dinner of kale chips, a raw snack bar, carrots and hummus, and an apple before the second test. So glad I stayed in a tranquil space and ate well between tests.
And that, friends, is that. I'm certainly no time management pro: if I were, I wouldn't constantly be complaining about having no time! But I try. I don't feel great about how my finals went, but I do know that I studied my absolute hardest, and fed myself responsibly at the same time. And that, for me, is an achievement in its own right.
With the semester drawing to a close, I hope you all manage to put both yourselves and your commitments first. You're worth it.
xo