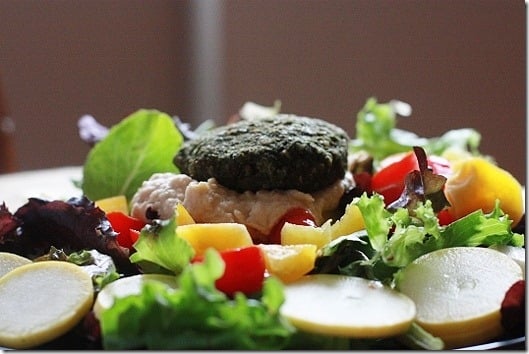 Tis the week of juice pulp! This time, green juice leftovers get dressed up in an incredible raw parsley and spinach burger. More on that in just a moment.
For those of you catching up on CR posts for the week, the first thing you should know is that I'm moving to DC. Surprise!
The second thing you should know is that readings week give me more than the average amount of time in which to juice. And more juicing means more juice pulp, which can lead to all sorts of tasty recipe creations, like these:
One of my favorite uses for juice pulp is to use it in raw "burgers." I have a recipe for "conservation burgers" that I really like, but this week I decided it was about time for a new spin on an old classic. I had a tub of green juice pulp in the fridge, and it was heavy in parsley and spinach—so heavy that I wondered whether the taste might overpower my regular old pulp crackers. That's when it occurred to me to mix the pulp with ground sunflower seeds, salt, lemon, and flax, and let a burger take shape. It did, and it was delicious.
Gena's Spinach Burgers (almost raw, vegan, GF, soy free if you use coconut aminos)
Makes 4-5 burgers
1 cup sunflower seeds (do NOT pre-soak)
3 tbsp tamari, nama shoyu, or coconut aminos
2 cups green juice pulp (kale, parsley, celery, romaine, cucumber, broccoli–whatever you have!)
1/4 cup flax meal
2 tbsp mustard
1 tbsp lemon juice
1 tsp dried oregano
1) Place sunflower seeds in a food processor and process with the "S" blade till well ground.
2) Add remaining ingredients and process till well mixed.
3) Shape into 4-5 burgers (I had about four) and place on a Teflex lined dehydrator tray.
(Yeah, OK, these are not a very appealing color. They're dehydrated greens, flax, and seeds, for Lord's sake! But the taste defies the hue.)
Dehydrate at 115 degrees for 4 hours, flip, and dehydrate for another 4. Serve over salad, in a raw wrap, or slice up for a very nutrient dense snack!
If you don't have a dehydrator, just bake at 350 degrees for about 35 minutes.
I enjoyed mine today over a large salad of early summer bounty: organic greens, cherry tomatoes, summer squash, and a little peak of hummus–which, if you don't know it already, makes great salad "dressing." Great lunch!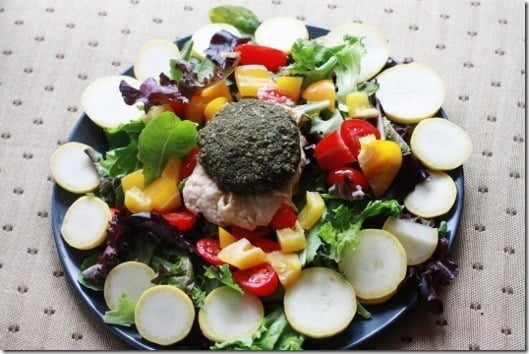 The texture, by the way, is the best I've had in a raw burger. So unbelievably dense and moist at the same time: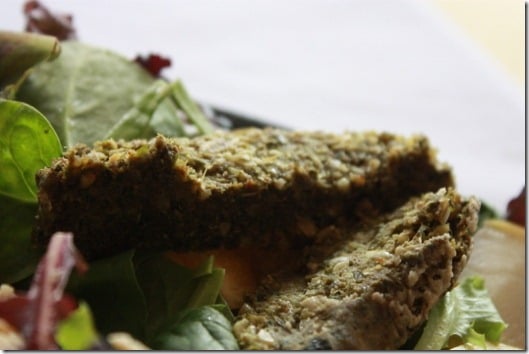 I'm pretty proud of this one. So glad I have three left!
Well. I feel good about my recycling karma this week. Hope you guys give some of these recipes a shot. And, for those of you who wrote in saying you don't have a juicer: I know better than anyone what it's like to live on a pretty significant budget. That said, I think juicers are a great investment. You can get a good one for $150 or less, you'll buy it back in juices quickly, and it'll stand the test of time. It's not as essential in my kitchen as, say, a food processor, but as you can see, the benefits of owning one go far beyond the juice itself. These pulp recipes are great fun!
xo