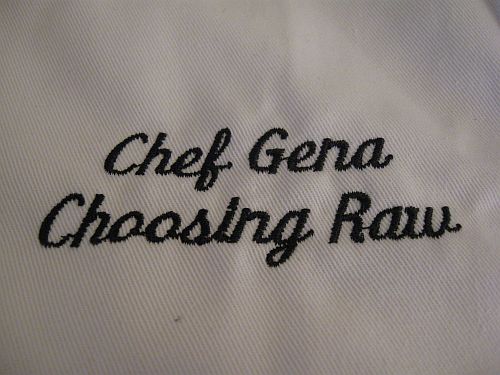 Hey guys!
Forgive the lack of posts this week! I've been totally swamped, but I've loved watching you all respond to Sarma's amazing interview! Keep the comments (and entries) coming, OK?
Recently, my friend Zestycook did a post on foods we hated as a child but love now. I don't think I ever tasted cilantro as a child—in a Greek home, oregano and dill are the seasonings of choice—but I can tell you that my first experience with cilantro, well into my teens, was not love at first bite. And I was not alone in my dislike: some brief poking around online reveals that many people seem to share a virulent aversion to the stuff (there is even an "I Hate Cilantro" online community).
Fortunately, times have changed. Nowadays, we all know that guacamole is just about my favorite food ever, that I gobble down avocado-cilantro soup with gusto, and that I love to chop it and throw it into salads. I've come to appreciate it's sour-sweet quality—so much so that I even love to throw a whole bunch into the juicer at once, or into a smoothie by the fistful.
Tonight, I had about half a bunch of cilantro at home, some zucchini and a bit of eggplant that needed to get eaten, and a handful of leftover pine nuts. After a few moments of pondering, my favorite new condiment was born: cilantro pesto.
This stuff is good. Really good. Sure, I love traditional pesto. But it's powerful in a way that this pesto is not. This one has a mellow, lemony flavor, and while it lends a lot of taste to pasta, it's light enough to be added to salads, to serve as a garnish, or to drizzle over roast summer vegetables without overwhelming their flavor (the way basil pesto might). And as always, it's a super simple recipe.
Cilantro Pesto (serves two generously)
Ingredients:
½ bunch (about 1 cup tightly packed) cilantro
¼ cup pine nuts
½ tsp lemon zest
1 tsp lemon juice
¼ tsp salt
¼ cup + 1 tbsp olive oil
Directions:
Pulse all ingredients in a food processor until finely chopped. Next, drizzle the olive oil in. Blend till the pesto is well incorporated, and add a bit more lemon zest if you like (this is powerful, but I find that it really brightens and enhances the flavor!).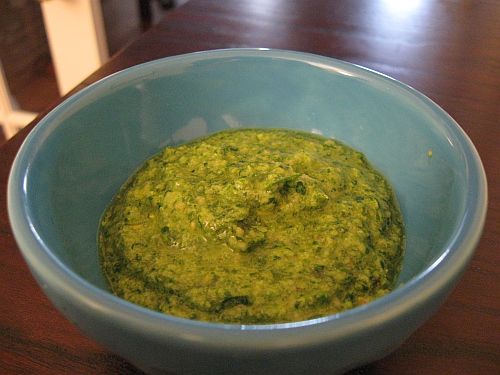 I served this over a bed of spiralized zucchini and eggplant. The eggplant didn't taste terrific, I'll confess, which is why the zucchini was far more plentiful. (I like raw eggplant a lot, but only if I have ample time to marinate it in olive oil, lemon, and sea salt!) That said, I only had a tiny bit left, so it seemed like a shame not to use it. And the pesto definitely elevated it to a tasty place. This was served along a huge kale salad (not pictured; lazy blogger) and sliced heirloom tomatoes, which I spread with some of the pesto. In all, it was a delicious summery meal. You could definitely use this pesto as a sandwich spread, a regular pasta sauce, a light dip, or an addition to cold soups!
Naturally, this was also a very simple meal. And y'all know that I pride myself on the simplicity of my recipes. I think this is why it has always seemed so odd to think of myself as a "chef"; the very word implies more artistry and effort than I tend to muster.
Still, there is nothing I love more than to concoct versatile recipes for my clients. Today, my incredible friend Katie—who is not only a friend, but also a confidante and a revered collaborator—sent me a special surprise. Katie is lucky enough to be married to a talented (and foxy) chef in the Windy City. And it was her wisdom to suspect that I would love some chef-ly gear for my own kitchen. So behold, my first ever chef's coat!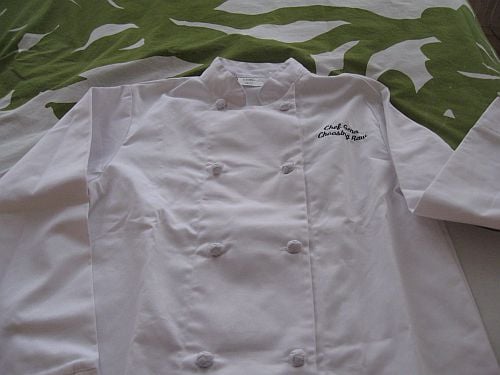 Soon, dear readers, I promise you all candid photos of me in the chef's coat. For now, you'll have to admire my new threads from afar.
Katie, you reminded me that the best days involve two of my favorite things: the joys of the kitchen, and the joys of friendship. Thanks.
So I'm in the midst of packing up some clothes, some snacks, some green juice, and my laptop. Why? Because I'm en route to the Healthy Living Summit in Boston! I'm very curious—and excited—to see what the weekend holds, and to represent the raw lifestyle on behalf of all you guys! I plan to blog from Boston, where I'll be crashing with the lovely Ms. Katherine. But if things get crazy and I don't have a chance to post tomorrow, expect a recap on Sunday when I return.
In the meantime, thank you all for bearing with me over the course of my busy weeks. And, as always, for reading.
xo