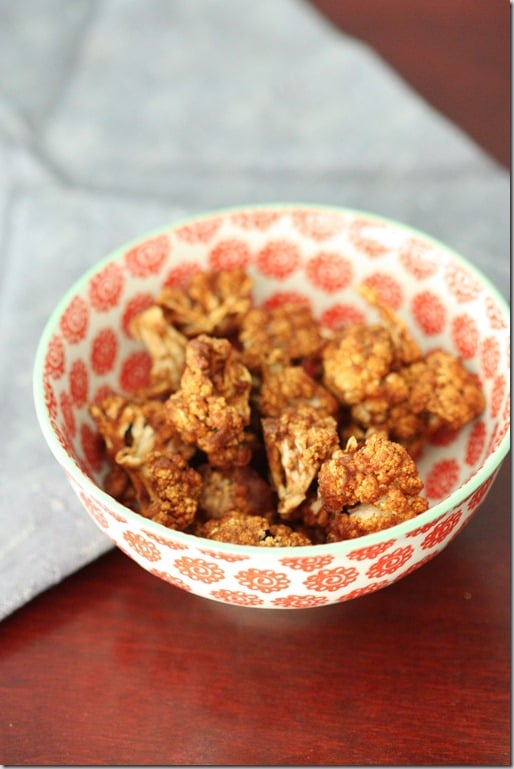 Thank you for your warm and enthusiastic responses to Allyson's cookbook! I hope many of you will have a chance to explore it. One of the recipes that caught my attention right away when I recieved the book was Allyson's recipe for cinnamon roasted cauliflower, which is exactly what it sounds like: cauliflower roasted with cinnamon and a touch of cornmeal. It looked fantastic, and the idea of snackable cauliflower seemed like a fun departure from using cauliflower as a side dish or in entrees, which is the norm.
When I got to thinking about snackable cauliflower, my mind turned to one of my favorite raw food snacks: cauliflower coated in a raw, vegan "cheese" sauce and dehydrated till crispy. I wondered why I had never thought to make a sweet version of this old favorite, and Allyson's use of cinnamon seemed like a perfect place to get started. Soon enough, cinnamon caramelized cauliflower was born.
The recipe calls for dehydrating the cauliflower, rather than roasting (this gives it just a slight and irresistible crunch), but roasting is a fine option if you don't have a dehydrator. It's quite a bit sweeter than Allyson's recipe—hence the word caramelized—and it is, all things considered, totally delicious.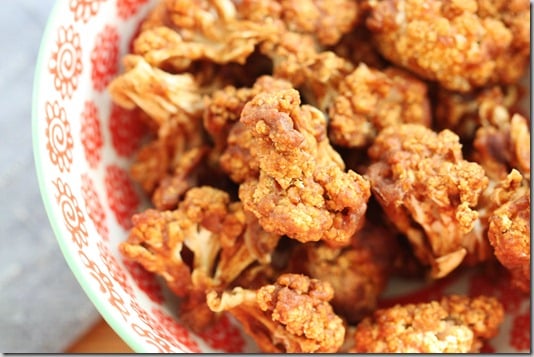 Just look at each crispy, crunchy, sweet and salty bite!
Here's how to make the magic happen.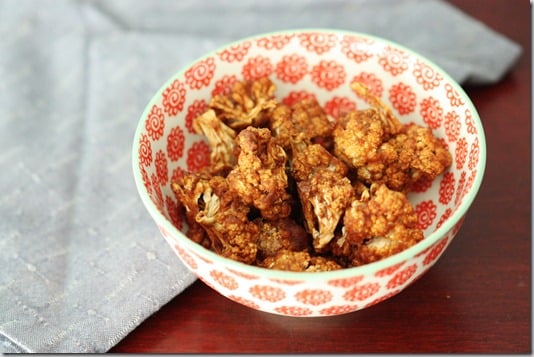 Cinnamon Caramelized Cauliflower
Makes 2 snack portions
2 1/2 cups cauliflower florets, cut small
5 pitted medjool dates
2 tablespoons almond butter
1/2 tsp cinnamon
1/4 tsp sea salt
2/3 cup water (more as needed)
1. Blend dates, almond butter, cinnamon, salt, and water in a high speed blender (or a food processor) till smooth. If the mixture is super thick, add a few more tablespoons of water as you go.
2. Coat the cauliflower florets well in the date and cinnamon mixture: you want them drenched! Place on a Teflex-lined dehydrator sheet and dehydrate at 115 for 8-10 hours, or until dry and slightly crispy.
Alternately, you can roast the cauliflower at 400 degrees Farenheit till it's crispy on edges and tender on the inside (about 25 minutes). Enjoy!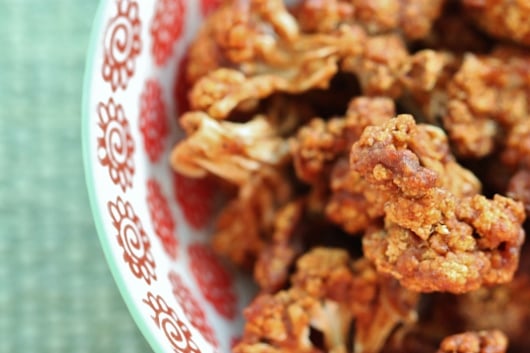 I couldn't be more delighted by this recipe! I have enjoyed it as a snack, as a sweet, yet veggie-ful dessert, and today, it got tucked into my daily lunchbox: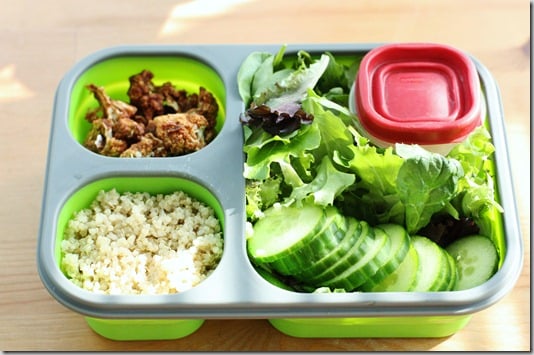 Along with quinoa, fresh greens, and a simple tahini dressing: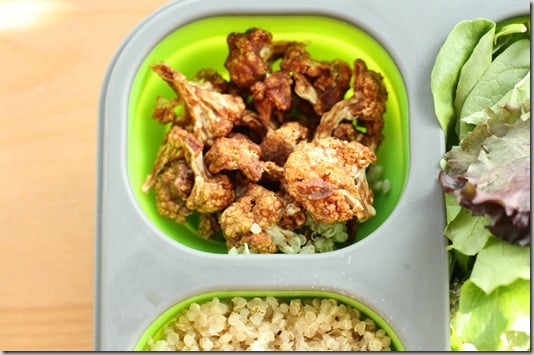 I highly recommend this recipe to all of you!
Before I go, an announcement for all of my HOYA readers. Though it rarely occurs to me that you're reading, occasionally I do get an email from a fellow Georgetown student who reads CR. Last week, a student named Mary emailed me to ask if I'd be willing to join her in participating on a panel about eating disorders on campus. Mary is the brave, spirited, and caring survivor of an eating disorder battle, and she and a fellow student, Brittany, are now committed to creating a "safe space" in which anyone whose life has been affected by an ED can come to be supported. Whether you have an eating disorder yourself, are worried that certain eating or exercise tendencies may be blooming into a full blown ED, know anyone with an ED, or simply want to learn more, I really encourage you to join us. Representatives from student health services will be present, and you'll have a chance to hear about the experience of disordered eating from three young women who have struggled and ultimately found a path out.
On the panel, we hope to address some of the myths surrounding disordered eating as we share our stories. Please join us. The details:
Eating disorders have the highest mortality rate of any mental illness. They are also alarmingly common on college campuses. We are organizing a panel discussion to foster dialogue on our campus about these serious illnesses (anorexia, bulimia, binge eating disorder, compulsive exercising, and other forms of disordered eating) and how they can affect students' lives.

Several student panelists will share their own stories of an eating disorder struggle and recovery.

Faculty representatives from Health Education Services and CAPS will also be present to answer question, share information about resources available on campus, and address how to approach a friend you're worried about.

We encourage people of all ages, genders, shapes, sizes, colors and sexual orientations to attend.

Thursday, November 8th at 8pm in ICC 107
Please holler if you have any questions; I look forward to connecting with some new students. I truly admire the young women who are speaking out about their experiences; I didn't come to terms with my ED till after college, and I'm happy to have a chance to give back now.
xo