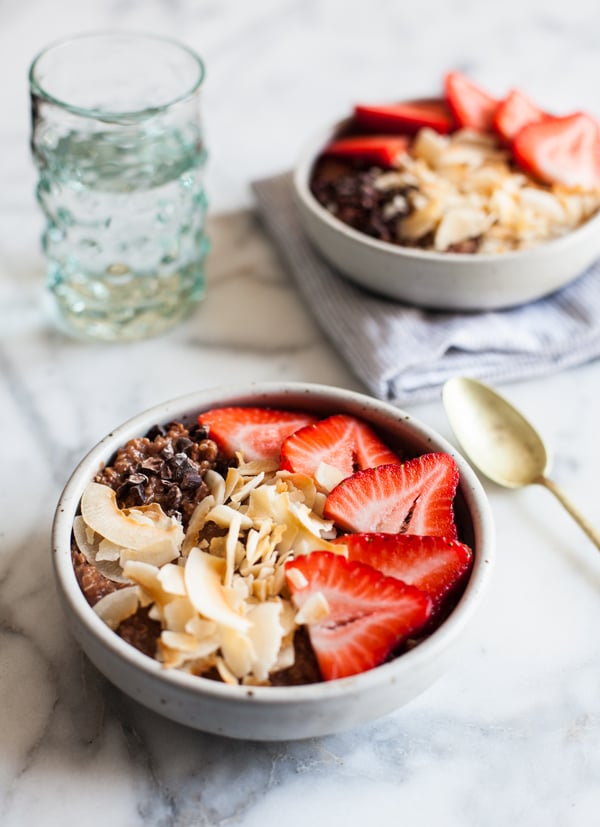 Until this past Sunday, when I made these cocoa strawberry quinoa breakfast bowls, my breakfasts had gotten pretty routine. Most days it's either tostadas (loosely based off of the recipe from Food52 Vegan, though I usually use Pacific or Amy's refried beans instead of homemade these days), overnight oats, or savory oats. All wonderful options, but even the most cherished breakfast can lose some of its appeal when you eat it almost.every.day.
Now that I have a tiny breather from school, I've been making more creative breakfasts, and this sweet, creamy quinoa breakfast bowl is a wonderful place to start. It's undeniably chocolatey without being overly sweet or cloying first thing in the morning, and it's packed with tasty ingredients, including fresh strawberries and toasted coconut. It may look fancy, but making it is nearly as simple as making a pot of quinoa–and it's a little more fun, at that.
To make the bowls, you simply cook up quinoa in a mixture of water and non-dairy milk (this is how I always prepare breakfast quinoa, whether I end up making it chocolatey or not). When the quinoa is fully cooked, you stir in extra milk and cocoa powder. If you have raw cacao powder, that will work perfectly, too, though you may want to decrease the amount to 2 or 2 1/2 tablespoons, as I find raw cacao to be a little bolder and more bitter than regular cocoa.
Next, you pile the bowls high with toppings of choice. I chose strawberries because they're perfectly in season and so appealing right now, as well as some tasty toasted coconut flakes/chips (I prefer these to regular shredded coconut, and I usually get this brand). Cocao nibs and mini chocolate chips also take the bowls to the next level!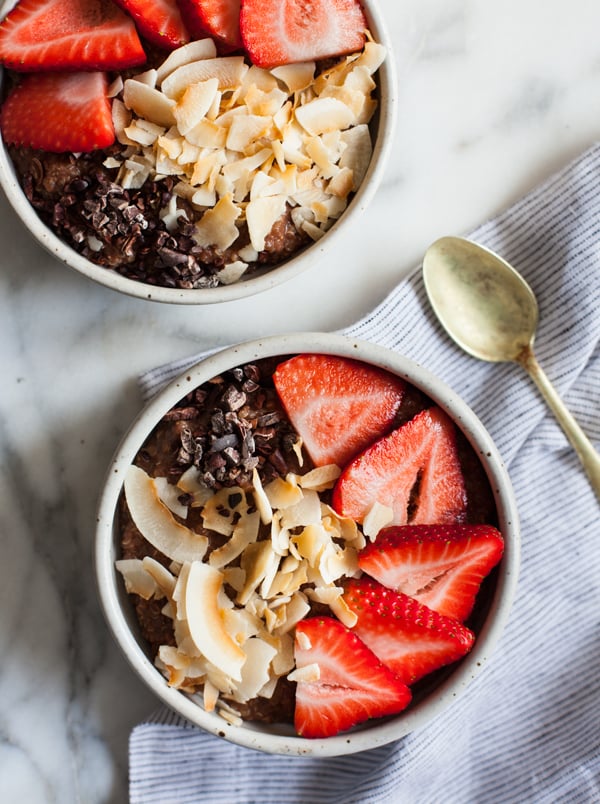 You can easily double the recipe and freeze portions for future breakfasts, topping the bowls when you're ready, or you can choose different garnishes and fresh fruit to serve with it. It's a delicious meal, one that feels like a special treat but isn't quite as labor intensive as a baking project.
While I didn't serve these to my mom on Mother's Day–I was busy making her a batch of her very favorite muffins instead–I think these bowls would be a really nice choice for a special occasion or a brunch with friends.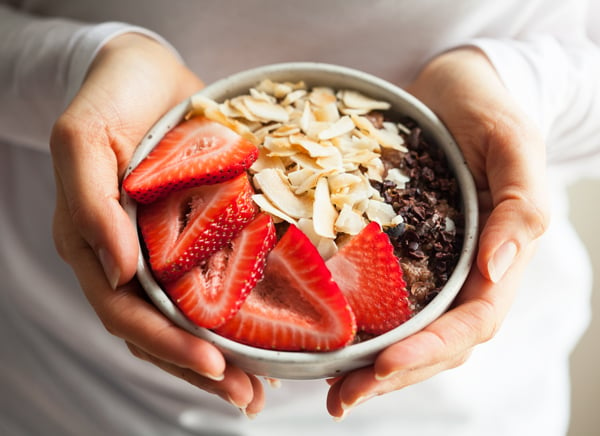 Cocoa Strawberry Quinoa Breakfast Bowls
Author -
1

cup

dry quinoa

1 2/3

cups

divided non dairy-milk of choice (almond, soy, rice, hemp, etc.)

1

cup

water

1

teaspoon

vanilla extract

1/8

teaspoon

salt

3

tablespoons

agave or maple syrup

3

heaping tablespoons cocoa powder

2

cups

strawberries

quartered

1

cup

toasted or regular coconut flakes/chips or unsweetened

shredded coconut (substitute chopped toasted, sliced or slivered almonds or chopped walnuts)

1/4

cup

mini vegan chocolate chips

I like the Enjoy Life brand or cacao nibs (optional)
Rinse the quinoa through a fine sieve. Add it, along with 1 cup water and 1 cup non-dairy milk, the vanilla extract, the salt, and the syrup, to a medium saucepan. Bring to a boil, reduce to a simmer, and cover. Simmer, covered, for 15 minutes, or until the quinoa is creamy and has absorbed all of the liquid.

Stir in the cocoa powder and remaining 2/3 cups non-dairy milk, along with a touch of extra sweetener if desired. Divide the quinoa between four serving bowls. Top each with the berries, coconut flakes, and cacao nibs or chocolate chips, if desired. Serve.
If chocolate isn't your thing, you can omit it and add a teaspoon of cinnamon or pumpkin pie spice instead. Carob powder is also totally fine in place of the cocoa/cacao.
I think that having food routines is basically a really good thing. It can keep us anchored in times of stress and busyness, and routines give special meaning to certain foods and meals. Still, variety is important, not only from a nutritional standpoint, but also because it helps to keep our relationship with food fresh, creative, and rewarding. I'm glad that I'm branching out with my breakfasts a bit this week.
Who knows–I might even get crazy and make some pancakes.
I wish you all a wonderful Tuesday, and I'll be back later this week with a soft taco recipe I've been dying to share with you all!
xo