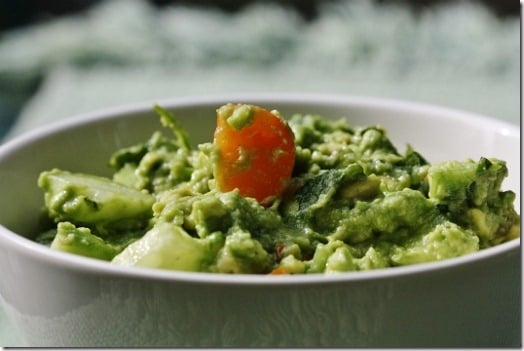 Well, that was quite the upswelling of autumnal breakfast enthusiasm. So glad you liked the buckwheat quinoa pancake recipe!
Let's switch gears today and talk about one of the great Choosing Raw love affair: guacamole. Aside from banana soft serve, I doubt there's a single recipe that people associate more closely with my blog than guacamole (and really, anything with avocado). I can unapologetically eat an entire batch of the stuff in one sitting, and I often do. I break locavore values to stock my kitchen with avocados year round, so that I can savor the joys of a creamy, lime green bowl of guac in the dead of winter. I use guacamole in place of mayo or mustard in sandwiches, I plop it atop bowls of whole grain, and I smear it onto my salads (if you ask me, it's better on salad than salad dressing).
In short, I'm a fan.
My favorite guacamole recipe is the one you'll see most frequently on this blog. It's sweet, tangy, and it's sans onion, which means you won't be popping breath mints for hours after your lunch.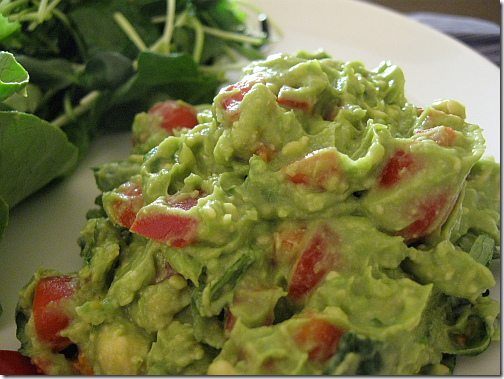 The following recipe puts a fresh and crunchy spin on the classic guac formula. Like my original favorite guac, it features chopped vegetables and a variety of fresh herbs as well as guac; like my original, it's onion-free (though you can certainly add red onion if you'd like to). And, like the original, it's seriously delicious and extremely simple!
The stars of this guac are fresh mint and fresh basil. If you don't have either, you can use dried herbs, or you can substitute parsley and cilantro. That said, it's worth making the recipe just as specified; these herbs elevate guacamole to a bright, fresh, and surprising new plateau.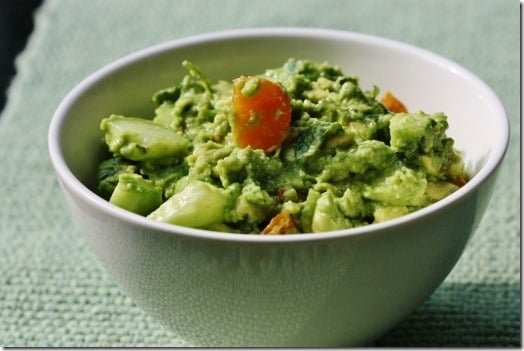 Cool as Cucumber Guacamole (raw, vegan, gluten and soy free)
Serves 2-4 (who am I kidding: 2)
1/2 cucumber, chopped
6 cherry tomatoes, quartered
2 avocadoes, pitted and cubed
Handful fresh basil, finely chopped
Handful fresh mint, finely chopped
Juice of 2 small lemons (or 1 large)
Salt and pepper to taste
Drizzle of agave (about 2 tbsp)
Mix all ingredients together, using a fork to mash the avocado, in a medium or large bowl. Serve with crudites, salad, pita chips, corn chips, nori sheets, or just about anything!
Optional add-ins!
1/4 cup chopped red onion
1/2 cup corn kernels
substitute lime juice for lemon
roasted red pepper
1/3 cup chopped grapes
I think any of the above would be delicious with this guac recipe; I plan on making them all! In spite of being a little lower in fat than your table variety guac (because there are so many veggies thrown in), this recipe is oh-so-rich and creamy: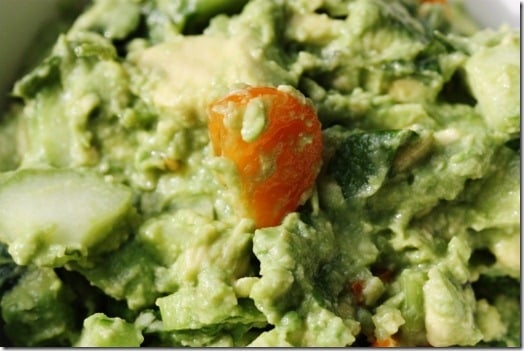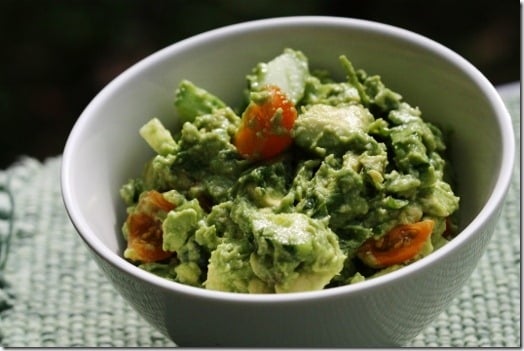 There it is, folks: a nutrient dense, flavorful, and light, bright recipe with minimal ingredients. I hope it's what you all have come to expect from me
With that, I've got a long day of studying ahead of me. Till soon!
xo