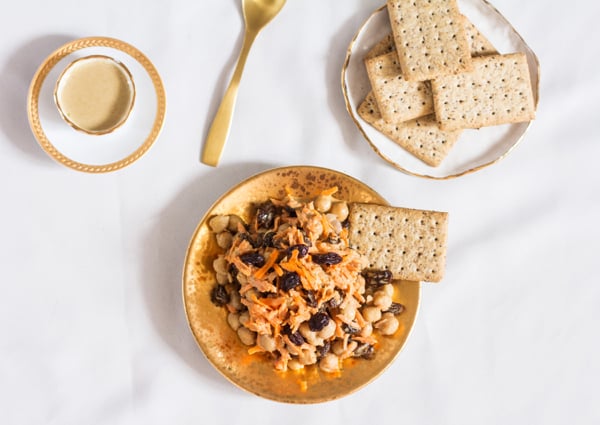 When I wrote the title of this post, I thought "it's taken me over three years to post my recipe for curried chickpea tahini salad?!" In spite of the fact that I've never shared it, this was one of the first vegan lunch recipes I concocted on my own. I loved it then, and I love it now. And since my Mom is a great fan of curried chicken salad, and we're eating some vegan food together over this holiday, I thought I'd share my recipe with her.
Smashed chickpea salads make for a wonderful and easy lunch option if you're transitioning to a plant-based diet and you miss chicken or tuna salad. You can use vegan mayo or avocado as a creamy base, but tahini is my personal favorite (surprise, surprise!). This particular recipe features the addition of curry, finely grated carrot, and raisins. The result is savory sweet and super flavorful. It's also packed with protein, fiber, and folate from the legumes, and it's got a nice helping of healthy fat from the tahini. Best of all, it's 100% plant-based and animal friendly.
I often like to serve a scoop of the salad on top of a nutrient dense salad, but it's also a great appetizer, dip, or snack. Serve it on toast or in a wrap for a packable lunch, or you can even mash it up with some warm quinoa. It's hard to go wrong with a combination this tasty and simple.
Curried Chickpea Tahini Salad
Cuisine:
vegan, gluten free, soy free option, nut free
Author:
Prep time:
Cook time:
Total time:
For the salad:
3 cups cooked chickpeas (2 cans chickpeas, drained and rinsed)
2 medium sized carrots, grated finely
1/3 cup raisins or currants
For the dressing:
3 tablespoons tahini
1 1/2 tablespoons lemon juice
1 1/2 tablespoons apple cider vinegar
2-3 tablespoons water (as needed)
1 tablespoon tamari or soy sauce (substitute coconut aminos)
2 teaspoons maple syrup or agave
1 teaspoon curry powder
Whisk all dressing ingredients together. Start by adding 2 tablespoons water and add more if needed.
Pour the dressing over the salad ingredients and mix well to combine. Serve.
Leftover salad will keep for up to four days in an airtight container in the fridge.
What a tasty bowl to dig into with a spoon. Seriously. So satisfying! And I love the slight contrast of the raisins and beans.
Sometimes, we bloggers have foods we eat so regularly and make with so automatically that we just forget to blog about them. You guys have seen most of my regulars, but there are still some time honored snacks and dishes that I tend to dismiss because I think they're not noteworthy enough for CR. I bet I'm wrong. And I hope you like the salad.
Happy Friday, everyone!
xo
Images courtesy of Lighter.