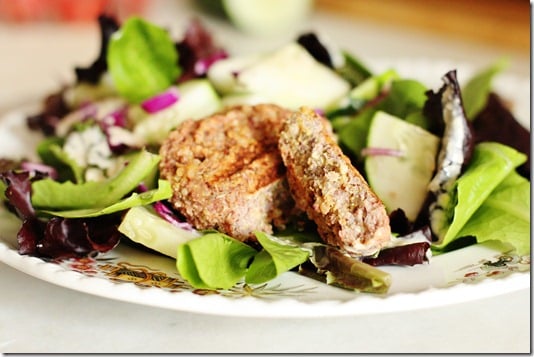 Remember how, ages ago, I asked you all for tips on prepping food at my Mom's place, sans food processor? A few of you said I might consider simply getting a refurbished or used processor, and keeping it here as an investment for when I'm home. I won't be in NYC much this fall, but I did finally decide to invest in a food processor for my Mom's place. I got it refurbished on eBay, and the price was right. I know that most raw foodies extoll the virtues of the Vitamix, but I personally am every so slightly more dependent on my food processor, since I prefer the way that hummus, nut pates, and dips turn out when I use it. I love green smoothies, but if I had to choose between them and a plethora of dips, spreads, and hummus recipes—not to mention veggie burgers and patties, like the one you're about to see in this post—I'd say that the later are more of a necessity, the former more of a pleasure. It's just a personal thing.
Anyway, I ramble (what else is new?). The point is, my Mom now owns a Kitchen Aid food processor, and I have access to more kinds of vegan recipes when I'm staying with her. This is a rushed trip to NYC, compared to my standard school breaks here, but even so, I have gotten a bit of cooking in, and these cute, easy-to-make bean patties were a recent highlight: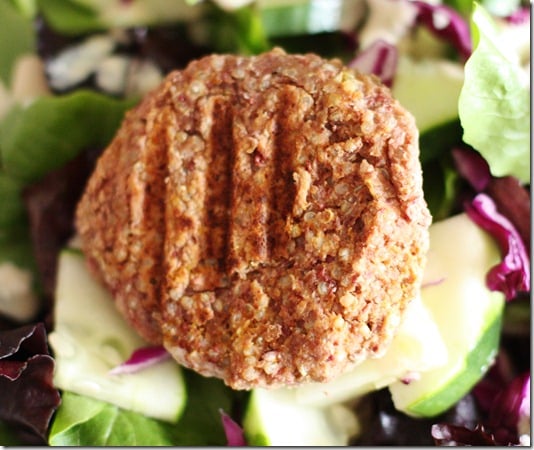 Since I've been writing all about veggie burgers lately, why did I decide to label these as "patties," rather than "burgers"? No logical reason. I just did. I think it's because I shaped them on the small side. You could think of these as burgers, and make four of them, rather than six small ones. I ended up eating more than one as a serving, anyway, but I did think they were cute in the mini-size, and would be good for appetizers or bean balls.
The toughest part of this recipe is cooking the quinoa and beans. Everything else is a snap. Go ahead and use canned aduki beans if you want to; I did! The Eden brand makes canned beans that are BPA free, and it is my brand of choice.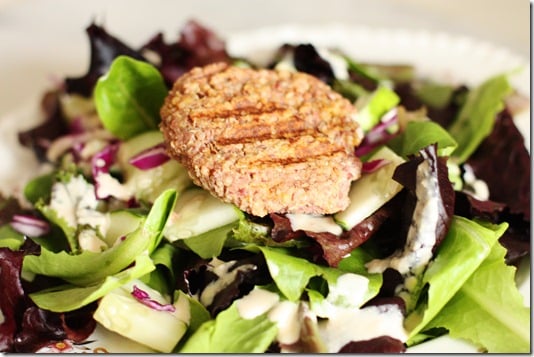 Curried Quinoa and Aduki Bean Patties (vegan, gluten free, soy free)
Makes 6 Patties
1/2 cup quinoa, dry
1 3/4 cup cooked aduki beans
3/4 cup chopped onion
1/4 cup chickpea flour
2 tsp curry powder
1 tsp cumin
3/4 tsp sea salt (or to taste)
Black pepper to taste
Coconut oil spray (I use the spectrum brand) or a scant amount of coconut oil for sauteeing and grilling.
1. Bring 1 cup water to boil and add the quinoa. Lower heat to a simmer and cook, lid ajar, till quinoa is fluffy and the "rib" of the grain is coming loose.
2. Sautee the onion in the coconut oil till golden and tender.
3. When quinoa is done, add quinoa, onion, chickpea flour, and aduki beans to a food processor. Pulse quickly until the mixture is forming a dough that is uniform and sticks together, but still has some texture. Add spices and pulse a few more times to incorporate. If at any point you feel as though you're overprocessing, you can transfer the bean and quinoa mixture to a bowl and mix with your hands!
4. Shape mixture into six patties and spray a skillet or pan with coconut oil. Cook for five minutes over medium heat, flip, and continue to cook for another five minutes or so. Serve over salad, as an appetizer, or shape into larger patties and enjoy on burger buns!
These can be prepared in 30 minutes or less if you use canned beans. And if you're truly in a hurry, simply omit the onion. The burgers will still be satisfying and tasty!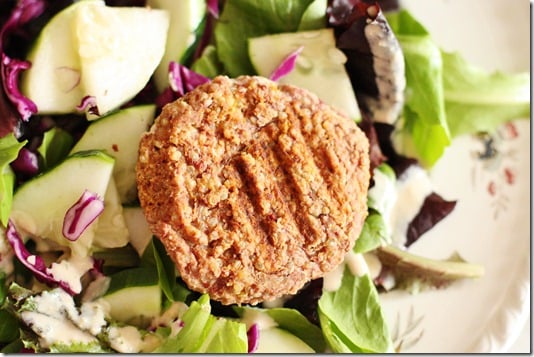 As you can see, they make great salad toppers for lunchtime!
I love when recipes come together quickly, the way this one did. I hope you get a chance to try it, and keep in mind that you can modify the spices as need be!
I've spent the last few days close to the nest, helping my Mom with various things before taking off to Portland (Oregon) early next week and then New Orleans at the end of next week. NYC to PDX to NOLA: I'm all over the country this August! It'll be tough to return to DC on the eve of the first day of class of my fall semester, but well worth it to have seen friends and stretched my legs a bit.
xo