Hey friends.
At this time today, I was supposed to be at JFK, awaiting my flight to Portland to visit my friends Jasmin and Mariann. As my tweets and Facebook posts last night indicate, I started feeling weird in the early evening, and by 9, I was nursing a fever, chills, aches, and a headache. This morning, I woke up with the same symptoms but an upset stomach, too. It may be destined to pass quickly, but it hasn't passed yet, and after a long morning of phone calls to the airline, taking my temperature and hoping to watch it magically fall, and checking in with my intuition–not to mention getting on the phone with Jasmin, who is beyond sweet and supportive–I've decided to stay in NYC, at least for today. I may be able to get on a standby flight tomorrow morning, but there isn't a lot of space, so we'll see. I'm not the type of person to cancel any plans I'm looking forward to–if anything, I tend to bulldoze through ailments heedlessly in order to stick to my plans–but I really don't feel right today, and I didn't want to make it worse or put passengers around me on a plane at risk.
Sigh.
Anyway, as long as I'm going to spend the day on my mother's sofa drinking coconut water, I figured I might as well write a blog post as scheduled. A few weeks ago, Kate Sornik contacted me to say that she's also located in Washington, D.C., and that she has started a new line of vegan snack bars. They're called Kate Bakes Bars, and they're 100% vegan, contain no gluten ingredients, organic, and prepared lovingly in small batches. Kate asked if I'd like to taste them, and I said yes, of course! I've grown very, very weary of dried fruit/nut snack bars lately (Pure bar overdose), so anything oat based (which these are) is a welcome, welcome break!
The bars certainly lived up to my hopes. They're sweet, but not sugary, the texture is awesome, and they've also got 7 grams of protein and 4.5 grams of fiber a pop. The flavors are scrumptious: chocolate coffee, banana cinnamon oatmeal, and sunflower butter raisin. I actually expected to like the chocolate coffee the most (chocolate and coffee, these are a few of my favorite things), but actually, the sunflower butter raisin were definitely my favorite of the bunch! It reminded me a lot of my sunflower butter oat bars, but softer and lighter. A lot of oat bars tend to get really heavy and dense, but these guys fill you up without weighing you down.
I asked Kate about the "no gluten ingredients" label, and she explained that, while all of her ingredients are certified GF, she does not have a special, GF kitchen space as of yet, so she has hesitated to label them as gluten free. I think this is obviously the right move, and appreciated her honest and immediate answer to my email on behalf of my readers with celiac. The bars are obviously not suitable for those with celiac disease, but that they may be tolerable for those of you with non-celiac gluten/wheat sensitivity. Use your judgment!
I'm so glad to have had a chance to sample these tasty, 100% vegan, organic snack bars! It's great to be able to support a local small business! Right now the bars are available for online order here, but check the website periodically for more information as the brand grows.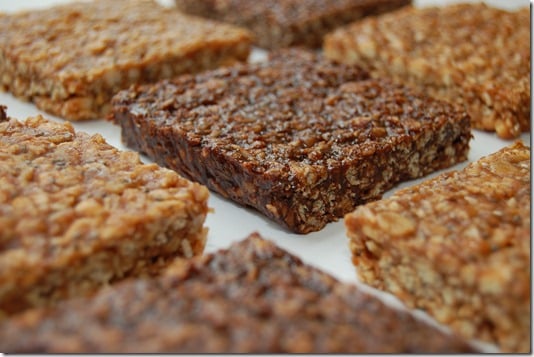 Second order of business: green recovery stories seem to be getting more and more popular with readers, which I love! Thank you for welcoming the guest posters with so much goodwill and compassion. Given the number of personal comments the series gets, I suspect many more of you have Green Recovery stories that you're either too nervous to share, or not ready to share. I don't want to push anyone into a submission–these stories have to come out when you're ready–but if shyness alone is holding you back, I want to encourage you to submit a story today! All I need is a Word or Google doc. No required length, no required format. Some common FAQ's about the process:
1) Do I need to be vegan? Right now, I really want to stay true to the series' original mission of talking about recovery through the prism of a vegan (or at least an aspiring vegan) diet. I've had some posters who aren't quite vegan yet, but who are well on their way and committed to veganism as an ultimate goal. If that's you, then do please share with us!
If you're not vegan and don't suspect you will be anytime soon, then this particular series may not be the right venue for you. There are lots of other online resources for recovery dialogs, though, so I encourage you to seek them out actively!
2. I was never clinically diagnosed with an ED. Can I still share? Yes. Absolutely. EDs that meet diagnostic criteria (low BMI, amenorrhea, osteopenia, etc.) present special challenges to treatment providers, and the severity of their associated health risks is important to heed. That said, the criteria are imperfect. It is possible for a person with "normal" BMI to be seriously disordered in habits and in mindset, and defining EDs only as conditions marked by extreme weight loss or amenorrhea is misleading and problematic (because so many cases fall through the cracks). Green Recovery welcomes all stories of disordered eating and disordered thinking about food.
3. Can I remain anonymous? Absolutely. Just tell me you want to be anonymous, and you will be.
4. I want to write a Green Recovery story, but I'm not fully recovered yet. What should I do? Lately, I have been featuring some "recovery-in-progress" stories, so you are certainly welcome to share your own. Just be very clear about the ways in which you know you still need to work on your recovery, and the ways in which you feel you've already come a long way. Be honest with yourself, and with us. I will note in my intro that this is a "recovery in progress."
In my opinion, all recovery is really "recovery in progress" (as last week's post on dedication vs. obsession shows, I myself am always actively working to be more at peace with my body image and food choices), but I think we all know that there is a difference between full recovery that still allows for a few bad days, and recovery that is still very much underway. I trust you guys to know that difference, too, and be candid with me about where you are in the process.
5. But I'm not a great writer. I'm sure you're a better writer than you think you are! And remember, this is not an essay contest. It's a collection of open, personal testimonies. A community journal, if you will. The only thing you need to worry about is giving us an honest account of your story. Short n' sweet is fine. You can leave the verbosity to me–Lord knows I have enough of it to go around 🙂
I hope this inspires you guys to share. I know that there are a lot of stories out there, waiting to be told. You can email your GR submission to [email protected].
OK. I should nap and keep loading up on electrolytes and TV. Have a great Monday, all.
xo