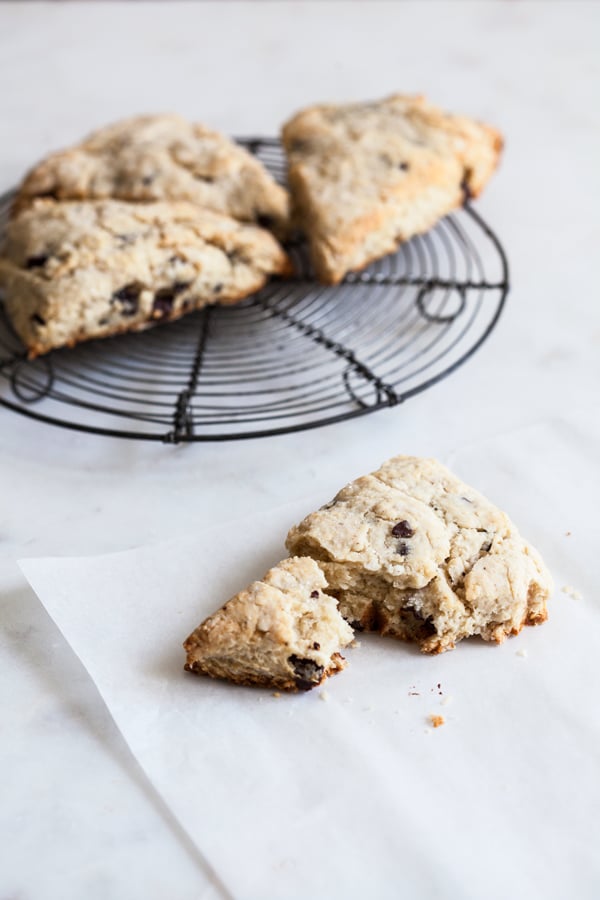 Figuring out what and how to cook for my mom, who has a very different set of tastebuds from mine, has been a welcome challenge over the years. But experience has shown me that she's pretty much guaranteed to love anything with dark chocolate in it, and I also happen to know that she's partial to something sweet for breakfast. This year, my Mother's Day offering to her is a batch of rich, crumbly vegan dark chocolate cashew cream scones.
It's hard to imagine anyone not loving these scones, what with their buttery taste and pockets of bittersweet dark chocolate. I've experimented with a lot of whole grain, nutty approaches to morning scones, using rye flour, einkorn flour, spelt flour, and other whole grain varieties. I love those scones; I love how the bold flavor of wheat really shines through.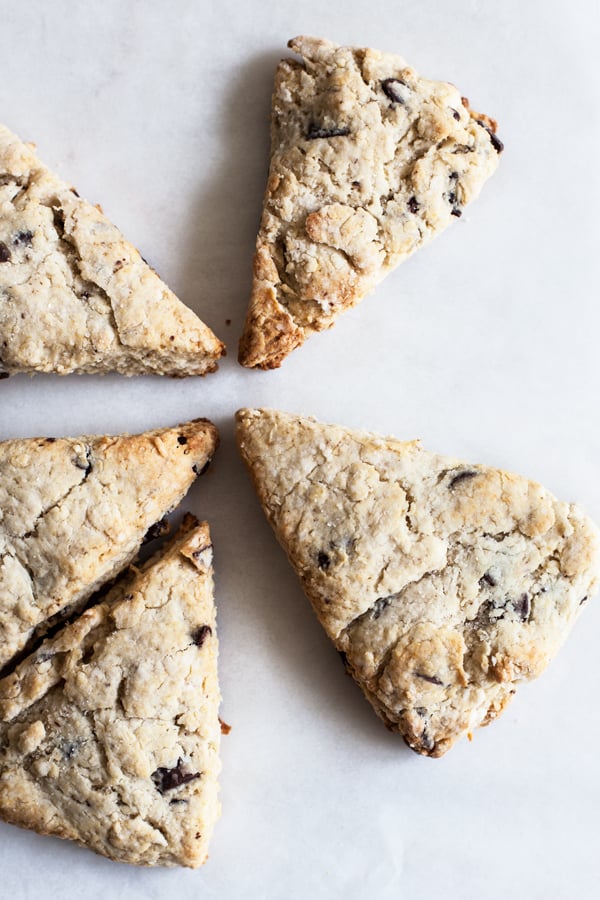 But that's not what these scones are about. These scones are light and white and crumbly; every bite is rich and tastes like butter (you can use either solid coconut oil or a vegan butter to make them; they'll be buttery-tasting either way). They're traditional, a little decadent, and more dessert than breakfast fare. In other words, they're a treat—a treat worthy of gifting and sharing.
Many scone recipes call for heavy cream; I've always substituted non-dairy milk in the past. This time, I decided to use the sweet version of my all-purpose cashew cream instead. I'm in love with the results. Yes, making the cashew cream is an extra step, but I really do think it makes the scones richer and more tender. And you'll probably have a few tablespoons of the cashew cream leftover, which will be perfect for drizzling onto your morning oats or a bowl of fresh berries.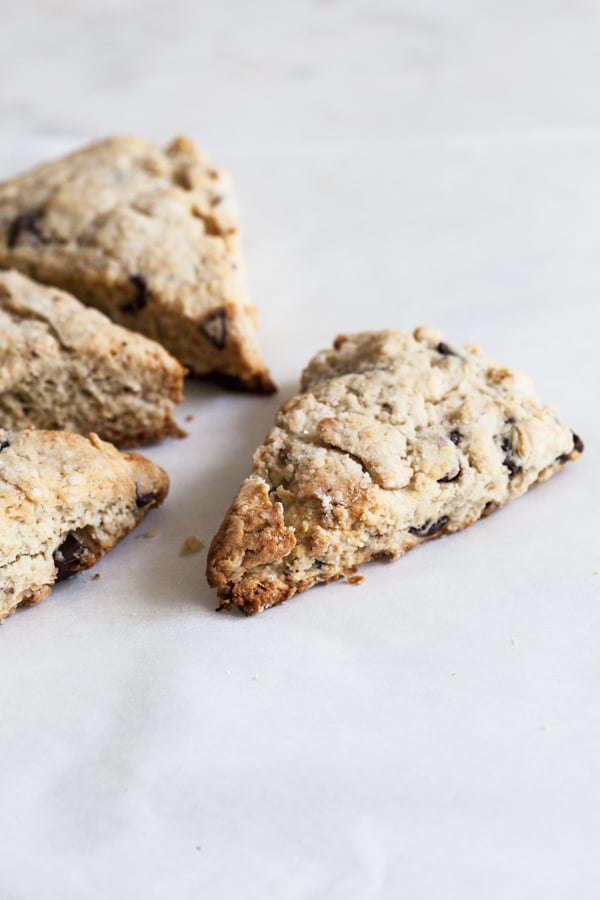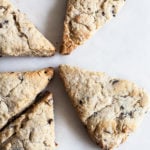 Dark Chocolate Cashew Cream Scones
Author -
2 1/2

cups

unbleached

all-purpose flour (substitute your most reliable gluten free flour blend)

1/4

cup

granulated sugar

plus extra for sprinkling (cane sugar and coconut sugar work well)

2 1/2

teaspoons

baking powder

3/4

teaspoon

kosher salt

if you use vegan buttery spread instead of coconut oil, you should reduce the salt to 1/2 teaspoon

6

tablespoons

coconut oil

solid, not melted or vegan butter, cut into pieces

3/4

cup

chopped dark chocolate

dark chocolate chunks, or dark chocolate chips

1

cup

all-purpose cashew cream

substitute 1 cup almond, soy, or coconut milk creamer

1

teaspoon

vanilla extract

2

tablespoons

almond milk + 1 teaspoon agave or maple syrup

optional, for glazing
In a large mixing bowl, mix together the flour, sugar, baking powder, and salt. Add the coconut oil or butter and use a pastry cutter or two forks to incorporate it into the flour mixture; it should be evenly incorporated and no big pieces visible, but little pieces (just less than pea-sized) are good. Mix in the dark chocolate.

Make a well in the center of the dry ingredients and add the cashew cream and vanilla. Use a spatula to mix until it's all just holding together (the dough can be a little shaggy and messy; it shouldn't be too wet). Transfer the dough to a floured surface and press it into a circle (about 7 inches across). Cut the circle into 8 scones. Place them on a parchment-lined baking sheet. Refrigerate the scones for 30 minutes to 1 hour (or you can place them in the freezer for 30 minutes).

While the scones are in the fridge or freezer, preheat the oven to 350F. When the scones have chilled, you can brush them with the almond milk + syrup mixture (a vegan egg wash, inspired by

Abby

), then sprinkle them with extra sugar. (You can also skip this step.) Transfer the scones to the oven. Bake for 20-25 minutes, or until the scones are just golden at the edges. Allow them to cool before enjoying.
My scone making skills have gotten a lot better thanks to inspiration from Liz Larkin (sconeladylarkin on Instagram), whose royal wedding scones are a perfect template for all sorts of creative variations! Posie also has some wonderful scone recipes that can be veganized, and for vegan-as-written recipes, I think nothing beats the scones in Vegan with a Vengeance. If you're looking to perfect your vegan scone game, Isa's hazelnut scones are a great place to begin.
I can't wait to give these to my mom this coming weekend. They'll be a small but sweet token of my appreciation for all of the love and support she's given me in the last few months. Until then, it's back to cramming for final exams. Have a lovely rest of the week, friends.
xo