Crispy cauliflower chimichurri tacos make for a vibrant, colorful, and gluten-free plant-based meal.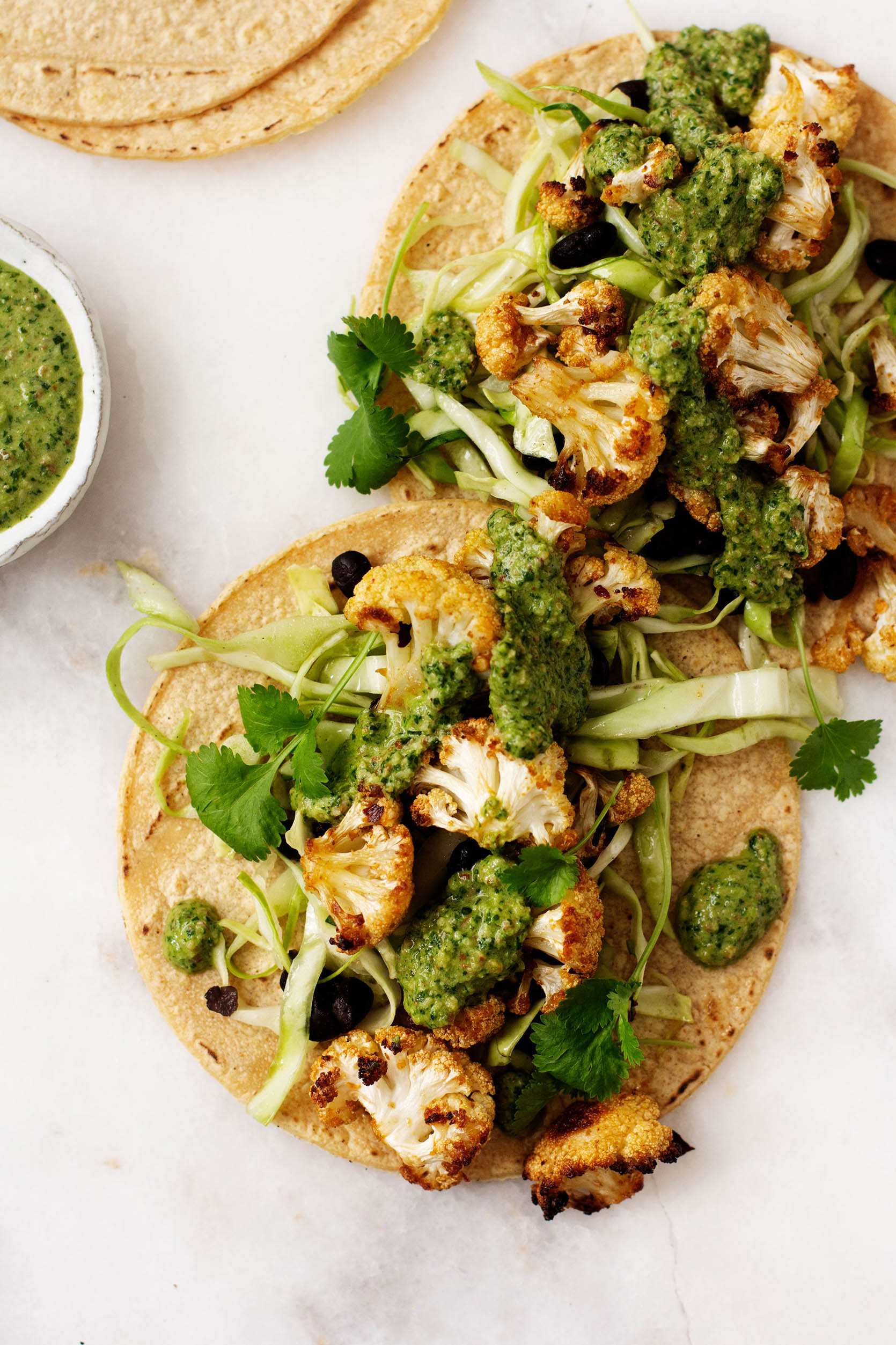 I've come to rely heavily on cauliflower when I'm sharing vegan food with family and friends. It's a crowd pleaser: plant based, a gluten-free option for all, and surprisingly satisfying. I've served it whole roasted, cut into "steaks," and whipped into a smoky appetizer dip. These crispy cauliflower chimichurri tacos are a new way to feature the versatile vegetable.
The tacos have it all: a combination of textures, smoky and spicy flavors, plus garlic and herbs from the chimichurri. This particular chimichurri sauce contains almonds. This makes it thicker than a more authentic chimichurri, which I like. The sauce doesn't have to be used on tacos. You can dollop it onto a vegan bowl, grilled tofu, or grilled veggie kebabs.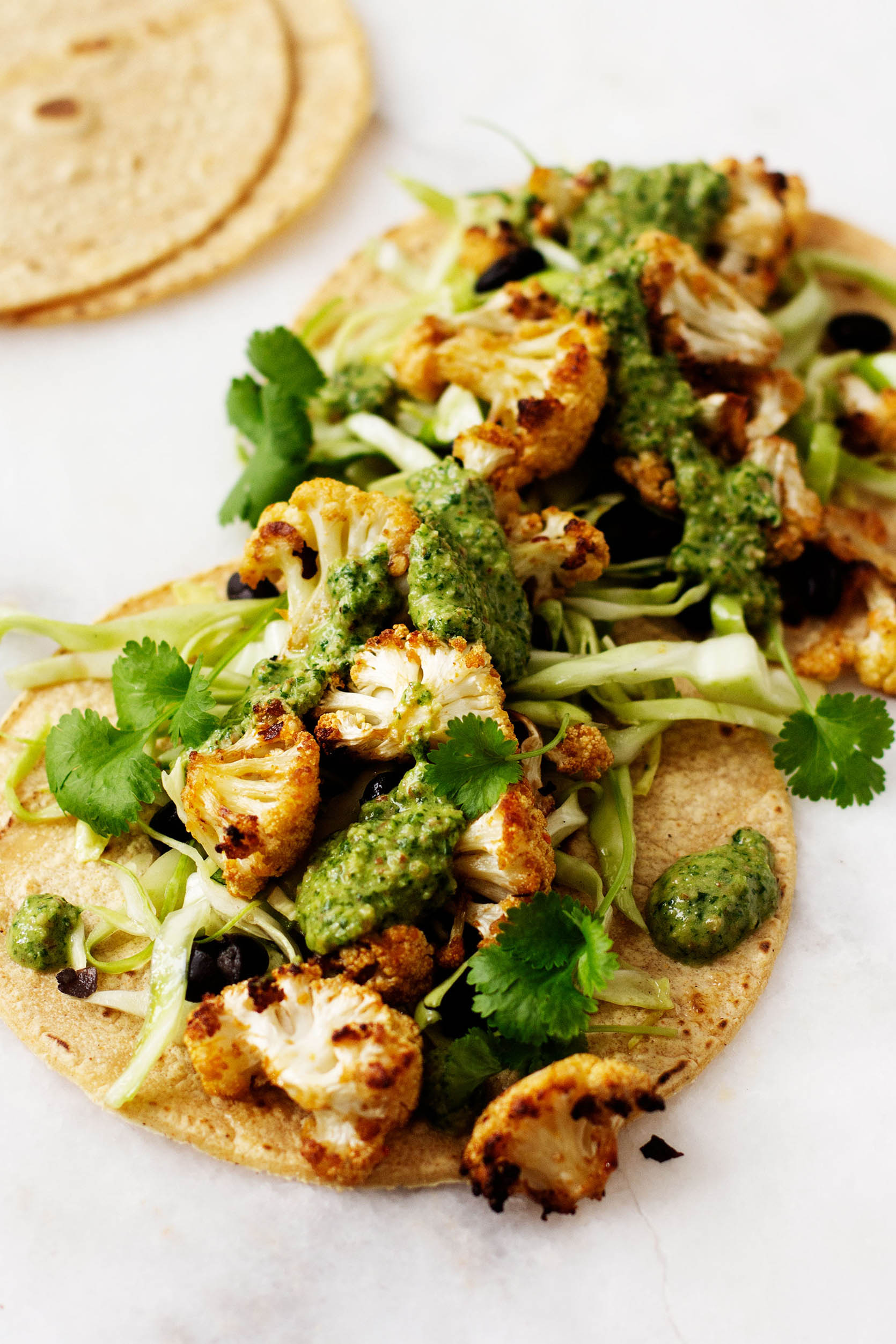 Ingredients for a satisfying vegan taco
A hearty veggie
I've made vegan tacos with roasted carrots, barbecued zucchini, and roasted sweet potato. Mushrooms are also also a great choice. I pick vegetables that are hearty and substantial, even when they're chopped into pieces. This makes vegan tacos more filling, while also showcasing all of the goodness and variety of the vegetable kingdom.
A protein
I nearly always add some sort of vegan protein to my tacos. Sometimes it's grilled tofu or tempeh, a vegan meat, seitan, soy curls, or a legume. Beans and lentils both make good additions to tacos, and they're especially nutrient dense. If you're frustrated by the fact that your beans keep escaping from the taco as you eat it, try vegan refried beans or a bean dip (like the black bean dip here) instead.
Something saucy
I like to add some sort of sauce, or something creamy, to my tacos. Here, it's the almond chimichurri sauce. But you don't have to be that fancy: a few slices of avocado often hits the spot. I really like my cashew queso with tacos and burritos, too.
Something crunchy
I like a taco that has a little crunch. I often pick a cabbage slaw for that job, and there's one in this recipe as written. Another favorite slaw is the cabbage apple slaw featured in these vegan BBQ sandwiches. Even a handful of chopped romaine lettuce or fresh, chopped cilantro will work. The idea is just to add freshness to the whole dish.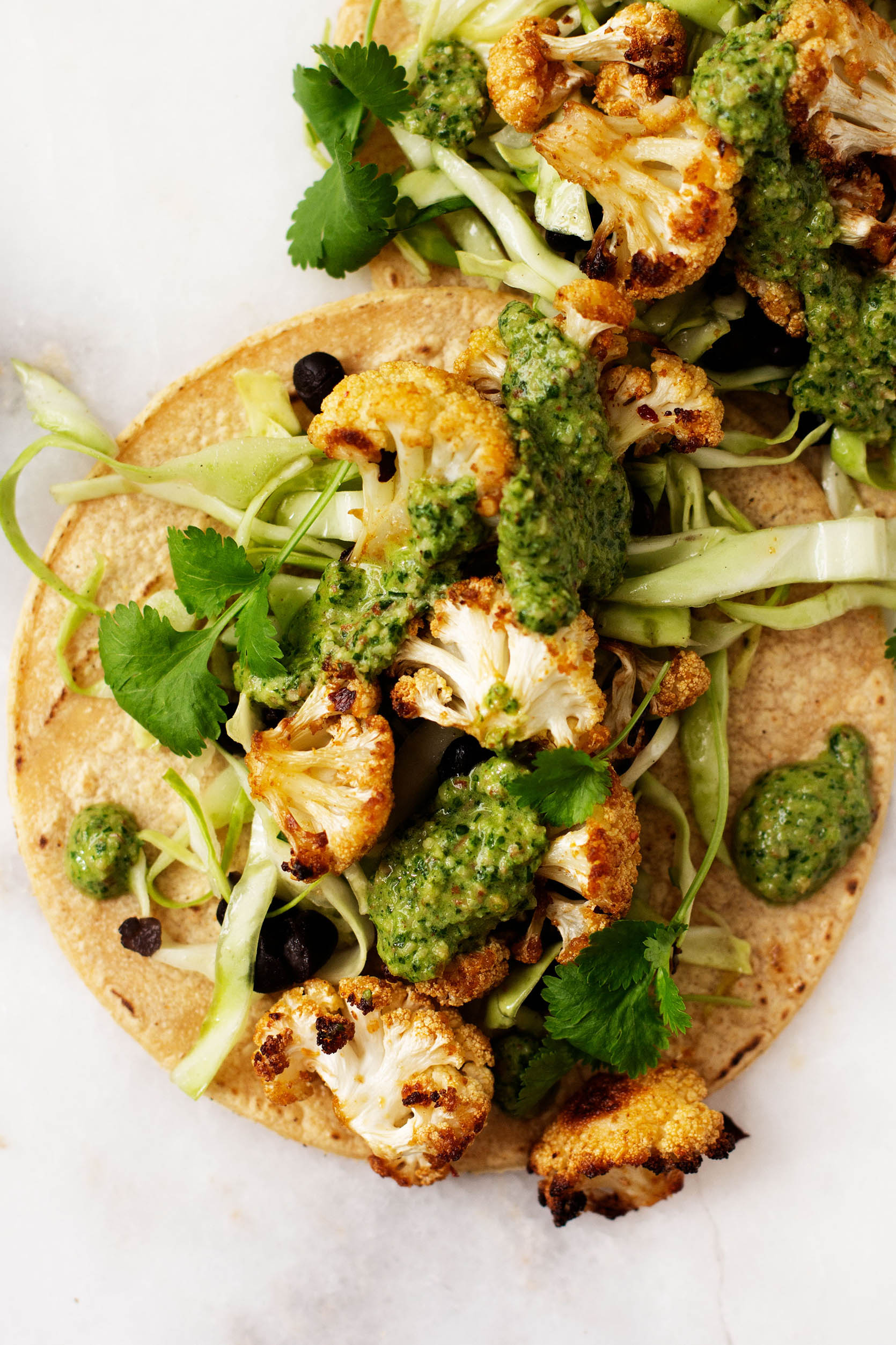 Making crispy cauliflower chimichurri tacos
This taco recipe is a little complex, as far as my taco recipes go. With that said, I think that the various steps are well worth it. The finished tacos are flavorful and complex. Each component shines, especially the spiced cauliflower.
I recommend making at least one component of the recipe, whether it's the roasted cauliflower or the chimichurri, ahead of time. From that point forward, you'll be surprised at how quickly things can come together. I often have cooked lentils on hand from weekend batch cooking, but canned lentils (or beans) will work well in the recipe.
You can store the chimichurri in an airtight container in the fridge for up to 5 days, so it's easy to prepare in advance. The roasted cauliflower can also be made up to two days in advance of assembling everything else. If you want to preserve the cauliflower's crispiness, you can warm it up in the oven or in an air fryer.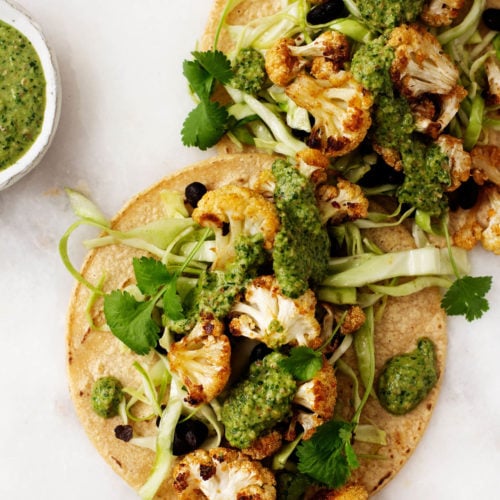 Crispy Cauliflower Chimichurri Tacos
Author -
For the crispy cauliflower:
1

medium head cauliflower, tough stem removed and chopped into bite-sized pieces

1

tablespoon

neutral vegetable oil, such as grapeseed or refined avocado

1

teaspoon

ground cumin

1

teaspoon

ground chili powder

1/2

teaspoon

smoked paprika

Crushed red pepper flakes

Coarse salt
For the almond chimichurri:
1/2

cup

roasted almonds (salted or unsalted, but if salted, you may wish to reduce the salt in the sauce)

2

cloves

garlic, roughly chopped

1/2

teaspoon

fine salt

1/4

teaspoon

freshly ground black pepper

1/2

cup

packed cilantro leaves and stems

1

cup

packed parsley leaves

1

tablespoon

freshly squeezed lemon juice

2

tablespoons

red wine vinegar

2

tablespoons

extra virgin olive oil

2-4

tablespoons

water
For the tacos & slaw:
3

cups

shredded cabbage

1

cup

cooked lentils or black beans

3/4

cup

packed cilantro leaves, roughly chopped

2-3

teaspoons

extra virgin olive oil

1

tablespoon

freshly squeezed lime juice

Salt and freshly ground pepper to taste

8

flour or corn tortillas
Preheat your oven to 400F and line a baking sheet with parchment or foil. Toss the cauliflower with the oil, cumin, chili, smoked paprika, and crushed red pepper flakes to taste. Spread the cauliflower on the baking sheet and sprinkle with coarse salt. Roast for 30-40 minutes, stirring once halfway through, until the cauliflower is crispy and browning at the edges.

While the cauliflower roasts, place the almonds into a food processor fitted with the S blade. Add the garlic, salt, and pepper. Process until the almonds have been broken down into a coarse meal. Add the cilantro, parsley, lemon, red wine vinegar, olive oil, and 2 tablespoons water. Process until the mixture is bright green and evenly mixed; it should resemble a pesto. If the sauce is very thick, you can add 1-2 extra tablespoons water to it.

In a mixing bowl, toss together the cabbage, lentils or beans, cilantro, extra virgin olive oil, and lime juice. Season to taste with salt and pepper.

To prepare the tacos, you you can toast your tortillas over an open gas burner set to very low flame for about 1 minute per side—this will give you a slightly browned, crispy texture. You can also reduce the oven heat to 300F after you roast the cauliflower, wrap all of the tortillas in foil, and allow them to warm up for 10 minutes before you assemble the tacos. To assemble, fill all of the tacos with about 1/2 cup (each) slaw and cauliflower, then drizzle with the chimichurri sauce.
For a tree nut free version, try using toasted pepitas or hulled sunflower seeds in place of the almonds.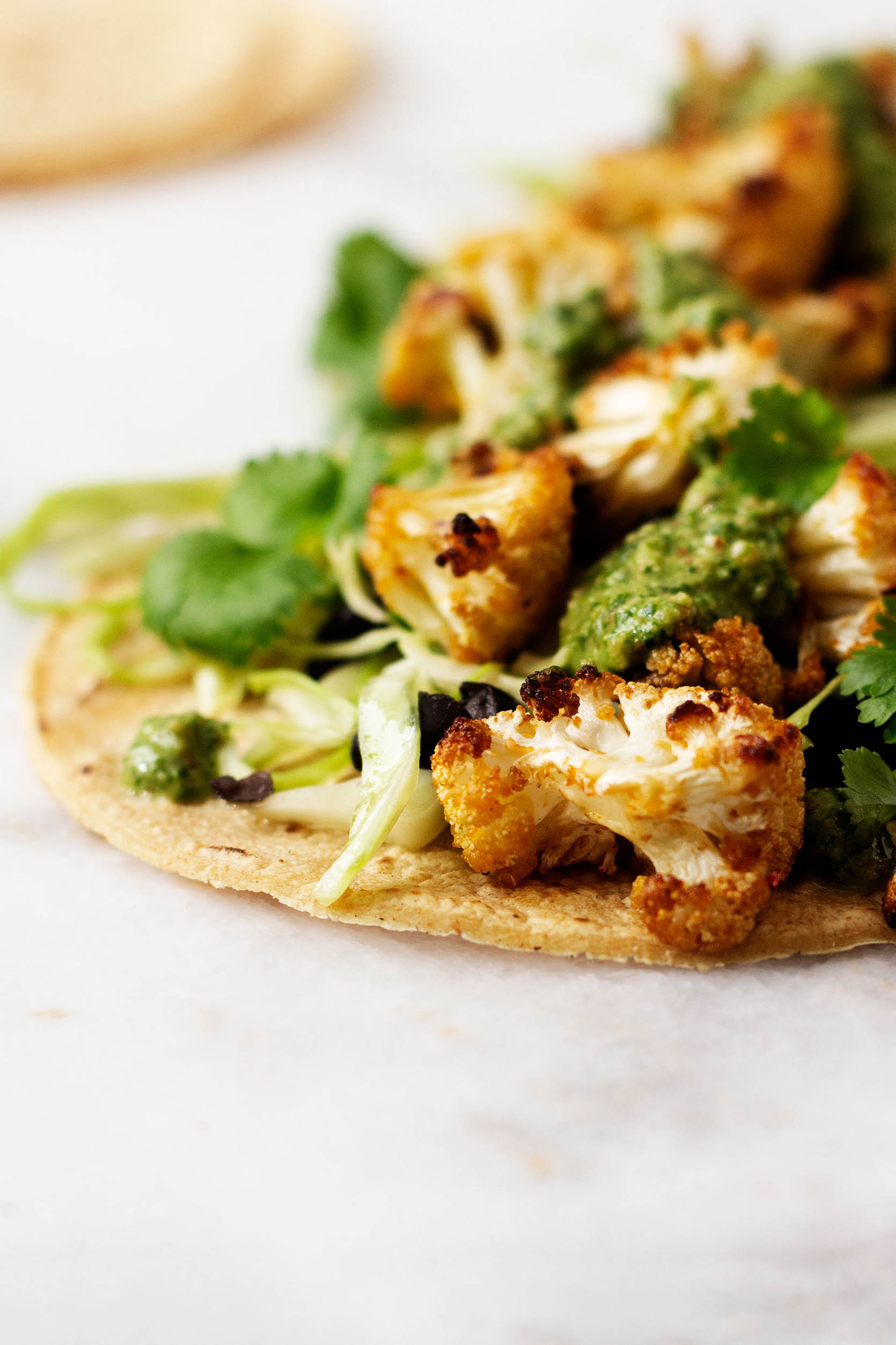 In place of the lentils in the slaw, you can use black beans, chickpeas, pinto beans, or even black eyed peas. Either red or green cabbage works, and if you don't have either of those, you can also use finely chopped romaine lettuce leaves instead.
This is a fun vegan Cinco de Mayo dish, but it's also a good standby for summer gatherings or warm weather suppers at home. Regular readers know that I really love tacos for breakfast; I usually make a simple version with vegan refried beans, rice, and veggies. The leftovers of this dish are definitely more colorful and festive than my usual, and I've been enjoying them so much for breakfast in the last few days.
See you over the weekend, with the usual roundup of recipes and reads.
xo