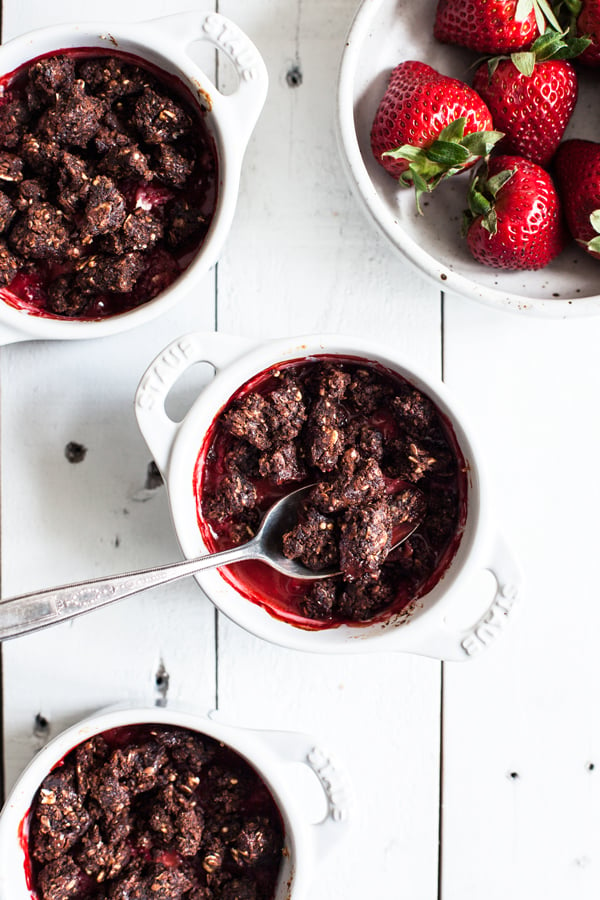 I love recipes that are good multitaskers. These delicious individual strawberry chocolate crisps make for a perfect afternoon snack, a super wholesome dessert, or a sweet, fiber-packed, seasonal breakfast option. The recipe is designed to create 4 single servings, which means you can bake them, store them, and enjoy them whenever you need a healthful chocolate fix!
Ever since I made this breakfast crisp last summer, I've loved the idea of baked fruit dishes in the morning. These are the easiest crisps I've ever made, thanks to NuGo Fiber d'Lish© bars. Rather than creating a crumble topping, I baked the strawberries with just a touch of flour and sugar, till they were thick and bubbly. I allowed them to cool a little, then crumbled these fiber-packed bars on top. Not a traditional approach to crumble/crisp, but incredibly time-saving. And the results are super tasty.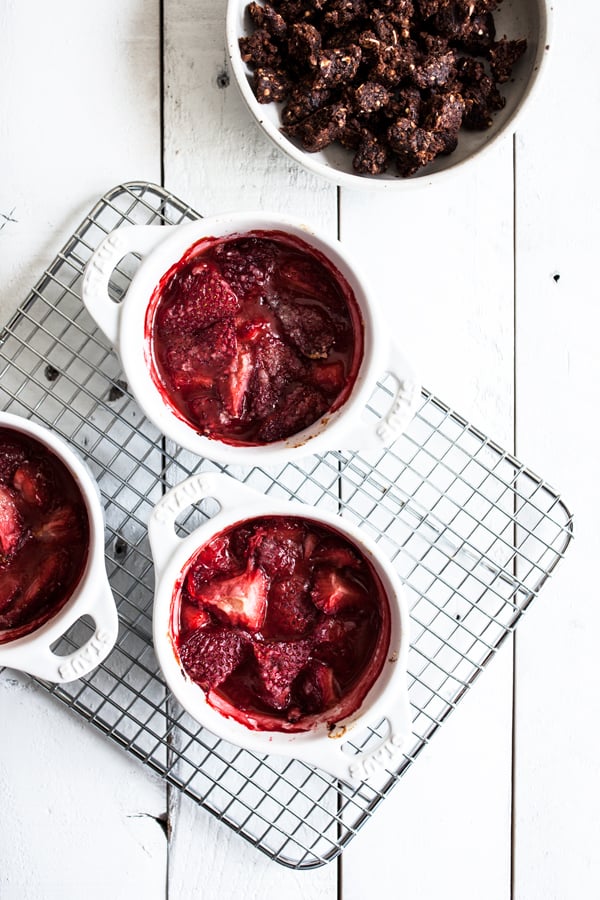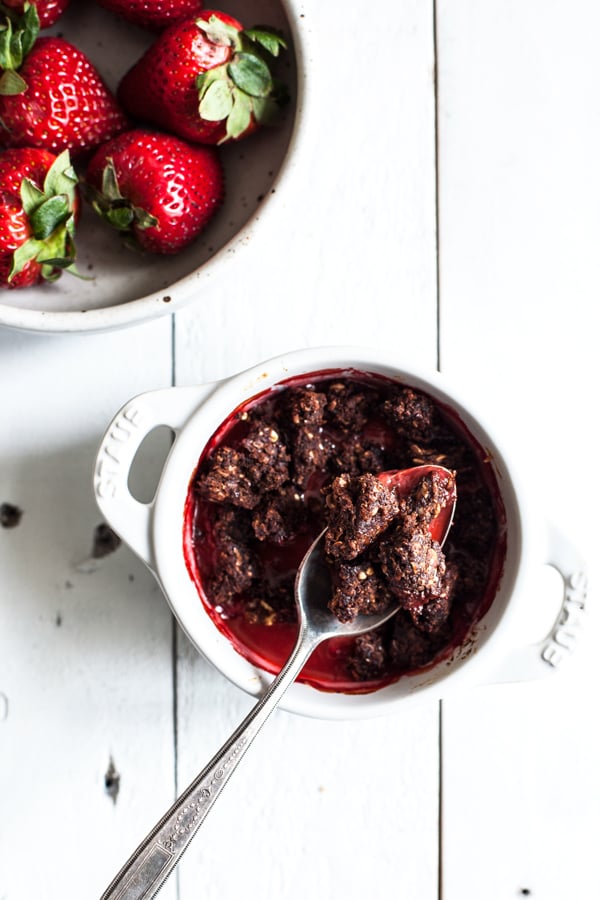 The end-of-semester push of finals, papers, assignments, and lab reports is ramping up quickly, so it's a great moment for me to have healthful, ready-to-eat snacks at my fingertips.  NuGo Fiber d'Lish© bars are one of my favorite product discoveries of the year so far. They're grain-based, soft-baked, and they pack an impressive 12 grams of fiber per bar, which means they're gut-friendly, too.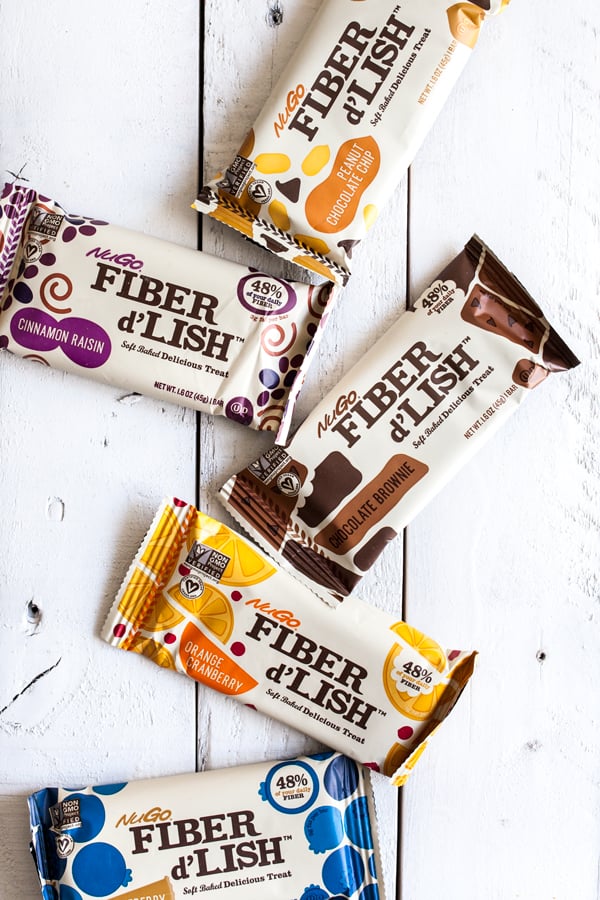 The fiber blend in the bars consists of whole grains (oats, wheat, and millet), psyllium, flax, and inulin. Inulin is a prebiotic, which can help to promote the growth of probiotics—the healthful microorganisms that populate the gut. The bars include both soluble and insoluble fiber, which means that they harness all of fiber's potential health benefits: slowing of absorption of fats and sugars into the bloodstream, cholesterol lowering, satiety, and healthy digestion.
The bars are particularly rich in soluble fiber, the type of fiber that can be helpful for those with IBS and irregularity. Soluble fiber creates a viscous coating in the digestive tract, which helps to prevent transit that's too rapid or too slow. (In other words, regular, consistent BMs.)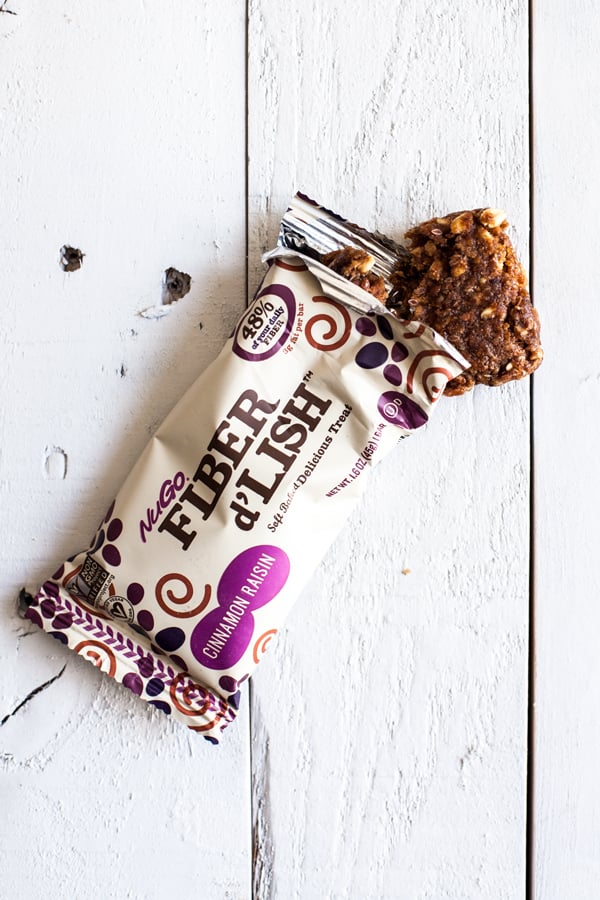 I always recommend soluble-fiber rich foods—like oats, barley, beans, and flax—to clients who have irritable digestion. But a lot of my clients juggle incredibly busy schedules, travel, or long work hours, and it's not always easy for them to prepare meals that are packed with, say, barley and sweet potato. Ready-to-eat snacks can't replace whole foods, of course, but they can definitely help folks to eat well and meet fiber goals in a pinch.
In addition to being fiber-rich, NuGo Fiber d'Lish© bars are low in fat and sweetened with fruit juice. They come in ten tasty flavors—all vegan—including Cinnamon Raisin, Chocolate Brownie, Orange Cranberry, Peanut Chocolate Chip, Banana Walnut, Blueberry Cobbler, and Blondie Bar. I've had a chance to try them all, and the peanut chocolate chip, cinnamon raisin, and banana walnut bars are at the top of my list. But my favorite is (maybe unsurprisingly) the chocolate brownie. It's rich and sweet, but it's also full of the pleasantly nutty taste of whole grains.
Which makes it perfect for creating this healthful, fruity, seasonal treat.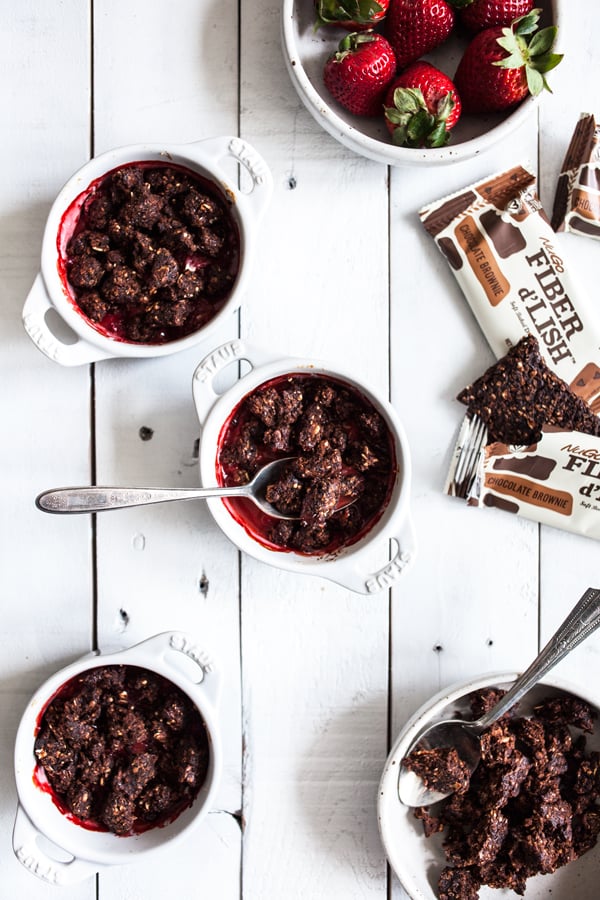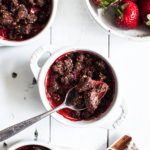 Individual Strawberry Chocolate Crisps
Author -
Preheat your oven to 350F and lightly oil 4 ramekins or mini baking dishes (about 0.25 quarts each). Toss the strawberries, sugar, flour, and lemon juice together. Divide the berries between the ramekins. Bake the mini crisps for 35 minutes, or until the berries are thickened and bubbly.

Allow the crisps to cool for about 15 minutes on a cooling rack. Crumble 1 NuGo Fiber d'Lish© bar over each crisp. Dig in!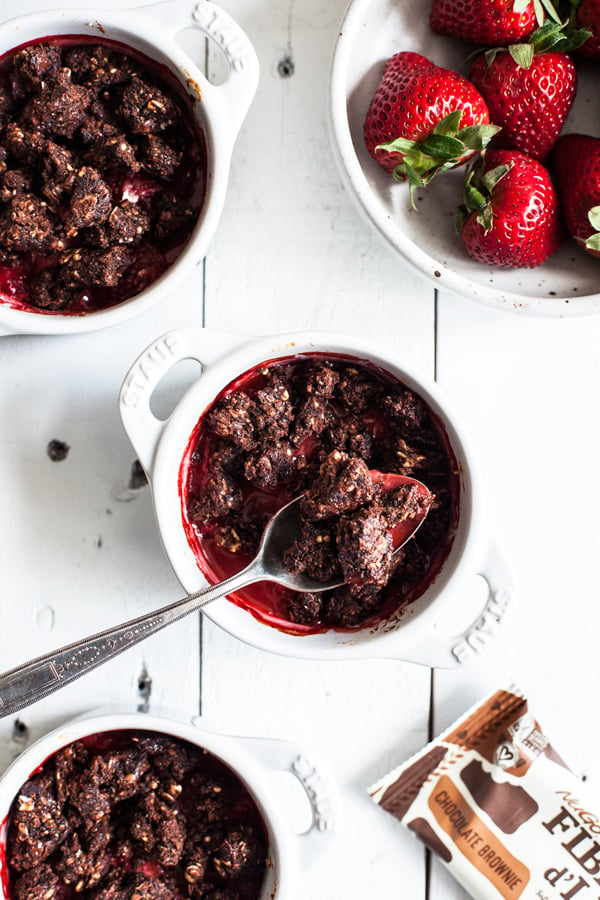 While the chocolate/strawberry combination is undeniably lovely, this recipe is super flexible. You can use any seasonal fruit—berries, peaches, cherries, or plums in the summer, pears or apples in fall—and you could use any of the Fiber d'Lish bar flavors as a topping. I'd love to try apples + cranberry orange! And of course you can also try the recipe with your favorite homemade snack bar, too.
I love that these bars are whole-grain based. It makes them richer in soluble fiber and gives them a more balanced macronutrient profile than a lot of the nut + dried fruit bars out there. And the chewy, soft-baked texture makes them especially appealing as a treat or part of a portable breakfast.
It's a good day for me to be sharing an easy and wholesome snack option, because a bunch of bloggers are coming together today to help Sonja and Alex—the pair behind A Couple Cooks—celebrate the adoption of their son, Larson Ames. Sonja and Alex are two of the most sensitive, sweet, and generous individuals I've met through blogging, and I'm so happy for them as they embark on a new chapter. Here are some of the other healthy snack recipes being shared with Alex and Sonja by fellow bloggers!
Flourishing Foodie  |  Avocado and Asparagus Tartines with Basil Pesto
Snixy Kitchen  |  Roasted Lemon Mint Pesto Tartines, Two Ways
This Mess Is Ours  |  Coriander & Lime Scented Cashews
Making Thyme for Health  |  Hemp Ranch Hummus
Two Red Bowls  |  Buttered Eggs on Toast, with Radish & Parsley
Cookie and Kate  |  World's Greatest Guacamole
Dolly and Oatmeal  |  Sunshine Mung Bean Spread w/ Gluten-Free Za'atar Bread
Edible Perspective  |  Tropical Oatmeal Snack Cookies
Eat This Poem  |  Red Pepper and Walnut Hummus
Brooklyn Supper  |  Roasted Cauliflower Tacos with Cilantro-Avocado Sauce
Gather & Dine  |  Muffin Tin Granola Cups with Lemon Greek Yogurt and Berries
The Fauxmartha  |  Laura's Sunshine Crackers
FoodieCrush  |  Baked Beet Chips
Sonja and Alex: I know that new parents need nothing more than quick, nutritious, easy-to-make food. I hope this recipe will meet those needs and give you something sweet and just-a-little-indulgent to snack on as you navigate life as parents! Congratulations, and all my love goes to you and to Larson Ames.
xo
This post is sponsored by NuGo Fiber d'Lish©. All opinions are my own, and I love these nutritious, convenient bars! Thanks for your support.