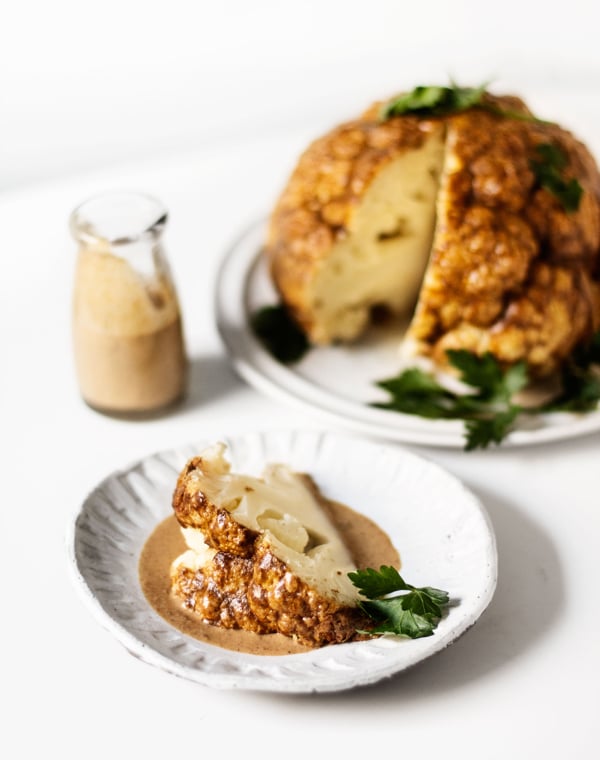 One of the things I always tell clients about vegan Thanksgiving is that many of the side dishes, including mashed potatoes, green beans, roasted squash and other root veggies, and cranberry sauce, can easily be made vegan. This means that, even if you attend a family gathering that features traditional turkey as a main dish, you'll probably still have quite a few things to eat–especially if you chat with friends or family about veganizing the sides in advance. Still, it's nice to have at least one dish that feels like a "main"–something substantial and eye-catching, a centerpiece in its own right.
This whole roasted lemon tahini cauliflower is the best of both worlds. It's as quick and as easy to prepare as a side dish: really, you just whip up the lemon tahini sauce, baste the cauliflower, and let it roast till tender. But, for a dish that's so simple to prepare, it's effortlessly impressive and attention-grabbing. Which means that you can confidently offer it up as a table centerpiece at any gathering.
There are many different approaches to preparing whole roasted cauliflower. Some are as simple as giving the cauliflower head a rub of oil, salt and pepper–even herbs are optional. Other methods are a little more complex; I love Jamie Oliver's whole roasted cauliflower, for instance.
For this dish, I wanted a super streamlined approach, because let's face it, preparing for the holidays involves enough details! So, I used as a flavor base a lemon tahini sauce that's similar to many others I've shared in the past: a tried-and-true blend of tahini, garlic, lemon, smoked paprika (which complements cauliflower really nicely), and a touch of harissa powder. You make a lot of it–more than you think you need–but then you use just less than half of it to baste the cauliflower, and the rest for serving. No juggling separate gravies or sauces or toppings for this dish!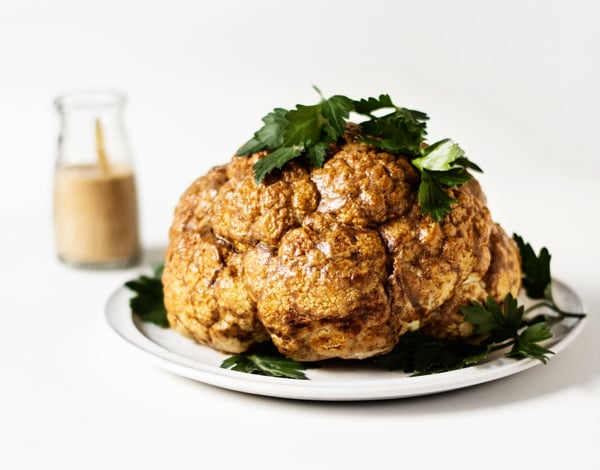 As you can see, the cauliflower takes on a beautiful, golden hue as it roasts, and the garlic, lemon, and tahini flavors seep right into the vegetable. You can baste it a few times as it cooks if you like, but I just slathered it in the tahini sauce and let it cook. Because you serve the cauliflower with extra sauce at the end, you can take a hands-off approach while it cooks, trusting that the finished product will be very flavorful.
In preparing this dish, I realized that it's not just suitable for gatherings or holidays, even though the presentation is a little fancy. It's also a really simple way to prepare cauliflower–easier in a lot of ways than chopping the cauliflower up ahead of time. And it creates such an incredibly tender vegetable: you can see how easily I sliced into the center, to make serving wedges.
To serve, I'd simply pair your cauliflower wedges with the sauce and–if you want to get festive–a sprinkle of pomegranate seeds or fresh herbs. That's it. With a dish this arresting, you don't need a lot of fancy garnish.
One note about the cooking process: you'll want to pick a medium sized head of cauliflower for it (about 6-7 inches in diameter). If you choose a really huge one, it may take too long to cook, in which case the crust could burn before the vegetable is tender. If you're serving more than 6 folks, I'd simply recommend doubling the recipe. Also note that you'll probably have a bit of tahini sauce leftover, which you can easily use as a dip or dressing or sandwich condiment in the days after your feast. Better to have a little extra on hand, trust me, than to run out!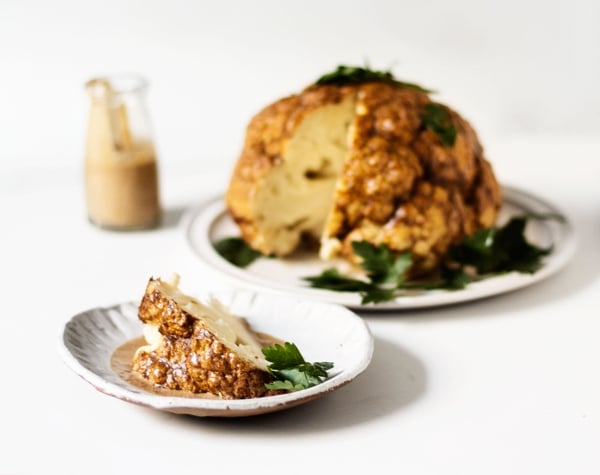 Whole Roasted Lemon Tahini Cauliflower and Sauce
Author -
Preheat your oven to 375F. Wash the cauliflower and trim its bottom stem. Pat it very dry.

Whisk together the tahini, warm water, garlic, lemon juice, salt, paprika, and harissa, if using. You should end up with about 1 1/3 cups tahini sauce. Put aside about 1/2 cup of the sauce, and use a brush or your hands to baste the cauliflower generously.

Line a Dutch oven *or* a baking sheet with foil or parchment. Place the cauliflower on top. If using a Dutch oven, bake the cauliflower, covered, for 25 minutes. Remove lid and bake for another 20 minutes, or until browning and very tender through the center. If using a baking sheet, simply bake for 45-50 minutes, or until tender and browning.

Cut cauliflower into six wedges. Serve with all of the remaining tahini sauce (and use any additional leftover for salads or as a dip through the week--it'll keep for about 5 days in an airtight container!). Sprinkle with pomegranate seeds and fresh herbs, if desired.
Leftover cauliflower will keep in an airtight container in the fridge for up to three days.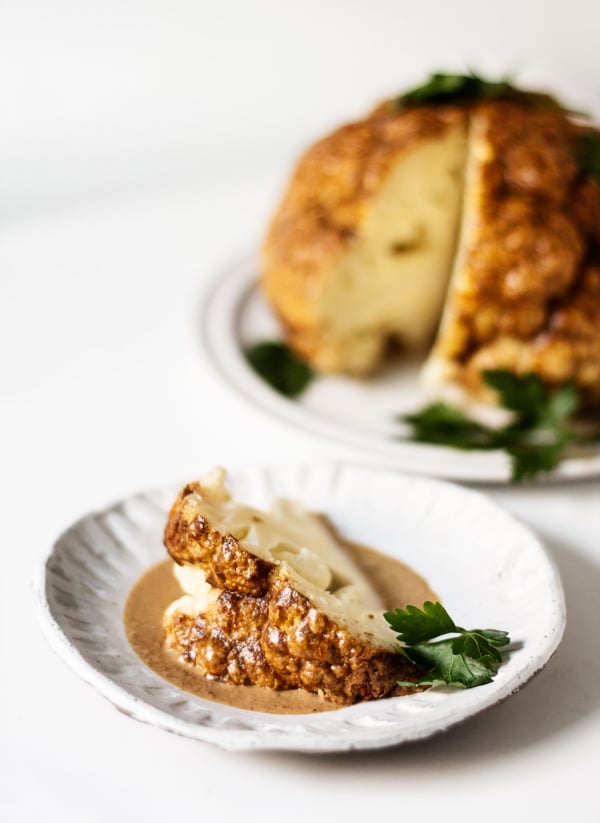 One important nutritional note about this recipe: while it makes a fabulous presentation, it's not super high in protein. So, if you like, pair the cauliflower with a dish that features some legumes, a simple side of grilled tofu or tempeh, or your favorite Tofurkey roast. The nutritionist in me is always focused on dietary macronutrient balance, so I thought it was worth a mention!
And needless to say, there's no reason to wait for Thanksgiving (or another holiday) to enjoy this tender and healthful dish. Paired with a soup and/or a grain salad, it would make for a wonderful weekend supper.
I hope you'll enjoy it as much as I do. A very happy Tuesday to you all!
xo