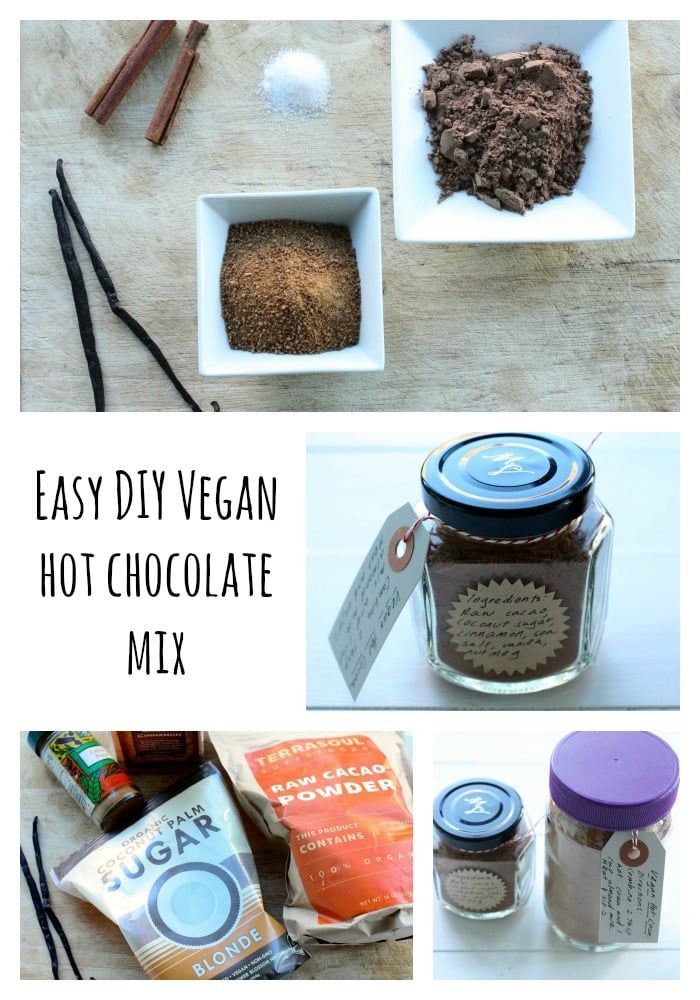 The other day, I was chatting with a new nutrition client on the phone, and I mentioned that almond milk hot cocoa can be an easy after dinner treat. When she asked for my recipe, and I rattled it off (about a tablespoon and a half of raw cacao, a heaping teaspoon of organic sugar, a dash of cinnamon, some vanilla, plus a cup or so of almond milk, heated), I realized that this most beloved recipe would make a great edible giving idea. I set about making a DIY hot cocoa mix that's easy to customize, dairy free, and sure to please anyone (vegan or omni). This is what I came up with.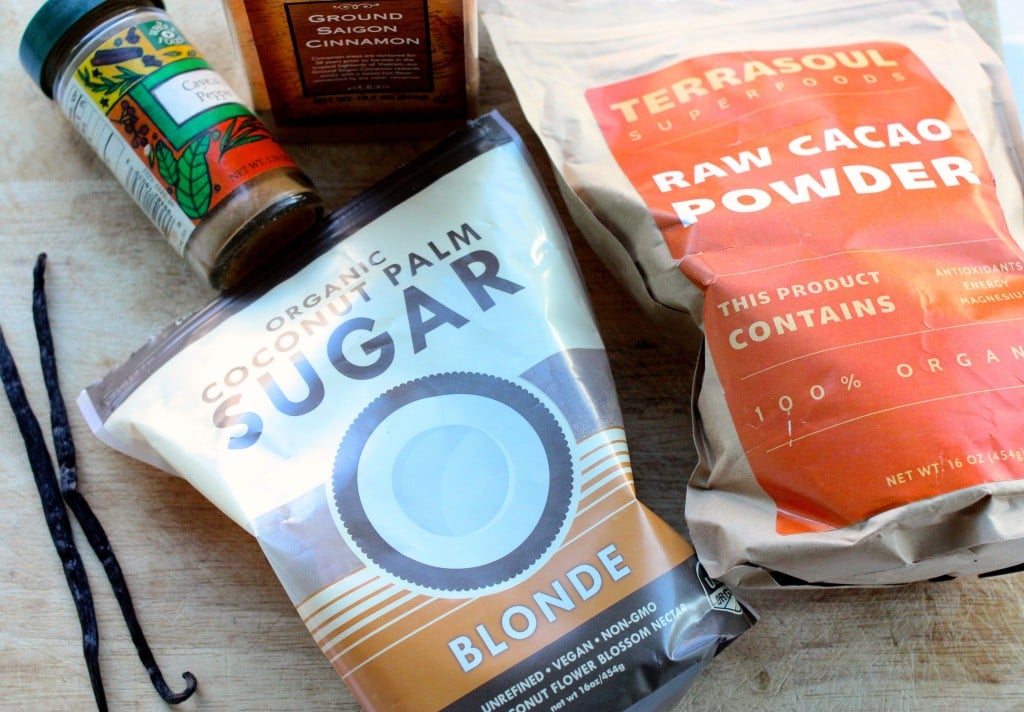 There is plenty of room for you to adapt the recipe I'm about to share based upon what you have. I used raw cacao powder, because I think it has a bolder flavor that cocoa powder. That said, cocoa will work very well, too. You can use any vegan sugar you have–coconut sugar, organic cane sugar, demerara sugar, etc. And after I share the basic "template," I'll share some fun variations you can experiment with to make the mix your own.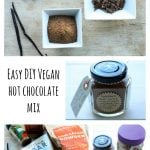 DIY Vegan Hot Chocolate Mix
Author -
2

cups

raw cacao powder

or regular cocoa powder

1 3/4

cup

vegan sugar of choice

coconut sugar, evaporated cane juice, demerara sugar, etc.

Seeds of 1 vanilla bean

tutorial on opening a fresh vanilla bean here

1/4

teaspoon

sea salt
Mix all ingredients together in a large mixing bowl. For gifting, scoop mixture into individual jars and store for up to three weeks in a cool, dry place.

Serving instructions: Add 2 tablespoons of hot chocolate mix to a cup of almond milk, whisk together, and heat till warm. You can add a little extra mix to make the hot cocoa more intense. Enjoy! Makes 3 3/4 cups.

Flavor variations:

Mexican Hot Chocolate

To the regular mix, add 1 teaspoon ground cinnamon and a pinch of cayenne pepper

Superfood Hot Chocolate

To the regular mix, add 1 teaspoon maca power, 2 teaspoons mesquite powder, and 1 teaspoon reishi mushroom powder

Hot Mocha

To the regular mix, add 2 tablespoons instant espresso
For gifting, you can use any leftover jars you've got! I use leftover nut butter jars, jars from artichoke hearts or roasted red peppers, marinara sauce jars, sundried tomato jars, and so on, and so forth. Get creative–this is your chance to reuse and recycle!
You can write the instructions for preparing the mix and attach it to the jar on a little tag, for your gift recipient. Here's a batch I made with cinnamon and nutmeg added — yum.
Or, if you don't feel like sharing, feel free to keep it all to yourself 🙂 I made a batch just for me!
Hope you enjoy it. I'll be back tomorrow with a nutritious, wintery recipe.
xo