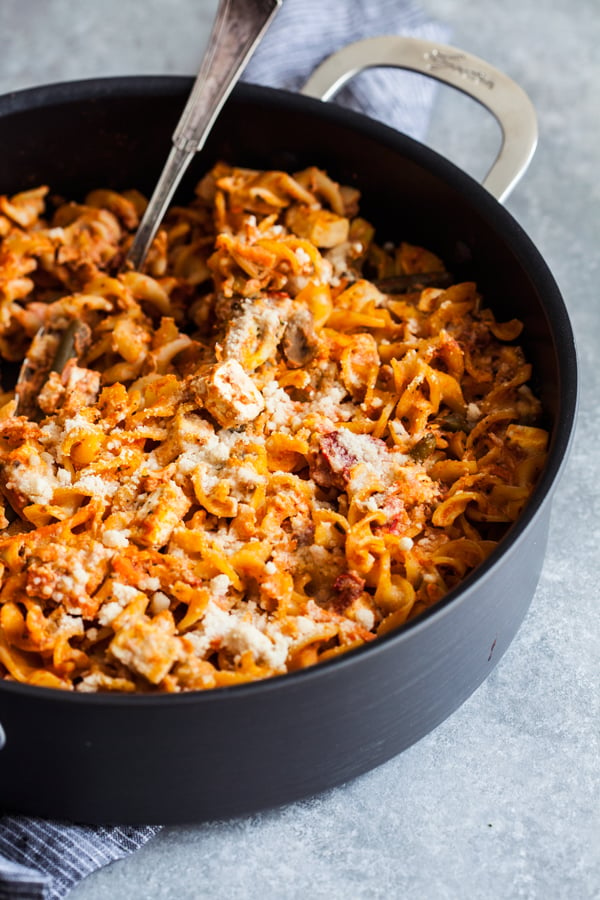 In January, I resolved to get back into the swing of steady meal planning. I've made good on that promise, mostly. For the first time in a long time, my Sundays are filled with the rhythms of batch cooking. At any given moment, there are a couple of pots of beans and grains soaking or boiling, a few sweet potatoes baking in the oven, and maybe a pot of soup simmering on the stovetop. It feels nice. It feels like coming home.
But then there are those Sundays when a craving hits for traditional, hearty comfort food: a casserole or a winter stew or a cassoulet. Something like that.
The problem is that my enthusiasm for longer cooking projects is a little low these days. I've had things on my mind that push cooking to the back burner, or at least limit the energy I can devote to it. Fortunately, I'm realizing that there are many strategies for creating fulsome, hearty dishes without spending hours in the kitchen. This easy vegan pizza pasta bake is proof.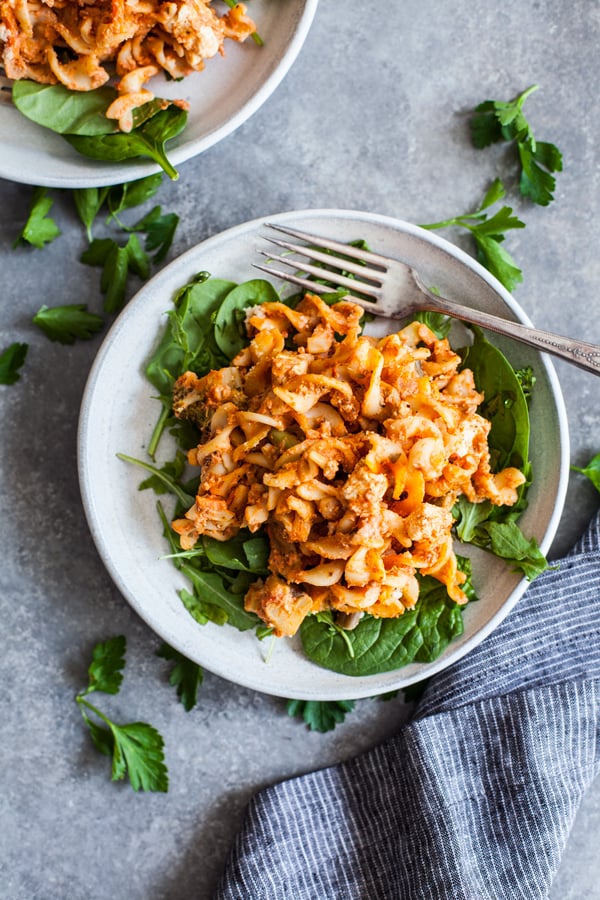 Strategy 1: Prep. This recipe uses a couple of my homemade staples, including my all-purpose cashew cream and my tofu feta. So the recipe is technically a couple of recipes, folded together. But if you make the simple ones a day or two in advance, it comes together super quickly when it's time to bake. (And store-bought staples can fill in if you don't have time to prep your own.)
Strategy 2: Make it semi-homemade. I could have used my homemade, stress-free marinara sauce in the recipe, but lately I've been enjoying the convenience of using store-bought. As I've mentioned in the past, we all have different quirks and preferences when it comes DIY-ing. There's a lot to be said for figuring out which homemade staples feel like a pleasure to make, versus those you'd rather let the pros handle. I often find that just one or two store-bought ingredients makes the whole process of a seemingly "fancy" dish so much easier; in this recipe, it's the marinara and the vegan parm (I heart the Go Veggie brand).
Strategy 3: Frozen veggies. I love using seasonal produce in my cooking, and when a single vegetable is featured in the dish, I'll almost always opt for fresh. But frozen veggies can be a lifesaver when you need to feature a mix of produce in a single dish, if only because they save you a lot of chopping/prep time. I also find that it makes sense to use a frozen blend in pastas and casseroles—they're just so easy to heat up and fold in. I used a bag with broccoli, onion, bell pepper, mushrooms, and green beans in this recipe. If you'd like to use your own mix of fresh and seasonal veggies, awesome.
Strategy 4: Use efficient cookware. Using a multipurpose pot or cooking vessel—something that can move easily from stovetop to oven, from boiling to baking, and so on—can help to save the mess of multiple dirty dishes. I also love using healthy nonstick cookware for the speedy cleanup!
My cooking vessel for this recipe met all of those criteria. It was the lovely Lagostina Nera hard adonized 5-quart casserole.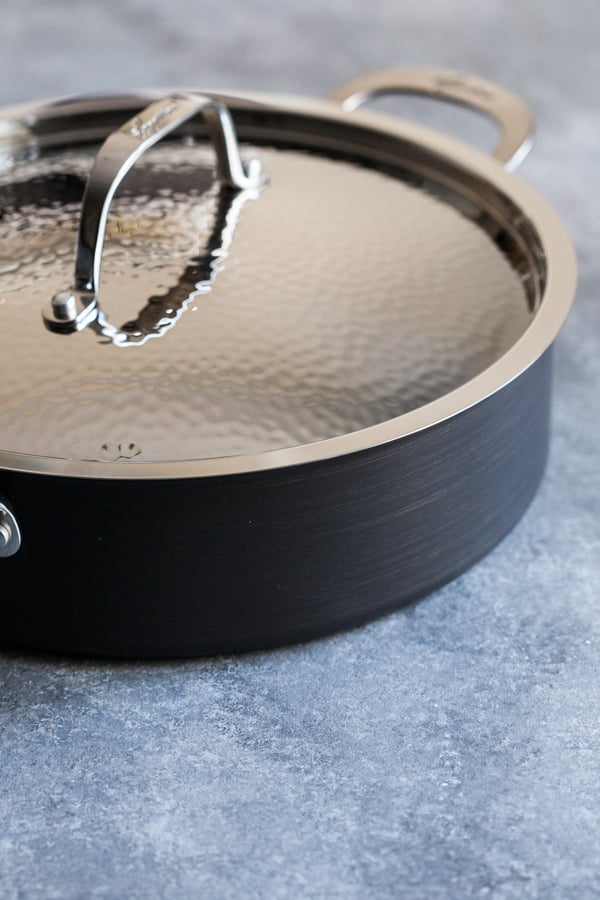 The Lagostina brand was founded in Italy over 100 years ago. It's been a leader in high performance cookware ever since, and the new Nera line of cookware is their most innovative to date. The 5-qt casserole features premium hard anodized construction with thick, 3.5mm base for even heat distribution, non-stick coating for easy cooking and cleaning, sturdy stainless steel handles (and a lovely, hammered stainless steel lid), and flared edges for easy pouring.
The casserole is also dishwasher safe, oven/broiler safe, and comes with a lifetime warranty. Quite a piece of cookware—and I love the stylish look. It's a treat to work with cookware that's versatile and attractive enough to easily transition from cooking to serving; when I made this bake, I used the casserole to simmer my veggies, mix all of the ingredients, cook, and serve.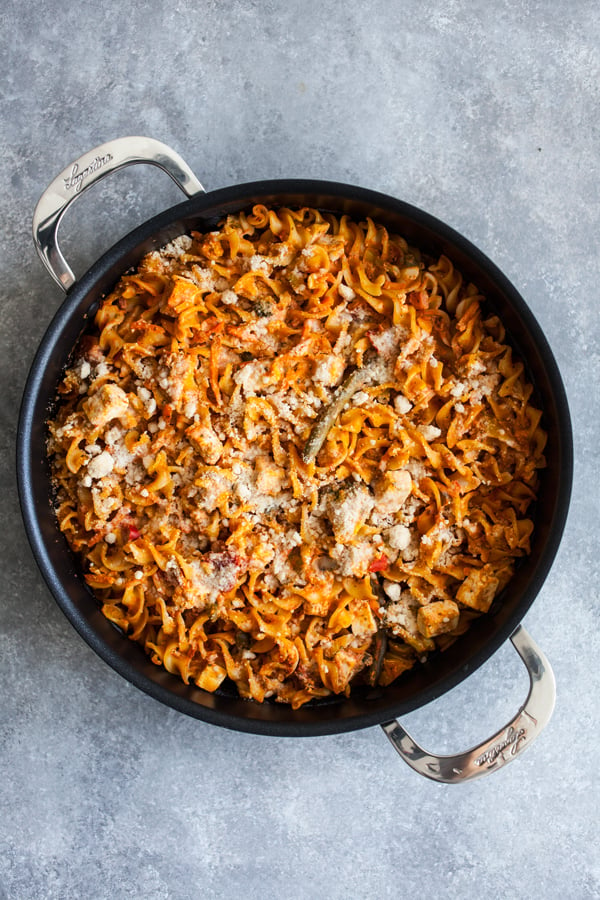 Lagostina is all about preserving the traditions and culture around food, and they invited me to share a regional, family recipe created with the Nera casserole. I got to thinking about what recipe might seem to capture the essence of NYC, and of course my mind went to pizza, which is probably the city's most iconic food. Dearly though I love pizza, I wasn't exactly in the mood to make crust, and a hearty, one-pot pasta casserole sounded perfect for the still-chilly weather.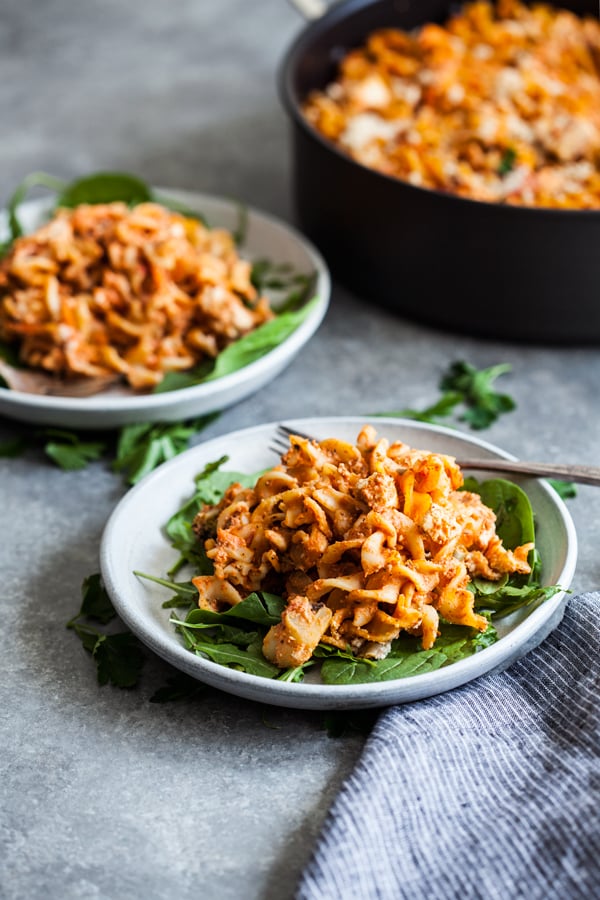 I decided to channel the flavors of pizza—herbs, marinara, cheese—into a pasta casserole. And this feels even more like a family recipe because pasta bakes were my mother's specialty comfort food when I was growing up. We didn't eat a lot of elaborate, oven-baked dishes at home, but there's something about baked pasta that gave my mom a lot of pleasure to make (and me a lot of pleasure to eat).
It feels nice to put a vegan spin on a dish that spelled comfort to me all those years ago, and still does today. I'm so excited to keep this recipe on hand as an easy, crowd-pleasing option for sharing with family and friends.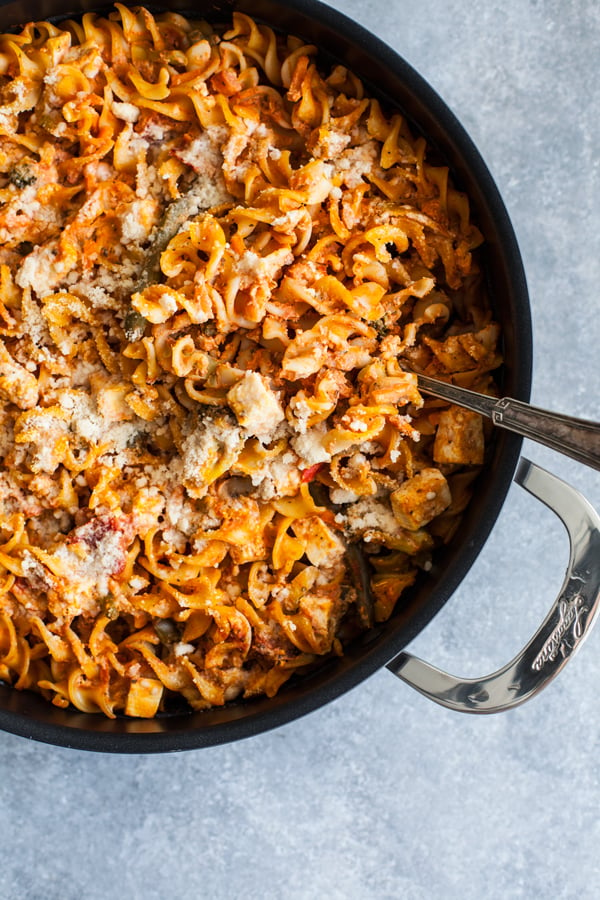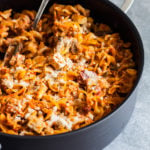 Easy Vegan Pizza Pasta Bake
Author -
1

lb

pasta of choice

2

cups

marinara sauce

homemade or store-bought

1

cup

cashew cream

you can substitute unsweetened, non-dairy creamer

1/4

cup

tomato paste

1

teaspoon

dried oregano

1

teaspoon

dried thyme

1 16-

ounce

bag frozen vegetables

cooked according to package instructions, or 5 cups steamed, chopped vegetables of choice (broccoli, carrots, green beans, peppers, zucchini, and cauliflower are all great)

1

batch tofu feta

reserve all of the marinade*

Black pepper to taste

1/4

cup

vegan parmesan topping or my hempesan
Preheat your oven to 350F. Bring a pot of water to boil and cook pasta according to package instructions, until it's al dente.

While the pasta cooks, mix the marinara sauce, cashew cream, tomato paste, oregano, and thyme. When the pasta is ready, drain it and return it to the pot. Add the marinara mixture, the frozen vegetables, and the tofu feta (tip: don't forget to include the tofu feta marinade, which is super flavorful!). Taste and add black pepper to taste, as well as extra salt (or some extra nutritional yeast, if you like).

Transfer everything to your casserole dish and top with the parm. Bake for 35-40 minutes, or until the pasta is bubbly and the top is just a little crispy. Serve.
*In place of tofu feta, you can substitute 1 1/2 cups of your favorite vegan cheese. Add an extra tablespoon of lemon juice and 1-2 tablespoons nutritional yeast (to taste) to the recipe.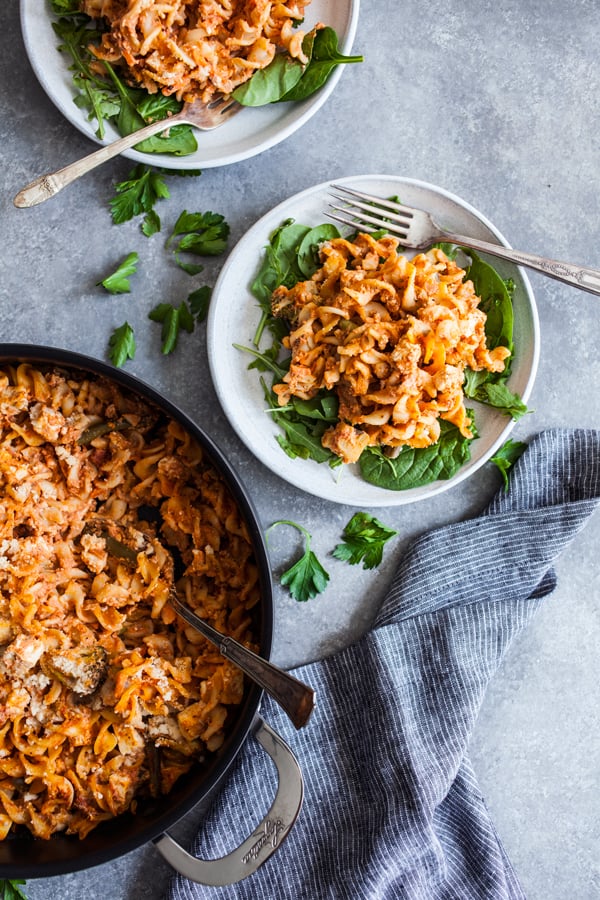 In spite of being the kind of dish you can confidently share with company, the bake is so low-maintenance. It's also easy to customize for whomever you're sharing with. Gluten free or whole grain pasta works perfectly, and you can replace the cashew cream with a non-dairy creamer if you need to accommodate a nut allergy. The dish is naturally oil free, depending on the type of marinara you use, and tofu feta can be replaced by a commercial vegan cheese.
When I make a meal like this, I think about how much my eating has changed since the days when I made virtually everything by scratch, eschewed packages as much as possible, and got leery of anything "processed" (a relative term, I realize now). It's hard to imagine having the resources to spend as much time in the kitchen as I used to. But I'm glad that my style has evolved, because it has allowed me to keep cooking for myself, week in and week out. Whether I'm cooking fast or slow, that's what really matters.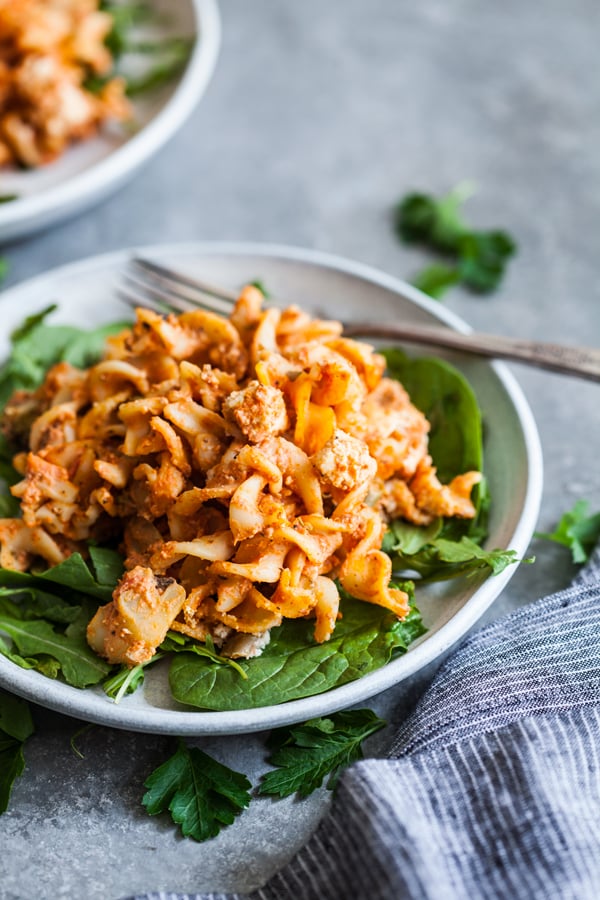 You can find the Lagostina Nera casserole—along with the entire Nera cooking line—for sale at Macy's. And if you'd like to create a regional, family-inspired dish of your own using this lovely and durable piece of cookware, good news: the folks at Lagostina are sharing one complimentary Nera casserole with a Full Helping reader! The giveaway will run for two weeks, and it's open to US and Canadian readers. Enter below to win (and if you do, I hope to hear about what you create with it).
Hope you'll enjoy this little homage to New York, family, and food—and perhaps someone you love will enjoy it with you. I'll see you soon for another weekly roundup!
xo
This post was sponsored by Lagostina USA, and I received a complimentary Nera casserole in exchange for my review. All opinions are my own. Thanks for your support!