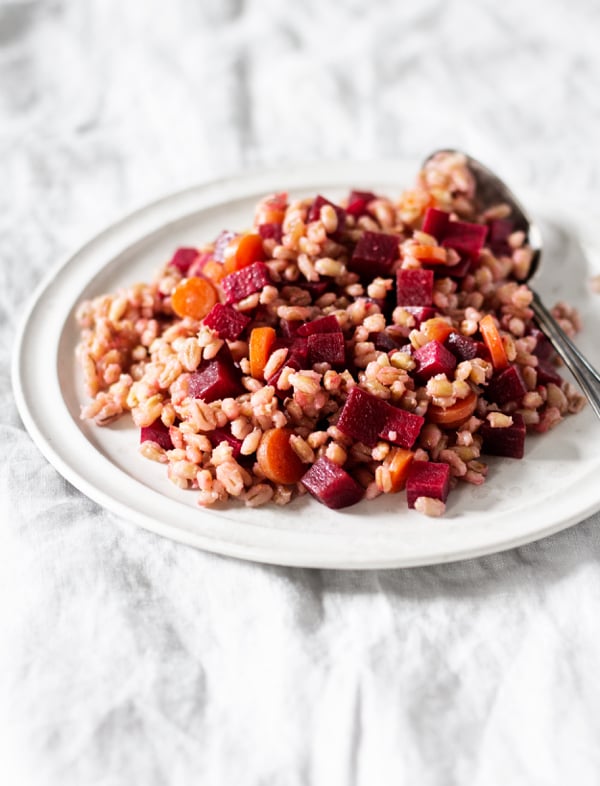 As I dive back into the swing of things, it's nice to look back on my holiday time and appreciate how restorative it was. Restoration came in the form of quality time with dear friends, lots of wandering around random NYC neighborhoods, and nourishing food.
One particular evening combined all three of these things. It involved a trip to Eat restaurant in Greenpoint with my friend Rose, a writer and photographer whom I first met when we were editorial assistants together in what seems like another lifetime. My friendship with Rose is very dear to me; we've always admired and taken care of each other, applauding each other's endeavors and encouraging each other to be our best selves. I always look forward to seeing her when I go home, and I can always count on her to suggest cool places to meet.
On this particular evening, she suggested Eat, a restaurant that features local, organic fare and unique serving pieces.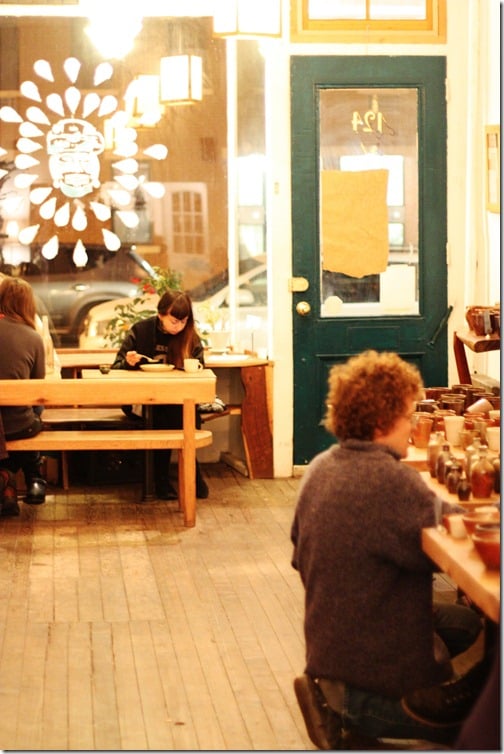 The food at Eat is sourced exclusively from small, local producers. Unlike some local and organic eateries, however, Eat prices its food reasonably; a filling vegetarian entrée is $14, and a cup of organic soup, served with bread, is $4. In addition to serving healthy, organic food, Eat's mission is to promote and preserve what the restaurant calls "a handmade life." All of its furniture, metal work and ceramics are made by the restaurant's seemingly tireless owner, Jordan Colón, and other regional artisans.
On the evening Rose and I visited, Eat was hosting a communal, donation based supper and also putting up some of its beautiful ceramic items for sale. I was really touched to see locals flocking in, enjoying the good food, and examining some of Jordan's craftwork. A plethora of freshly cooked dishes were perched on the counter, and patrons could help themselves:
Meanwhile, Eat's chefs were busy prepping more as the dishes ran low: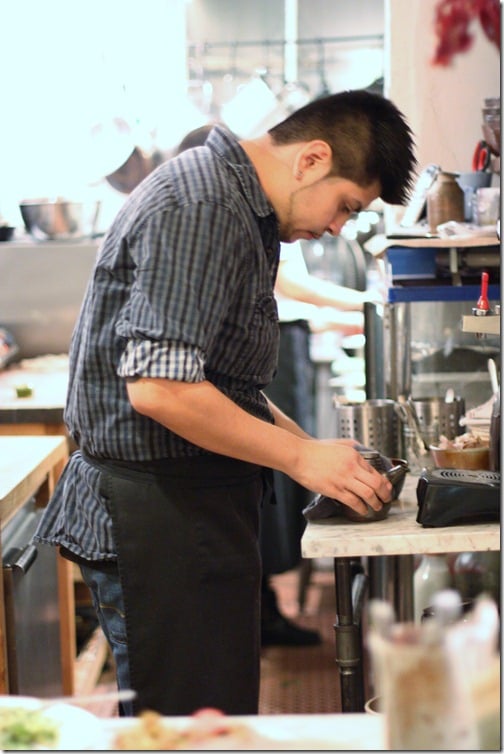 Highlights of the evenings offerings included roasted rutabaga and greens, which were so good my mouth is watering just recalling them: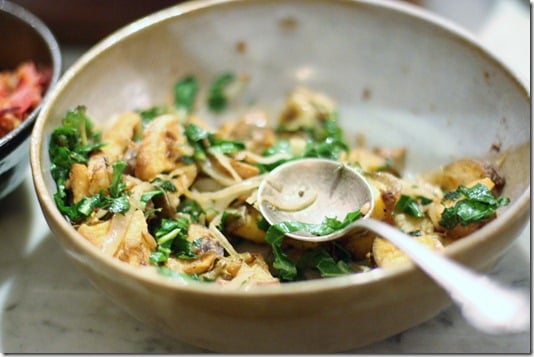 A farro salad with (I think) fennel and leeks:
And sauteed kale with pumpkin seeds: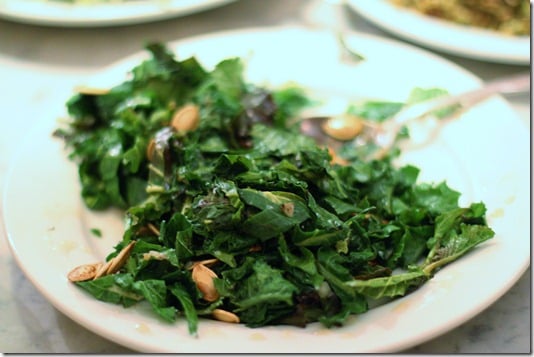 There was also house made kimchi with polenta (an odd combination, but really good), fresh bread, eggnog made with coconut milk (the restaurant is not vegan, but it was mighty vegan friendly) and my personal favorite, a farro dish with beets and carrots. I had multiple servings of all of the above, and savored every bite.
I also decided, a few days later, to imitate the beet, carrot, and farro dish. What resulted was really great, and I'm pleased to say it's one of the vegan dishes that my mom has raved about most. It's not hard to make, and it is absolutely beautiful to look at.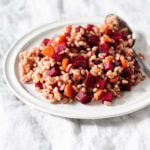 Farro Salad with Beets and Carrots
Author -
3

medium beets, stemmed and cut into quarters

4

large carrots, peeled and cut into 1/2 inch pieces

1

small yellow or white onion, diced

1

clove garlic, minced

1 1/4

cups

hulled farro

3 1/2

cups

low sodium vegetable broth

3

tablespoons

olive oil

1

tablespoon

lemon juice

2

teaspoons

Dijon mustard

salt and freshly ground pepper, to taste
Bring a medium pot of water to boil, OR fill the bottom of a vegetable steamer with water according to steamer directions. Once water boils, either steam the beets and carrots by placing them in a strainer and covering it over the pot, or use the steamer insert and cover them. Steam for 15 minutes, or until you can easily pierce the beets with a fork. Remove vegetables from heat. Peel the beets by running them under cold water and slipping off the skin. Let all vegetables dry and cool.

Heat 1 tablespoon olive oil in a medium pot. Add garlic and onions and sauté till the onions are translucent. Add the farro and vegetable broth. Bring to a boil and reduce heat to a simmer. Cook, covered but with the lid just slightly ajar, till farro is plump and all liquid is absorbed. This should take approximately 20-40 minutes, depending on whether you soaked the grain first.

Add the vegetables to the farro. Whisk the 2 remaining tablespoons olive oil, the lemon, and the mustard together. Pour over hot grains. Add a drizzle more olive oil or a squeeze of lemon if desired. Season to taste, and serve warm.
Leftovers will keep in an airtight container in the fridge for up to 4 days.
This dish is satisfying and soulful. The electric pink color makes it feel celebratory, too! I would serve it with a large salad and/or a hot cup of soup for a perfect winter meal.
Big thanks to Eat restaurant for bringing community together, for offering people food with so much generosity, for the cool art and the groovy music, and for inspiring this new, much beloved recipe.
xo
Update: EAT is no longer open, but I remain grateful for the memory of this shared meal!