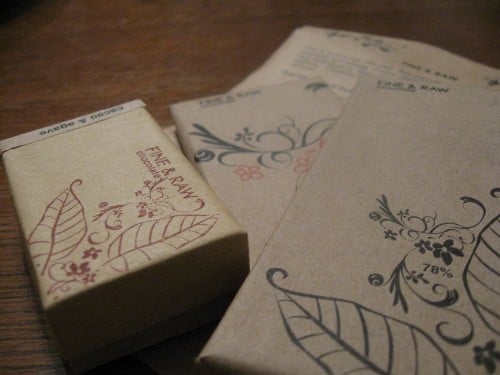 Happy Friday, all! I'm winding up a busy week with a scrumptuous product review.
You guys know I love chocolate. Like, really love chocolate. Like, I would gladly eat chocolate for dessert exclusively for the rest of my life and not register a single complaint. Ice cream? Meh. Cake? Poo. Cookies? OK. Dates and nut butter? You're getting warmer. But chocolate? Chocolate dwarfs all of these guys in my favor.
Finding a chocolate brand that pleases you in a high-raw, all vegan diet can be tricky. Typically, I recommend any dark chocolate that's vegan, organic and 70% or higher in cocoa content. If you can find one that's also soy lecithin free, that's preferable. Green and Black is a good quality brand, and it's widely available (I've seen it in run of the mill delis here in the city), but the 70% variety does contant soy lecithin, and the 85% variety is a little tougher to locate. Scharffen Berger makes an excellent 82% bar that's soy-free. I especially like the Endangered Species dark chocolate, which is eco-conscious and soy-free.
There are more and more high-end, single origin, artisinal chocolates available nowadays. Just take a stroll through the chocolate aisle at your local whole foods, and you'll be met with an army of elegant labels. I've tried and liked Taza chocolate (which has a rich, almost grainy texture) and Theo as well. Many of these brands bleed you dry for all sorts of fancy add-ins (liqueurs, goji berries, acai, cacao nibs, what-ev-er), so be sure to read labels and consider how much "stuff" you really need (and want) in your chocolate.
As far as the world of raw chocolate goes, I'm a comparative dabbler (some raw foodists get REALLY serious about their chocolate), but I've sampled enough to know what I like. I'm a fan of my friend Vanessa's excellent brand, Gnosis, which is taking the world by storm at health food stores, healthy restaurants, and Whole Foods nationwide (and it's readily accessible on her website). Ever a purist, I like her "simplicity" flavor the best. I've also tried Raw Chocolate Love, though I found it a bit too busy for my taste (lots of berries and nuts in there). I hear some pretty cool things about LuLu's chocolate, too. If you're in the mood for truffles, I'm a big fan of the UliMana dark cacao truffles.
But my life was changed in August, when my friend Mary introduced me to my favorite raw chocolate yet: Fine and Raw. I do not toss around superlatives lightly when it comes to chocolate, my friends, but this stuff is really special. The Brooklyn-based child company of Daniel Sklaar, a former financial analyst who left his profession to pursue a passion for raw cocoa, Fine and Raw is highly committed to fair trade. To quote from their website:
"FINE & RAW is a fresh new company that believes the future is beautiful. To help bring this thought to life we strive to be green and sustainable where ever possible.
We'll be the first to admit we're not perfect. From the big issues, like fairtrade and carbon foot prints, down to using energy efficient light bulbs, we're learning to be greener all the time.
Our cacao is fairtrade and comes from a small cacao farmers co-op that practices sustainable farming. Cacao is a shade grown plant requiring a foliage canopy to grow. Our cacao farmers maintain the rainforests which provide natural symbiotic canopies for the plant. The farmers also grow an heirloom variety of cacao, which promotes bio-diversity of plant species within the rainforest ecosystem.
All our ingredients are organic, which means no unnecessary toxins, chemicals or pollutants are pumped into the environment. Our packaging is recycled and the inks we use are non-toxic and vegetable based…We want the planet to be strong so it can grow more chocolate."
I especially like the second graf; every small business owner these days wants to brag about how perfectly green his or her company is, but Dan admits that his strivings are still a work in progress. What I hope you can glean from his voice, though, is that Dan is a conscientious and thinking small business owner; a man who cares as much about the planet as he does the integrity of his products.
And oh, how good those products are. My first experience of Fine and Raw was a taste of their remarkable bon bons. These are the definition of decadence: rich, creamy, and — I promise you — more refined than any conventional chocolate truffle you've ever tried. Minus the offensive dairy!
Recently, I emailed Dan to wax poetic about his work, and he responded to my plea for a little sampling by generously sending me two bars of his regular chocolate–78% dark and a lucuma and vanilla flavor–and a small box of bon bons. I conveniantly received these gems on an evening when I was making dinner with my friend Cassie, and so the two of us got to share the goods.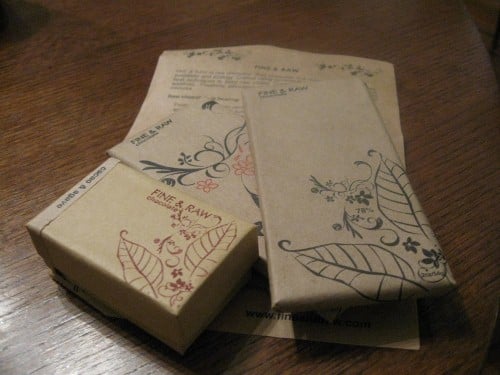 We tried the bars first. The dark chocolate was the winner of the night, for me. While many raw chocolate bars end up tasting a bit bitter, or have a chewy texture I can't stand, this had all of the lovely attributes of normal chocolate (texture and taste) with a more refined and intense character. Yum. The lucuma took me a moment to adjust to, but once I did, I totally dug it: I'm a fan of vanilla in any incarnation, and this was no exception.
Cassie, meanwhile, couldn't stop rhapsodizing about the bon bon, and I don't blame her. Once again, Iwas amazed at how rich and delicious these guys are.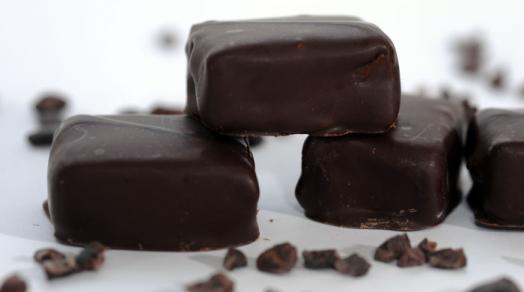 That Fine and Raw also boasts cool packaging, a worthy environmental mission, and a conscious attitude only makes it even more imperative for all of us to go purchase the goods. Now. Who needs candy corn on Halloween when you could be sampling this stuff?
I'll soon be headed to a favorite spot, Stogo (more on this place to come!), where the products are sold, to stock up again on my new fave brand. In the meantime, you guys can check out this link for a list of local NYC spots that sell Fine and Raw, or information on shipping nationwide. Believe me when I say that, if you harbor even a lukewarm affection for chocolate, you will be very glad you did.
I love starting the weekend with dessert. Happy Halloween, guys!
xo
Bon bon and bar images (c) www.fineandraw.com.