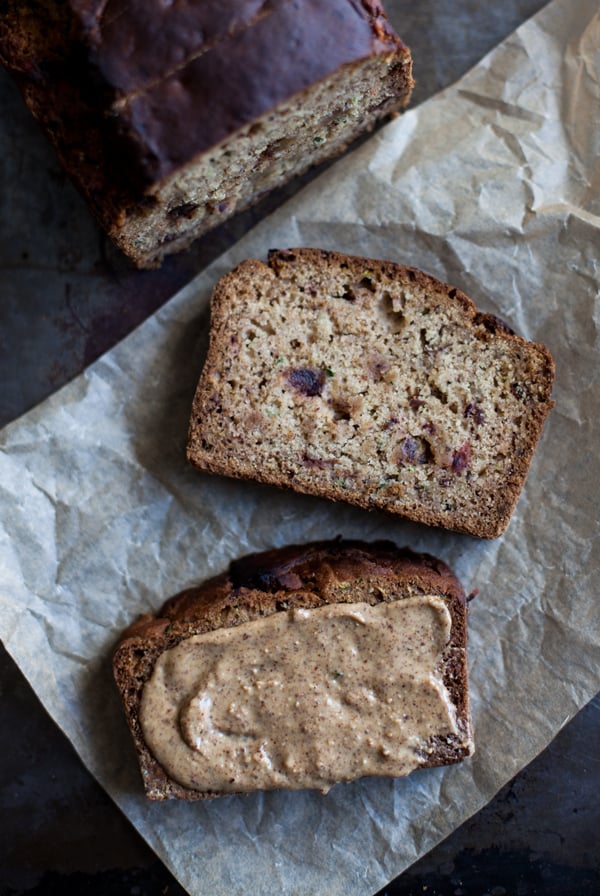 First of all, thank you all so much for the super feedback on yesterday's menu planning post!
In that post, I mentioned that I'd whipped up a batch of zucchini date bread over the weekend. There's still plenty of time to savor both zucchinis and tomatoes in New York state; they won't disappear from the market until October, or even a touch later. But I'm hoarding zucchini like it's my job anyway. It's one of my favorite vegetables for a lot of reasons, but I especially love its versatility. It's delicious raw, cooked, spiralized, sauteed, or roasted; you can use it in gratins, pastas, salads, and, apparently, even relish.
Of course, zucchini can also be given a sweet treatment. It's a great addition to baked goods, adding moisture and texture as well as a healthy dose of phytonutrients. Zucchini bread is a famously easy way to squeeze a few more veggies into kids' diets…and it's plenty appealing for us grown ups, too.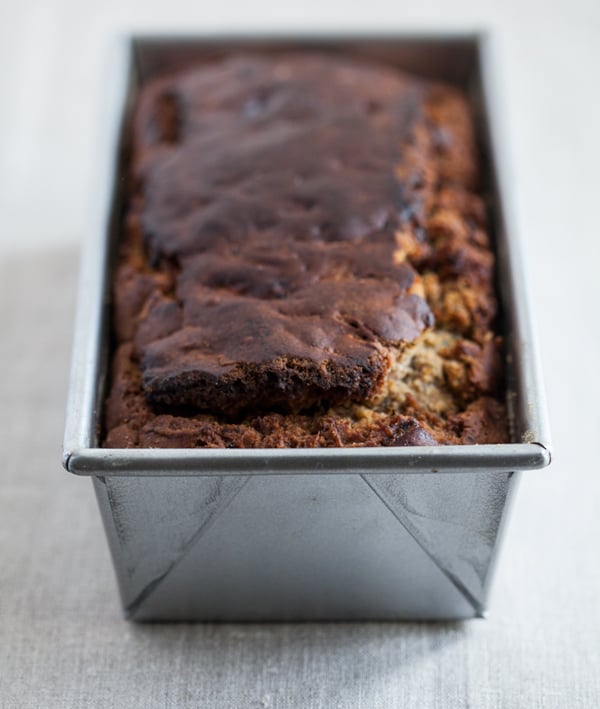 This wonderful, gluten free loaf marries grated zucchini and soaked medjool dates for a ton of moisture and natural sweetness. It's a spin on the date nut bread I posted on Food52 last year. I tweaked the recipe by reducing the dates slightly to make room for the zucchini. Because the zucchini adds natural moisture in the bread, I reduced the oil from 1/2 to 1/3 cup, and I reduced the maple syrup, too. Fans of sweeter baked goods may want to use 1/2 cup maple syrup in place of 1/3, but I promise that the dates add a lot of sweetness to the bread–without any refined sugar.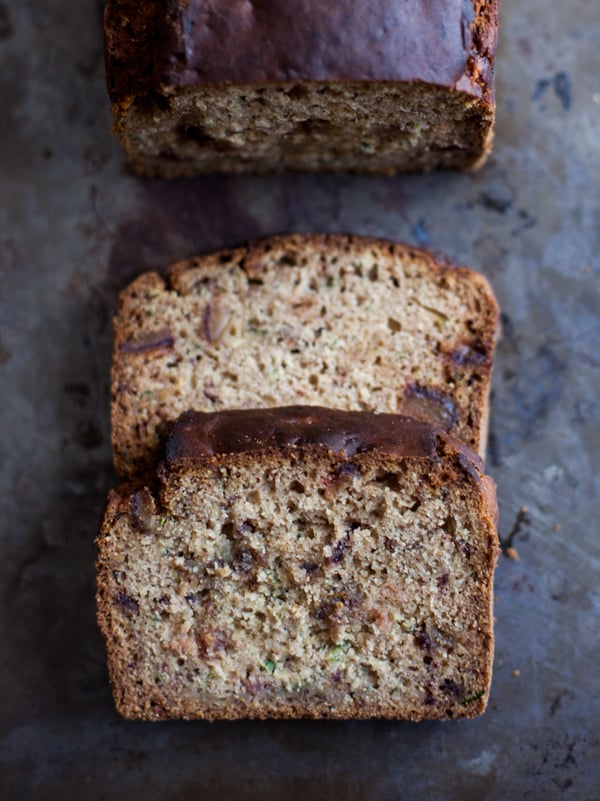 This is a perfect fall quickbread, equally nice for breakfast or snacking. I've been eating it plain most of the time, but a schmear of nut butter is a pretty great addition.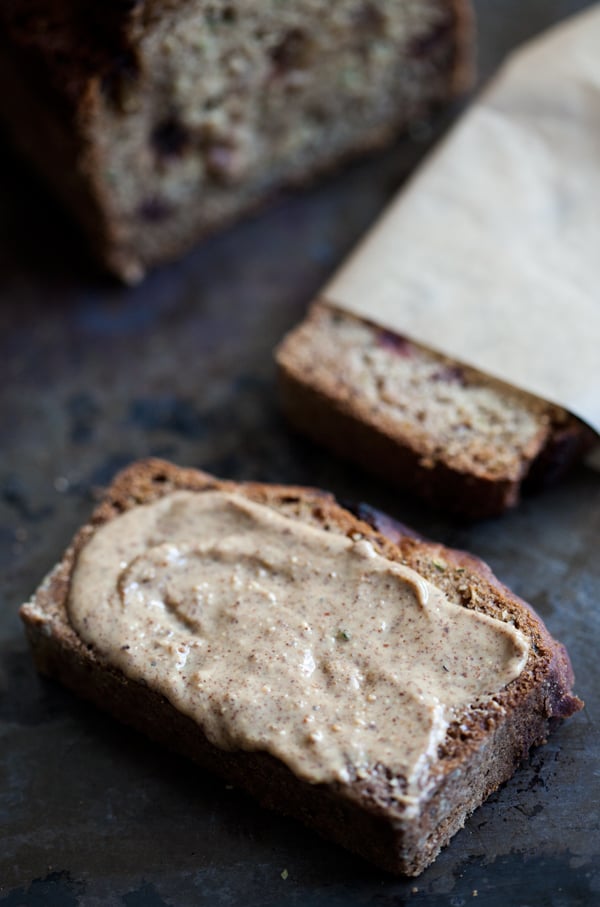 Gluten Free, Vegan Zucchini Date Bread
Author -
1

cup

chopped and pitted medjool dates

about 5 ounces

1

tablespoon

ground flax meal

2

cups

Bob's Red Mill All Purpose

Gluten Free Flour or whole wheat pastry flour (you can substitute another GF all-purpose flour of choice--just be aware that they all absorb liquid differently, so your texture results may vary a bit from mine)

2 1/2

teaspoons

baking powder

1

teaspoon

ground ginger

1/2

teaspoon

salt

scant

1

teaspoon

apple cider vinegar

3/4

cup

almond milk

1/3

cup

maple syrup

1/3

cup

grapeseed or melted coconut oil

1 1/2

cups

grated or shredded zucchini

squeezed through cheese cloth or between paper towels to absorb excess moisture after grating
Preheat your oven to 350F. Lightly oil and flour a 9 x 5 loaf pan.

Bring two cups of water to boil. Remove the water from the stove and pour it over the chopped dates. Allow the to soak for 15-30 minutes. Drain them and set them aside.

Mix the ground flax meal with 3 tablespoons of warm water and set it aside.

Whisk together the flour, baking powder, ginger, and salt in a large mixing bowl.

Add the vinegar to the almond milk in a medium sized mixing bowl and whisk them together vigorously, until the mixture is frothy. Stir in the prepared flax mixture, syrup and oil. Add these wet ingredients to the flour mixture, along with the dates and the zucchini. Fold all of the ingredients together until they're just evenly mixed (a few lumps is fine).

Pour the batter into your prepared loaf pan, and bake for 35-60 minutes, or until a toothpick inserted into the loaf comes out clean. (Mine baked up in 35, as my oven runs hot, but I've heard feedback that it can take quite a bit longer, so just keep checking it and use your intuition.) Cut into slices and serve. Bread will keep, wrapped up tightly, for up to four days, and it can be frozen for up to one month.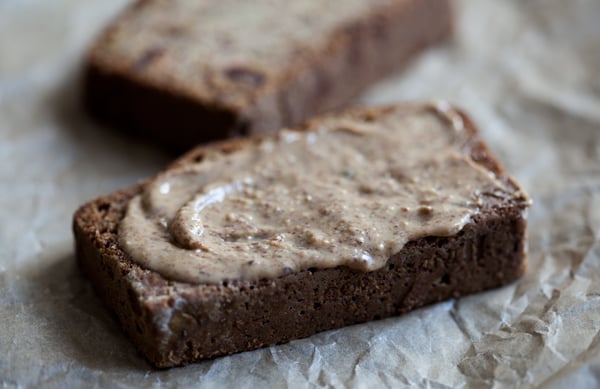 As I said, it's hard not to love this bread. I'm particularly happy that I added the ginger to it: cinnamon is sort of ubiquitous in baked goods, and ginger often gets added along with it, but I wanted to feature ginger on its own here. It adds subtle spice here, as well as a wonderfully autumnal fragrance! I also love the way the chopped dates almost seem to melt into the bread, working their caramel-like magic along the way.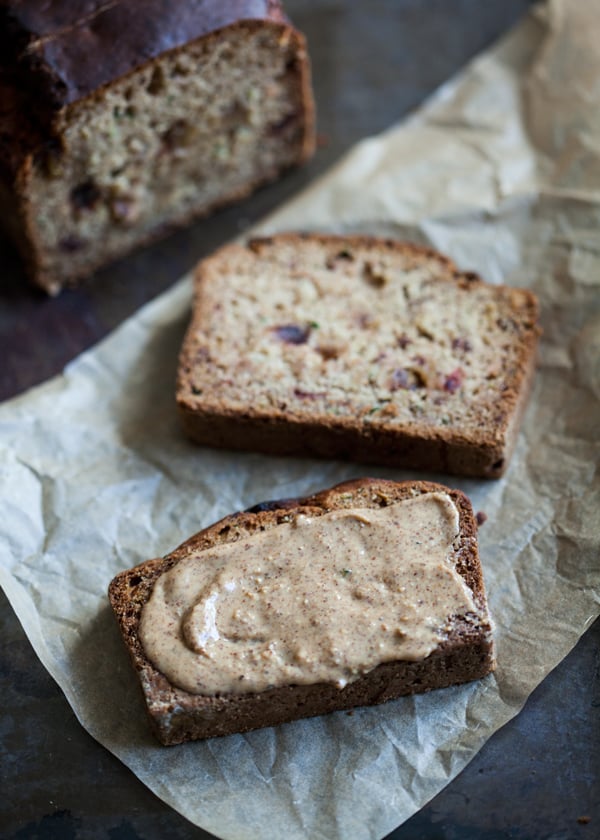 Hopefully you'll give it a try this fall, and let me know what you think! I'm guessing that chopped figs would also be terrific, if you prefer them to dates, and raisins are also fine. I almost always soak dried fruit before adding it to baked goods, as it prevents you from ending up with tough, chewy pieces in the finished bread (and makes the slices easier to cut).
And with that, I'm signing off for this evening. Hope your weeks are going well!
xo