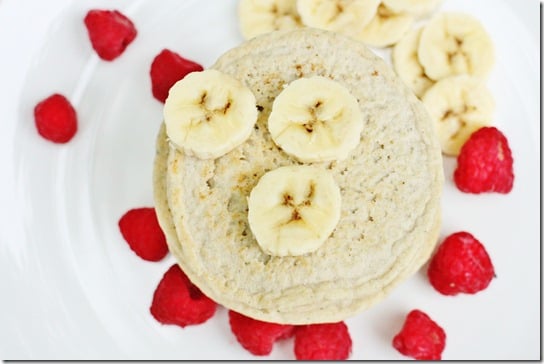 When I started my blog, I feared—like nearly all new food bloggers—that it was only a matter of time before I ran out of material. How many smoothies could I possibly post? How many salads? How many vegan pancakes?
A lot, as it turns out. If blogging has taught me anything, it's that there seems to be no limit to the number of variations I can put on a cherished food. If you've seen one vegan pancake, you've only seen the tip of the iceberg, and you'll probably find that countless combinations start to follow from one successful recipe.
So it was last weekend, when my Mom was visiting. I had intended to make pancakes on Saturday morning no matter what; my mom loves pancakes, and her visit was certainly reason to make something particularly tasty. My power outage was all the more reason: as long as we were going to sit inside with no lights on, I reasoned, I might as well take advantage of the fact that my kitchen is the best lit room in my house, and make something delicious. It wasn't until I started mixing things that I spied the giant bag of hempseeds that Valerie got me for my birthday this year (because the woman knows what I like) and thought, "hey, why haven't I yet put these into a pancake?" And so today's gluten free, vegan hemp pancakes were born.
At first I feared that these pancakes would fit into the category of "great for health freaks, not so suitable for everyone else." Not so. I'm being honest when I say that these really do not taste "hempy." You may sense that the pancakes are a bit more filling than the norm—with the added healthy fat from the hemp, they should be—but you'll also be surprised at how light and fluffy they are, given that there's half a cup of heart healthy hemp seed blended in. I also made a point to test these pancakes both with regular flour and with a gluten free flour mix (whole wheat pastry flour when Mom and I enjoyed them, a GF mix this weekend when I enjoyed them all by my lonesome), which means that you can make them with all-purpose flour or whole wheat pastry flour, and you can make them with allergy free flours, too.
No matter how you make these pancakes, they'll give you a nice dose of the Omega-3 fatty acids that hemp seeds are so famous for, along with a little extra protein. Other benefits of this recipe? No egg replacement involved (no Ener-G, no flax) and (for the GF version) no gums. Simple, short ingredient list with optimal taste: a health pancake lover's dream!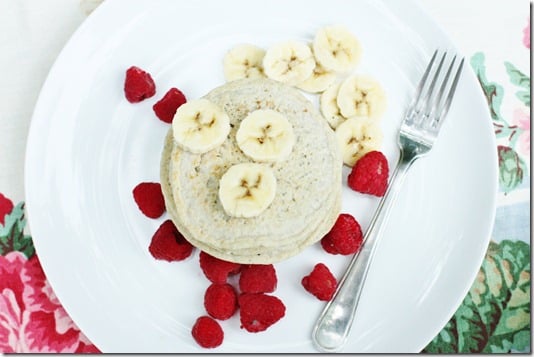 Hemp Pancakes (vegan, gluten free, soy free)
Makes 8-10 pancakes, or 2-4 servings
1 ¼ cup brown rice or sweet white sorghum flour and ½ cup tapioca or potato starch OR 1 2/3 cups whole wheat pastry flour
½ cup shelled hempseeds, ground finely in a food processor or a spice mill
½ tsp sea salt
2 tsps baking powder
1 ½ cups almond milk
1 tbsp coconut oil
1 tbsp agave syrup, maple syrup, or stevia to taste
1 tsp apple cider vinegar
1. Whisk together the flour + starch (or just the flour, if you make the GF version), the ground hemp, the salt, and the baking powder in a mixing bowl.
2. Whisk together the almond milk, coconut oil, syrup, and ACV. Pour wet ingredients into dry and mix well. Set aside momentarily as you heat a skillet to medium high heat.
3. Drop pancake batter by ¼ cup fulls. When bubbles have started to form on top of the pancakes and they're nice and fluffy, flip gingerly. Finish cooking on other side and repeat until batter is used up!
That's it!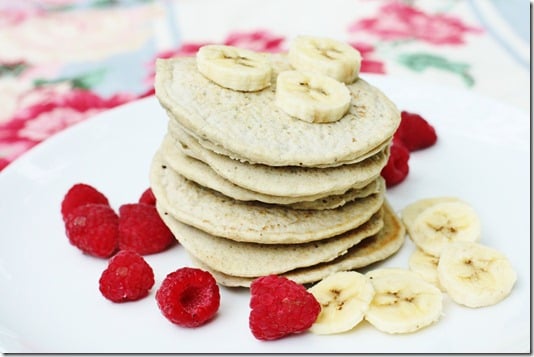 I always recommend having extra milk on hand when you make pancakes; it's easy for the batter to thicken as it sits, and you may need to thin it out with a few more tablespoons of liquid.
I hope you get a chance to try out this nutrient dense spin on breakfast very soon. The pancakes are just as nutritious and delicious as they look.
I'm about to enjoy the last of my 48 hours of summer. It was so nice to have the weekend off. Highlights included dinner at science club last night, lunch at LPQ today, followed by coffee and work at the new location of Tryst, which is at the Phillips collection in D.C.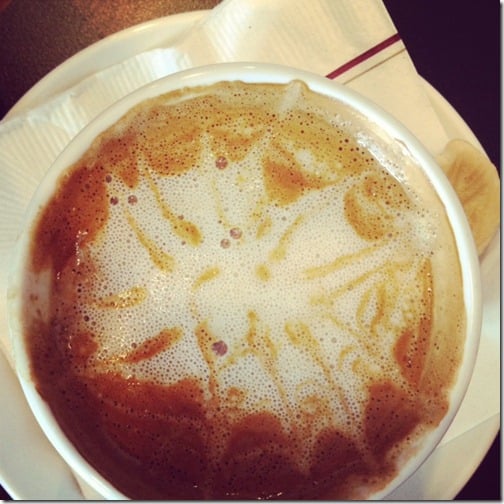 I confess, I came for the AC and coffee, but after I finished some work, I also perused the glorious collection. What a lovely way to spend the day.
And now, I think I'm off to make yet another batch of my blueberry ginger raw ice cream. It's vital dessert fare in this heat, and I'm kind of obsessed!
I wish you all a relaxing Sunday eve. Tomorrow, I'm going to have an incredible giveaway going on here at the blog. You won't want to miss this, so don't forget to tune in!.
xo