Last night, M and I had a late dinner at Science Club, a D.C. bar that's equipped with a highly vegan-friendly bar menu. I was excited; not only was the Science Club management extremely accommodating when I asked to make a reservation, but perusal of the online menu had also filled me with anticipation. Rice paper rolls with fresh veggies? Crudites with vegan aioli? Quinoa stuffed portabello? I was impressed.
It's not easy to find fresh and innovative vegan food here in D.C.; you can find vegan options pretty much anywhere, and you can find vegan lunch food (Java Green) or treats (Sticky Fingers) easily. But when it comes to the kind of super-healthified, slightly eccentric vegan food that I love, my choices are limited. Great Sage was a revelation, but it's a serious hike for a non-driver. And while I like Busboys and Poets plenty, I can't say that the options are creative: it's just the standard stuff (veggie burger; hummus plate; nachos) done notably well. I've been aching for more raw options and more health food, period, and I was hopeful that Science Club would fit the bill.
M and I arrived to the cozy, dimly light space, which was playing a pretty nice mix of music.
Once again, I salivated over the menu: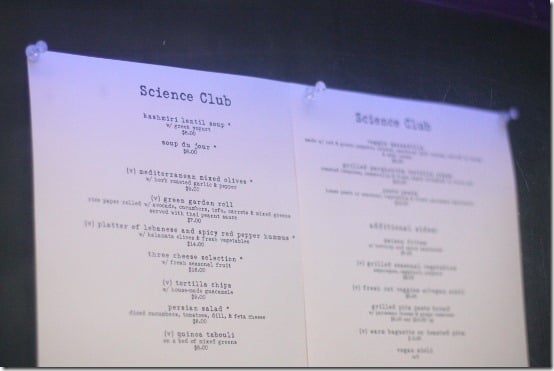 See all those "V's"? I loved the availability of vegan options!
The bar features a solid wine list that also happens to be quite reasonably priced; M and I sampled a Chilean red for only $6.00 that was excellent. I was also very impressed with our hostess: when our food was delayed due to a big private party elsewhere in the restaurant, she gave us a realistic estimate of when to expect it, along with a gracious apology and some complimentary pita bread.
More pita came with my Mediterranean hummus platter, which featured a spicy red pepper and regular blend. The hummus was a little garlicky and not creamy enough for my taste, but M and I both devoured it:
I was also quite enamored of my rice paper rolls and Thai dipping sauce: they were great, and M liked them, too. It reminded me that I ought to buy rice paper wrappers far more often!
For the "entrees" (mine wasn't really that, since I got a bunch of small plates together), M got the veggie burger and fries: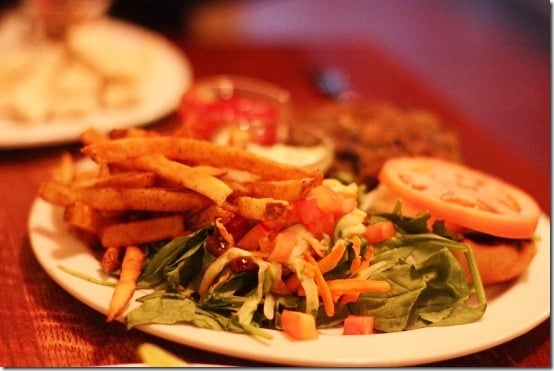 Sadly, he wasn't impressed, and I had to agree: veggie burgers are one of the most delightful vegan meals when they're done right, and a lot of places do them right. The bar has been set high, and so this burger—which was crumbly and not very flavorful—just didn't match up.
My quinoa tabouli, on the other hand, was quite tasty:
Though I should point out that it wasn't really tabouli, so much as quinoa over arugula with balsamic vinaigrette. Great idea, but not tabouli. For flavor and perfectly cooked, fluffy quinoa, however, this dish got major CR thumbs up.
Ultimate verdict? I liked Science Club a lot. I liked the privacy and the quiet of the brownstone setting, and I liked the music, and I love that the food is different: quinoa tabouli may be standard fare in my little corner of the food world, but it's not typical bar fare, and it was a standout on the menu. I like the emphasis on healthy food, rather than vegan food that tastes good, but only at the price of a lot of processed ingredients or needless fat, salt, and sugar.
The downside here is that Science Club makes the kind of food I know and love, and knowing and loving it means also knowing when it's not done perfectly. The hummus could have been creamier, the tabouli more authentic, the burger more tasty. Healthy food turns diners off when it's not also truly delicious, and I hate it when that happens, because people who are trying to eat healthily find themselves feeling that they have to choose between nutrition and taste. That's not true, and any restaurant that aims to make healthy, whole food should be working just as hard to make the flavors sing. I'm sure that, with a little more time, Science Club will perfect all of these super smart, super innovative menu items. I'll definitely be back to enjoy them!
Thanks, SC, for a welcoming and nourishing meal.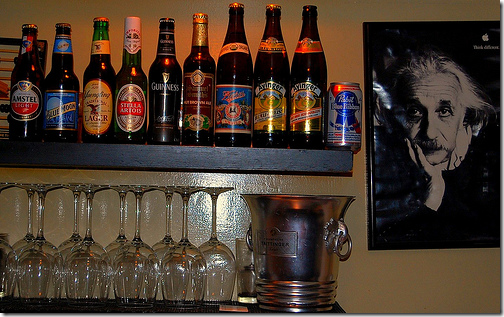 Speaking of science and science clubs, I think you've all probably gathered that I was NOT in the science club of my high school. No, no: I was a humanities girl, through and through, and actually had no problem declaring math and science to be a big waste of my time. This attitude, however juvenile, persisted well into my undergraduate career, and even into my career in publishing. It wasn't until I'd been an editor for a few years that the ugliness of our double standard hit me: we humanities people are so quick to turn up our noses at anyone who isn't familiar with all of Shakespeare's canon, but we're equally quick to admit—without apology, and sometimes even with pride—that we don't know the first thing about math or science. This is disturbing on many levels, but the saddest thing about it is that we're missing out on a vast realm of knowledge—knowledge that's fascinating, beautiful, and provocative.
Becoming a science student at twenty-nine has not been easy: the learning curve has been steep, my performance has been relatively average, and I've had to work really hard to grasp the most basic of concepts. In the last few weeks, though, I've realized—much to my surprise and delight—that certain things are starting to make sense. I'm getting quicker at my stoichiometric calculations; I can visualize a molecule without having to Google it; I feel the rhythms of chemical equations so much more than I used to. I'd never claim that nuclear chemistry (or, God forbid, anything to do with physics) comes as naturally to me as does analyzing a poem, or memorizing facts from European history, or learning French, but it is starting to come to me, period. And that's exciting. It's as if a curtain has been lifted, and what it reveals is an entire world I never bothered to look at.
Most of us are quick to categorize ourselves as sciencey or humanities-ish, as left or right brain, but it's really not that simple: we may have natural tendencies as thinkers, but there's no divider between the disciplines that can't be bridged with some hard work and initiative. Thank goodness for my return to student life: even if I don't get into med school, I'll always be glad I got a post-bacc, because it made me so much more adept at a new way of seeing the world. Maybe I'll even like physics one day.
Kidding.
xo