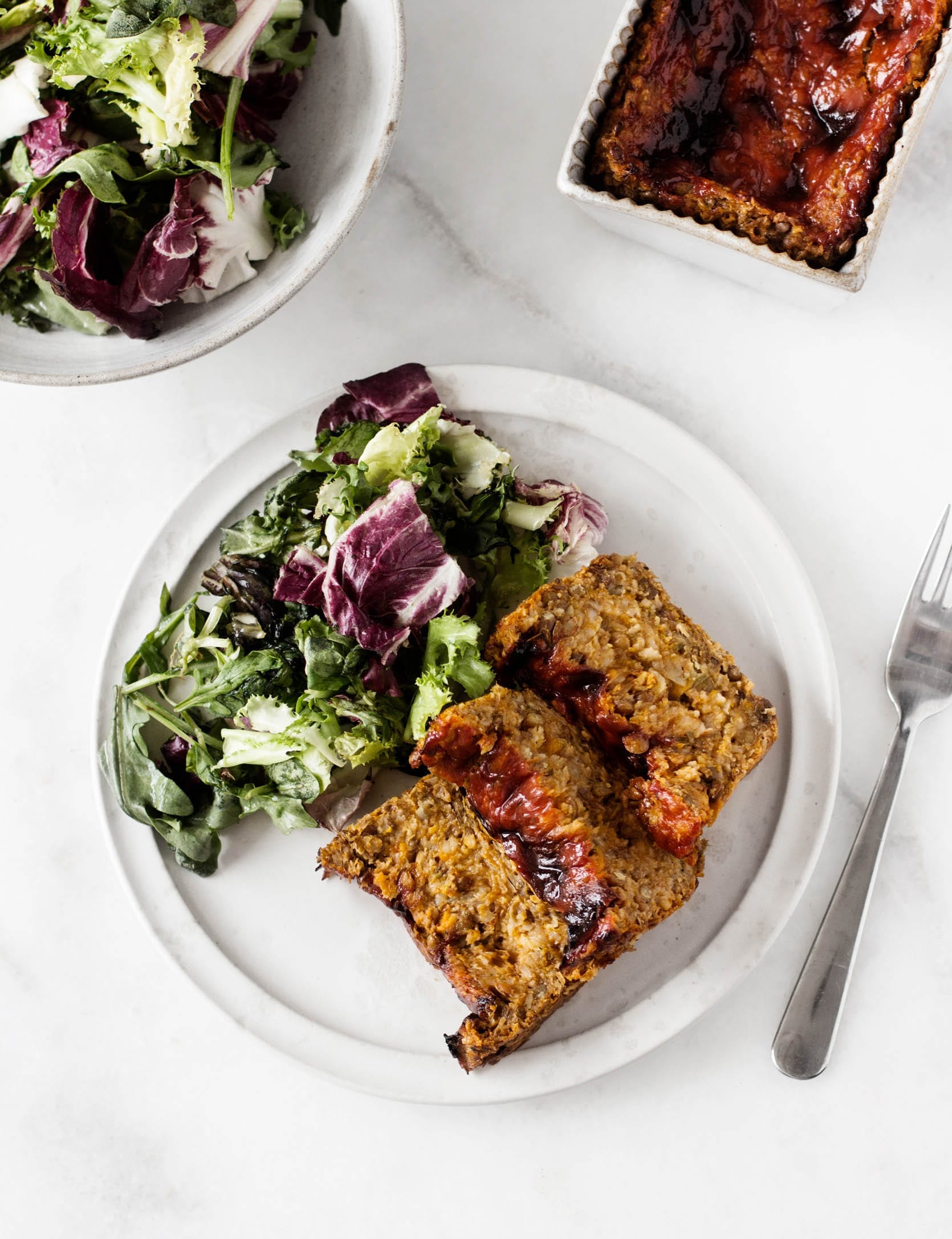 This lentil and sweet potato loaf is my vegan spin on traditional meatloaf, and it's so comforting and hearty.
This isn't the first lentil loaf I've ever made, but it is the first lentil loaf I've wanted to blog about, because it's the most successful so far. In the past, I've had a hard time getting the texture of the loaf just right, without using too many ingredients or having to go through a laborious number of steps.
The texture of this loaf is spot-on, and it's relatively easy to make, if more time consuming than some of my usual fare. Beyond that, it's full of nutrition in the form of oats, lentils, and sweet potatoes. This is comfort food at its finest, and it is heavily satiating! A great recipe for when you need something that will stick to the proverbial ribs.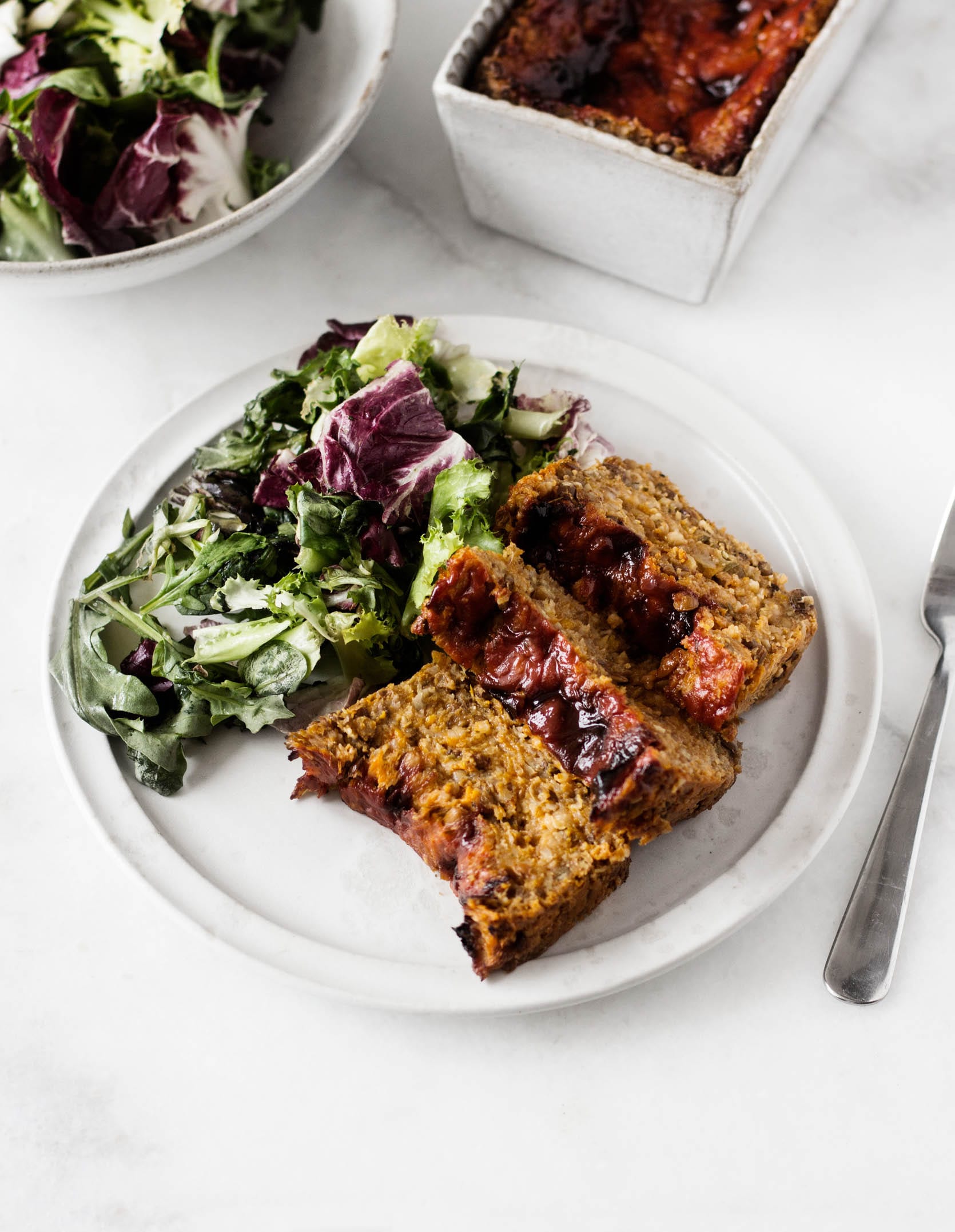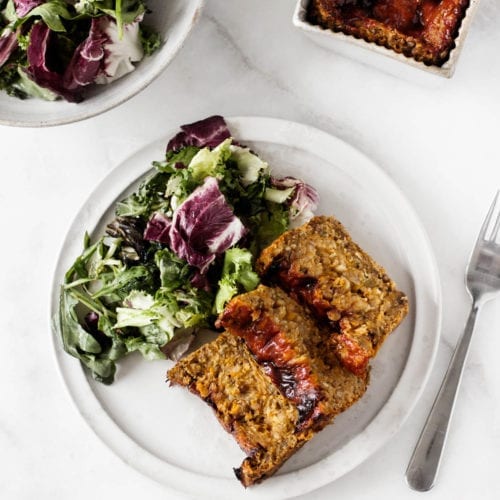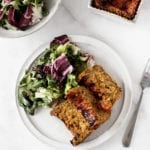 Lentil and Sweet Potato Loaf
Author -
1

tablespoon

olive oil (substitute a few tablespoons of vegetable broth)

1

small white or yellow onion, diced

2

stalks celery, diced

2

carrots, peeled and diced

4

cloves garlic, finely minced

1

teaspoon

dried thyme

1/2

teaspoon

dried rosemary

1/2

teaspoon

ground coriander

1

teaspoon

salt

1/4

teaspoon

freshly ground black pepper

2 3/4

cups

low sodium vegetable broth

1

cup

(dry) green or brown lentils

1 1/2

cups

grated sweet potato (1 large or 2 small sweet potatoes, peeled or unpeeled, grated)

1

cup

rolled oats

1/4

cup

tomato paste

1/3

cup

ketchup, for glazing
Heat the oil or broth in a large, heavy-bottomed pot over medium heat. Add the onions, celery, and carrot. Cook, stirring often, for 5-6 minutes, or until the onion is soft and clear. Add the garlic to the pot and cook, stirring constantly, for 2 more minutes.

Add the thyme, rosemary, coriander, smoked paprika, salt, pepper, broth, lentils, and sweet potato to the pot. Bring the mixture to a boil and then reduce the heat to low. Cover the pot and simmer until lentils are very tender, about 30 minutes. Remove the pot from heat.

While the lentils cook, preheat your oven to 350F and lightly oil (or spray) a nonstick, 8. 5 x 4. 5 x 2. 75 inch loaf pan.

Stir the oats and tomato paste into the pot. The oats will absorb most of the remaining moisture in the lentil/sweet potatoes, and the mixture will thicken. Taste and adjust salt and pepper as needed.

Press the mixture into a loaf pan. Brush the top of the loaf with the ketchup, if desired. Cover the loaf pan with tented foil and bake at 350F for 20 minutes. Remove the foil and then bake for another 20 minutes, or until the loaf is firm and the ketchup is darkened in color. Allow the loaf to cool for 15 minutes before slicing and serving.
Leftover lentil and sweet potato loaf can be stored in an airtight container in the fridge for up to 5 days.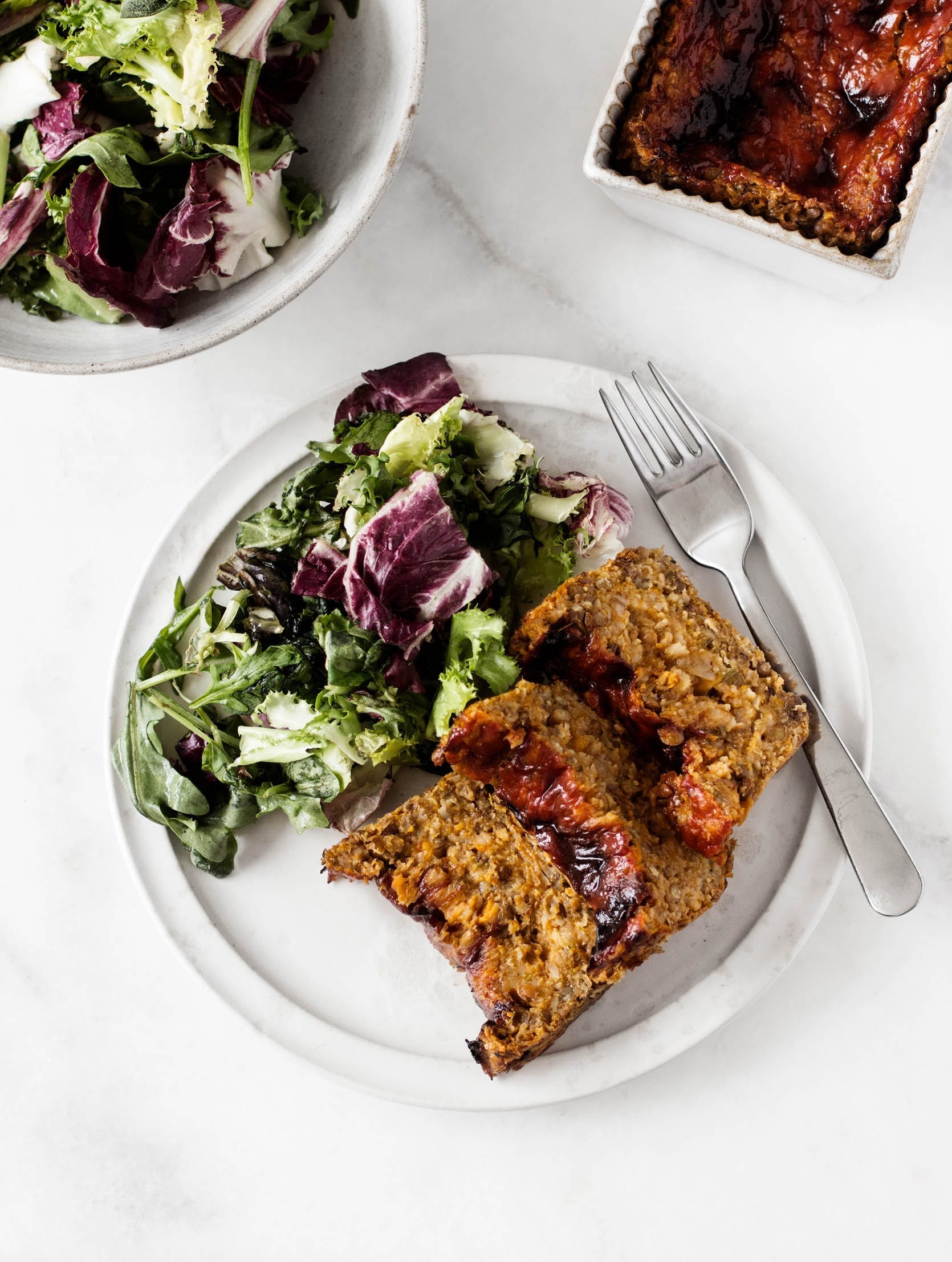 The loaf makes for some pretty superb leftovers, and if you want to want to slice it and serve it on toast with some ketchup or hummus, that's not a bad idea at all 🙂
I hope you love this homey vegan recipe. Let me know what you think!
xo