 Happy Monday, all. If you have a holiday today, I wish you a very restful day, and if you're at work, then I wish you a productive start to the week!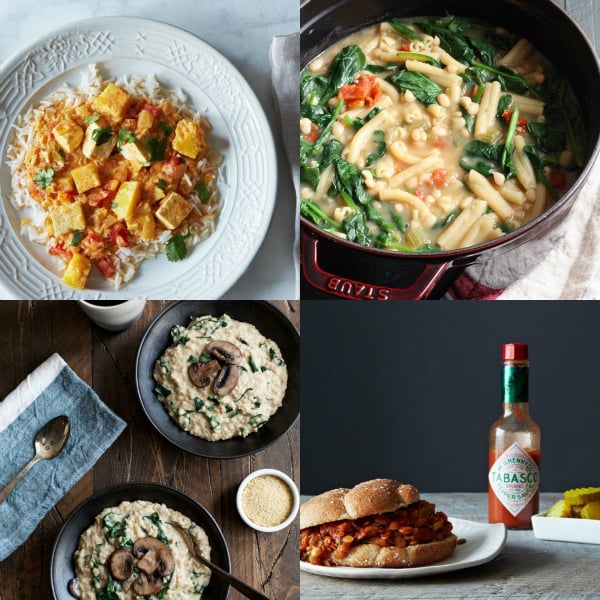 The cold seems to be retreating somewhat today, thank goodness, but I'm glad nonetheless to have done a lot of batch cooking over the weekend, while we were hibernating at home. For Valentine's Day dinner, I prepared my lentil sloppy Joe's, an old Food52 recipe that, for reasons I won't get into, has some special significance for me and Steven.
We've got leftovers of those tonight, and a few other wintery favorites later this week, including my very warming and hearty vegan pasta e fagioli soup. It's one of my favorite soups from last winter, and I'm happy to be welcoming it back into the kitchen!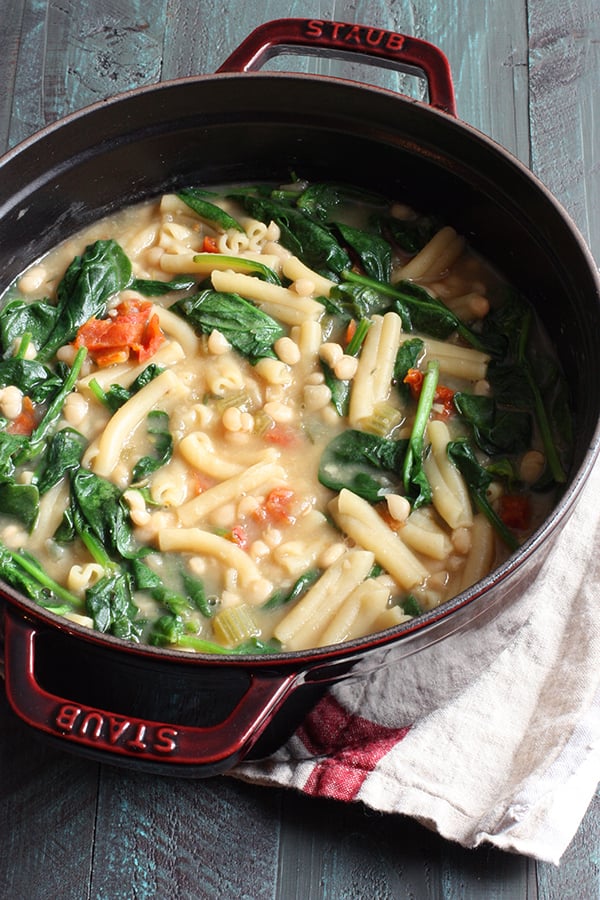 Here's what's on the menu:
Basics / Staples
●Chickpeas
●Basmati rice
●Black quinoa
●Pumpkin seed peppercorn dressing (I'll be sharing that, along with a new salad, on Tuesday!)
Recipes
●Lentil sloppy Joe's
●Kabocha squash and tofu curry
●Vegan pasta e fagioli soup
●My favorite savory steel-cut oats (with tweaks)
Dinner Menu Plan
Sunday / Monday: Lentil sloppy Joe's | Chopped salad with pumpkin seed peppercorn dressing (leftovers from a recipe I'll share tomorrow!)
Tuesday / Wednesday: Vegan pasta e fagioli soup
Thursday: Steven will be out, and I'm keeping it simple with my favorite savory steel cut oats (maybe with some chickpeas stirred in)
Friday / Saturday: Kabocha squash and tofu curry with basmati rice | Lightly sauteed snap peas and broccoli
Is it goofy that I'm almost the most excited for savory oats? I can't get enough of them, and they're such a perfect, lazy dinner, especially for chilly nights.
Before I sign off, I want to thank you all again for sharing your thoughts last week on the SNAP challenge, which I'll be doing for a week in late February along with my entire community nutrition class. I appreciate the feedback, both via comments and email. I've decided to share my thoughts and observations from the week, as well as to post a few recipes from that week on the blog. I'd also like to welcome any and all Full Helping readers to participate in the challenge with me; you can read more about it here and here, as well as in last week's Menu Plan Monday post. It would be particularly cool to have fellow DPD/nutrition students participate and share their experiences.
Most of all, I'd like to welcome anyone who has lived on SNAP benefits or brushed paths with food insecurity to share via comments or privately that week. Personal experience with the SNAP program will be a far more valuable and enlightening perspective than my limited observations from the challenge.
I also want to emphasize that the purpose of sharing that week isn't–or isn't primarily–to demonstrate vegan eating on a budget. That's a great topic, and it's one that I'm happy to write more about if folks are interested. But it's important to remember that food insecurity isn't the same as needing to maintain a weekly budget. Budgeting involves working consciously with fiscal constraints, but it doesn't necessarily imply the lack of a safety net if food should happen to run short. That's the reality of food insecurity, and that's the imaginative leap that I'm being asked to experience that week: not what it feels like to make a grocery allowance stretch, but rather what it feels like to have truly finite resources.
I'll be sharing about the SNAP challenge the week of 2/28-3/5, and anyone who would also like to experience the challenge that week is welcome to join me and share thoughts and reflections.
I'll return tomorrow with a tasty new winter salad. Hope to see you!
xo