Happy Monday! Hope you all had good weekends and good game days. I was memorizing amino acid side chains as my home team secured a victory, and it wasn't until a friend texted to tell me NY had won that I actually flipped on the TV. But I hear there were some pretty funny ads this year?
It's relatively rare that I end up with whole grains that I don't know what to do with. I prepare batches of millet, rice, quinoa and/or barley every weekend (sometimes I freeze the cooked grains, too), and they almost always get eaten promptly. This past weekend, however, I actually ended up with a bunch of cooked millet that was just about to go stale, and I had no immediate use for. Rather than forcing it down, which would have been a bummer, I decided to get innovative with my leftovers, and put them to good use in a new kind of granola: "soft granola," as it were. This is just a fancy way of saying that I toasted cooked grains along with uncooked rolled oats to create a mixture that's someplace in between regular porridge and crunchy, crispy, traditional granola.
And I liked it. A lot. If you the main thing you appreciate about granola is its characteristic crunch and clumpiness (wow, what a gross word to be using as a positive modifier), this granola may seem pretty foreign/off-putting to you. But if you're open to something slightly less traditional—and let's be honest, if you read my blog, you are probably open to something less traditional—I think you'll enjoy this soft, sweet, and incredibly filling breakfast dish. Here's how to make it happen: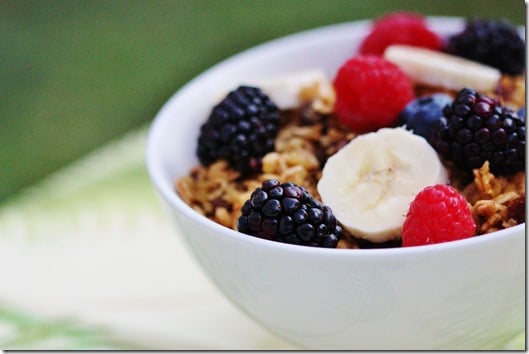 Millet and Oat "Soft Granola" (vegan, gluten free if you use GF certified oats, soy free)
Makes About 5 cups, or 15 1/3 Cup Servings (topping) and 10 1/2 Cup Servings (cereal)

1 1/2 rolled oats
1 1/2 cups cooked millet (or rice, or quinoa)
1 cup pumpkin seeds
2 tbsp flax meal
1/2 teaspoon salt
1 tsp cinnamon
1 cup raisins
1/4 cup + 2 tbsp maple syrup
1/4 cup almond butter
1 tbsp melted coconut oil
1) Preheat oven to 350 degrees.
2) Mix the dry ingredients in a large mixing bowl.
3) Whisk together the maple syrup, almond butter, and coconut oil, and pour over dry ingredients. Mix well.
4) Place all ingredients onto a foil-lined baking sheet. Bake for about 25 minutes, stirring halfway through, or until grants are fragrant and oats are toasted. Allow to cool completely before serving.
Check out the texture—you can see flecks of soft millet mixed in with the crispy oats: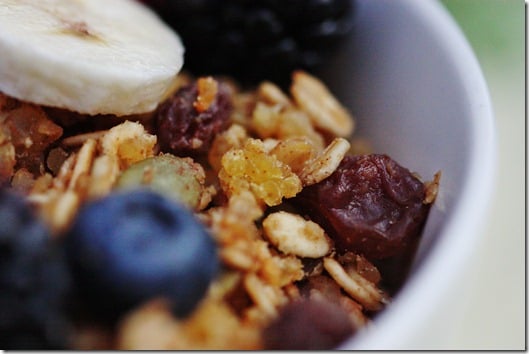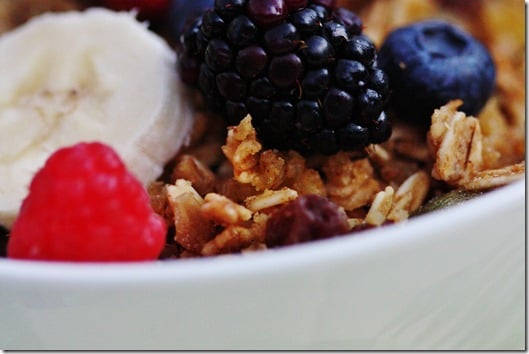 This granola is great for those mornings when you want something with the satisfaction of whole grains, but may not be craving something piping hot. I bet it's a perfect "transition" meal between seasons.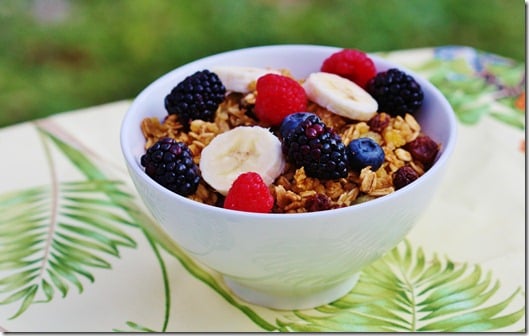 I used the same"formula" in this recipe that I use for most granola: cinnamon, maple syrup, nut butter, sometimes a touch of coconut oil for crispiness and flavor. But you could definitely mix things up to suit your own tastes. And feel free to try it with barley, rice, spelt, kamut, or quinoa.
Normally, I force myself to eat leftovers even if my craving for them has passed, or I toss them, and then feel really stupid. This recipe reminded me that you can find inventive ways to "recycle" leftover food that has lost its appeal. A little imagination is all it takes!
What's your favorite way to reinvent a leftover?
xo