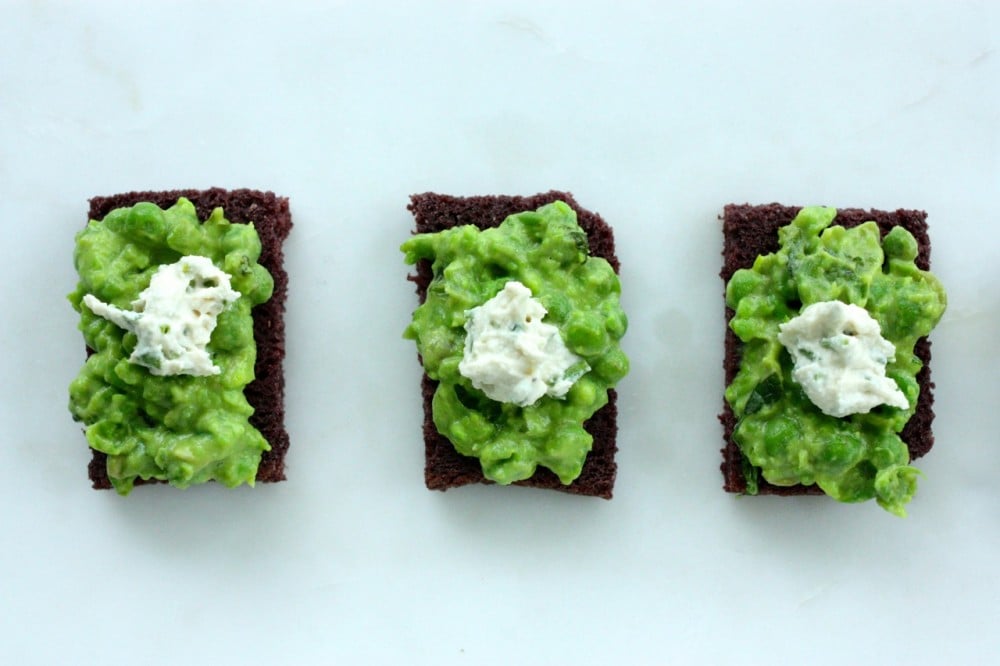 I have to admit, I'm a little bit in love with these minted pea and cashew cheese crostini. Each one is just a tiny bite, but in that bite resides a tremendous amount of flavor and texture. I love the combination of bright spring herbs and hearty, crispy bread. In this case, it's gluten free bread–the black rice bread from Food for Life, which is one of the few GF breads I love. It's thick, it toasts really well, and it's sturdy enough to be an ideal base for this sort of appetizer.
Oh, speaking of, my original thought was that this dish would be an hors d'oeuvre, perfect for spring or summer entertaining. I stand by that thought, but I'm also starting to think that the recipe would work as a vibrant, beautiful open tartine for either breakfast or lunch. And I think I'm going to be making it that way soon.
Whether you wish to follow the recipe precisely and make the dish as finger food, or to serve it as a seasonal tartine, I hope you'll be pleased with how boldly flavored, yet delicate it is.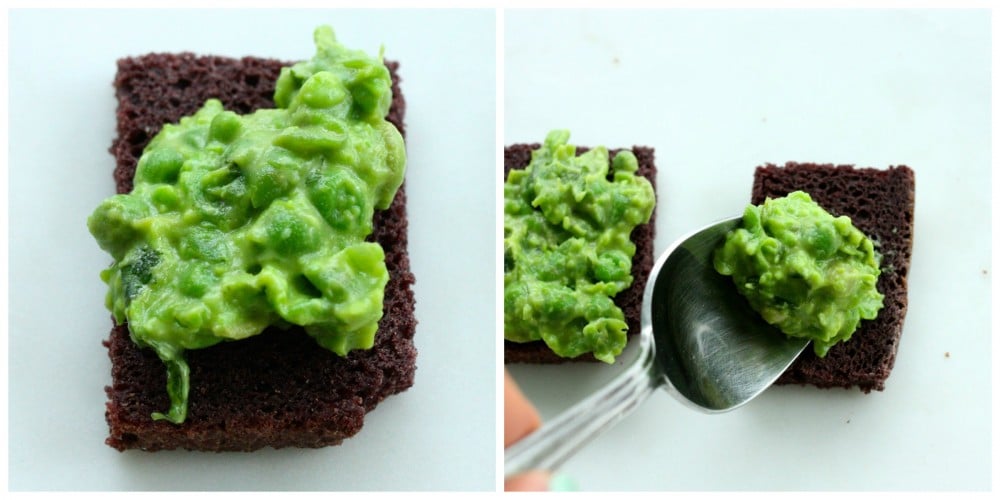 Minted Pea and Cashew Cheese Crostini (gluten free, soy free)
Author -
For the minted peas:

10

oz.

fresh green peas

1/4

cup

mint

loosely chopped

1/2

teaspoon

sea salt

Black pepper to taste

1

teaspoon

lemon juice

1/4

cup

olive oil

For the cashew cheese:

1

heaping cup cashews

soaked for several hours and drained of soak water

Juice of 2 lemons

1

teaspoon

sea salt

Black pepper to taste

Optional: 3 tablespoons minced chives

For the crostini:

4

slices

bread of choice

you can use a GF bread, sprouted bread, etc.
1. Bring a small pot of water to boil. Boil the peas until they're bright, sweet, and tender (3-5 minutes). Drain them and immediately plunge them into a bowl of ice water to arrest the cooking and keep the color bold. Drain them and transfer them to a food processor. Pulse in the mint, salt, and lemon juice. With the motor running, pour the oil into the food processor in a thin stream. Stop the motor and mix everything up. You want a mixture that's not quite pureed, but also fairly uniform. Continue to pulse as needed, until you're pleased with how it looks. Set the minted peas aside.

2. To prepare the cashew cheese, place the cashews in a food processor or high speed blender along with the lemon, sea salt, and pepper. Blend the cashews until they've taken on the texture of a spreadable cheese/thick hummus. Add water as needed (a third cup or half cup is normal). Continue blending, stopping occasionally to scrape the machine down, till the cashew cheese is very smooth. Transfer it to a container and mix in the chives, if desired.

3. Toast the bread. Cut each slice into four pieces. Top each with a heaping tablespoon of the pea mixture, and then a small dollop of the cashew cheese. Serve, garnished with a sprig of mint if desired.
It occurs to me that garlic would be a nice addition to either the pea puree or the cashew cheese (I include it in cashew cheese sometimes, and sometimes not). Go ahead and add some, if you are so inclined. And you should also feel free to switch up the herbs you use. Regardless, check out the color in this recipe!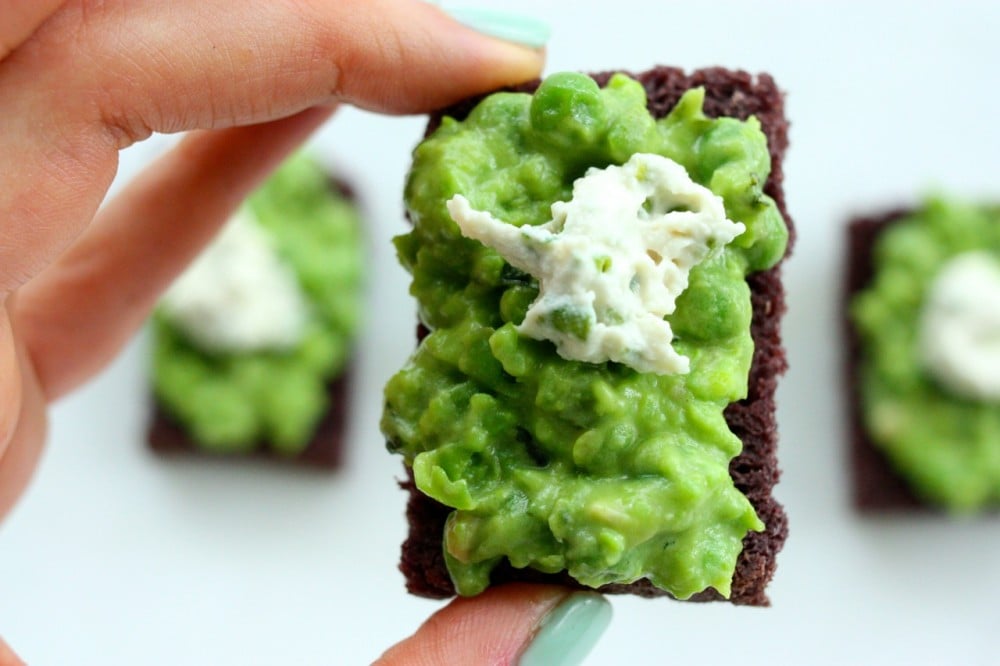 And, while we're on the subject of peas: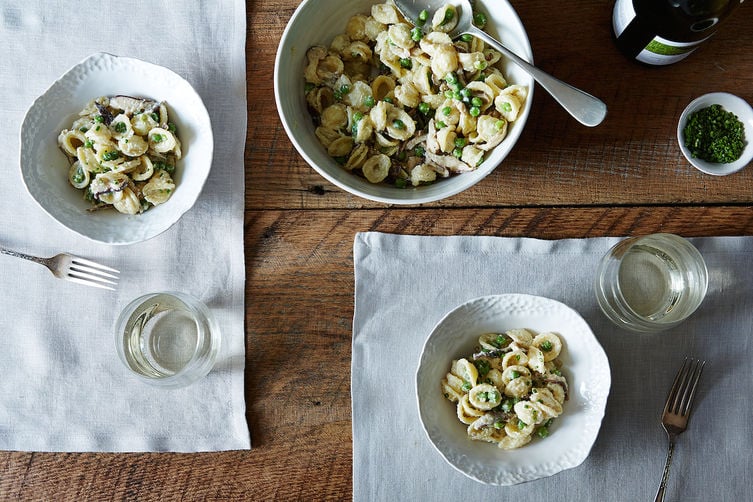 That's my latest recipe for Food52. It's a creamy pasta with peas and shiitake mushrooms, and it is really good.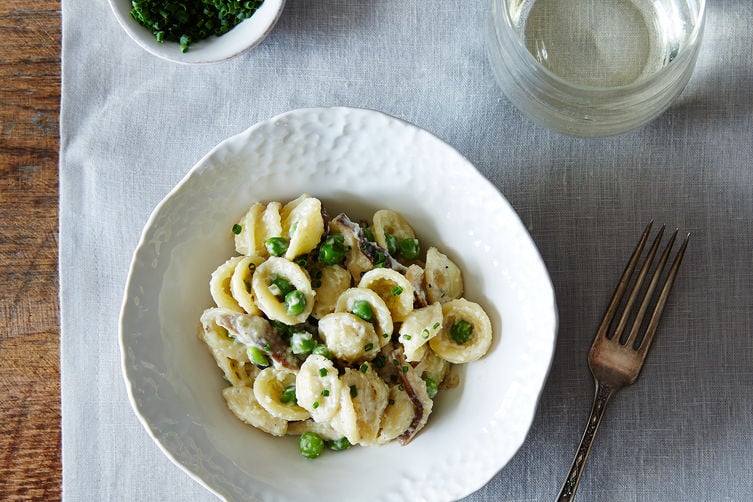 The source of creaminess in this recipe is silken tofu, rather than cashew cheese or cream. It was a nice change of pace, and the results were delicious. Also, what a great excuse to use orecchiette — such an adorable pasta, and I always forget about it! You can check it out in today's New Veganism column.
All the peas, all the time. What a great way to celebrate the season. I'll be back tomorrow, friends.
xo