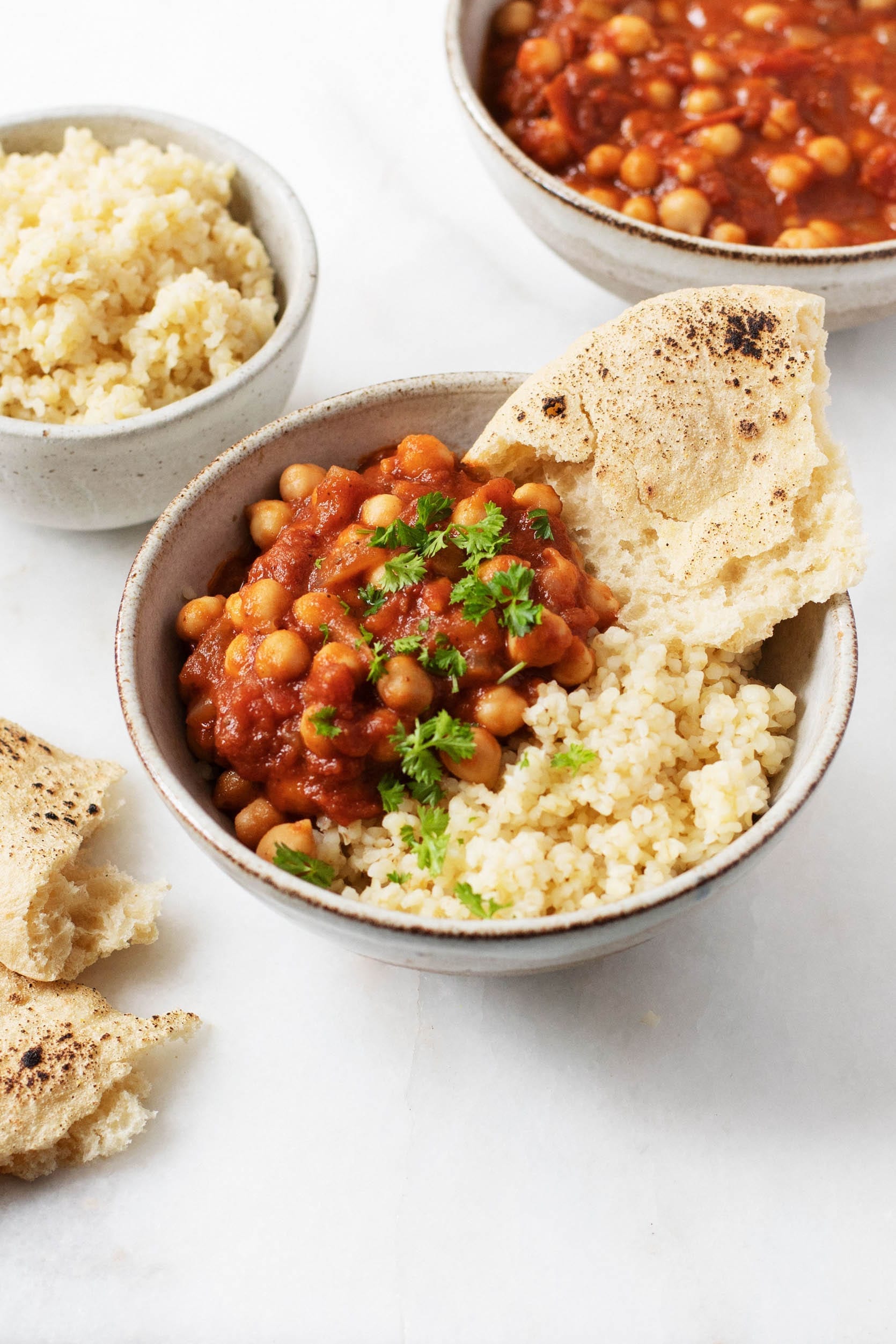 Nothing makes me happier than tomato season. I've been soaking it up all month, and this week I'm celebrating with a flavorful and versatile Moroccan chickpea tomato stew.
No matter what else I make over the course of a given week, I almost always prepare a stew. I interpret "stew" pretty loosely: it could be a thick soup, a chili, or curried vegetables. Something that can easily be scooped over grains, enjoyed with pita slices, or sopped up with toast.
These meals are usually pretty easy to make. More importantly, they give me plenty of leftovers. I love the contrast of something spicy and flavorful with a starchy grain or bread accompaniment. This Moroccan chickpea tomato stew is a perfect example of how a single pot of cooked beans can turn into many different meals. I've now served it in and with pita, with rice, and over orzo.
Picking your tomatoes
I've been joking in my Instagram posts lately that I'm about to turn into a tomato, thanks to the pints and pints of cherry tomatoes that I've been gorging on (not to mention sliced heirlooms, roasted plum tomatoes with everything, tomato jam, and so on).
I used fresh tomatoes in this recipe, which gives it sweetness and the taste of summer. If tomatoes are in season where you are, I definitely recommend using them in the recipe. However, this stew can be made with canned tomatoes as well, which is a good option for the colder months.
I use whole, peeled tomatoes, and I crush them right in the pot. I think they're more flavorful than diced tomatoes, but either will work in a pinch. In fact, in spite of their differences, most types of canned tomatoes can work here. This includes crushed or pureed.
When I use fresh tomatoes, I'll usually add about a tablespoon of sugar to the recipe, for sweetness. If I use the canned tomatoes, which are a little more acidic, I'll opt for two tablespoons. The sugar is optional; I like it, but the recipe will taste fine without it.
Tips for making Moroccan chickpea tomato stew
This Moroccan chickpea tomato stew is thankfully very easy to make. Even so, there are a few tips to keep in mind:
Give your tomatoes time to reduce
If you do use fresh tomatoes in the stew, they might be very juicy once you add them to the pot. Give them time to cook down and reduce. This will not only keep the stew from being watery, but also help to concentrate the flavors of the tomatoes.
Don't skip the tahini! (But substitute it if you need to)
Usually I add cashew cream to recipes when I need creamy texture, but lately I've been expanding on this. Nowadays I might use a vegan unsweetened yogurt or creamer instead. Tahini was a new experiment when I tried it in this Moroccan chickpea tomato stew, and I was really happy with how it turned out. The tahini adds just enough creaminess without overpowering the fresh tomatoes.
If you don't have tahini, you can use cashew butter or a few tablespoons of vegan yogurt (choose something unsweetened) instead.
Modify the texture to your liking
Before you add chickpeas to the stew, you can make the texture closer to a rich sauce or leave it chunky. It's totally up to you, and it also depends on how you'd like to serve the chickpeas. If you'd like them over pasta, you may prefer them saucy. If you'd like to stuff them into a pita or scoop them up with some other flatbread, more texture may be nice.
I like to use my immersion blender to puree the tomatoes partially before I add the chickpeas. For me, this is the best of both worlds: textured, yet still soupy.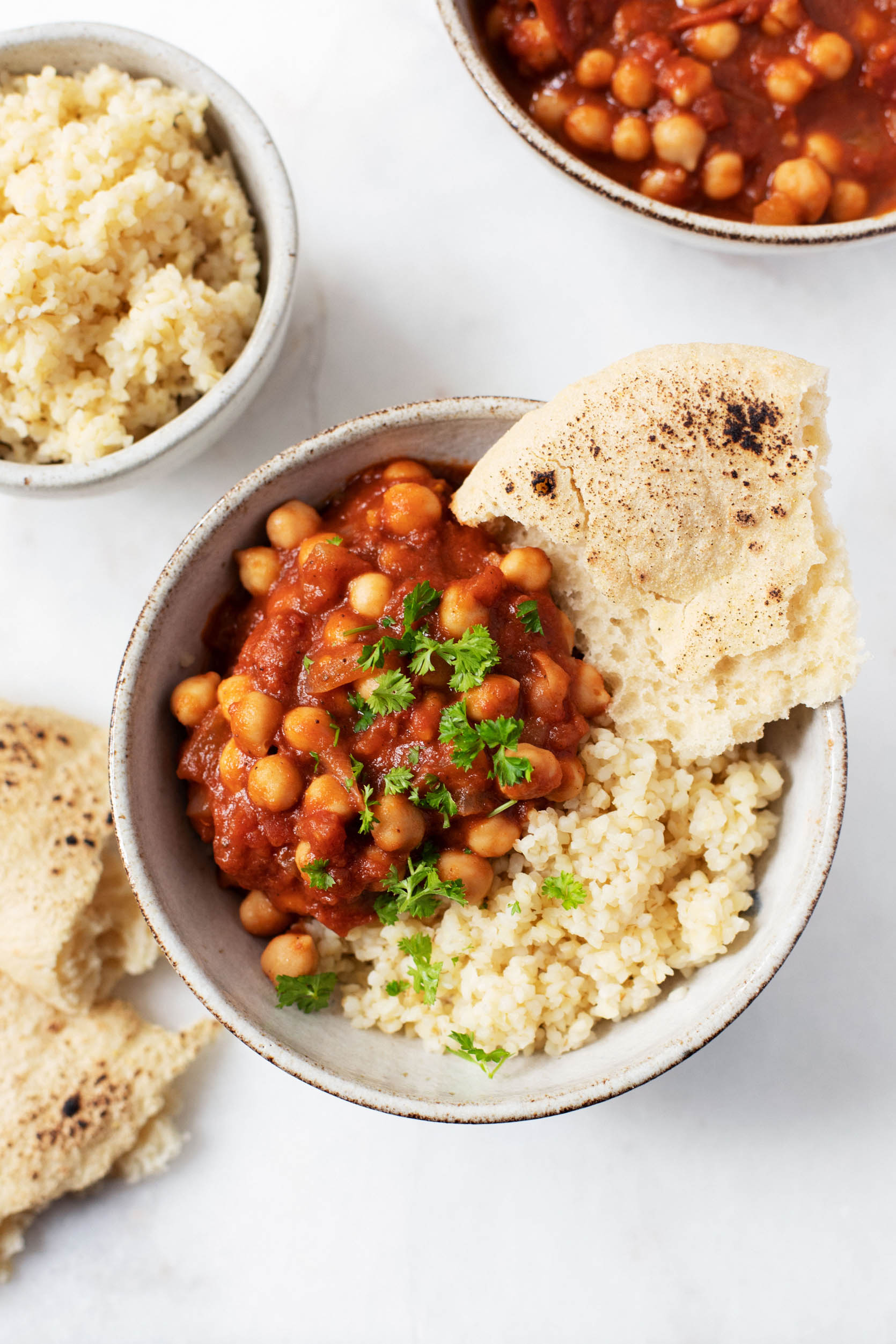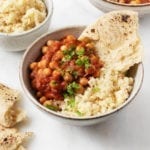 Moroccan Chickpea Tomato Stew
Author -
1

tablespoon

olive oil

1

white or yellow onion, chopped

4

cloves

garlic, finely minced

2

pounds

chopped plum tomatoes, or 1 28-ounce can whole, peeled tomatoes

1-2

tablespoons

sugar (to taste, will vary based on level of acidity and whether you use fresh or canned tomatoes)

3/4

tsp

kosher salt (or to taste)

1

teaspoon

ground coriander

1

teaspoon

ground cumin

1/2

teaspoon

crushed red pepper flakes

1/4

teaspoon

ground cloves

1/4

teaspoon

cinnamon

2

cups

low sodium vegetable broth or water

1

tablespoon

tahini (substitute cashew butter or a few tablespoons plain non-dairy yogurt)

3

cups

cooked chickpeas (2 14.5-ounce cans chickpeas, drained and rinsed)

2

teaspoons

red wine vinegar

cooked couscous, bulgur wheat, quinoa, brown rice, pita or other flatbread, or toast, for serving

fresh chopped parsley leaves, for serving (optional)
Heat the olive oil in a large pot over medium heat. When the oil is shimmering, add the onion. Cook onion for five minutes, stirring now and then, or until the onion is soft and clear. Add the garlic and cook for 2 more minutes, stirring frequently and adding a tablespoon or two of water if the garlic starts to stick.

Add the tomatoes to the pot. If using canned whole peeled tomatoes, use a potato masher or the back of a large spoon to crush them well. Add 1 tablespoon sugar (more as needed) salt, coriander, cumin, red pepper flakes, cloves, and cinnamon. Cook the tomatoes, stirring frequently, for 10 minutes, or until they're thickening up and very bubbly. Add the broth or water, lower the heat to a simmer, and cook, uncovered, for another 10 minutes.

Stir in the tahini and use an immersion blender to blend the soup partially, so that some pieces of tomato are still visible but the mixture is thick and resembles a chunky soup (you can also transfer half of the mixture to a standing blender and blend till smooth, then return it to the pot).

Stir in the chickpeas and vinegar. Cook for another 5 minutes. Taste the stew and adjust seasonings as desired. Serve with a grain of choice and a sprinkle of parsley, if desired.
Leftover stew will keep for up to five days in an airtight container in the fridge, and it can be frozen for up to 1 month.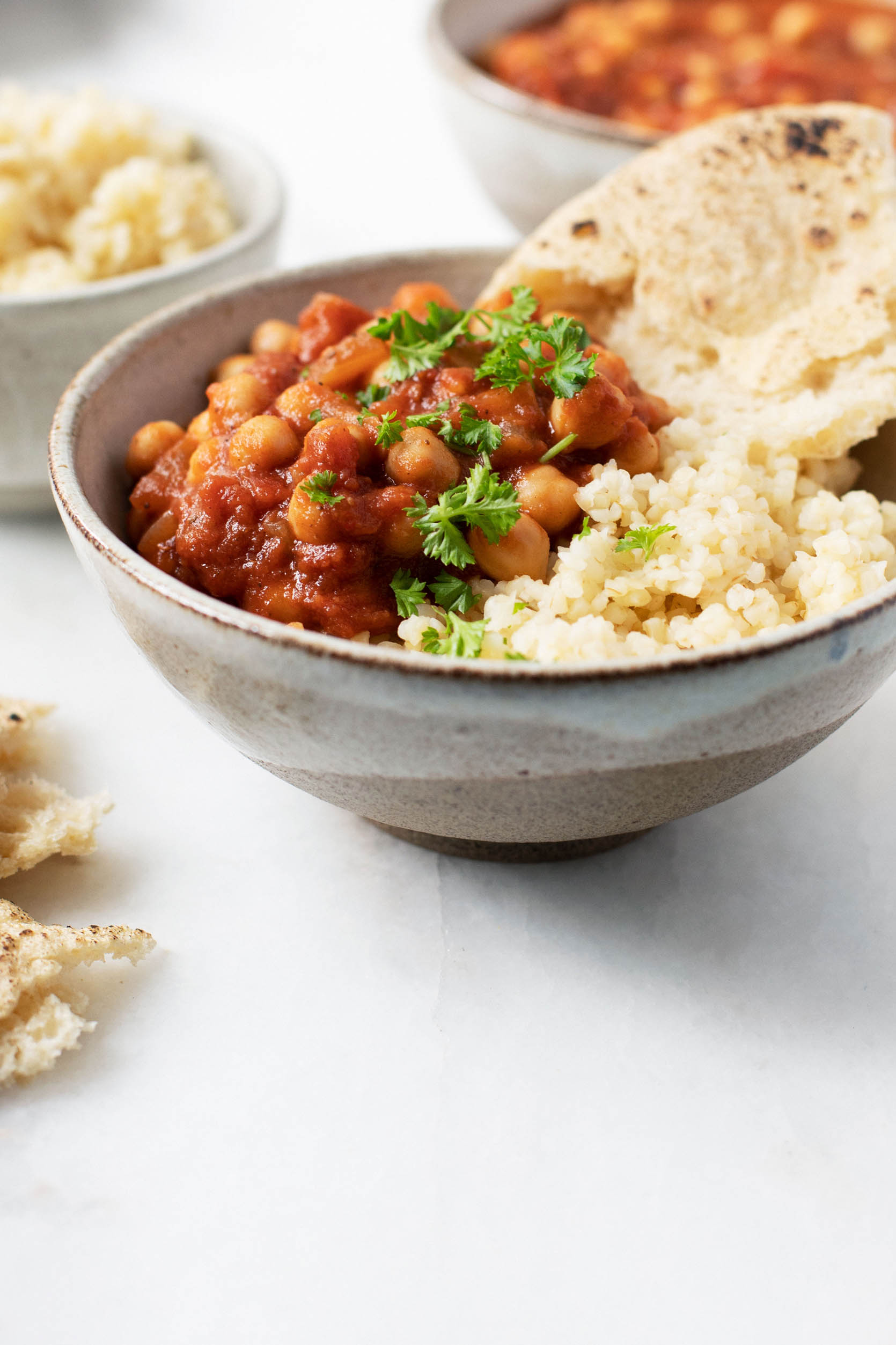 Spice it up
Don't be afraid to add some variety to the spices that you use in the recipe. I added some of the spices that I know appear in a number of Moroccan recipes. I especially love using cinnamon and cloves in savory dishes. But I'm certainly no expert on cuisine from Morocco or the Middle East. I'm just a curious and appreciative cook who learns as I go. A good harissa paste could work well in this recipe, and if there's a spice here that you don't care for, you can omit or lessen it.
Sometimes there's not too much to say about a recipe that's flavorful, nutritious, versatile, and easy. Except maybe: try it! I hope you enjoy this Moroccan chickpea tomato stew as much as I have, and I hope you find ways to make it your own over time.
This has been a long week, and I'm very ready for the weekend. I'll be hosting a friend who's in town, and I'll be catching up with another friend who was traveling all summer. After a few days of feeling pretty disconnected, I'm so looking forward to these these visits. See you on Sunday for weekend reading.
xo