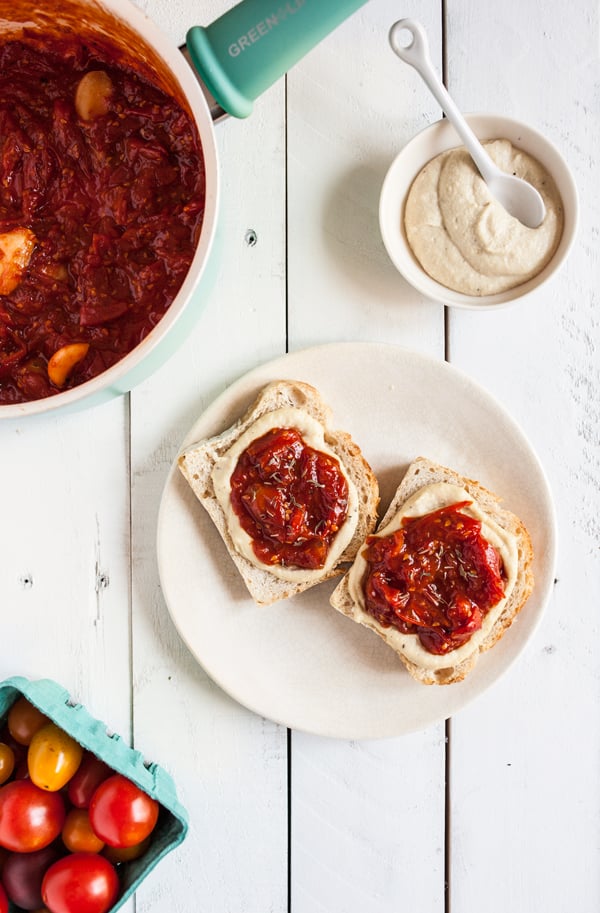 First, a sincere thank you for your responses to Tuesday's post. Some follow up thoughts after today's recipe.
At this time of year my counters are usually teeming with tomatoes. Plum tomatoes, heirloom tomatoes, beefsteak tomatoes, cherry tomatoes—I eat them all by the pound. It's typically impossible for there to be such a thing as too many tomatoes in my home, but this week, upon bringing home three pints of cherry tomatoes (in addition to some heirlooms) and being reminded of the fact that Steven doesn't care for fresh tomatoes, the thought did cross my mind that I might need to come up with a more clever use for them than salads or bowls.
I was reminded of a few things: first, a recent Food52 post featuring bell pepper jam, which got me thinking about savory jam and what all I might make it with (see also: this article). Second, the bright and beautiful cherry tomato jam from Ali's new cookbook (which I reviewed last week); last, the fact that O Cafe (one of my favorite work-away-from-home spots) is now serving a tomato jam toast, and the veganized version I've been getting is absolutely delicious. Taken together, these signs seemed to suggest that it was time for my to experiment with my own homemade cherry tomato jam.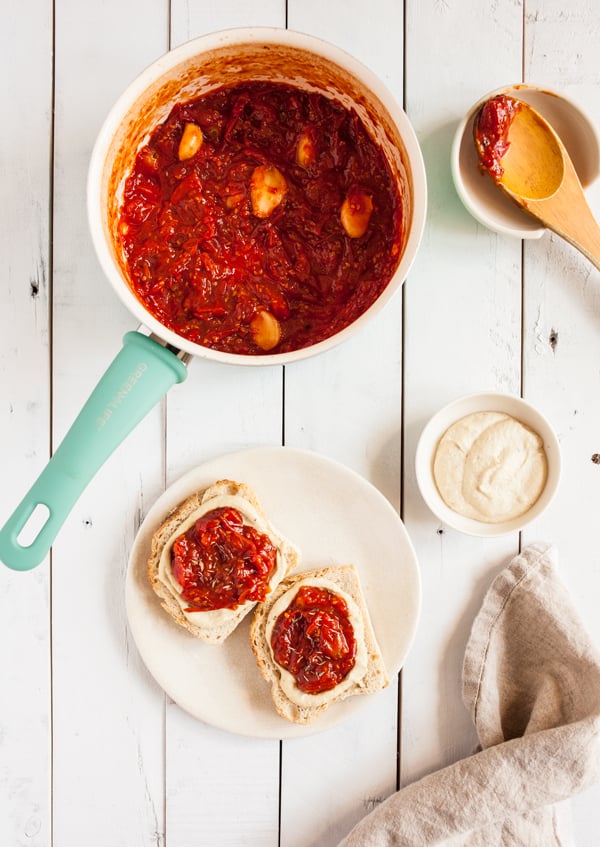 Honestly, I can't believe I didn't make this stuff sooner. It is a dream food for the sweet and savory lovers among us. It is delightfully tangy, just a little sticky, and it smells absolutely incredible as it simmers up on the stove. It's also versatile in the same way that chutney is versatile, which is to say that you can serve it with grain pilafs, bowls, roasted tofu, or what have you. It will be very hard to find something for which this jam is not a really good accompaniment.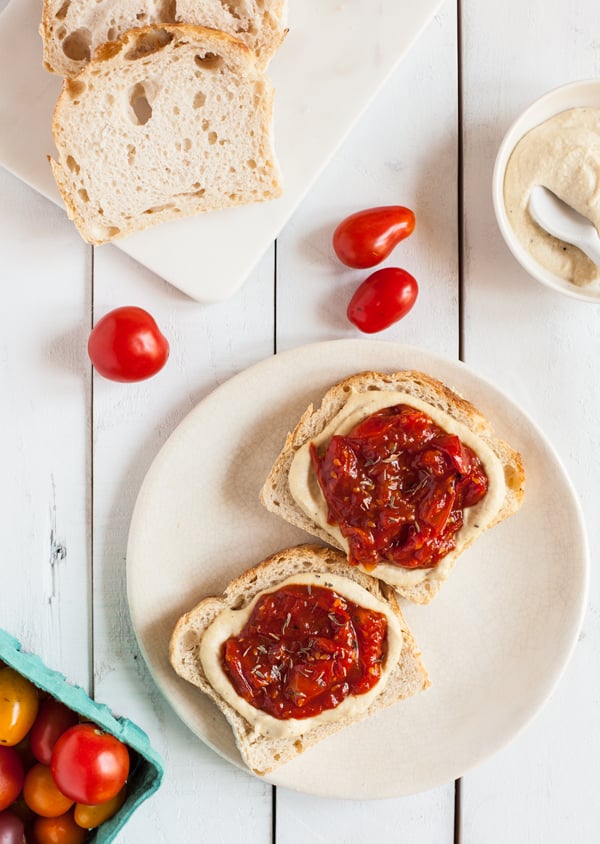 I started my tomato jam adventures, as you'll see, with a simple recipe. What you'll taste most is sweetness and acidity, followed by some garlic and a touch of thyme (which can be easily swapped for rosemary) and the slightest hint of heat from red pepper flakes. But I love the recipe enough that I'm already planning to make it again over the weekend, and I'm scheming up the different flavor profiles I want to try, starting with Indian spices (garam masala, cumin) and ending with Thai flavors (red curry paste, lime zest). I've listed the options I'm excited about with the recipe, and if you try some ideas yourself, I'd love to hear what you make.
Every recipe I've read for red pepper jam makes note of the fact that, after becoming very liquidy very quickly, tomato jam will reduce considerably as it cooks, and it scorches easily. Frequent stirring is a must. This was true when I made my batch, but I think that burning would have been more of a risk had I not been using cookware from the GreenLife brand.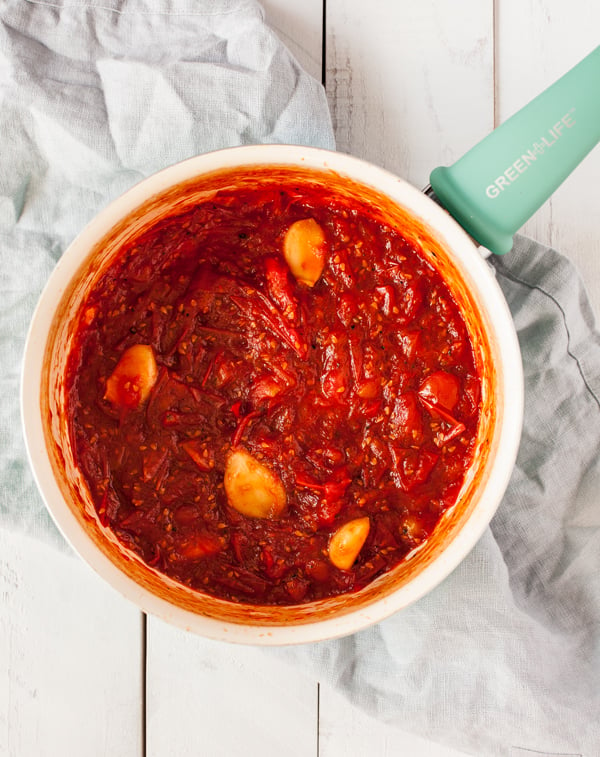 A couple weeks ago, I mentioned that the folks at GreenLife—makers of safe, environmentally friendly ceramic non-stick cookware—have given me a chance to experience some of their products and team up with them to create vegan recipes. I'm loving these cookware pieces; they make it so easy to avoid sticking, scorching, and other kitchen mishaps. Meanwhile, they make it easy to cook nearly anything without having to rely on extra fat, and the products are priced reasonably, so that top of the line ceramic cookware can be accessible to any home cook.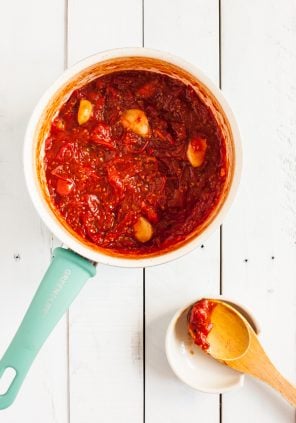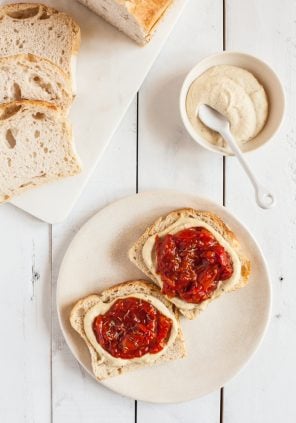 Tomato jam was a perfect recipe for the cookware! Sure, I had to keep my eye on the pot and stir regularly, but there wasn't any scorching, and cleanup—even considering how delightfully reduced and sticky the jam became—couldn't have been easier. The 2 quart saucepan is definitely my new go to for thick sauces, chutneys and the like!
There are plenty of ways I'll be serving this jam until tomato season is over, but I'm starting with the simplest: toast. Toast that's also layered with my favorite, go-to cashew cheese. The jam is so flavorful that it would brighten up toast all on its own, but if cashew cheese isn't your jam, you can try vegan cream cheese, smashed avocado, or hummus as a base instead.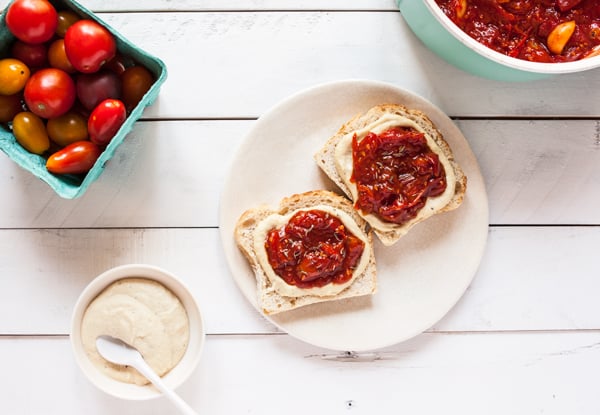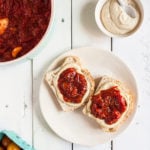 Super Versatile, Homemade Cherry Tomato Jam
Author -
1 ½

pounds

about 2 pints worth cherry tomatoes, quartered

1/4

cup

sugar

coconut, cane sugar, and demerara will all work

1/3

cup

champagne vinegar

substitute 3 tablespoons apple cider vinegar

1/4

cup

water

1

teaspoon

salt

6

cloves

garlic

peeled and left whole

Black pepper

1-2

teaspoons

dried thyme or crushed rosemary

to taste

Dash crushed red pepper flakes

to taste

For serving: toast slices cashew cheese or smashed avocado
Place all ingredients except for the thyme and red pepper into a 2 or 2.5 quart saucepan. Bring them to a simmer. Cover and reduce heat to low. The mixture will be very liquidy for about 10-15 minutes, but stir it every now and then anyway.

Continue simmering the jam, stirring every few minutes, for another 25-40 minutes, or until it has reduced down to a thick, slightly sticky, and sweet consistency (it should resemble jam, but be a bit looser and easier to stir). Remove the garlic and stir in the thyme and crushed red pepper. Allow the jam to cool a bit before storing it in an airtight container in the fridge for up to 1 week.

If desired, toast your favorite bread and top it with a few tablespoons each of

cashew cheese

(or smashed avocado) and a dollop of cherry tomato jam. Sprinkle with extra thyme and serve.
Feel free to vary the herbs and spices in this recipe! Some suggestions:
Indian Spiced Cherry Tomato Jam
Use apple cider vinegar and swap the thyme or rosemary for 1 teaspoon garam masala and 1 teaspoon curry powder.
Thai Spiced Cherry Tomato Jam
Use apple unseasoned rice vinegar in place of champagne. Swap the thyme or rosemary for 1 ½ tablespoons red curry paste, 2 teaspoons finely minced or grated ginger, and 2 finely minced Thai chilis. Add these ingredients at the start of preparing the jam (step 1).
Lemon Scented Cherry Tomato Jam
Use 2 tablespoons of champagne vinegar and 3 tablespoons lemon juice for acid. Stir in 2 teaspoons of lemon zest at the end of preparing the recipe. (You can also try adding chopped, preserved lemon!)
Sweet Ginger Cinnamon Cherry Tomato Jam
Use apple cider vinegar and omit the garlic. Swap the thyme or rosemary for 1 teaspoon cinnamon, 1 teaspoon ground ginger (or 2 teaspoons minced or grated fresh ginger) and ¼ teaspoon ground cloves.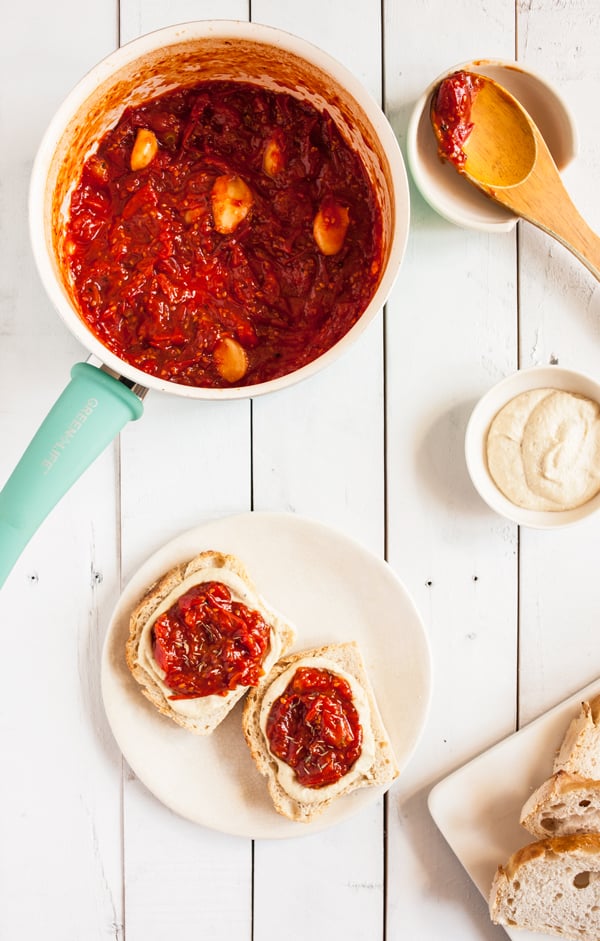 I'll be happy to let this recipe carry me through the end of tomato season, though I'm hoping that time will be well into October this year (saying goodbye to fresh tomatoes for the year is always a sad culinary occasion for me). Perhaps you'll rely on this recipe in the same way—and if you have a knack for homemade preserving and canning, I'm sure that you can stretch the jam even longer (though it's hard to resist eating it all at once).
Before I go, again, I want to thank you for sharing your thoughts about recovery (and healing) as practices. The comments were so insightful, and nearly all of them found a way to capture the idea of surrender and acceptance. In processing my own thoughts, I feel compelled to share this quote, from Dani Shapiro:
Sometimes we may think that we're in charge, or that we have things figured out. Life is usually right there, though, ready to knock us over when we get too sure of ourselves. Fortunately, if we have learned the lessons that years of practice have taught us, when this happens, we endure.
Have a wonderful end of the week.
xo
This post is sponsored by the GreenLife brand. All opinions are my own, and I love this nonstick cookware. You can learn more about GreenLife products, purchase online, or find GreenLife near you here. Thanks for your support!