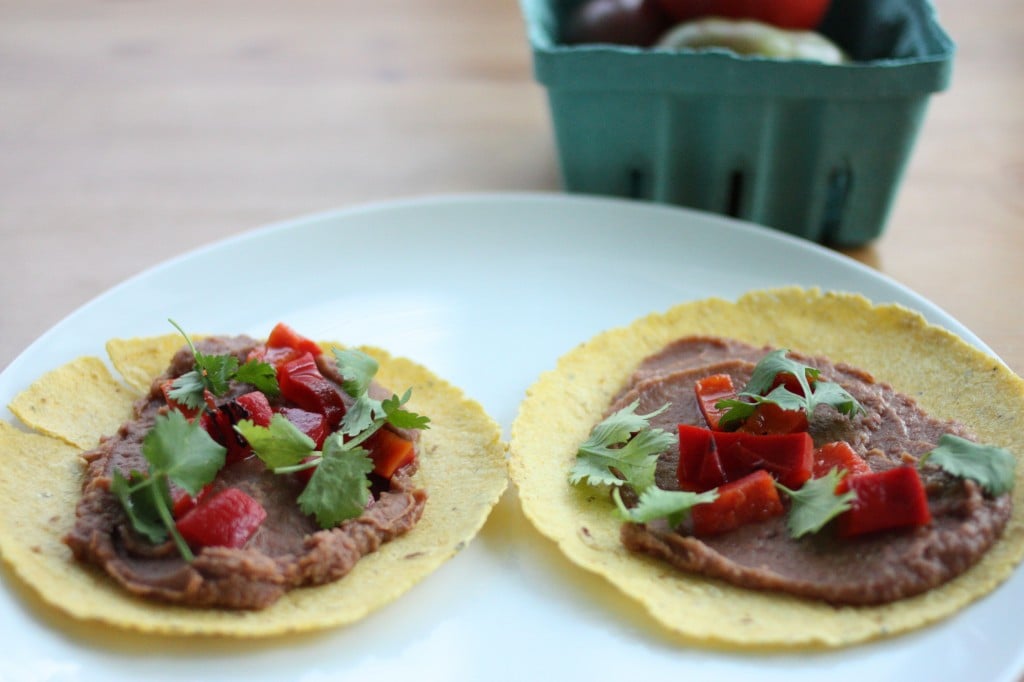 Some time ago, Pacific foods reached out to me and asked if I'd be interested in reviewing their new line of baked and refried beans in BPA-free Tetra Recart cartons. This is the first and only line of its kind–baked and refried beans, even vegetarian/vegan ones, typically come in cans, and those cans are rarely BPA free (the Eden brand is an exception). The Tetra Recart packaging is recyclable and easy to open, and the beans are slow cooked before packaging.
You may already be a fan of the Pacific company. Pacific has been in business for 25 years, offering sustainably farmed, non-GMO, and often organic soups, grain and nut milks, and sauces to consumers. Pacific almond, hazelnut, and hemp milks are favorites of mine, as is the company's low sodium vegetable broth. When I had an office job, I often kept some of the company's carrot ginger soup at work, and would heat it up and add some cooked chickpeas for a quick, easy lunch. I've always been impressed with the quality of Pacific products, not to mention the short ingredient lists.

While not all of the new bean options are vegan, the refried black beans, refried black beans with green chilis, and organic baked beans are. I had a chance to taste the latter two.
I started with the refried black beans with green chilis. I chose to serve these as a dip, rather than in a recipe.
Ingredients: 
Organic Black Beans
Water
Organic Onion
Organic Olive Oil
Organic Chiles
Organic Jalapeños
Organic Lemon Juice
Organic Garlic
Sea Salt
Organic Cilantro
Organic Spices
Organic Lime Oil
Taste: To me, this tasted like a bright black bean dip. I definitely caught the citrus tones, and–lemon and lime fanatic that I am–it really made the dip for me! I enjoyed the dip with some raw corn chips (a recipe I'm perfecting for you guys, but I'm not there yet!), but it would be great with regular tortilla chips, red pepper strips, celery, or as a filling for tacos or burritos. It was definitely my favorite of the beans that I tried–the lime flavor did it.
Next up, the organic baked beans.
When I opened up this box, I was hoping to whip up a really quick lunch. I had corn tortillas from Food for Life, jarred, roasted red peppers (I tend to keep these around in busy times for quick packed lunches and to add flavor to salads), and cilantro. I decided to mush up the baked beans and serve it up tostada-style, rather than eat the beans with a spoon or heat them up over the stove. A little untraditional, but I was happy I did this, because it was delicious!
Ingredients:
Water
Organic Navy Beans
Organic Onion
Organic Brown Sugar
Organic Tomato Paste
Organic Cane Sugar
Organic Rice Flour
Organic Apple Cider Vinegar
Organic Garlic
Sea Salt
Organic Spices
Taste: While I didn't grow up with a lot of legumes (they're not my mom's favorite, so we didn't eat them often), I did get to try baked beans often at my cousins' place in New Hampshire, where they were a staple. I loved the sweet, hearty flavor, and these baked beans do a great job of recreating it. I could have used even a little more tartness (so, more apple cider vinegar), but I thought the sweetness was just right.
You can find the new, carton packed beans at a health food supplier near you (the Pacific site has a store locator at the top of their website). Amazon also sells 2 packs of the black refried beans and the vegetarian baked beans for about $6.00. They're shelf stable, so it's easy to add these to the legumes you may already have as pantry staples. And it's really nice that they're pre-seasoned. I should note that, while the salt is definitely detectable, I didn't find either of these two dishes to be overly salty for my palate, though the baked beans may be a tad salty for others.
It's always great to have more BPA-free options on the market. I hope you'll enjoy the new Pacific bean options, and that they'll offer you quick and easy shortcuts when you need them!
xo