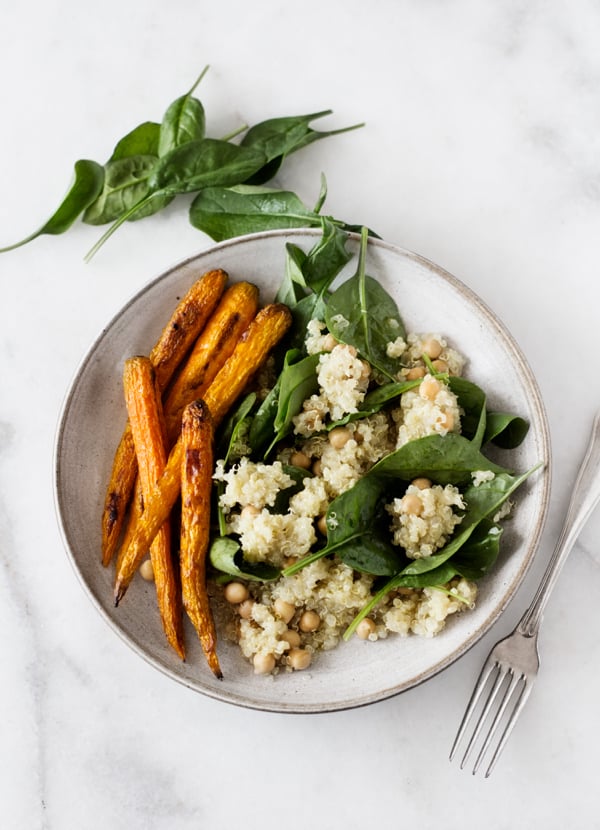 Greetings, friends, and happy Cinco de Mayo. There are lots of fiesta-worthy dishes I could have made and posted today–enchiladas, tostadas, or one of my many varieties of guac. Instead, I'm taking an oblique route and offering you this lovely quinoa salad. It's not a traditional Cinco de Mayo dish, but it does incorporate some heat (chili, jalapeno) and some cumin, both of which evoke Mexican cooking. It also features these gorgeous, cumin-dusted roasted carrots, which are delicious enough to be worthy of a post.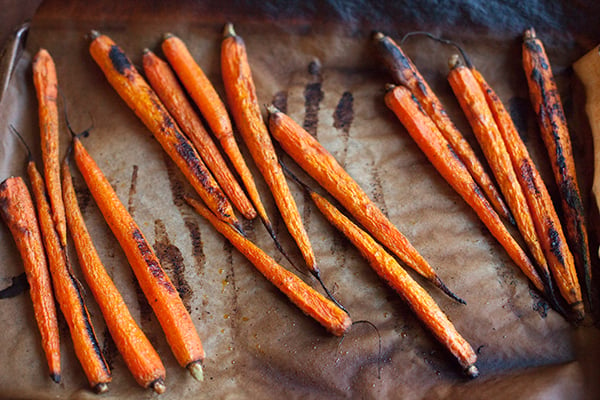 My favorite part of this dish is, not surprisingly, the carrot chili vinaigrette. I'm a dressing fanatic (I may have more flair for dressing than any other type of recipe), and for me, dressing makes or breaks a salad. This dressing is a keeper. It's got it all: saltiness, sweetness, and plenty of spice. It brings the whole salad together, highlighting the sweet roasted carrots and brightening up the nutty quinoa.
For the greens in this salad, you could use spinach, arugula, or even mizuna. I stuck with spinach because it's in season right now and because there's usually a bunch of it hanging out in my fridge, but feel free to use your imagination. Romaine would work very nicely, too.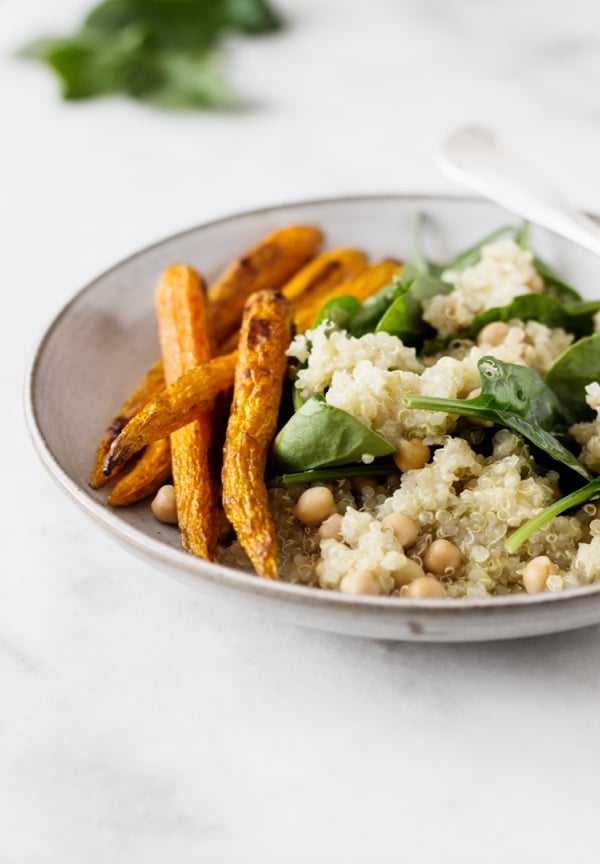 Quinoa, Carrot, and Spinach Salad with Spicy Carrot Chili Vinaigrette
Author -
Yields:
4
servings; dressing makes about 1 cup
For the Spicy Carrot Chili Vinaigrette Vinaigrette:
To make the dressing, place the carrot juice, vinegar, lime juice, date, salt, and chili powder in a blender and blend till smooth. With the motor of the blender running, drizzle in the oil, until the dressing is creamy and emulsified. Set the dressing aside.

To make the salad, preheat your oven to 400F. Rinse the quinoa through a fine sieve until the water running through it runs clear. Place the quinoa in a medium saucepan, along with two cups of water. Bring the mixture to a boil. Cover the quinoa and reduce the heat to a simmer. Simmer the quinoa for 15 minutes, or until all of the water is absorbed. Fluff the quinoa with a fork, cover it again, and let it rest off the heat for five minutes before setting it aside.

While the quinoa cooks, toss the whole carrots in the oil and cumin powder. Place them on a parchment-lined baking sheet and sprinkle them generously with salt. Roast the carrots for twenty minutes, or until they're browning, stirring halfway through.

To prepare the salad, place the cooked quinoa, baby spinach, and chickpeas into a mixing bowl. Toss them together with about half of the dressing. Check the salad for seasoning and add more dressing (as well as a dash of salt, if desired). Divide the salad onto plates and top each with three roasted carrots and a sprinkle of cilantro. Alternately, you can chop the roasted carrots and toss them in the salad along with the other ingredients. The salad will keep overnight in the fridge. The dressing will keep in the fridge for up to a week.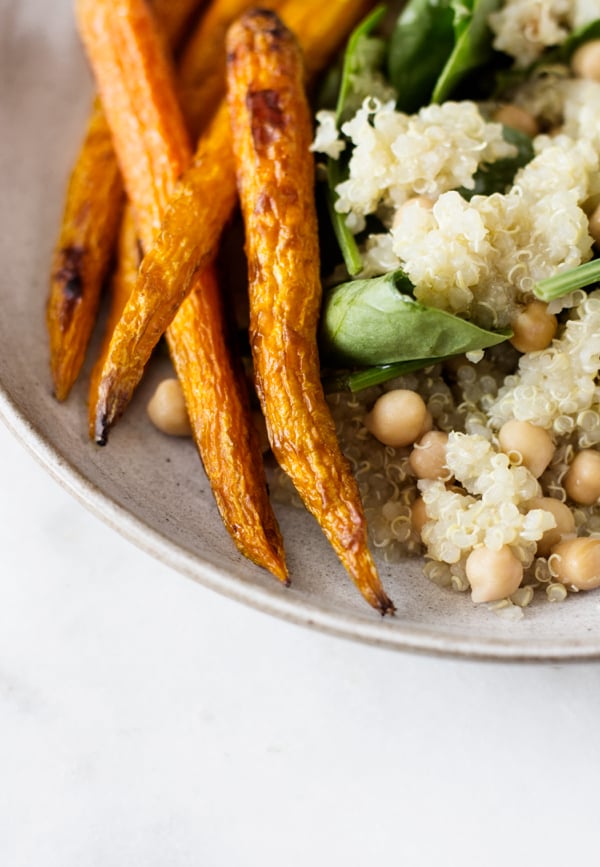 I do so love the roasted carrots in this recipe, but you can make a shortcut version of the salad on any busy night by replacing them with a cup or two of raw, grated carrots in the salad instead. It'll be a delicious and slightly more streamlined version of the salad.
I'm personally happy that I made enough of this dish to give me lunch leftovers today. Steven knows that I tend to be conservative with heat in my cooking, and he told me last night that he loved the kick in the quinoa, which I took to be a good compliment. And a sign that I'm becoming just a little more adventurous with my food.
I hope you all enjoy the dish–maybe with an ice cold drink and a nice bowl of guac and veggies. Happy May 5th, friends, and I'll be back soon.
xo