Unlike so many foodies, I did not grow up in the kitchen. I have no memories of laying sugar cookies out on a baking tray with a grandmother who smelled of cinnamon and nutmeg, nor of the first time my mother taught me to poach an egg, nor of spooning hot, homemade raspberry preserves into mason jars with a crafty aunt. I have no stories about my first triumphant casserole or soup or even my first time boiling water for pasta: all of my early kitchen forays were disastrous, and the memories are best left unspoken. I didn't lack interest in cooking, and I don't think I lacked talent. But I did lack an education.
The women in my family always had a slightly antagonistic relationship with the kitchen. They did cook, and when they cooked, they cooked well–as lovers of my Yaya's lamb burgers or my Mom's pork roast will attest. Let's try to put aside for a moment, please, the fact that I ate totally differently from everyone else in my family, and always have, which was a constant source of tension when I was growing up; this topic is one I've written about at other times here on the blog. The point is, they did know how to prepare a smashing (omnivore's) dinner. But both my mother and my grandmother had the same attitude about cooking: if there was a short cut, you took it. Frozen veggies? Check. Boxed grain pilafs? Check. Bottled dressing? Check. Frozen lasagna? Check. You get the idea.
It actually wasn't until my early teens and twenties that I realized that fresh broccoli, chopped and steamed till tender and bright green, was a lot better than the mushy frozen stuff, or that making rice in a pot, no matter how deadly dull, is deeply rewarding. I credit my gradual education in kitchen arts to Chloe's mom, Barbara, who has been preparing food from scratch for decades now and never failing to create effortlessly elegant meals, and to a few of the moms I babysat for, all of whom were kitchen-savvy.
Most of all, though, I have to give myself a pat on the back. In my post-eating disorder years, I vowed that I would teach myself to cook. I suspected—and I was right—that learning to cook would help me close up the chasm I'd created between myself and the food on my plate. I also just wanted to learn: cooking is a life skill, and it was one that I lacked. For a long time, I had assumed that working mothers of my Mom's generation had turned away from a "homemade" attitude in the kitchen because they simply didn't have time for it. As a young, idealistic feminist, I wondered too if they had made conscious choices as feminists in the 60s and 70s to not be slaves to pastry crust and pot pie. Perhaps they did, but as I've said before, I don't believe that being a home cook is at odds with female independence. In many ways, I believe that the act of self-nourishment is empowering, and that cooking can be a healthy part of that.
So, armed with a little collection of cookbooks and some issues of Martha Stewart's magazines, I gradually taught myself everything: how to chop an onion, how to roast a pepper, how to press and bake a perfect piece of tofu. It wasn't always easy, and I messed up frequently (I still do), but it was one of the best decisions I ever made.
Years later, I still feel tremendous admiration for young people who are on the way to teaching themselves how to be chefs. Which is why I wanted my friend Evan to do a guest post today on his own culinary education. If you don't read Evan's blog, The Wannabe Chef, I can't urge you enough to start. He is one of the funniest and smartest food bloggers I know. In the last year, Evan has gone from writing primarily about running, fueling, and chocolate to writing about his joyous attitude as a chef-in-training—all within the confines of a dorm environment and a student's budget. I've marveled from afar, not only at his recipes and fine prose, but also his sunny attitude and fantastic sense of humor (if you want constant hilarity in 140 characters or less, I recommend you follow his twitter feed during an episode of The Real Housewives of New York City.)
Let's also not forget that one of the most amusing sights of this summer's Healthy Living Summit was to see Evan—probably the only man in the room—at a cocktail party surrounded by a coterie of lady food bloggers. Crafty, Evan. Crafty.
When I asked Evan to write a post on what it's like to be a young person who is teaching himself to cook, recipe by recipe, Evan replied that, since culinary self-teaching and Ancient Roman politics are the two things he knows most about, he'd be glad to. (I'll spare you the geeked out conversation we then had about my days as a high school Latin scholar.)  He then said he'd write something honest and true to himself without inserting too many Golden Girls quotes.
Evan, you did a fabulous job, and you gave me an amazing raw dessert to boot. Everyone, welcome Evan: student, Classicist, and wannabe chef.
Hi, Choosing Raw readers. My name is Evan and I was very honored to be asked by Gena to write about how and why I would teach myself—or anyone, really—to cook, even at a young age. The "how" was simple—I read food blogs, slowly weaned myself off box-mixes to scratch made food, and set a few pots on fire in the process(who knew you shouldn't fry rosemary over a burner?!). But as to why—that's a question that gets to the heart of a person.
As for a little background on me, I'm 19 studying Classics and History at Brown University while living off meal plan and writing recipes for my blog, The Wannabe Chef. I've never had the chance to take a formal cooking class, but that hasn't stopped me from trying to learn all I can. Besides being a chef, my other goal in life is to make it on The Today Show as a guest or replacement host (I'm looking at you, Matt Lauer).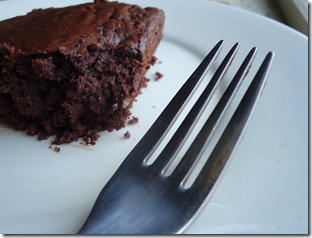 The moment I decided to pursue being a chef as a career was a bit of a "light bulb moment". I was cooking in the dorm kitchen one day, a relaxant for me from the stress of homework and tests, and had the thought, "Wouldn't it be great if I could do this for a living?" At that point I realized that, yes, you could do this for a living; in fact, plenty of people do and they're called "chefs". It wasn't long after that that I created The Wannabe Chef.
So why cooking? Well, the only answer I can think for that is "why not cooking?" I've always appreciated good food, even when I was young and considered frozen buffalo wings "good". When I first started learning how to cook and bake out of a big red brownie box, it amazed me that I could create that which I love. As I grew more and learn more techniques, cooking became a craft; each recipe has its own character just like a piece of art and draws different emotions with its flavors. And what I love so much about cooking is being able to create and share that with others.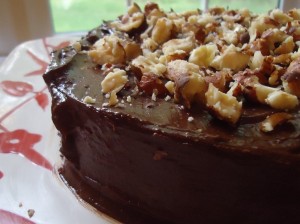 I love cooking for family at those rare occasions I get to see them during the holidays. I want to share a cake that I made for Father's Day last June that I think Choosing Raw readers will love. I had already made a few raw cakes that Summer, but never something like this. Because I love cooking and learning new techniques, I wanted to push myself to make something more fanciful and presentable—a raw cake that could stand its own in any crowd. I really think I achieved that.
Father's Day Raw Chocolate Hazelnut Cake With Avocado Buttercream
2 cups pitted dates(about 30)

2 cups hazelnuts
1 cup walnuts
1 cup cocoa powder, divided
1/4 teaspoon sea salt
1/3 and 1/4 cup agave, divided
1 large avocado
1) Pulse the hazelnuts and walnuts in a food processor until coarse and crumbly and resembling flour.
2) Add the dates, 2/3 cup cocoa, 1/4 cup agave and salt, and process until the mixture is uniform in color and a smooth texture.
3) Remove the dough from the processor and divide into 2 equal-sized portions.
3) Shape each ball of dough into a 6-inch diameter, round cake using your hands and pressing down.
4) Add the avocado meat to the food processor along with the agave and reserved cocoa powder and blend until smooth.
5) Take 1/3 of the frosting and form an even layer over the bottom piece of cake.
6) Gently add the top layer of cake over the frosted piece and continue to frost with the remaining buttercream on the top and sides until all is used up.
And yet, what I remember about that Father's Day isn't this cake recipe. Instead, I remember everyone who was at that table that day and all the positive things they had to say about this cake. When I cook for people, I feel that bond. And that bond is what has urged me to drop all I know and teach myself to cook.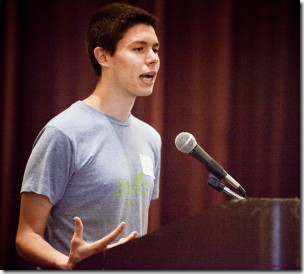 I've always been ambitious, and I've always been stubborn. I'll dive into projects I'm completely unprepared and unqualified to do and see them through. And I'll give whatever that is everything I've got. Basically, I've always believed in living for a dream, and teaching myself how to cook has been living that dream for me. If you share that, I challenge you to put yourself out there, try something new in the kitchen, study and learn recipes as if they were math equations, and—most importantly—enjoy every moment of it. And if your dream is something else, go after that with the same gusto, too. You'll never get where you want to be without hard work, but if it's worth it you'll be willing to put in the effort.
For more of Evan's work, check out The Wannabe Chef. See you back here tomorrow!