Ho ho happy Raw Wednesday!
As promised, I'm back with my holiday recipe roundup. Christmas, in case you hadn't noticed, is this vegan's favorite holiday, and I'm so excited to share my first batch of Choosing Raw Christmas recipes. Most of these are shiny and new; one of them (the soup) you'll recognize from another holiday celebration last year.
The theme of this menu is, I'm ashamed to say, red and green. I know, I know, it's a litte kitschy, but come on: 'tis the season. The other theme is the savory/sweet combo: beets and dried fruits provide touches of sweetness, while tangy marinades and winter spices give the meal a savory feel. Much like my Thanksgiving menu, this Christmas dinner is accessible: it features familiar flavor pairings, comfortable textures, and dishes that mimic cooked traditional favorites (cheese and crackers; borscht; and even meatloaf!). We begin with the tasty cheese and crackers I shared yesterday, move into a surprisingly and sweet borscht, clean the palate with a simple marinated beet carpaccio, and the meal culminates in a raw nutloaf to swoon for. And just because I love you guys, I didn't forget dessert this time: I concocted a very special raw pudding (not figgy, but chocolate) that's a new favorite in my home!
With that, I present the Choosing Raw 2009 Christmas dinner:
Starter
Cashew cheese with meyer lemon and dried cherries
Maple Cinnamon Flax crackers
Soup
Raw Borscht
Appetizer
Marinated beet carpaccio with wilted beet greens
Main course
Raw nutloaf with kale salad
Dessert
Chocolate (peppermint) chia pudding
Sound yummy? It is!
Here's how it all comes together:
We begin with yesterday's cashew cheese and maple cinnamon flax crackers: allow your guests to munch on these and discover the joys of dairy free, cruelty free, non-stinky cheese!
Next, serve the delicious raw borscht. This is a recipe I shared with you last Easter, but it's worth repeating. The soup is very sweet, but its sweetness is cut by the addition of apple cider vinegar, the creaminess of avocado, and the citrusy hint of dill.
Raw Borscht (serves 4)
Ingredients:
2 cups beet juice
2 cups carrot juice
1 cup orange juice
¼ tsp salt
2 tsp apple cider vinegar (more to taste)
A sprinkle of pepper
2 small beets, chopped (or a large one)
1 small avocado
1 grated small carrot
1/2 grated small beet
1/2 chopped avocado
Sprigs of dill
Directions:
Blend all of the ingredients together in a Vitamix or powerful blender, stopping to adjust saltiness and sweetness. Pour into four bowls and garnish with the chopped vegetables. (I always find that the addition of chopped veggies can make or break raw soups, which are typically smooth and in need of some texture.)
Next, the brilliant red beets get another treatment in a simple carpaccio and wilted greens salad. This recipe is as simple as can be: simply wash, spin, and marinate the beet greens in a basic red wine vinaigrette, and serve them with finely sliced beets. Period. You could certainly jazz it up: marinate the beets themselves in a more basic marinade than the one I provide, or top them with a creamy dressing (I think my avocado-cumin dressing would be great here). But they really need little attention, and the greens, though simple, are tasty enough to stand on their own, too!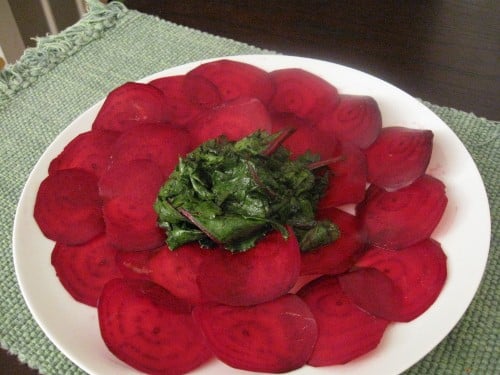 Beet Carpaccio with Wilted Beet Green Salad (serves 2-4)
Ingredients:
1 large beet
1 large bunch beet greens
1/4 cup water
2 tbsps apple cider vinegar
1 tbsp agave nectar
1/2 tsp sea salt
2 tbsps olive oil
1 1/2 tbsp red wine vinegar
1 tbsp agave nectar
1/4 tsp sea salt
Sprinkle pepper
Procedure:
Cut the large beet in half. At the thick end, begin slicing the beet very thinly — about 1/16 inch, if it's possible. When you have about twenty-five slices, place them in an airtight container with the water, ACV, salt and agave mixture. Let them marinate overnight.
Wash, spin, and chop the greens into salad-size pieces. Mix the vinaigrette ingredients together, and then pour them over the greens. Massage the greens well with your hand, move to an airtight container, and store in your fridge for eight hours or overnight.
When you're ready to serve, simply dry off the beet slices and arrange in circles on a round plate. In the very center, place your wilted beet greens.
You could certainly add to the wilted greens: carrots, tomatoes, and parsley would all work beautifully! So would raw fennel. But I like this one plain and simple.
After your salad course, move on to the star of the meal: nutloaf.
Oh yes she did! I gave quintessential comfort food a raw makeover. This recipe is a little more time intensive than mine usually are, and it requires oven or dehydrator love, but the result is pretty spectacular. It's a warm, savory, and filling nutloaf that recalls your mom's home cooked version, but without the cholesterol, the dense and slow digesting animal protein, and, of course, the ethical question marks! The loaf is dense, so a modest portion will sate your holiday appetite nicely. It's also rich in protein and essential fatty acids, and it's delicious. Healthy and tasty? What more could you ask at a holiday meal?
Gena's Raw Nutloaf
Ingredients:
2 cups portabello or baby bella mushrooms, roughly chopped
2 tbsp bragg's liquid aminos
2 tbsp olive oil
1 cup almonds
1 cup walnuts
1/2 tsp salt
3/4 tsp dried thyme
1/4 tsp dried sage
Dash onion powder
2 dates
1/2 red bell pepper
1 tsp lemon juice
1 tbsp Bragg's Liquid Aminos
2 stalks celery, roughly chopped
1/4 cup sundried tomatoes
1/4 cup chopped parsley
Procedure:
Place the mushrooms in the Bragg's and olive oil and store in an airtight container overnight.
Grind the nuts, salt, thyme, sage, and onion powder in a food processor till very processed: it should be starting to look like a coarse nut butter. Add the pepper, lemon, dates, and Bragg's. Process again till the mixture is even. Set aside in a mixing bowl.
Remove the mushrooms from the marinade, reserving a few tablespoons of it. Put the mushrooms, celery, and mushrooms in the food processor (no need to wash after you remove the nuts!), and process till the mixture is finely chopped.
Add the mushroom/celery/tomato mixture to the nut mixture, throw in the parsley, and knead well with your hands, just as you would mix regular meatloaf!
When it's all well mixed, place into a small loaf pan (I used one that was about 5-3/4″ x 3″ x 2-1/8″). Place in a dehydrator at 115 degrees for eight hours (you can also place in an oven at 150 with the door slightly ajar).
When the loaf is done, slice into twelve slices. Serve with a large kale salad (like the one I featured in this post), and marvel at raw comfort food!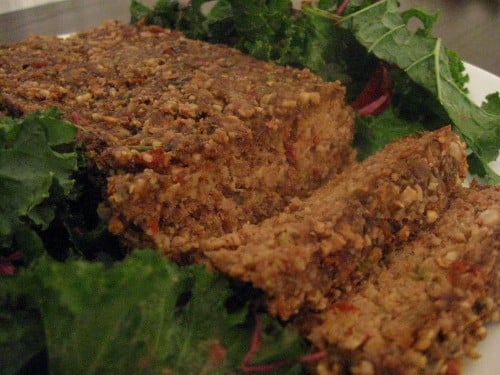 And finally, dessert. I promised I wouldn't leave it out, guys!
This recipe is an ode to my girl HEAB, who loves chia seeds! Chocolate Chia Seed Pudding: it's easy, tasty, and — especially if you make the peppermint version — holiday friendly!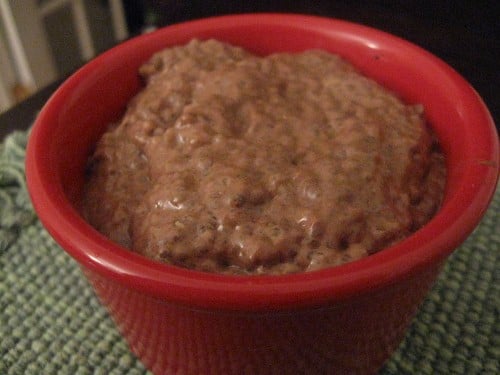 We begin with chocolate macadamia milk:

Chocolate Macadamia Nut Milk (yields 2-4 cups, depending on whether or not you strain it)
Ingredients:
1 cup macadamia nuts
3 cups water
1/2 cup pitted dates, packed
1 tsp vanilla extract
3 tbsp high quality dark cocoa powder or cacao nibs
Stevia for added sweetness (use your taste buds to judge; I added almost a pack)
Dash salt
Procedure:
Blend all ingredients in a VitaMix for a few minutes, till very smooth. You CAN strain through a nutmilk bag, but you definitely don't have to. If you do strain it, you'll get about two cups liquid; if you don't, you'll have about double. Not straining will yield a richer pudding.
To make the pudding, simply add 6 tbsp chia seeds to two cups of the nut milk. Stir. Come back in five minutes, and stir again. Repeat this until the chia seeds have absorbed the liquid, and the pudding has a thick and creamy texture (if it's runny at all, just add another tablespoon or two of chia seeds).
To make this a peppermint chocolate pudding (and on the holidays, why wouldn't we), just add 1/4 tsp peppermint extract to the whole mix (more if you want a mintier flavor; I took it easy with the mint).
The result?
This yumminess:
And that, my good friends, is my first Choosing Raw Christmas. Will I be eating this meal, you ask? Dubious: I have a feeling that my Mom, for whom I'll be cooking on Christmas Eve, is hankering for my Thanksgiving menu (or at least, for the butternut soup and root veggie mash — she can't quite get down with nutloaf, not yet). But I've got nutloaf in the fridge, the sliced beets will go to use in my beet ravioli with root veggie filling, and the borscht is mine for the making soon enough!
And, oh yeah: the pudding? Gone baby, gone.
I hope you all get to try some of these dishes for Christmas — or anytime this winter!
Looking for other raw Christmas options?
The aforementioned butternut squash and apple soup or root veggie ravioli would be great. So would Kristen's AMAZING harvest soup, my raw alfredo, or my recent carrot falafel. I also love the idea of my cream of cauliflower soup served alongside a big kale salad and some roasted root veggies. Yum.
On that note, enough Christmas. Let's not get too far ahead of ourselves: today, it's Raw Wednesday. What are you all up to in the kitchen?
xo